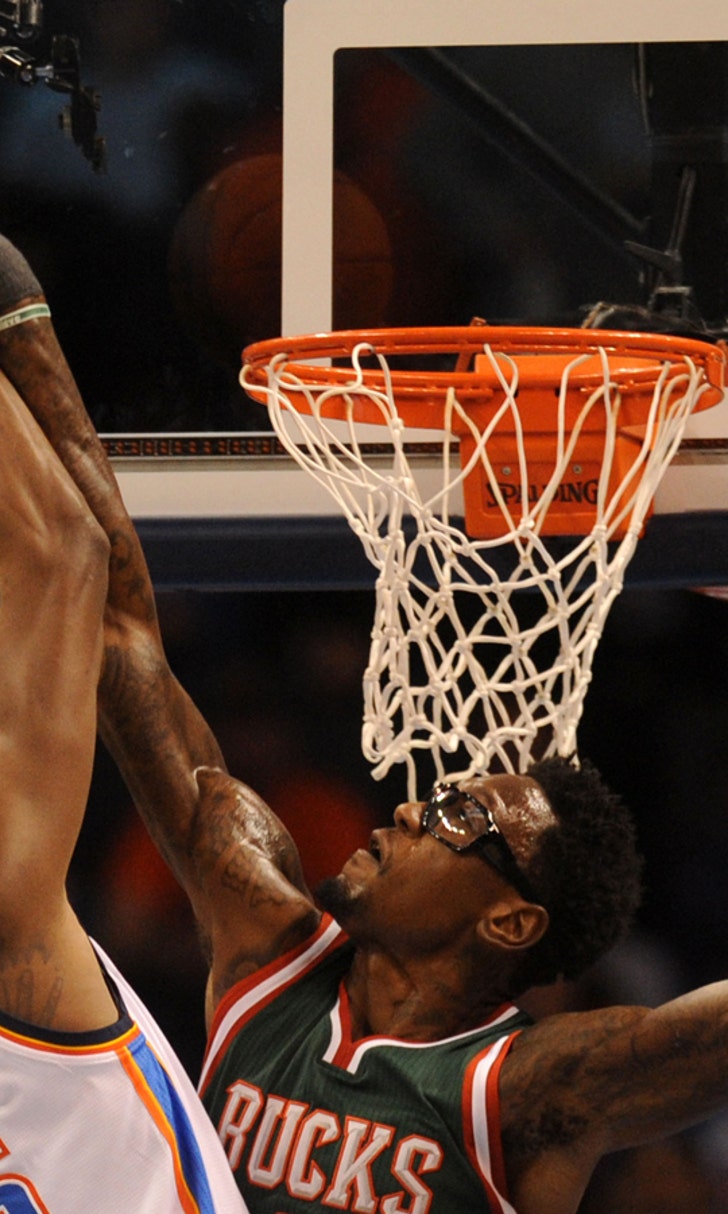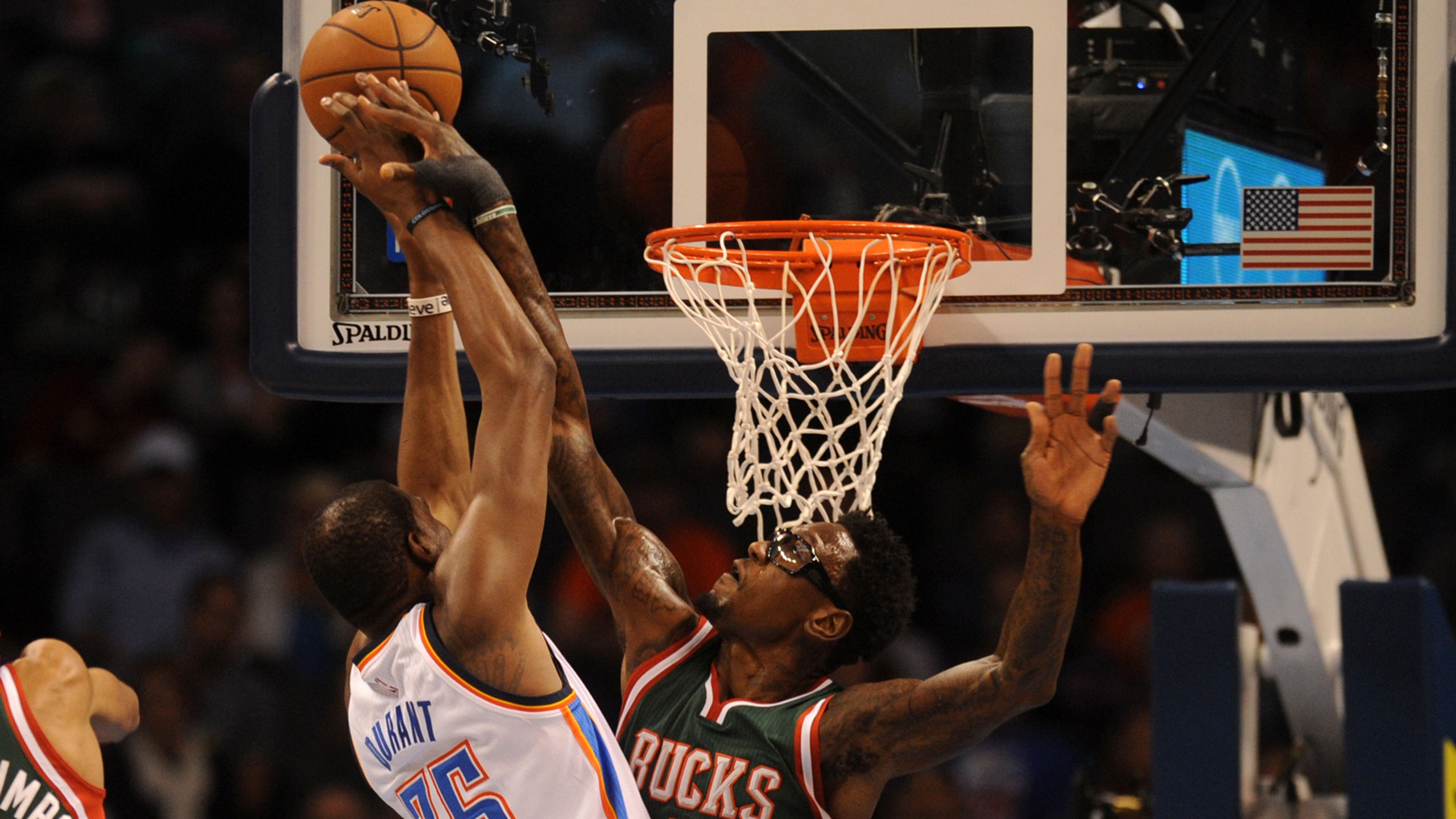 Road reaction: Thunder 114, Bucks 101
BY foxsports • December 10, 2014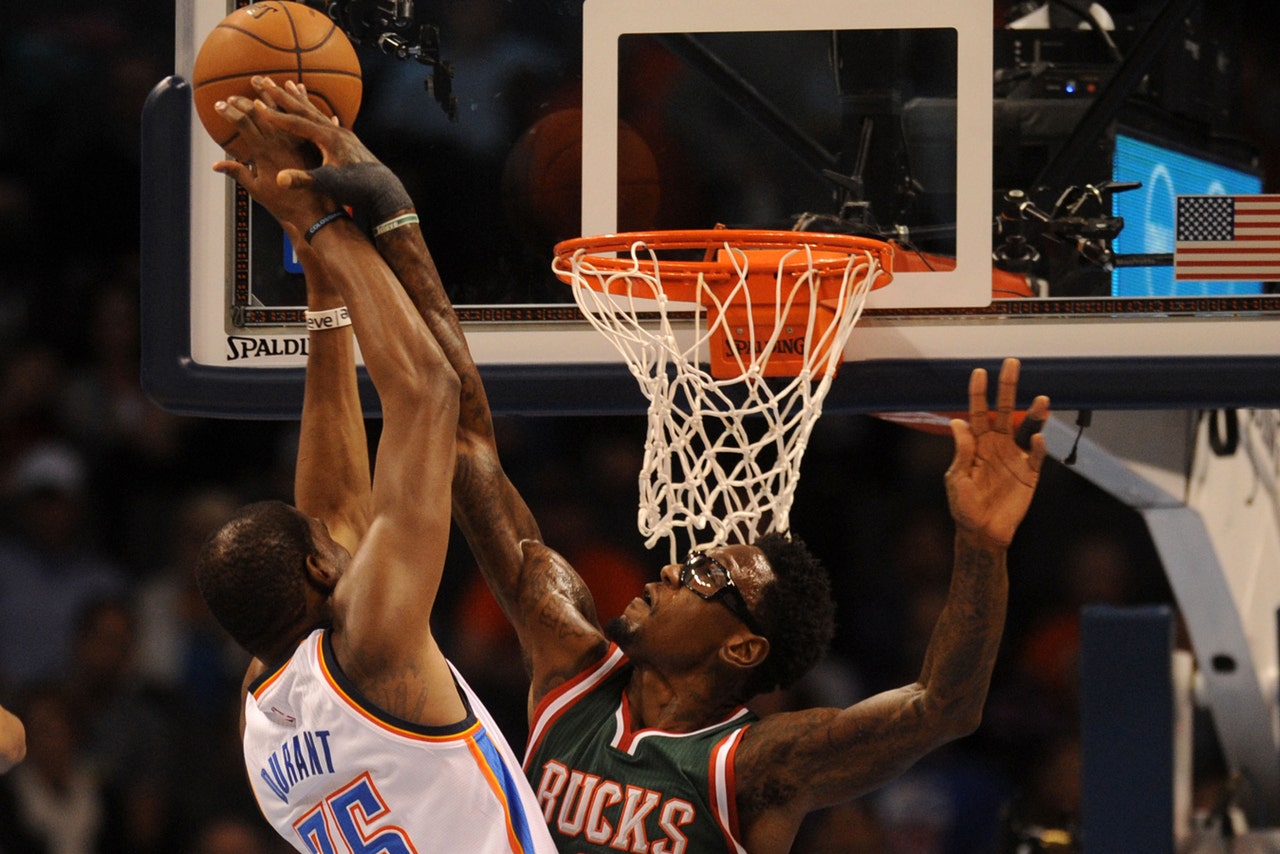 The first time the Milwaukee Bucks saw the Oklahoma City Thunder, superstars Kevin Durant and Russell Westbrook were in street clothes cheering their teammates from the bench.
Durant and Westbrook watched the end of Tuesday's game from the bench as well, but this time it was after they combined for 51 points, 14 rebounds and 14 assists in what eventually was a 114-101 victory for the surging Thunder.
1 big moment: A Jared Dudley jumper cut Oklahoma City's lead to 95-86 with 8:40 to play, but the Bucks then went three minutes, 50 seconds without a field goal. The Thunder used a 9-2 run during that stretch to extend their lead to 104-88 with 5:07 left.
O.J. Mayo eventually ended the field-goal drought, but the Thunder scored the next five points to take a 19-point lead.
2 top performers: Russell Westbrook led the Thunder with 28 points on 8-of-16 shooting. He hit 12 of his 15 free-throw attempts and finished with five rebounds, seven assists and three steals in his fifth game back after missing nearly a month with a fractured hand.
After leading the Bucks in scoring Sunday in Dallas, Giannis Antetokounmpo finished with 17 points, seven rebounds and two blocks against the Thunder. Antetokounmpo had 16 of his 17 points and all seven of his rebounds in the second half after missing most of the first two quarters while in foul trouble.
3 key stats: The Bucks' rebounding woes bit them again Tuesday, as the Thunder held a 54-31 advantage on the glass. At halftime, Oklahoma City had nine offensive rebounds, while Milwaukee had 11 total rebounds. All five Thunder starters had at least five rebounds, while Kendrick Perkins and Reggie Jackson combined for 16 rebounds off the bench.
Milwaukee has now lost five of its last six games to fall under .500 (11-12) for the first time since they were 4-5 on Nov. 14. The Bucks play their next five games against teams from the Western Conference with four of those games coming against teams currently in playoff position.
The Bucks have allowed an opponent to shoot at least 50.0 percent in back-to-back games for the first time this season. After a Dallas shot 58.3 percent Sunday, Oklahoma City went 41 of 82 (50.0 percent) on Tuesday.
Said: "The biggest thing was rebounding. The first half, they had nine offensive rebounds and we had 11 total. We knew going in we had to rebound the ball, and we didn't do that. We took the ball out of the net most of the night. You aren't going to beat anybody when you do that." -- Bucks coach Jason Kidd
Seen: After hitting 12 of their 23 field-goal attempts (52.2 percent) in the first quarter, the Bucks went 22 of 61 (36.1 percent) the rest of the way.
Bucks point guard Brandon Knight failed to reach double-digit points for just the second time this season, as he scored nine points on 2-of-10 shooting.
Next: The Bucks don't play again until Saturday when they host the Los Angeles Clippers at the BMO Harris Bradley Center.
The 15-5 Clippers play in Indiana on Wednesday and in Washington on Friday before coming to Milwaukee to face the Bucks.
Unlike most Saturday home games, tipoff against the Clippers is at 6:30 p.m. CST.
Follow Andrew Gruman on Twitter
---