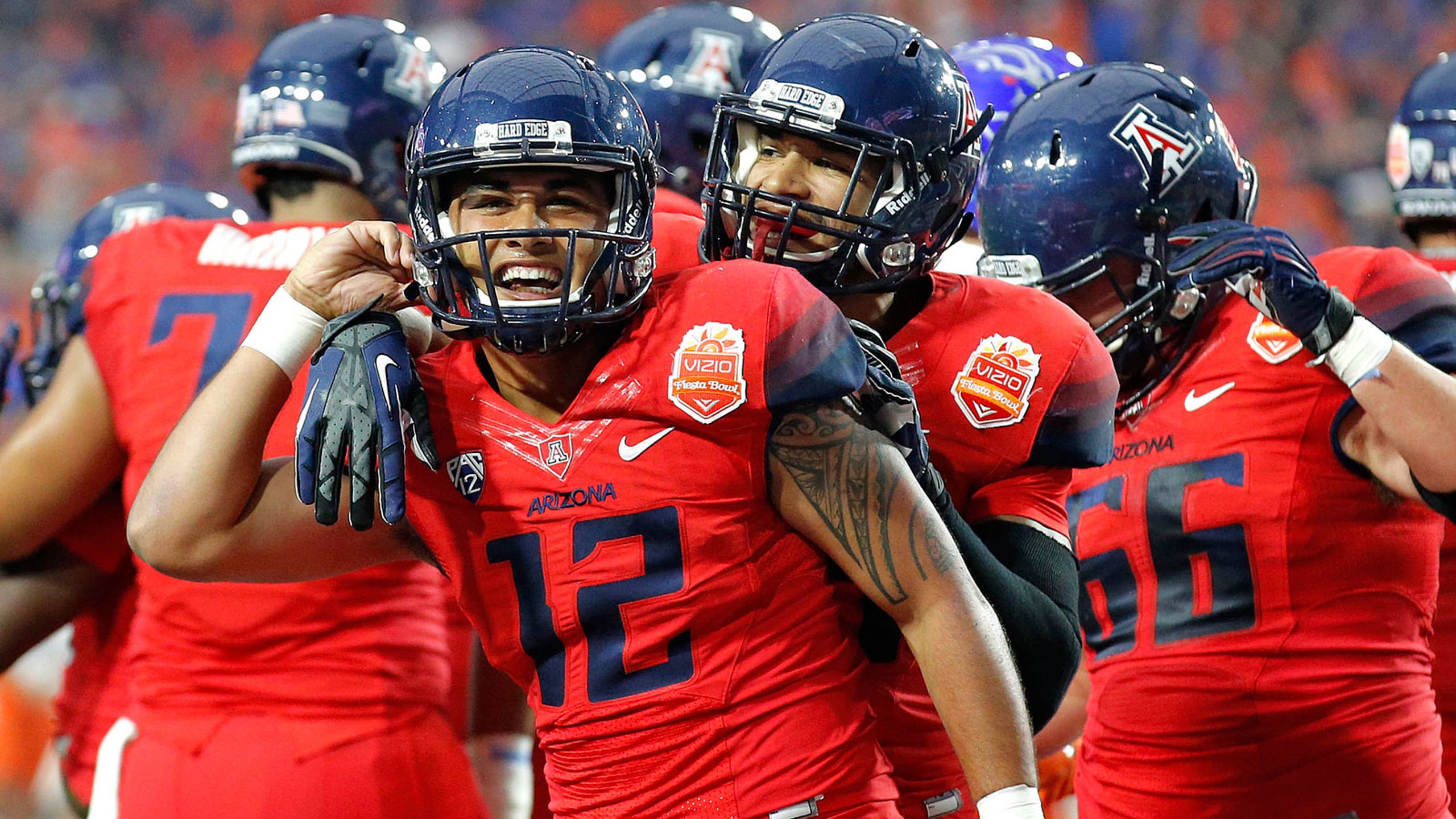 Rich Rodriguez OK with Solomon's quiet leadership
BY foxsports • August 13, 2015
TUCSON, Ariz. -- Rich Rodiguez has been around third-year sophomore quarterback Anu Solomon long enough to know what he is, and what he isn't.
So what if Solomon isn't a fiery, vocal leader? For Rodriguez, it's more about getting the most out of what he has to offer.
Rodriguez wasn't pleased with the intensity level of Wednesday night's practice session, but following a morning practice on Thursday, he said he wasn't holding his starting quarterback responsible.
"I don't think he took very much initiative yesterday, but I don't really expect him to," Rodriguez said. "I think that falls on the coaches. I don't want out quarterbacks to change their personality. They are leaders just by their position, and if they force the leadership or if they are not who they are, then it's not genuine.
"I think that Anu can lead in his own way and be effective. I saw a little bit of that today. I think his leadership skills has evolved over the last year. More than anything, it is confidence and experience that he has gained. He knows that there are a lot of eyes on him. His body language and his approach is seen by everybody, not just on the field but off the field as well. He has to make sure that he reflects the right image."
Rodriguez said Wednesday's lackluster effort was not particularly unusual for preseason camp.
"I don't think I have ever had a training camp where I haven't had at least one or two of those days," he said. "I hope I don't have to have a lot of them. If you have one of them and it gets their attention, that's OK. They really haven't paid the price for yesterday's practice. It's in the past, but wait until they watch the film; that will be the harder part for them."
Solomon said he thought Thursday's effort was more in keeping with what Rodriguez expects.
"It was much better than yesterday," he said. "We got the message and told each other that we had to pick up the intensity."
Rodriguez said the battle for the cornerback positions is wide open: "I think DaVonte' (Neal) has had a good camp, and Jarvis (McCall Jr.) has not really practiced. A lot of positions are wide open at this point in camp. At the corner position, we have a lot of bodies there. I am hopeful that we can find four to play."
Rodriguez said Wednesday night that cornerback Sammy Morrison is one of the true freshman that has caught his eye: " Sammy is a quick learner. Football comes easy to him, and he has good instincts from growing up around football. I think he is one of the freshman that will wind up playing this year."
---