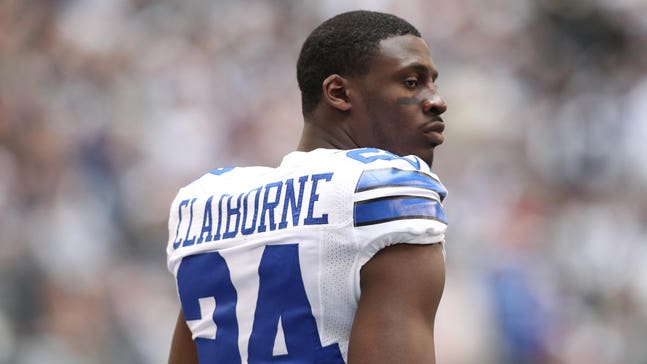 Report: Cowboys bringing back Claiborne on 1-year deal
Updated
Mar. 4, 2020 1:26 p.m. ET

IRVING, Texas (AP) -- Cornerback Morris Claiborne is returning to Dallas on a team-friendly deal after the Cowboys declined the more expensive option on the former top 10 pick's rookie contract.
Two people with knowledge of the deal told The Associated Press that Claiborne agreed Friday to a contract worth up to $3.75 million, about $8 million less than the fifth-year option of his rookie deal.
Injuries and poor performances made him a bust through four seasons after the Cowboys moved up eight spots to get him with the No. 6 pick in 2012.
Dallas also agreed on a three-year, $8.25 million contract with tight end James Hanna, according to the people who spoke to The Associated Press on the condition of anonymity because the team hasn't announced the deals. Hanna spent his first four seasons with the Cowboys.
Earlier Friday, Dallas re-signed linebacker Kyle Wilber and backup offensive tackle Charles Brown while adding four compensatory picks in this year's NFL draft.
Claiborne joined with the Cowboys with fanfare four years ago when they were trying to upgrade their secondary and also signed free agent Brandon Carr to a five-year, $50 million contract.
But the pair has combined for just nine interceptions in four seasons together -- and none last year when the Dallas defense struggled to make game-changing plays in a 4-12 season played mostly without quarterback Tony Romo.
Claiborne, who turned 26 last month, had one interception in each of his first three seasons. He has played in just 25 of 50 games over the past three years, including the playoffs, while battling a variety of injuries.
The most serious injury was a torn patellar tendon in his left knee that limited Claiborne to four games in 2014, when Dallas won the NFC East at 12-4 and reached the divisional round of the playoffs before losing to Green Bay.
The former LSU player was widely considered the top-rated cornerback in the 2012 draft, and the Cowboys were retooling in the secondary after moving on from Terence Newman, their No. 5 overall pick nearly a decade earlier. While he started 15 games as a rookie, Claiborne struggled to have the expected impact before injuries caused him to miss 18 games the next two seasons.
Even though Claiborne got into only 11 games last year without an interception, the Cowboys thought he played better and were open to bringing him back after declining the team option, which made him an unrestricted free agent.
Hanna's value increased after 2013 second-round pick Gavin Escobar tore his right Achilles tendon late last season, jeopardizing his status for 2016. Hanna also contributes on special teams.
Wilber just completed his rookie contract as mostly a backup linebacker and special teams player who also spent time on the defensive line. The 26-year-old has 64 solo tackles and 31 assists in 58 games over four seasons.
Dallas will get the 135th overall pick in the fourth round along with three sixth-round choices. The compensation comes from seven free-agent departures last year, highlighted by 2014 NFL rushing champion DeMarco Murray.
The Cowboys join San Francisco and New England with a league-high four extra picks.
MORE FROM FOX SPORTS SOUTHWEST: 
- PHOTOS: Cowboys Cheerleaders Auditions
- Top 50 college football coaches salaries in 2015
- Highest paid player on every NFL team
- Most Valuable NBA Teams of 2016
---