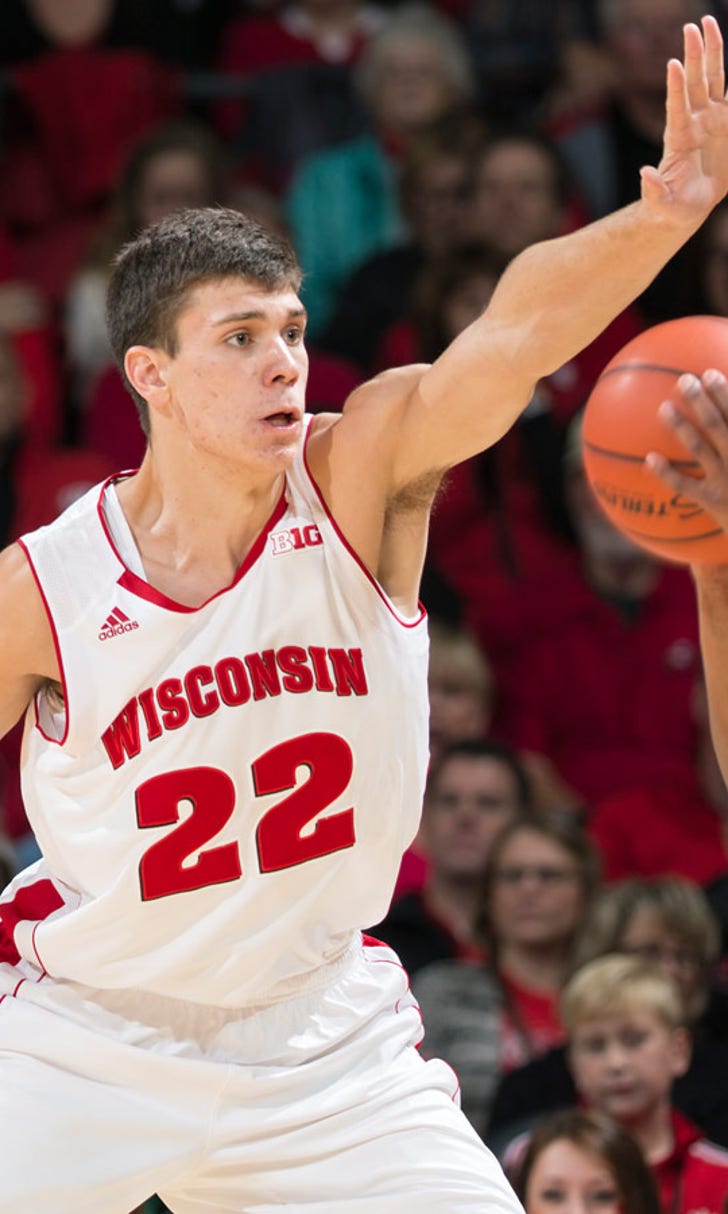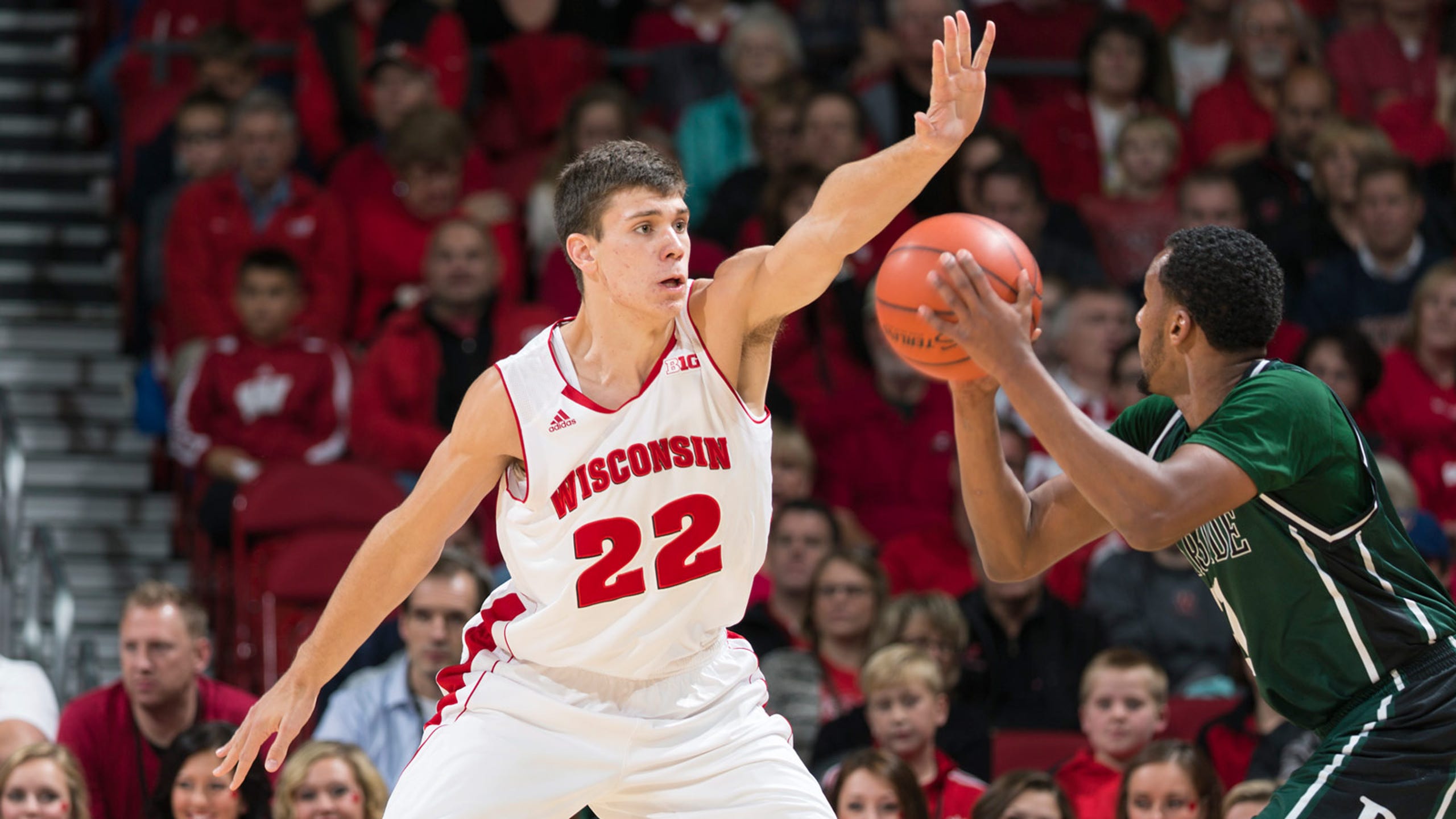 Redshirt freshman Happ improving self, Badgers behind the scenes
BY foxsports • February 9, 2015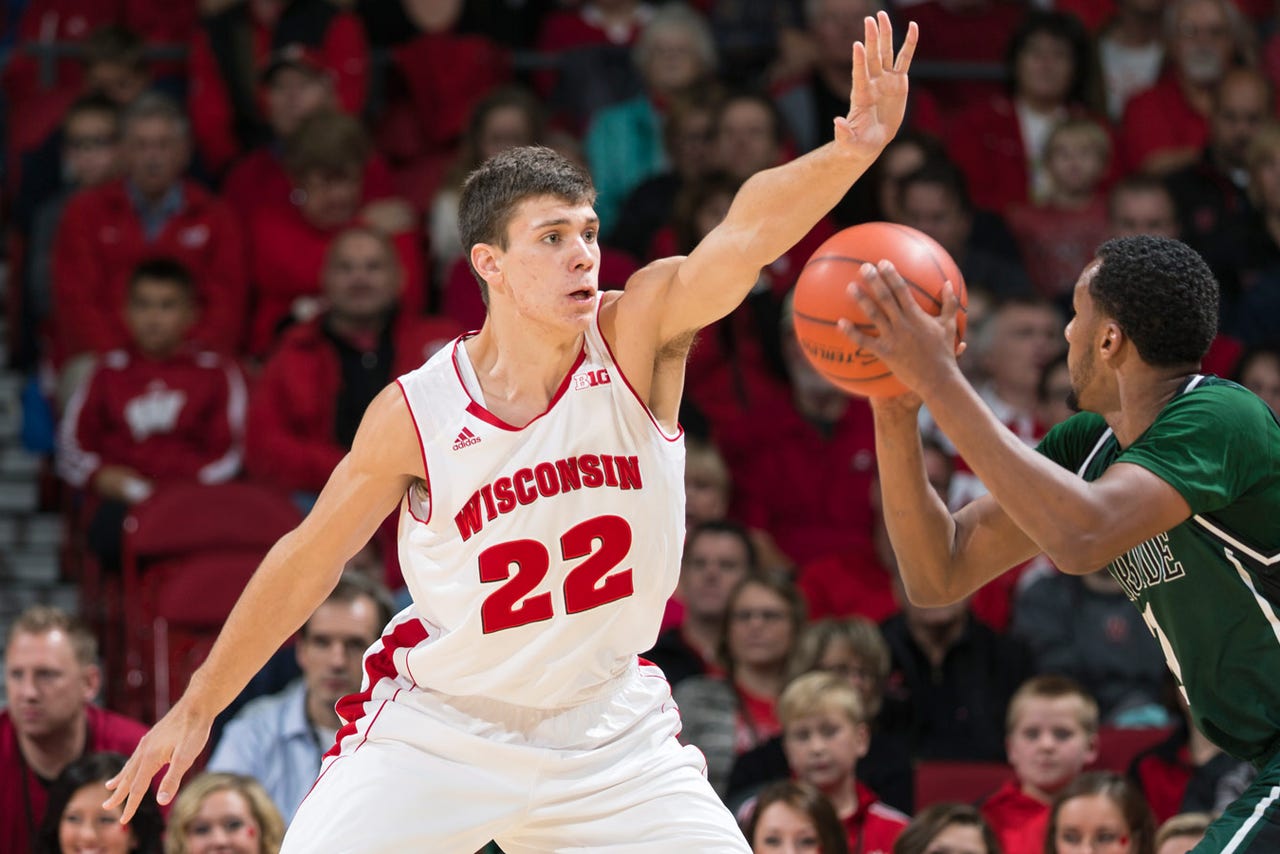 MADISON, Wis. -- The most improved player on Wisconsin's basketball team won't see the court for any meaningful time at all this season.
The days in which he scores on a flurry of impressive post moves or snags 10 offensive rebounds in a 5-on-5 scrimmage session are charted by student managers in front of no more than a few dozen spectators during practice. And the only real satisfaction is the knowledge that those behind-the-scenes contributions are helping to make the Badgers' starters into tougher, more physical national championship contenders.
Life on the scout team, over the course of a monotonous season with little reward, can be mentally draining. Yet Ethan Happ has taken to such a role exceptionally well during his redshirt freshman season. Just ask some of Wisconsin's starters, who have been impressed with the ways in which Happ doesn't surrender an inch in practice.
"I haven't been around too many guys that have that good of practices every day," Badgers forward Sam Dekker said. "He comes ready to work, brings a lot of energy and makes us look bad sometimes. But that's what you want. You want guys coming in here ready to work. You don't want guys that are coming out and pouting and saying, 'Hey, I'm not playing, so I'm not going to work hard.' He understands what his role is and that he wants us to get better, and look how much better he's gotten since the summer."
Happ, a 6-foot-9, 230-pound forward from Milan, Ill., has been tasked in practice with defending both Dekker and 7-foot center Frank Kaminsky -- two future NBA players -- in addition to forwards Nigel Hayes and Vitto Brown. Four months ago, Happ thought perhaps he might edge Brown for the team's final frontcourt spot in the playing rotation. Instead, Brown is averaging 8.1 minutes per game and Happ is sitting on the bench in warmup clothes.
The fact Happ has become such a pest for Wisconsin's rotation players is a testament to his work ethic. Happ said when he arrived on campus, he didn't have any post moves, and his post defense significantly lacked. At Rockridge High, where Happ averaged 33 points and 15 rebounds as a senior, he scored primarily in transition on a team that rarely ran set plays.
"It was a rough first couple weeks just because I didn't know how to play in the post for one," Happ said. "But then going against someone that's one of the best post players in the country and you're not familiar with playing in the post, I don't know a great metaphor for it, but it's like a chicken with his head cut off. Just running around trying to score or defend Frank.
"But now I'm a little more familiar with his moves and my post game has gotten a little bit better. Obviously it's still a tough task to guard and play against Frank. But it's fun. I like it."
Wisconsin charts all of the team's shots during 5-on-5 scrimmages, and Badgers assistant coach Gary Close said Happ was shooting more than 40 percent on 3-pointers and more than 50 percent on 2s, "which for a freshman big guy is off the charts." He also recalled a practice last week in which Happ recorded 16 rebounds, including 10 on the offensive glass.
"There are days in practice where they can't guard him," Close said.
Badgers head coach Bo Ryan certainly has taken note of Happ's play in practice. Ryan was asked during an interview with the Big Ten Network last week which player on the team deserved more recognition than he was getting. And he singled out Happ.
"You're going, 'Wait a minute, Ethan Happ, I don't have him on the roster here,'" Ryan said. "He's redshirting this year, and he's the guy who always has to play the big man for the other team, and at 6-8, he does a heck of a job at that. He can play like a 7-footer. He can play like a 6-3 guard."
Natural athletic ability can only take a player so far. And while Happ possesses a great deal of talent, Close will be the first to talk about the player's enthusiasm for improving his game. The single biggest example has been an entire reconstruction of Happ's shooting form, an ongoing -- and not particularly easy -- process.
When Happ came to Wisconsin, his shooting stroke was unorthodox. His elbow flailed out to the right and didn't create a compact 90-degree angle, which altered his entire alignment, and his wrist didn't extend high enough. Close then began the process of trying to change Happ's shot, and Close noted that the two work "literally almost daily" on it. After Wisconsin's 65-50 victory against Northwestern on Saturday evening, for example, Happ returned to the gym to hone his shot.
"That's a big thing about my game that people don't like is the form of my shot," Happ said. "So I've definitely been doing that a lot with GC, and I think that's making strides as well."
Added Close: "You've got something that's been ingrained in you for 17 or 18 years, to try to change it in a couple months is difficult. But I've been really pleased with how he's progressing. He's still got a ways to go, and he's still got to get to the point where he feels really comfortable and confident about it."
Ethan Happ works on his shooting nearly every day on Wisconsin's practice floor.
Kaminsky, a national player of the year candidate, has seen first-hand in practice how much better Happ has become as an all-around player in just a few short months.
He described Happ's progression from when he first arrived at Wisconsin to where he is now as "almost kind of night and day. He's gotten so much better. He's shooting the ball with confidence now as opposed to when he got here, his jump shot couldn't have looked any uglier. But he's playing really well, and he's going to keep getting better."
Happ, meanwhile, believes that if he keeps putting in time in the weight room, on his shot and on ball handling drills, he can become the type of player that soon will be a key contributor at Wisconsin. Next year, he said, seemed so far away at this point. But those in Wisconsin's program recognize Happ's work ethic will no doubt carry him to a higher level.
"If he keeps doing what he's doing," Close said, "he's going to force himself onto the floor somewhere."
Follow Jesse Temple on Twitter
---