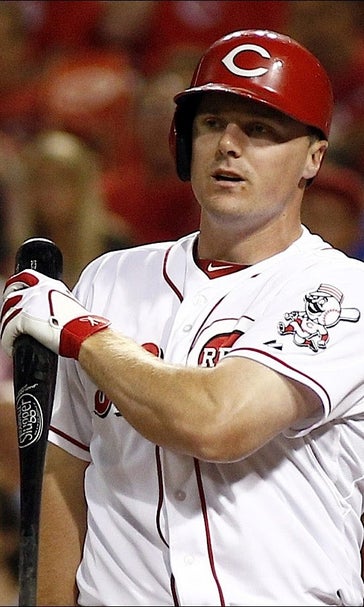 Reds try to bounce back on Hall of Fame night
August 9, 2014

After failing to generate much at the plate in their series opener with the Miami Marlins, the Cincinnati Reds will try to get back on track Saturday night when they face a veteran who's making his first start in three seasons.
That outing will also be Brad Penny's first with the Marlins in a decade.
Cincinnati (59-57) produced five singles and two doubles in a 2-1 loss Friday after batting .293 with 30 runs in the previous six games, starting with a 7-3 win in the finale of a four-game set with the Marlins (56-59) on Sunday. The Reds won three times in that series and had won six of eight before Friday.
Cincinnati is three games behind St. Louis and San Francisco for the NL's second wild card.
"We weren't able to get it done but we'll be back and ready to go (Saturday)," manager Bryan Price said.
The Reds have won 10 of 13 against Miami and 19 of 26 at home, and they'll try to resume that dominance while spoiling Penny's return to his first club. The right-hander pitched for the Marlins from 2000-04 and won 14 games for a World Series-winning team in 2003 before being dealt to the Dodgers on July 30, 2004.
He's 119-100 with a 4.26 ERA in 13 seasons and finished third in the NL Cy Young voting after going 16-4 with a 3.03 ERA in 2007 with Los Angeles. He made 22 relief appearances for San Francisco in 2012 in his most recent season and will make his first start in the majors since a 10-6 win over Baltimore on Sept. 25, 2011, while with Detroit.
Penny was signed to a minor league deal in June and went 2-2 with a 2.28 ERA in five starts at Triple-A New Orleans. He's 7-4 with a 3.77 ERA in 15 starts against Cincinnati.
"I'm excited for him," manager and former teammate Mike Redmond told MLB's official website. "For me, it will be fun. I caught a lot of his starts. To see him out on that mound, and me managing him, it's kind of fitting. ... We need him to come in and have some big starts. He knows that."
Alfredo Simon (12-7, 3.07) will try to end a four-game losing streak in his first start against Miami. The right-hander has a 5.06 ERA since being selected to his first All-Star game and has received a combined two runs of support.
He gave up five runs over five innings in a 7-1 loss in Cleveland on Monday and has failed to make it past the fifth in three of his last four starts. He pitched at least six innings in 16 of first 18 starts.
Jay Bruce is 5 for 9 against Penny and 9 for 27 since ending a 4-for-44 slump. It's unknown if Brayan Pena will get the opportunity to extend a 12-game hitting streak after he left Friday's game with a tight left hamstring.
Marlins slugger Giancarlo Stanton has two of his NL-best 28 homers in the last two games and three in five contests against the Reds this season.
Miami hasn't given up a home run in 11 consecutive games, one shy of the team record set July 24-Aug. 4, 2013.
---