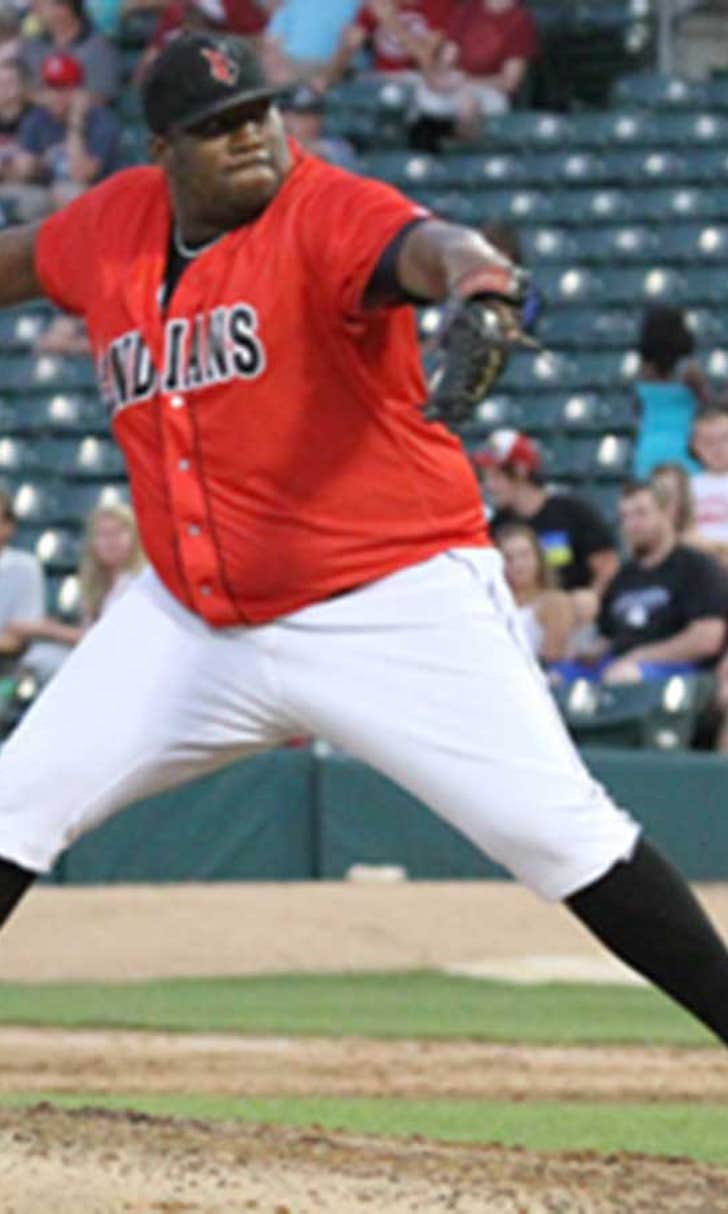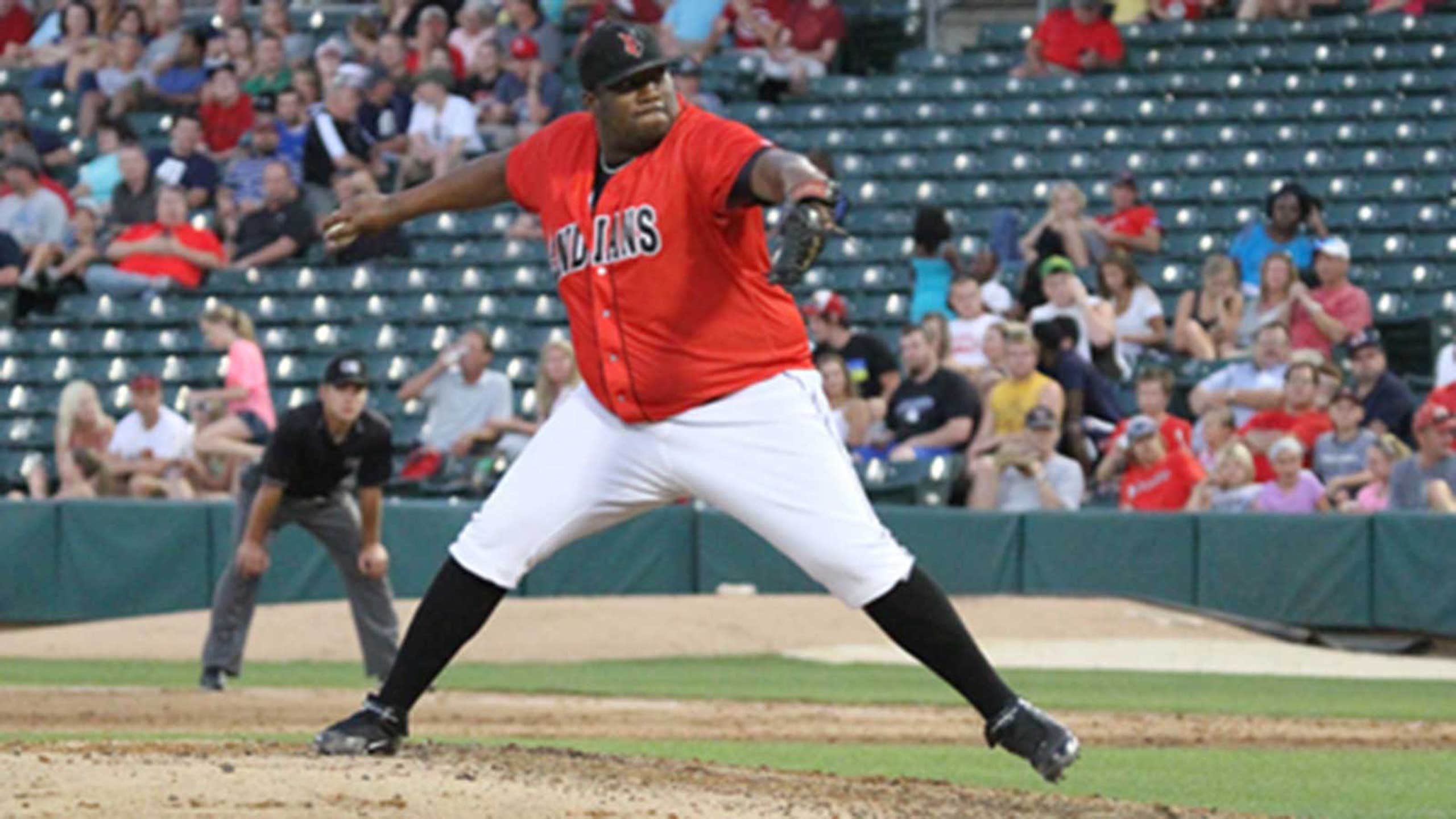 Reds pitcher 'Jumbo' Diaz sheds 70 pounds for spring training
BY foxsports • February 22, 2014
GOODYEAR, Ariz. -- When Jumbo Diaz covered the mound, he covered the mound. When a coach told him to haul his butt somewhere he had to make two trips.
It is difficult to imagine a baseball player weighing 347 pounds, but that was the case Jose Diaz. When he showed up in camp last year it is surprising somebody didn't say, "The Cincinnati Bengals don't train here."
Did somebody say 347 pounds? Yes, 347 pounds. Diaz will display the proof. He not-so-proudly fishes a photograph out of his locker and shows it. It is from the 2012 season and he is on the mound wearing a Class AAA Indianapolis Indians uniform. He is delivering a pitch and the stomach hanging over his belt looks like the Cliffs of Dover.
They listed him at 316 pounds at Class AAA Louisville last year, but they were being kind and generous. He admits they shorted him 31 pounds, a few dozen milkshakes and cupcakes shy of his true weight. And there were reports that he touched 400 pounds at one point in the off-season.
At 347 pounds the 30-year-old Dominican appeared in relief 44 times at Louisville last season and was 3-4 with a 1.66 earned run average. It was good enough for him to be invited to the major-league camp this year as a non-roster invitee.
And it inspired him. When he heard he was going to start the spring with the Reds he dedicated himself to sheeding poundage and he showed up in camp missing 70 pounds from his 6-foot-4 body, abut five bowling balls lighter. As he stood at his locker this week he weight 279, "When I stepped on the scales this morning. I'm still losing weight," he said.
He did it with exercise and a diet. No more rice and beans, "Which I love and miss very much," replaced by grilled chicken, salad and fluids.
"When the Reds called my agent and told him I was going to be invited to the big league camp this spring I went to a doctor and a nutrionist," he said. "I knew I had to come in shape. So I worked hard to lose the weight.
"I don't eat anything late at night, which I used to do heavily every night," he said. "I don't eat all that stuff that tastes good, the stuff I like," he said with a laugh. "This makes it better for me. It will make me a better pitcher, too. I pitched in the Dominican and Venezuela this winter and I feel great running to the mound and to the bases I'm ready now. I feel really good."
Diaz said spring training is easier for his diet because neither his wife nor his mother are with him, cooking delicious meals and piling his plate with heaping portions.
And when Diaz mentions he can run to the bases better, well, there was one incredible moment two years ago when he was still the jumbo Jumbo, when he pitched for Indianapolis.
He stole third base. He stole third base with a feet-first slide and a phtograph of it shows the third baseman bailing out of the way.
There is a person in the Reds clubhouse right now who was part of that theft -- superstar Joey Votto. As it happened, Votto was on a rehab assignment, playing for Class AAA Louisville when they faced the Indians.
It was bizarre from beginning to end. It unfolded with Diaz coming to bat in the top of the eighth inning for only his second professional at-bat, although it was his 11th professional season.
The crowd reacted with ooohs and aaahs when Diaz actually made contact and the ball squirted toward first baseman Votto. He moved to his left to field it, but bobbled. He still had plenty of time retire a 347-pound slow-moving object but Votto's throw to the pitcher covering first base was high, wide and ugly, eluding the pitcher. Diaz happily waddled to second base.
Now who pays attention to a 347-pound pitcher perched on second base? Nobody, right. The Indianapolis radio broadcasters kiddingly said over the air how humorous it would be if Diaz tired to steal third base.
The words barely crossed the air waves when Diaz bolted, if that's the word, for third base. It was both stunning and shocking to everybody, especially the Louisville Bats. He slid into third in an Atomic-like cloud of dust as the third baseman ran for cover.
It remains, up to now, the only stolen base of his 12-year, 310-game career and even at a more svelte 279 pounds probably his last.
It is likely that Littler Jumbo will begin the season at Class AAA Louisville, where he plans to continue to shed poundage and be ready if the Reds need help out of the bullpen -- or somebody to steal a base.
---