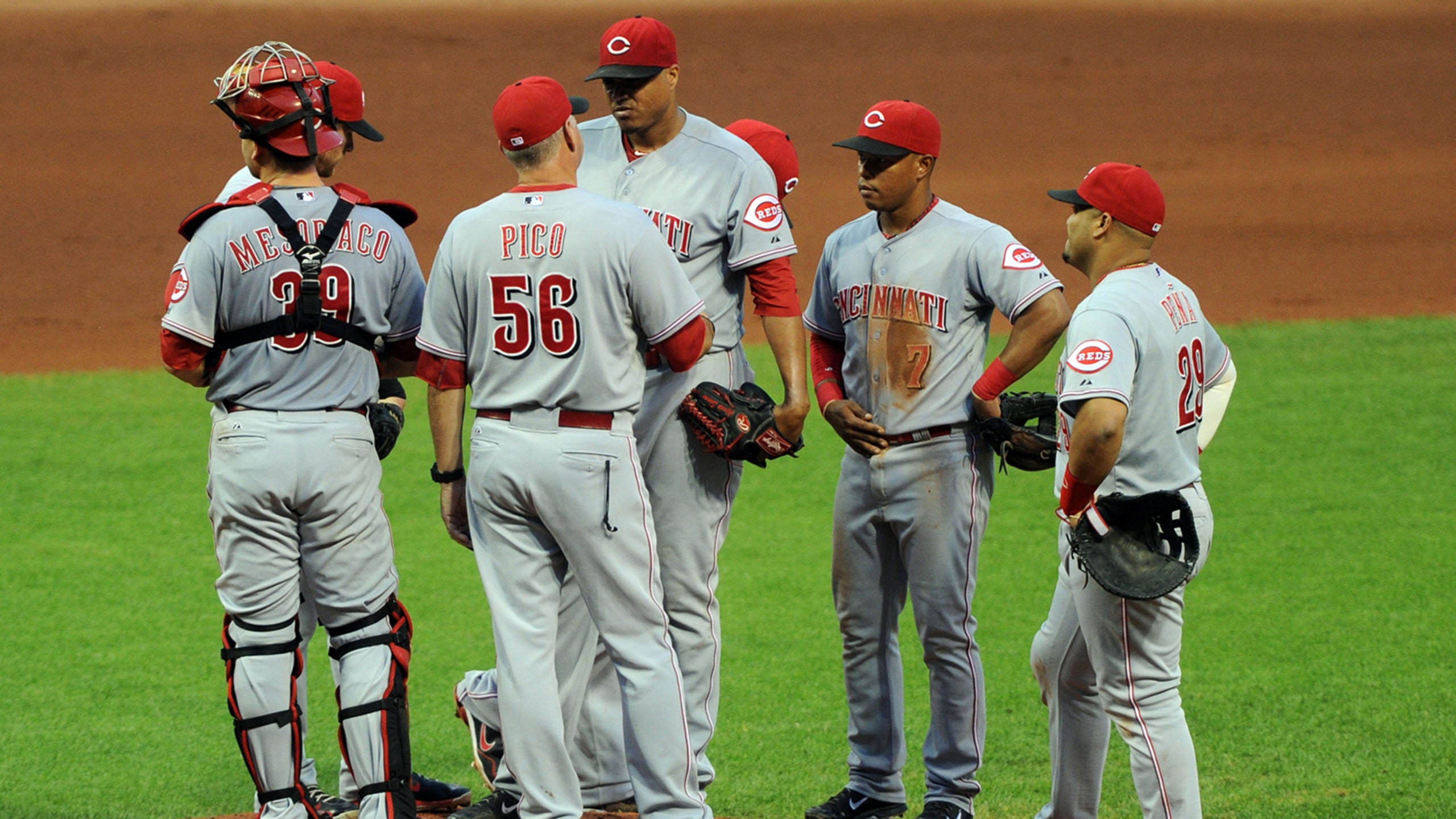 Reds notes: Looking to end bad road streak
BY foxsports • August 5, 2014
CLEVELAND -- Life on the road for a sports team is supposed to be hard. It's been excruciating for the Reds when it comes to playing American League teams this season and in Cleveland the past four seasons.
Monday night's 7-1 loss to the Indians was the 10th defeat in a row for the Reds at Progressive Field. It was their sixth loss in as many games on the road against an AL team this season. They've got a winning road record against the National League but when it comes to playing teams from the Junior Circuit away from Great American Ball Park they've had their troubles all around.
"I don't know if I can put a finger on why we haven't won in these American League ballparks," said manager Bryan Price. "Certainly American League teams should have an advantage in their ballparks and vice versa, but that being said, we should've won some games."
The advantage, Price said, is in the roster construction to include an everyday designated hitter as opposed to just utilizing a player off the bench whose role for a NL team would differ from that with an AL club. The Reds used left-handed hitting Jack Hannahan against righty Corey Kluber on Monday. Ryan Ludwick is in the lineup Tuesday against right-hander Josh Tomlin.
The Reds are 3-9 overall against the AL. They lost two of three games at home against Tampa Bay in April, while beating Toronto twice in a three-game series in June. The Reds have seven more interleague games after tonight; they host the Indians Wednesday and Thursday nights and then Boston comes to GABP for two games next week. They travel to Baltimore for a three-game series against the Orioles in the first week of September.
The last time the Reds won in Cleveland was May 22, 2010. Johnny Cueto started that day, giving up two runs on four hits in six innings in a 6-4 victory that was the second in a row for the Reds in the series. Cueto will start Tuesday night's game at Progressive Field, his first start since that game four years ago. He does hold a 3-0 record and 2.10 ERA against the Indians in five career starts against them.
"You always feel good with him on the mound," said third baseman Todd Frazier.
The Reds have yet to score more than three runs in any of the six road games against AL teams Boston, New York and Cleveland. Four of the six losses have come by one run. That coincides with their overall struggles in one-run games, where the Reds are 17-24 this season.
PHILLIPS ON THE MEND: Second baseman Brandon Phillips is making progress towards a return to the lineup. Phillips has been taking ground balls and throwing during infield as he recovers from surgery to repair a torn ligament in his left thumb. Phillips has not yet begun taking batting practice but he is getting every other baseball activity in that he can.
Phillips was injured diving for a ball against the Cubs on July 10. He had surgery the next day. The initial prognosis was that he would be out of the lineup for six weeks.
BRINGING ALONG LUTZ: In a perfect world for Price, Donald Lutz would be down at Triple-A Louisville playing every day. This season has hardly been perfect for Price and the Reds so Lutz is spending time on the big league club's bench.
"I think Donald would benefit from playing more regularly but right now where we are with our 40-man roster he's been suited to come up and give us that bench support," said Price. "We're quite aware that developmentally speaking Donald has a little ways to go but I think we all feel universally in the organization that physically this guy has the ability to be an every-day major league player. Also mentally he's capable of doing it."
He's played in just 18 games and his hitting .212 in his limited appearances, but Price was impressed with Lutz's pinch-hit double off of Cleveland reliever John Axford in the ninth inning Monday night. Lutz hadn't played since last Wednesday against Arizona. Four of Lutz's seven hits this season have been doubles.
"That's something that he's capable of doing but I do think he's got a little bit of a ways to go with his development before he's ready to play here every day," said Price. "Young players coming up and moving from being a middle of the order-type everyday player to a bench player and having to get acclimated to seeing the better late-game relievers coming in there and having to give us a quality at-bat after not playing in three or four days, that's a huge challenge. In order to do that like a Hannahan you have to be schooled in that.
"I think he's in that graduate school program yet he should be in an undergrad program playing every day in Triple-A."
Follow on Twitter FSOhio_KGoheen
---