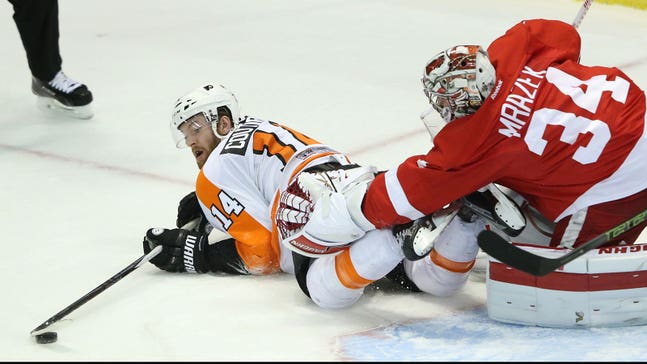 Red Wings try to hold off Flyers in playoff race
Updated
Mar. 4, 2020 3:39 p.m. ET

Making a push to move into playoff position, the Philadelphia Flyers have a good opportunity to close in on the team they must catch for that to happen.
The Flyers can get within a point of Detroit for the Eastern Conference's final wild-card spot by continuing their home dominance of the Red Wings on Tuesday (7 p.m. pregame, 7:30 faceoff on FOX Sports Detroit).
Though Philadelphia's three-game winning streak ended with Saturday's 5-4 shootout loss at Florida, it's in the midst of a 6-1-1 stretch. The Flyers are the first team behind Detroit.
"We have to have an all-around team effort, and the guys are playing good hockey," said Steve Mason, who despite yielding four goals Saturday is 3-0-1 with a 1.72 goals-against average in four starts this month.
The Flyers (32-23-12) can keep making up ground in the Detroit matchup and Saturday's game against wild-card leader Pittsburgh, which they trail by four points.
Philadelphia has totaled 22 goals during a 5-1-1 stretch at Wells Fargo Center, and it's outscored the Red Wings 44-17 in a 10-game home winning streak. Claude Giroux had the tying goal and scored in the shootout of a 2-1 victory at Detroit (34-24-11) on Jan. 17 in the season's only meeting.
Giroux has five goals and nine assists in an eight-game point streak against the Red Wings, while Wayne Simmonds has recorded five points in his last three meetings with Detroit.
The Red Wings have dropped two straight on the road, where they've gone 2-6-2 in their last 10.
Detroit's inconsistency continued Sunday as it lost 1-0 to lowly Toronto and failed to win a third straight.
"Every game this time of year, especially for us with how close the standings, are is a huge game," defenseman Danny DeKeyser said. "It's tough when you don't come away with points."
Petr Mrazek stopped 26 shots and initially made the save on Michael Grabner's attempt in the second period before the puck slid into the net.
"Every game is extremely important, so now we got to put our sights on Tuesday and say 'How are we going to win the game on Tuesday?" coach Jeff Blashill said. "That's what I'm thinking about. I'm not thinking about anything else.
"We'll look at (Sunday's) game and learn from this game but now we got to put our sights and say how are we going to win on Tuesday?"
The Red Wings have killed off eight of nine penalties in the past three games after their previous three opponents went 6 for 11 with the man advantage. They'll be tested again by a Philadelphia club that's gone 8 for 32 (25 percent) on the power play in eight games.
Detroit's Pavel Datsyuk has managed a goal and two assists in his last 10 games, but he has seven goals and five assists during an eight-game point streak against the Flyers.
Mrazek has gone 2-1-0 with a 1.67 goals-against average in his last three starts. He made 30 saves against Philadelphia in January.
Detroit defenseman Niklas Kronwall could miss up to three weeks with a sprained knee, but forward Darren Helm might return Tuesday after sitting Sunday with the flu.
---