Red Sox rough up Rays starter Karns in 9-6 victory
BY foxsports • March 28, 2015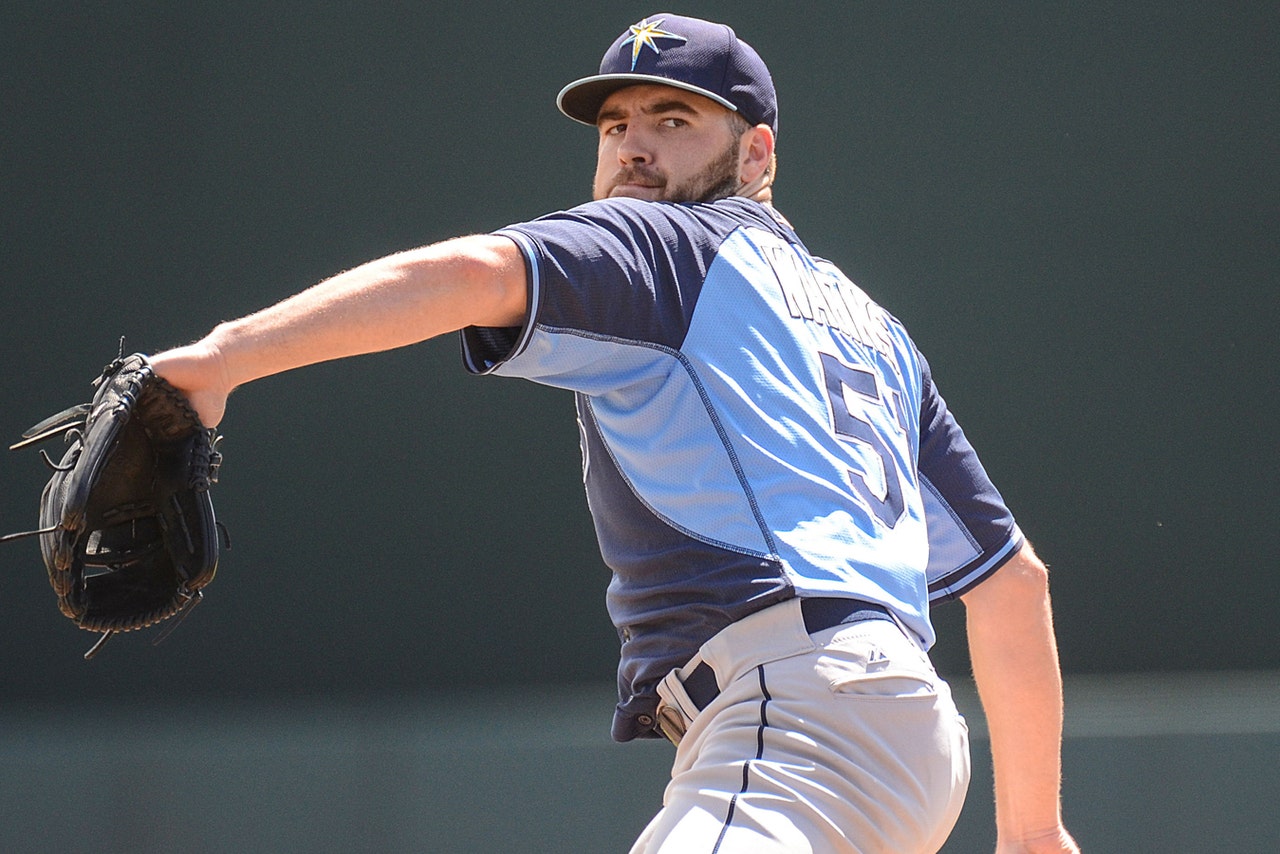 PORT CHARLOTTE, Fla. -- Nathan Karns is excited about an opportunity to open the season in Tampa Bay's pitching rotation.
The Rays right-hander had a rough outing during a 9-6 loss to the Boston Red Sox on Saturday. Still, he feels good about his overall progress this spring.
Mike Napoli homered and Hanley Ramirez also drove in two runs off Karns, who allowed six runs over four innings in what likely was his second-to-last appearance before starting either the second or third game of the regular season.
"It's one of those days I didn't have much," Karns said after throwing 72 pitches, 48 strikes.
"It's just nice to get out there and try to compete, even without my good stuff," he added. "My command was off. I fell behind a lot. Guys really took advantage of that when I tried to make pitches."
With No. 1 starter Alex Cobb sidelined by a forearm strain, Chris Archer is slated to be Tampa Bay's opening day starter. Manager Kevin Cash said Karns and Jake Odorrizzi will pitch the next two games, but a decision hasn't made in which order.
"I'm excited to make the roster on opening day and all that, but I still have a job to do," Karns said. "I'm trying to stay focused on that and not let good news like that distract me from making the progress I'm trying to make."
Knuckleballer Steven Wright made the start for the Red Sox, allowing five unearned runs in 3 2-3 innings -- all of the damage coming with two outs in the fourth inning. Four other pitchers teamed to limit the Rays to one run and three hits the rest of the way.
Wright settled after walking two batters in the first inning and was doing a nice job of mixing his knuckleball with other pitches until a fielding error by Xander Bogaerts prolonged the fourth. One run scored on the play, and Wright yielded four singles and a walk to the next five batters.
"They got a little more aggressive than they were at the beginning. I felt like they were making me show them I could throw it for strikes," Wright said. "I don't feel like they really got good wood on any of them, but they were aggressive they just started finding the holes. They're a good-hitting team."
Napoli hit a two-run, opposite-field homer off Karns in the third. Hanley had a sacrifice fly and RBI double off the Rays starter, and David Ortiz also delivered a broken-bat, RBI single in the first.
Steven Souza Jr. had a two-run single off Wright, and Brandon Guyer, Logan Forsythe and Curt Casali also drove in runs during the Rays' five-run fourth.
STARTING TIME
Red Sox: Wright was within one out of extending a string of consecutive scoreless innings to 11 over three appearances. In addition to allowing six runs, he gave up five hits, walked three and struck out three.
Rays: Karns is scheduled to make his final spring training appearance next Thursday against Philadelphia. Archer will start that game.
COBB THROWS
Cobb played catch for the first time since being sidelined with a forearm strain, an injury that will stop him from being the team's opening day starter. He hadn't thrown since March 17, when he pitched three perfect innings against the Philadelphia Phillies. "I really wasn't anxious or nervous about doing it. It was more of a relief to get that next step out of the way and get closer to the ultimate goal of pitching in games," Cobb said, adding he remains confident he'll be able to join the rotation before the end of April.
TRAINER'S ROOM
Red Sox: Catcher Christian Vazquez had a MRI performed on his throwing elbow. Manager John Farrell intends to get a second opinion on its findings. "I don't have an updates on it," Farrell said.
Rays: Right-hander Alex Colome, who's recovering from a bout with pneumonia, was placed on the 15-day disabled list, retroactive to Friday. He threw 30 pitches in a bullpen session Saturday.
UP NEXT
Red Sox: The third of four spring meetings against the Rays, with LH Brian Johnson slated to start.
Rays: Relievers Jordan Norberto, Grant Balfour, Ernesto Frieri, Brad Boxberger and Kirby Yates are expected to work against the Red Sox in Fort Myers, Florida.
---