RECAP: Paul, Griffin shoot Clippers past Suns, 112-101
April 15, 2015

Chris Paul's 22 points, including six 3-pointers, led the Los Angeles Clippers to a 112-101 win over the injury-depleted Phoenix Suns in the Clippers' final regular-season game before the NBA playoffs.
The Clippers clinched the West's No. 3 seed with the win.
Blake Griffin hit his first six shots on his way to 20 points as Clippers coach Doc Rivers played his starters major minutes with a higher playoff seeding on the line. DeAndre Jordan had 13 points and 14 rebounds, setting the Clippers' single-season record for rebounds in a season.
Los Angeles (56-26) can finish with the No. 2 seed if the San Antonio Spurs and Houston Rockets lose their final games Wednesday.
The Suns were down to eight available players, Archie Goodwin leading Phoenix with a season high 18 points, P.J. Tucker adding 17 with nine rebounds. The Suns finished 39-43 and lost 10 of their final 11 games, the worst end to a regular season since the team's first as a franchise, 1968-69, when it dropped 11 of the final 12.
The Clippers led 32-26 at the end of the first quarter, surged even further ahead by going 6 of 9 from 3-point range in the second period. Paul hit two 3s to make the score 58-41 and J.J. Redick back-to-back 3s for a 66-41 lead.
Jordan grabbed his fifth rebound with 3:50 left in the first quarter, and in so doing passed former San Diego Clipper Swen Nater for the most rebounds in a single season in franchise history with 1,217. Nater had 1,216 in 1979-80.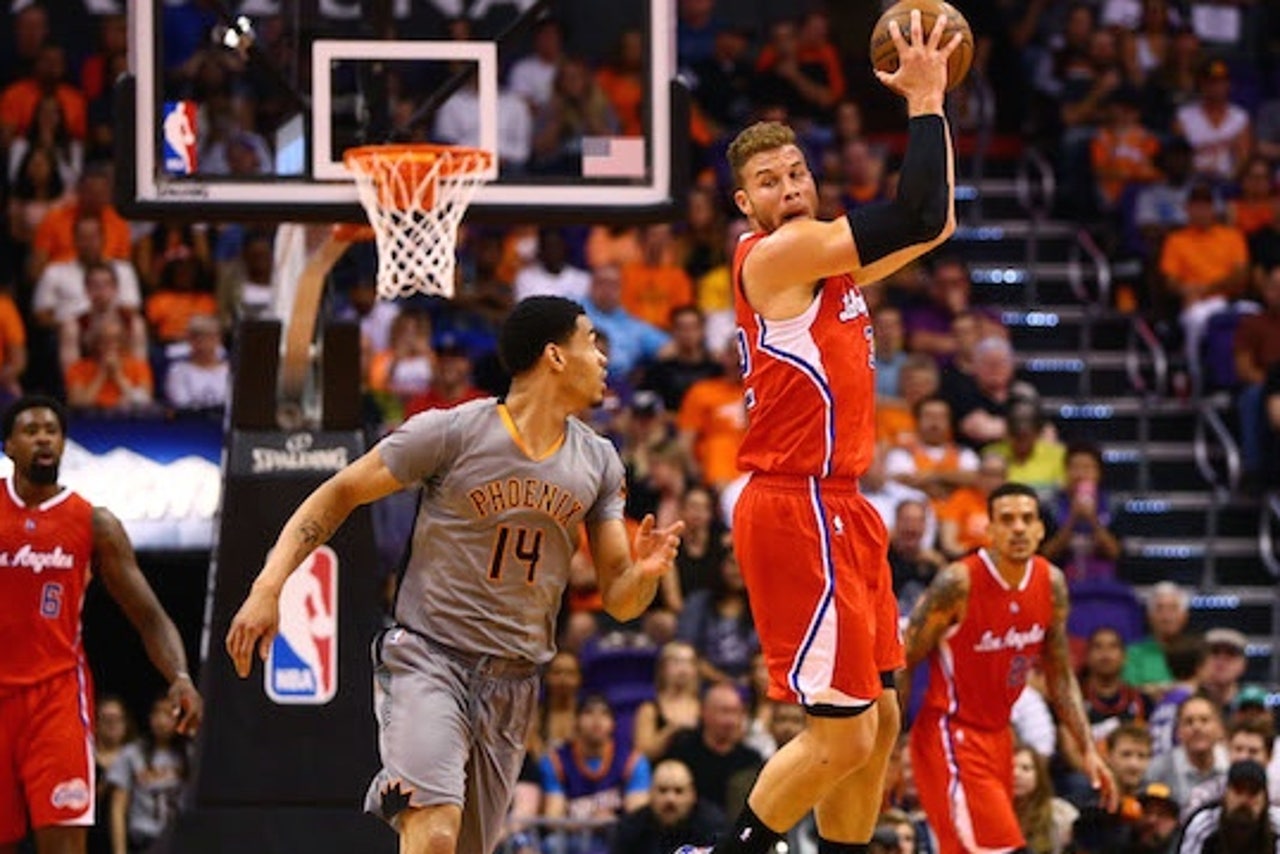 Clippers win season finale and now await Western Conference playoff opponent
Jordan finished with 1,226.
The Clippers led by as many as 30 in the second half, but the Suns cut it to 14 on a 3-pointer from Gerald Green. The lead was down to 10, 109-99, with three minutes left, but Phoenix got no closer.
SUNS' SEASON SETS
Suns coach Jeff Hornacek was asked to describe how the season went for the Suns, who were in the playoff hunt in late March, but faded down the stretch.
"This ending has kind of put a sour taste in everybody, but you have to understand, without (guard) Brandon Knight and (center) Alex Len, we were thrown for a pretty big loop in our depth and our play. You can't go up against these top teams in the league undermanned," Hornacek said. "All you can do is look forward to next year."
CP3 delivers with late-game magic as Clippers outlast pesky Nuggets
TIP-INS
Clippers: Rivers said it was important for Paul to play all 82 games this regular season, which Paul accomplished for the first time in his 10 NBA seasons. "I think it meant a lot to Chris to prove to himself that he could do that," Rivers said. "He's put the work in with his body and he's gotten the proper amount of rest." . G Austin Rivers did not play due to illness. . Jordan air-balled a free throw with 2:22 left in the first half, drawing perhaps the loudest cheers of the night from Suns fans.
Suns: Knight (left ankle sprain), G Reggie Bullock (concussion), Len (broken nose), G Marcus Thornton (ankle) and F Brandan Wright (left ankle soreness) did not play. F Marcus Morris also missed the game with a stomach virus. . G P.J. Tucker was presented with the team's annual Majerle Hustle Award, named for former Suns star "Thunder" Dan Majerle. It's the third time he's won the award. Tucker publicly thanked fans for their support this season before the game. . New Arizona State basketball coach Bobby Hurley, the former Duke star, got an ovation from the crowd when introduced during the second quarter.
UP NEXT
Clippers: Western Conference playoffs.
Suns: season over.
---