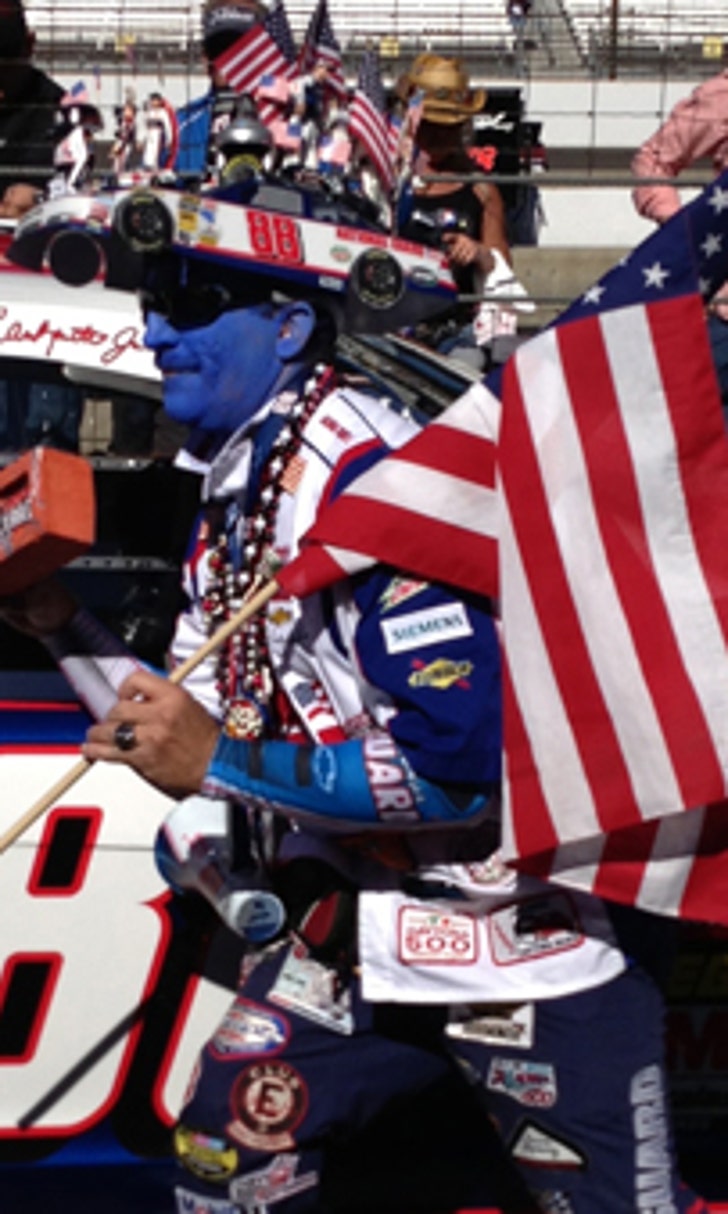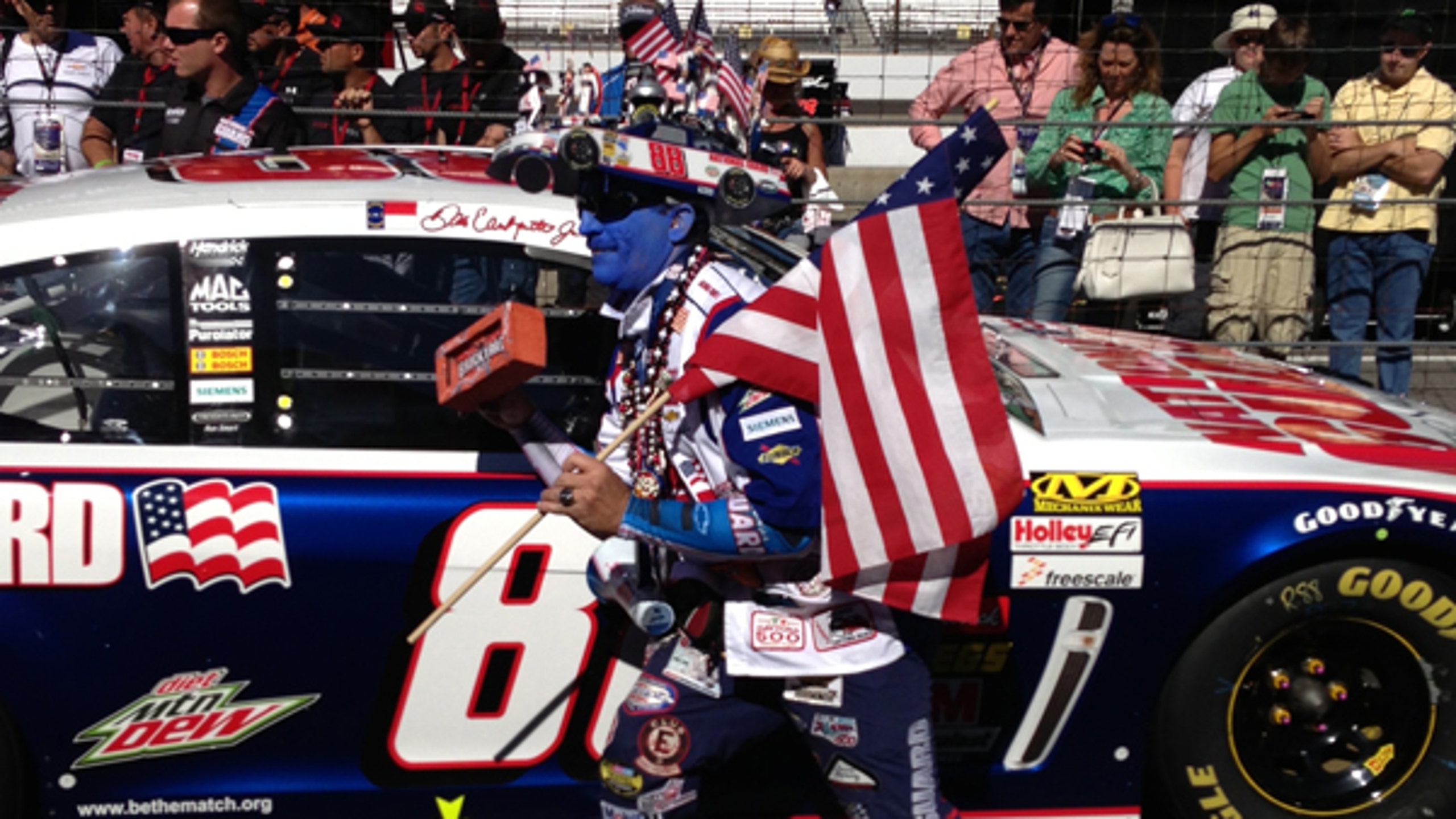 Real Earnhardt Fans Of The Jersey Shore
BY foxsports • July 30, 2013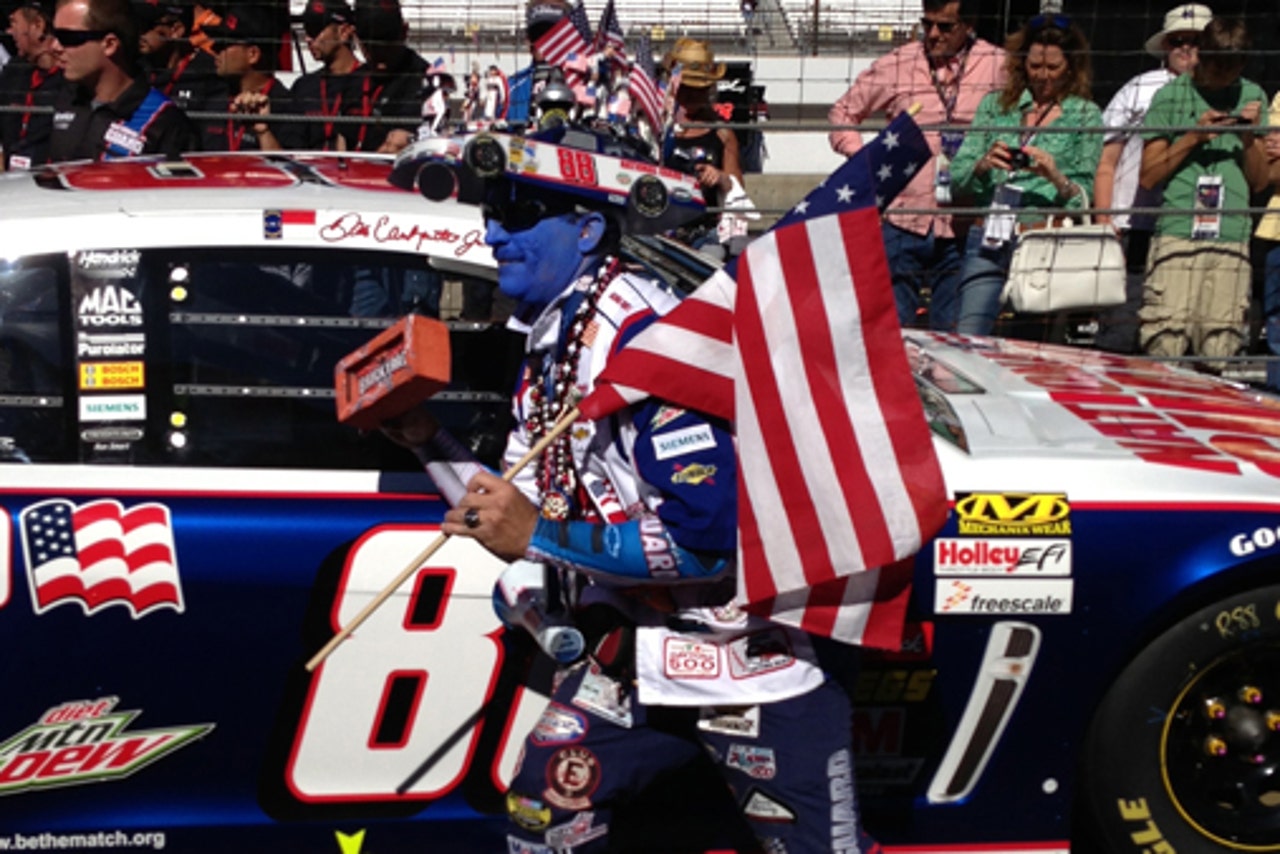 When you think of the millions of soldiers in Junior Nation, what comes to mind, geographically?
Fans from North Carolina, Dale Earnhardt Jr.'s home state? The fanatics at Talladega? The masses at Bristol?
All three of the above are good guesses, to be sure.
But Junior has passionate fans from every corner of the country.
Even the Jersey Shore. And we're not talking Snooki, either, although she was at a NASCAR race at Richmond two years ago.
Check out this dude Shake and Bake spotted at the Brickyard over the weekend. His name is Tony Wright from Egg Harbor Township, N.J., a small community within spitting distance of Atlantic City.
And he was fired up, big-time.
National Guard uni? Check.
American flags of all shapes and sizes? Check.
No. 88 car on his head? Check.
Blue paint on his face? Check.
Beads of assorted sizes around his neck? Check.
Brick in his hand? Check.
Tony was ready for anything.  
The really amazing part, though? On Saturday, he had a different uni, makeup and hat, all paying tribute to the late great Dale Earnhardt. And he totally rocked both looks.
"I come out to all the races to support all these and all these drivers out here," said Tony as he took the tape recorder out of the S&B reporter's hands and started dictating into it.
"Our sport is very hurting, like the rest of our country," Tony continued. "We need to support it and come out and enjoy this sport that's been around for a very long time."
As for his garb, it was strictly DIY.
"Oh, yeah, this outfit I made," he said, pointing to his No. 88 clothing. "I have the ability to make something like this because I've got the mind and the ability to do this. Not many people would do this.
"I do this because I like to do it. People do not do things unless they like it," he said. "You have to remember, people come out here to enjoy something and they see me and they enjoy it a lot more."
No doubt about it, brother. 
---