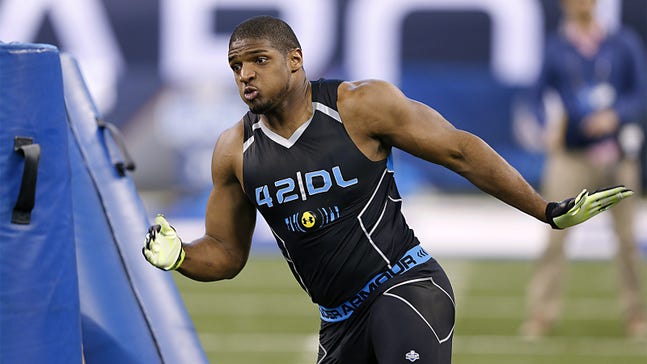 Rams confident Sam's the right fit
Published
May. 11, 2014 1:10 a.m. ET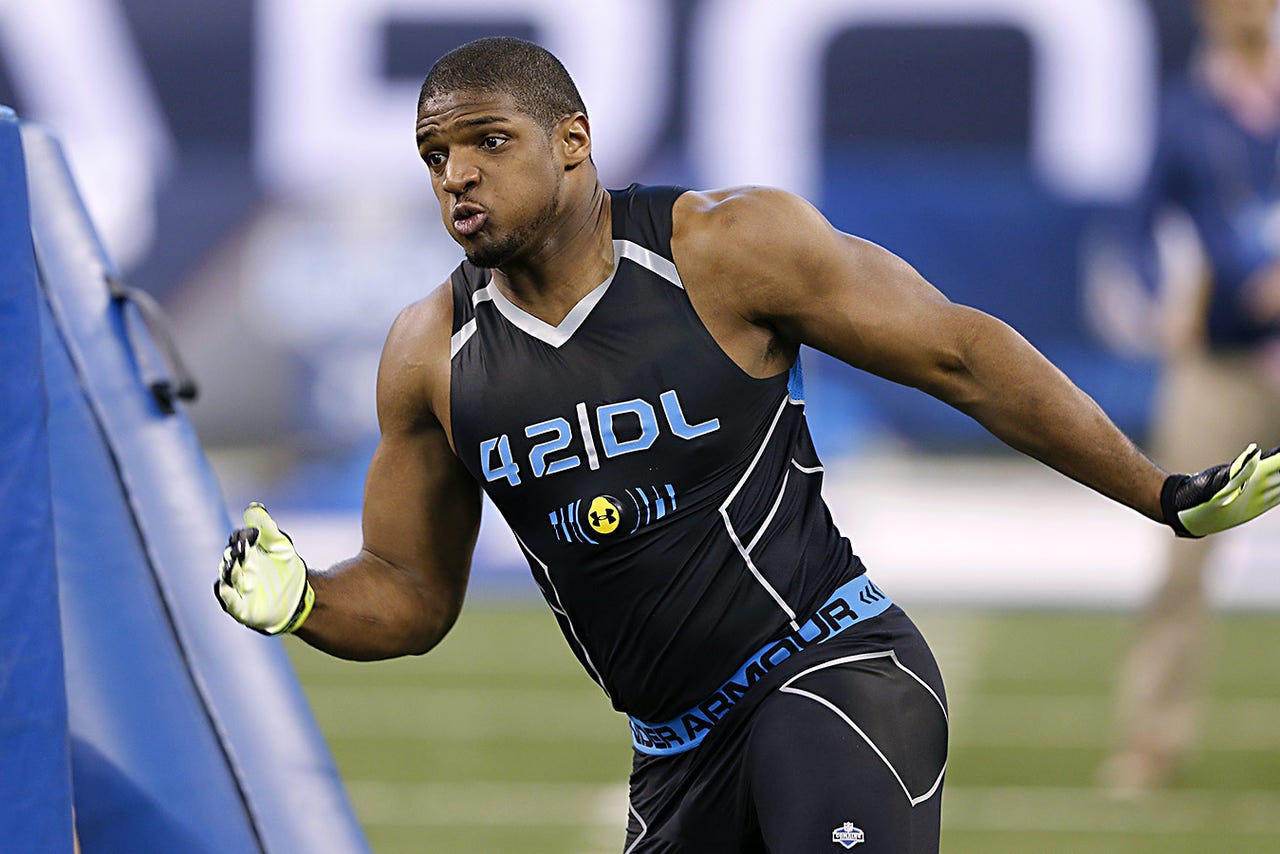 ST. LOUIS -- Rams coach Jeff Fisher was on the telephone with owner Stan Kroenke two picks before taking Michael Sam.
Fisher got the go-ahead. And the Rams took the plunge on a player who will forever be known as the first openly gay player drafted by an NFL team.
Not long after Sam made his announcement, Fisher said he'd have absolutely no problem coaching Sam. He proudly made the pick.
"We're in an age of diversity. Players understand that, they know that," Fisher said Saturday as the league was buzzing with the historic pick. "People will try to make it a distraction but it's not a distraction."
The Rams drafted Sam based on the Missouri star's ability -- and with confidence they're ready for the sideshow that surely will follow. Rookies report on Monday ahead of a rookie minicamp later in the week.
Fisher and general manager Les Snead didn't check with players before making the pick. So far they haven't been disappointed with expectations Sam would be welcomed with open arms, just like any other new teammate.
The timing is right, he believes, just as it was when Sam told Missouri teammates he was gay before the start of fall drills and there were zero leaks.
"I'm sure it was a very, very difficult thing for him to do," the coach said. "I would also submit it was probably a tremendous load off his shoulders."
If problems develop, Fisher said, he'll nip them in the bud. But none are anticipated.
"Hey, are there going to be idiots out there and say some stupid stuff? Yeah," Sam said in a conference call with St. Louis reporters. "I'm not worried about that."
So far, Sam has been deluged with congratulatory texts and tweets from teammates and around the league.
Teammate Robert Quinn, a defensive lineman, tweeted: "Welcome to the squad (at)MikeSamFootball (hash)D-LineShowtime."
The Rams are getting viewed as pioneers.
"I welcome any person like Michael Sam into the NFL, just like I'd welcome every other football player that got drafted," Bills general manager Doug Whaley said.
"It was exciting to see that emotion but also see that he went to a good football team," Broncos GM John Elway said. "Obviously, they thought that Michael was going to fit them very well."
Prominent teammates weighed in, promising smooth sailing.
Middle linebacker James Laurinaitis said players just want somebody to help them become a contender in the rugged NFC West. He's pointed out in the past that every locker room is a mixture of personalities and belief systems that find harmony in pursuit of a common goal.
The Rams had the next pick after taking Sam, adding Tennessee State center Demetrius Rhaney to considerably less fanfare with pick No. 250.
"Michael Sam, he's like a brother now," Rhaney said. "That's my teammate, I can't wait to meet him, and let's get the ball rolling."
Instead of a guy getting picked at the end of the draft, Sam said the news made him feel as if he were Jadeveon Clowney basking in the glory of going first overall. At least from within, Sam's toughest challenge will be finding a niche on a team loaded with defensive line talent.
General manager Les Snead referred to Sam as a DPR -- designated pass rusher. At 261 pounds he's considered a tweener, a major reason he wasn't considered a top-end NFL prospect.
The Rams have a good pass rush already. Quinn was second in the NFL with 19 sacks last year and he, fellow end Chris Long and tackle Michael Brockers are all former first-round picks.
"Well, it's going to be very competitive for him, as it will be for some of the other guys -- the later picks," Fisher said
If Sam can't make it, despite the negative fanfare it might produce, Fisher said it won't be difficult to cut him.
"I would say no because we picked him within the process and we're going to reduce this roster within the process," he said. "So, I don't see that being an issue."
---