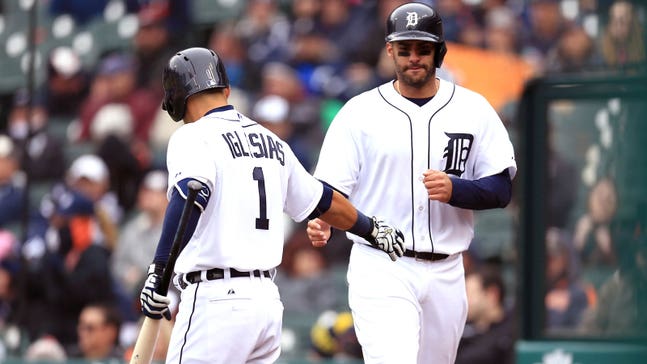 Quick hits: Iglesias still on shelf; J.D. Martinez struggling
Updated
Mar. 4, 2020 7:35 p.m. ET

DETROIT -- Tigers vs. Royals, LHP David Price vs. RHP Yordano Ventura
Early News: Well, Dana, the Tigers are home so that's news in itself. Those 10-game road trips are long.
But Jose Iglesias is still out of the lineup and J.D. Martinez is still slumping, so let's get to it.
Tom Gage: What's the prognosis for Iglesias? I'm sure the Tigers will be very careful with him, right?
Dana Wakiji: Tigers manager Brad Ausmus said before the game that he wasn't planning to play Iglesias today, even if Iglesias had come in and said he was healthy.
Ausmus said they gave Iglesias a couple of days off last time but then the groin problem returned so he said Iglesias would need at least a few days before they would even consider playing him.
TG: And, to put it mildly, J.D. didn't have the best of road trips (4-for-33), so what do you think, are we seeing some frustration there?
DW: There's no question.
Martinez was calm and good-natured when talking to reporters before the game, but you can tell it's wearing on him.
As everyone knows, Martinez keeps a notebook on his at-bats and studies video a lot, so he's been working hard with that and with hitting coach Wally Joyner.
But Martinez knows he can't be at the plate thinking too much because that rarely works out.
He also knows the Tigers need him to be the J.D. they loved last season.
"We definitely need him back, no question," Ausmus said. "We're a much better lineup when he's swinging the bat like he normally does."
TG: Bruce Rondon's recovery from tendinitis isn't going entirely smoothly, that's for sure. Is it too minor thus far to call it a setback?
DW: Ausmus said it was a "little bit of a mystery" that Rondon felt so much soreness when he threw live batting practice.
Pitching coach Jeff Jones acknowledged that they are going back with Rondon and "rebuilding," so I guess it is a setback.
The Tigers sent Rondon for an MRI and it came back fine.
Now Rondon is at least in Detroit and under the watchful eyes of head athletic trainer Kevin Rand and Jones.
Rondon threw 40 tosses today and Jones said they'll see how he feels tomorrow.
***If multimedia does not appear right away, please click refresh***
---