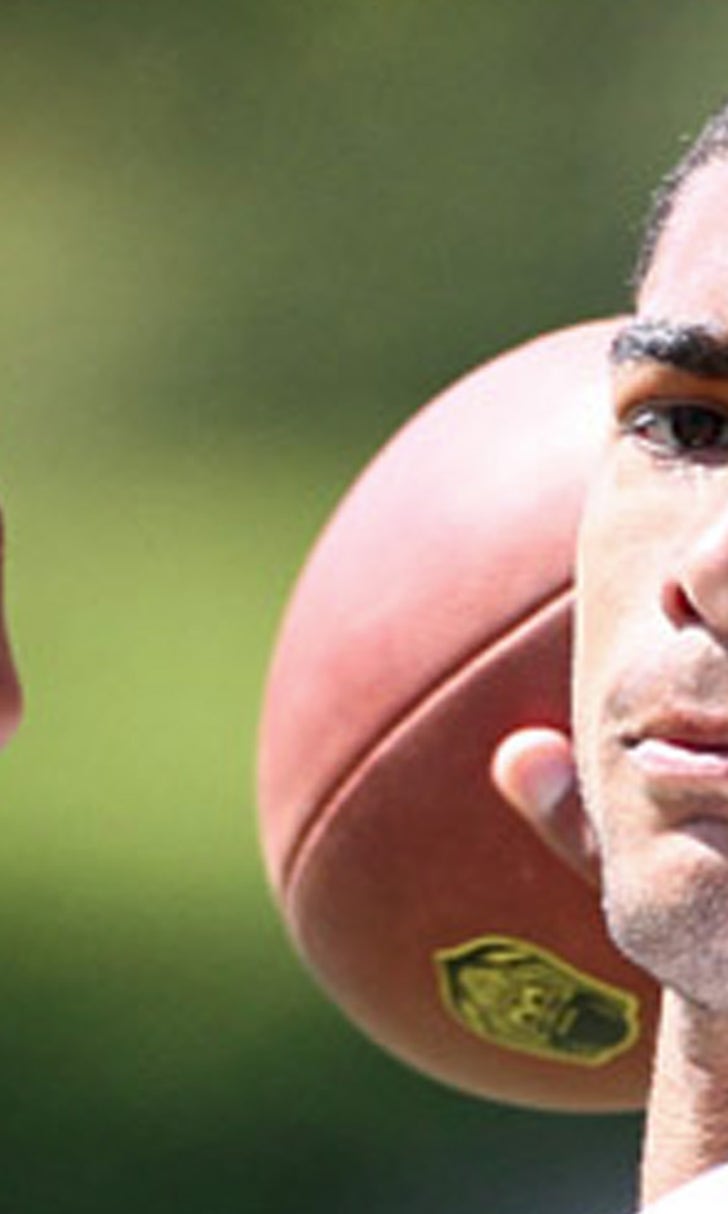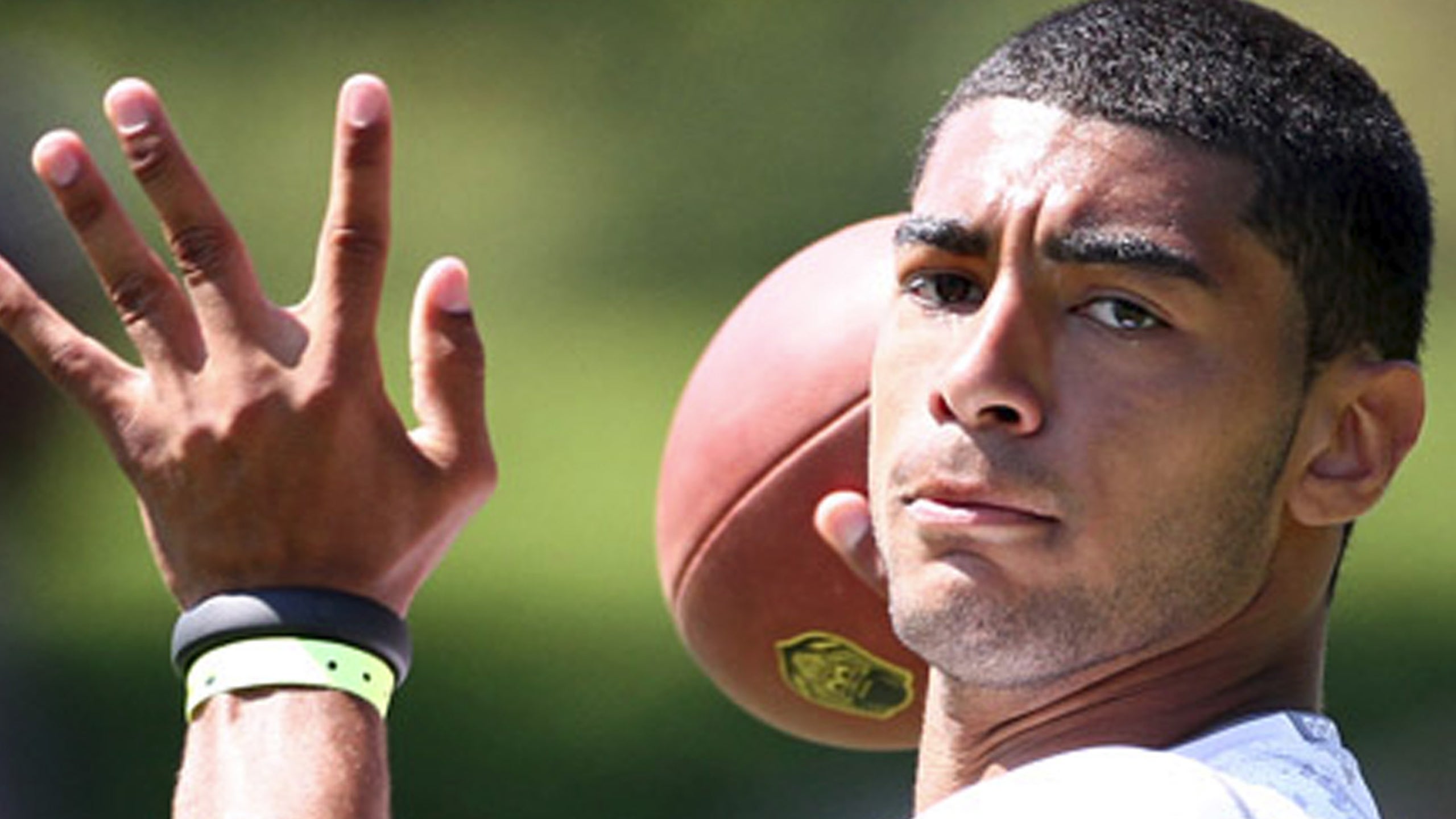 Q&A on ASU's highly touted recruiting class
BY foxsports • February 3, 2014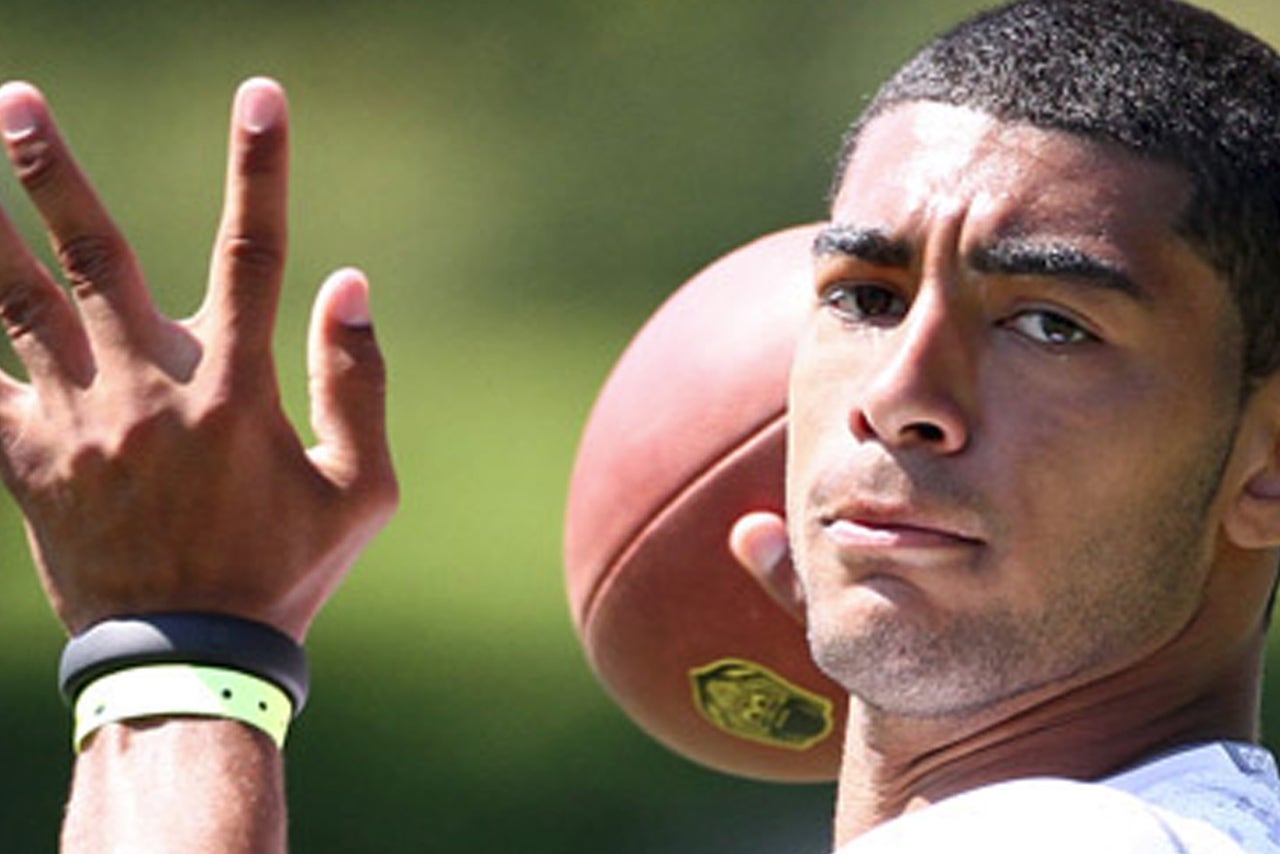 With National Signing Day two days away, Arizona State sits in uncharted territory. According to recruiting services, the Sun Devils have never had such a highly ranked recruiting class this late in the process.
As of Monday morning, ASU's class is ranked No. 12 nationally by Scout.com, No. 17 by Rivals.com and No. 22 by 247sports.com. According to the same sources, ASU ranks No. 1, No. 2 and No. 4, respectively, in the Pac-12. Those numbers could shift by Wednesday, but they likely will remain ASU's best in the era of recruiting rankings.
So what's happening at ASU? A number of things, Scout.com national analyst Brandon Huffman says.
Huffman explains that between savvy recruiters (including one who's a recruit himself), vacant starting positions and two seasons of success under Todd Graham, ASU has plenty to convince top talents to play in Tempe.
For an in-depth evaluation of ASU's 2014 recruiting class and how it came to be so strong, FOXSportsArizona.com spoke at length with Huffman, who is based on the West Coast.
FSAZ: What's happening at ASU that has allowed the staff to put together what seems to be the school's strongest recruiting class on record?
Huffman: They've done a good job in state, which is a huge upgrade over the Dennis Erickson years. That was one of their biggest stumbles under Dennis Erickson. They just didn't do a good job recruiting in state. Getting Tyler Whiley (WR, Scottsdale Chaparral), getting Ismael Murphy-Richardson (LB, Goodyear Desert Edge) was a big deal. There's some good talent that is leaving, but I think the important part is ASU did kind of get their share in-state talent. They did a good job of landing guys ASU normally didn't get. Typically kids like Tyler Whiley, in the past, would leave the state.
The other big thing was Manny Wilkins (QB, San Marin HS, Novato, Calif.) and the inroads ASU made in Northern California by getting him. They didn't alienate their own backyard, but they also made a strong push and focus in Northern California.
FSAZ: You mention the Sun Devils getting their share of in-state talent, but with as much talent as Arizona had this year, why wasn't ASU able to land more of it?
Huffman: Top guys like Mark Andrews (WR, Scottsdale Desert Mountain) and Kyle Allen (QB, Scottsdale Desert Mountain) have been looking kind of big picture, big time for a couple years. So even though ASU had a really good season in 2013, for a lot of these top-10 kids, they're still looking at the Oregons of the world, the Oklahomas, the Stanfords, the Texas A&Ms. So it wasn't like ASU was losing them to Cal or Washington State. They were losing them to legitimate programs. There were some family ties pulling the top guys in different directions as well.
FSAZ: How much better is the recruiting savvy of ASU's coaching staff than in past years?
Huffman: One hundred percent. It's grown by leaps and bounds with guys like Mike Norvell, who does a great job identifying talent and staying on those guys. The reason they got Manny Wilkins was because they handled his recruitment perfectly. Even though it was clear Kyle Allen was the quarterback they wanted, they did a good job of spelling it out to Manny Wilkins like, "Look, we offered this kid before we even knew who you were, he's a local kid, he's the best quarterback in the country." But they kept Manny warm instead of trying to come to him after Kyle Allen chose Texas A&M. They made it clear with him, and he really appreciated that honesty. He even said that was a big reason they picked him. They were really honest with him, and that's a big deal when it comes to relationships with these recruits. That's something that's kind of new with this staff, because I don't think that was the case under Dirk Koetter or Dennis Erickson. And guys like Norvell, Chip Long and Chris Ball have done a good job of seeing different key regions. They've really done a good job of spreading the net.
FSAZ: Is it also a factor, whether good or bad, that ASU has a lot of holes to fill next season, especially on defense?
Huffman: I think the fact they had so many personnel losses is really why their class has actually gotten to be as good as it is. Guys are seeing immediate opportunities to play, and more importantly they've got tangible proof that ASU is willing to play freshmen if they're ready, like Jaxon Hood and D.J. Foster (in 2012). They've done a good job of getting true freshmen on the field. In the old days, coaches would say, "You're coming in and redshirting." Now it's like, "You better come in with the expectation to play right away, because there's a very good chance we're going to need you." Then they've got tangible proof guys aren't just being told that. They actually are playing right away.
FSAZ: What need do you think this class best addresses?
Huffman: I would say the defensive secondary certainly is the biggest area where they were bolstered. They've got four safeties, and two of them are guys I wouldn't be surprised to see grow into outside linebackers. And really the whole defensive side of the ball -- two really good defensive tackles, two really good defensive ends, the three outside linebackers that are great, and then a very good secondary. They're not just getting good talent, either. They're also getting depth.
FSAZ: Conversely, what need do you think maybe isn't addressed well with this group?
Huffman: I think the offensive line is certainly a question mark. They've only got two offensive linemen now, and they're both tackle types. They're also both kind of "tweener" linemen where they may be better suited as guards, so they don't really have a true tackle in this class. That's kind of been the one glaring spot. They don't have big numbers on the offensive line, and neither of those guys are immediate-impact linemen. They're more developmental guys.
FSAZ: Of those defensive recruits, are there a few you could see contributing immediately?
Huffman: I fully expect D.J. Calhoun (LB, El Cerrito HS, El Cerrito, Calif.) to play quickly. He reminds me a lot of Brandon Magee. I expect he'll get on the field sooner rather than later. He's just an impact guy. I also think Renell Wren (DE, Lutheran North HS, St. Louis, Mo.) is probably going to have to come in and be able to play right away. Physically he's ready, he's one of their top defensive line recruits, and he's probably got the best chance to come in and play early.
FSAZ: You already mentioned Manny Wilkins, who's sort of the prize of this class. What's your evaluation of him?
Huffman: I don't think I've seen a quarterback out West in the last four or five years that has better intangibles for being a quarterback -- the "it factor," the leadership, the way he commands the huddle. The kid's best football is clearly still ahead of him. He hasn't taken nearly as many snaps as a lot of the elite quarterbacks have, but he's already a very good quarterback. You can't even really put a ceiling on him. That's how much better I think he's going to become. And other recruits really respond to him. He's taken it on his own to be "the guy." You could say he's the traveling assistant coach, because he's talking to kids all the time. I joked with Greg Biggins, who I cover the West with, that our Pac-12 recruiter of the year might end up being Manny Wilkins, because he's been just as effective recruiting other kids as a lot of coaches are.
FSAZ: It looks like Wilkins will have competition for the job once Taylor Kelly graduates, though, as Coltin Gerhart (QB, Vista Murrieta, Murrieta, Calif.) is now coming in as a quarterback instead of a defensive back. How much has his stock risen lately?
Huffman: Big time. This was the year Gerhart got to show he was a quarterback. When he was at Norco High School, they were so ground-oriented that they even tried to throw the ball a little more to allow Gerhart to throw a little, but their roots at the end of the day were in running the ball. So he goes to Vista Murrieta and shows he can throw the ball. I still think his best position may end up being at safety or even outside linebacker, but if there's one thing I learned from watching Toby and Garth (Gerhart's older brothers), it's that you don't underestimate a Gerhart, because they're going to make you look foolish if you do.
FSAZ: Also committed on the offensive side is Eric Lauderale (WR, Saddleback CC, Mission Viejo, Calif.). What can you say about him?
Huffman: I've watched a lot of his film, and I know that Saddleback is one of the best junior college programs in the country. That's a guy Manny Wilkins told me back in October, "We're getting him." I think Lauderdale comes in with a chance to really be an impact guy. I'm not going to say he's (former junior college transfer and Tennessee receiver) Cordarrelle Patterson yet, but I could see where he becomes the focus of the ASU offense and they only have him on campus for four months before he leaves and goes to the NFL. He's that good.
FSAZ: ASU also has a big-time running back in the fold in Demario Richard (Palmdale HS, Palmdale, Calif.). What impresses you about him?
Huffman: Just the way he runs. You look at him and he's just kind of a bowling ball. He's not a real tall kid; he's more short and compact. He doesn't have great top-end speed, but he gets great separation in the open field. What I love about him is that even though he's only 5-foot-9, maybe 5-foot-10 at the most, he's willing to drop a shoulder and knock you down.
FSAZ: Anyone else who stands out to you who's worth mentioning?
Huffman: If they can hold onto Kalen Ballage (ATH, Falcon HS, Falcon, Colo.), it would be big. He's another kid that brings positional versatility to the table. I really like Tyler Whiley. We have him rated as a receiver and as a safety -- both four-star -- and I think he can be effective on both sides. But I think with the amount of safeties ASU is bringing in, he won't have to flip to defense. And the guy who may be one of the best all-around football players in this class after D.J. Calhoun is Das Tautalatasi (DB, De La Salle HS, Concord, Calif.). I will always take a kid from De La Salle, because those kids are usually the most disciplined, the most college-ready and most fundamentally sound kids you're going to find in high school football west of the Mississippi River.
FSAZ: Maybe this is Tautalatasi, but is there a guy in this class who's getting overlooked?
Huffman: I would say there are two guys. Jamal Scott (DB, Magnolia HS, Anaheim, Calif.) would be one. He comes from a program with zero football tradition. He was actually the first player from his high school we've ever entered into our recruiting database. That's how long it's been. It's been 16 years since they had a player signed. His film came out on a Monday night, and by the end of the week he had about eight offers. And then Armand Perry (DB, Bishop Gorman HS, Las Vegas, Calif.) is the other kid. Coming from Bishop Gorman, he's somewhat overlooked because they have so many other great players. He's really good in coverage, and I think because he's coming from Las Vegas instead of the Los Angeles or Phoenix hotbeds, he's somewhat overlooked.
FSAZ: Anything else we didn't cover?
Huffman: I will say the one thing that's maybe the most notable about this class is how little they relied on junior college players this year. They still have three JC guys coming in (as of now), but in years past, ASU has brought in seven or eight JC guys and really focused heavily on jucos. For a class the size of the one they have coming in, they've done a really good job of making the priority on the high school side. Last year they had 11 jucos and post-graduates on the team. ASU shouldn't have to recruit the JCs that hard. This year they went with the more bright model in terms of focusing heavily on the high school ranks but then filling up two or three spots with juco guys.
---