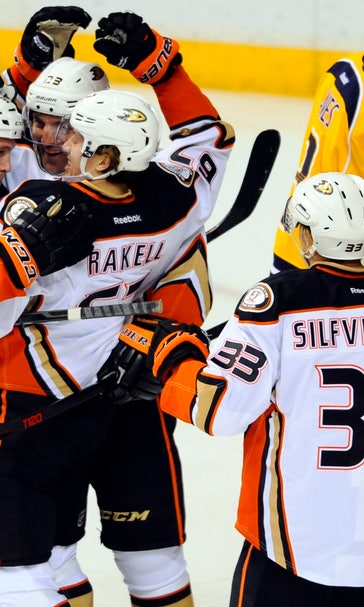 Power Play: Predators fall flat in Rinne's return, lose to Ducks 5-2
BY foxsports • February 5, 2015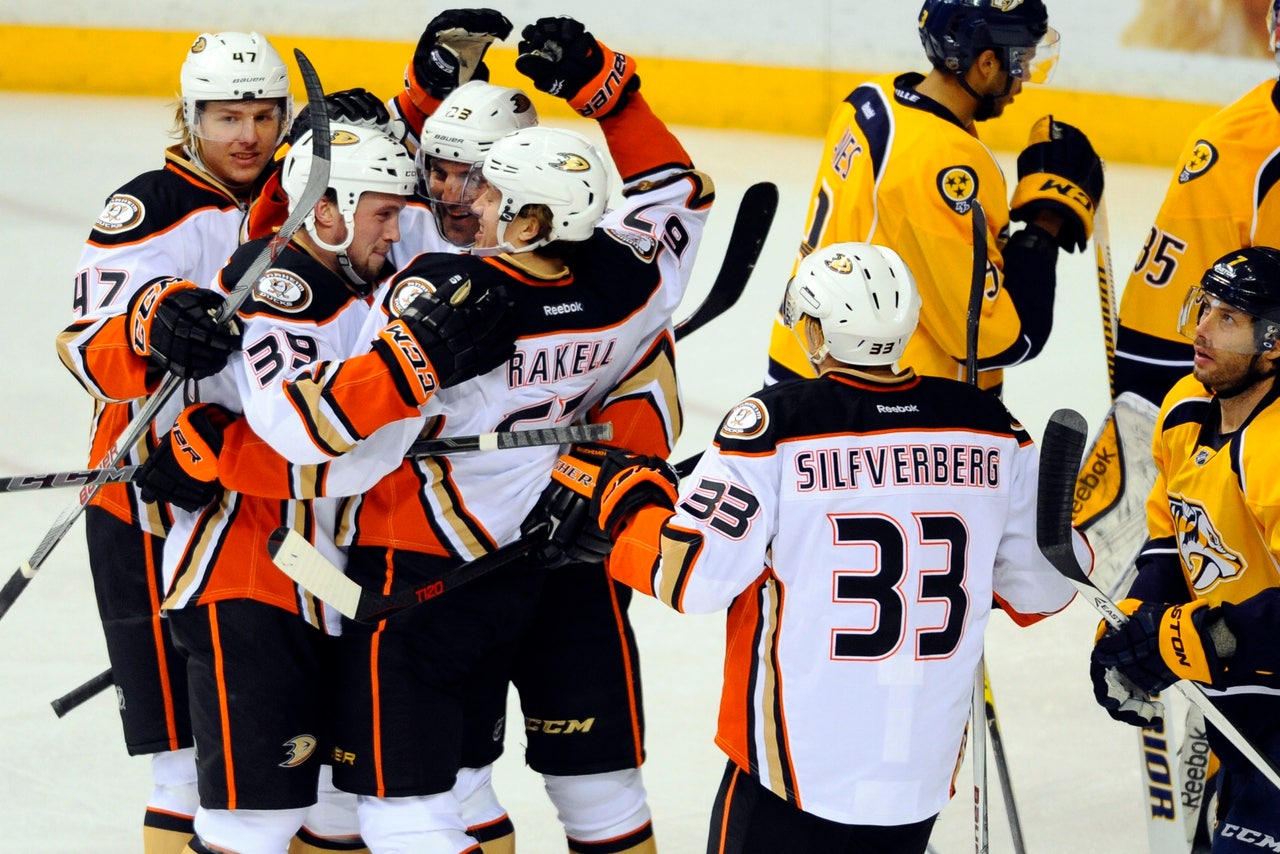 Nashville, Tenn. -- On the night that saw star netminder Pekka Rinne return to action, the Nashville Predators (33-12-6) gave up four goal in the first two periods to the Anaheim Ducks (34-12-6) and found themselves fighting an uphill battle. Although Nashville scored two goals in the third period, the Ducks still left town with a 5-2 victory.
Unfamiliar territory early in a game
There have been a handful of games this season where it seemed like the Predators just couldn't find their best footing going into the first period. Tonight was clearly one of those nights.
Nashville gave up a shorthanded goal from Ducks forward Jakob Silfverberg just 3:08 into the first period after Predators goaltender Pekka Rinne and defenseman Shea Weber mishandled the puck in their own zone.
"I was going to play it and keep the play going," said Rinne. "Our guys were yelling at the same time, 'Keep it. Keep it.' I was kind of between and didn't really do anything. He was able to poke it off me, got it in front of the net and put it in. That's not the way to start the game. It's a nothing play and it ended up being 1-0 for them."
Nearly 10 minutes later, the Predators saw defenseman Sami Vatanen fire a shot from the point that deflected off of Gabriel Bourque and floated right past Rinne for a 2-0 Anaheim lead.
It was the first time Nashville went down by two goals in the first period at home since December 6th against the Chicago Blackhawks.
"There were a few unlucky bounces and a couple of tips," Rinne said. "Not the way you want to start. We ended up playing a pretty solid game, especially in the third period. We had a lot of shots and their goalie played really well. I thought that was the difference tonight"
Pekka Rinne's return falls flat
Nashville didn't have to worry too much with Rinne out for the last eight games. Collecting a 4-2-2 record with the combined efforts of Carter Hutton and Marek Mazanec, the two relief goaltenders gave way to the return of Rinne on Thursday against one of the league's best teams.
It may not have been the best of nights for Rinne after everything was said and done.
"I think that there were a lot of tough bounces for him that happened right away," said Predators head coach Peter Laviolette. "There's two redirect goals out there tonight where it hit something, completely changes direction and then banks in off of a post and into the net. He did a lot of great things out there tonight, too. He made some terrific saves. It's just tough. It was a tough night in the sense that you let in four goals, but you can't really fault him. You can't really blame him. I think we can play better in front of him."
Rinne stopped 21 shots on the night, but allowed four goals en route to Nashville's 5-2 loss to the Ducks. Many of the goals that zipped past Rinne weren't necessarily ones that he could have had much chance to stop either.
Vatanen's goal in the first period and Silfverberg's goal during the second period both took odd deflections on their way to the net. Pair that with the shorthanded tally from Silfverberg in the first and you have the makings of one of the strangest losses Nashville has experienced this season.
"You want things to go your way," said Rinne. "Maybe those pucks hit the post or something like that and stay out. I feel like I've played enough games that there's going to be some of those games where [the puck] finds the net. The first goal was a mistake by me, but other than that I thought a couple of the deflections just found a way."
Ducks flex their muscle
Anaheim could have had a really bad night with Ryan Getzlaf suddenly a late scratch just moments before the game was set to begin. The Ducks showed why they're one of the best teams in the league, though, with their captain and leading point scorer out of the lineup.
It wasn't as much about Anaheim outscoring the Predators as much as it was about their ability to pressure Nashville from every area of the ice. Regardless if it was in the offensive, defensive or neutral zones, the Predators were seemingly being pushed around throughout the night.
"I think the lack of success was a combination of their speed and us not being up to speed," said Laviolette. "They played a quick defensive game. They were quick into the battles. They stayed in the battles. We just had a hitch in it; where we weren't in there quite as quick as we needed to be and didn't come out on the right side of the puck. That was the problem early on. We fixed that problem and changed it, but it was too little too late."
Nashville had a lively outburst in the third period; one that saw forward Colin Wilson break Anaheim's shutout bid and put more pressure to the net. Yet the Ducks poured pressure from all angles and absolutely smothered nearly every opportunity presented by Nashville.
"I think the only reason they shut us down was because we weren't putting pucks behind their [defense]," said Wilson. "I think we were trying to make plays as opposed to just get it by them and make them turn, which is what we've been doing all year. It looked like they were shutting it down because we were trying to make passes through the middle and try to beat the guy one on one."
Jakob Silfverberg -- Including his shorthanded marker to start the scoring for Anaheim, Silfverberg's two goals led the way for the Ducks. He was easily Anaheim's best forward on the ice.
Frederik Andersen -- When you stop 43 of 46 shots on net, you're doing something right. Andersen's performance for the Ducks kept them in the game early as well as late in the third period when Nashville tried to mount a comeback.
Colin Wilson -- Wilson's goal in the third period not only broke Andersen's shutout bid, but broke his previous career highs for both goals and points in a season. Now with 36 points, anything Wilson does from this point further will present just a higher bar for him to break throughout his career.
---