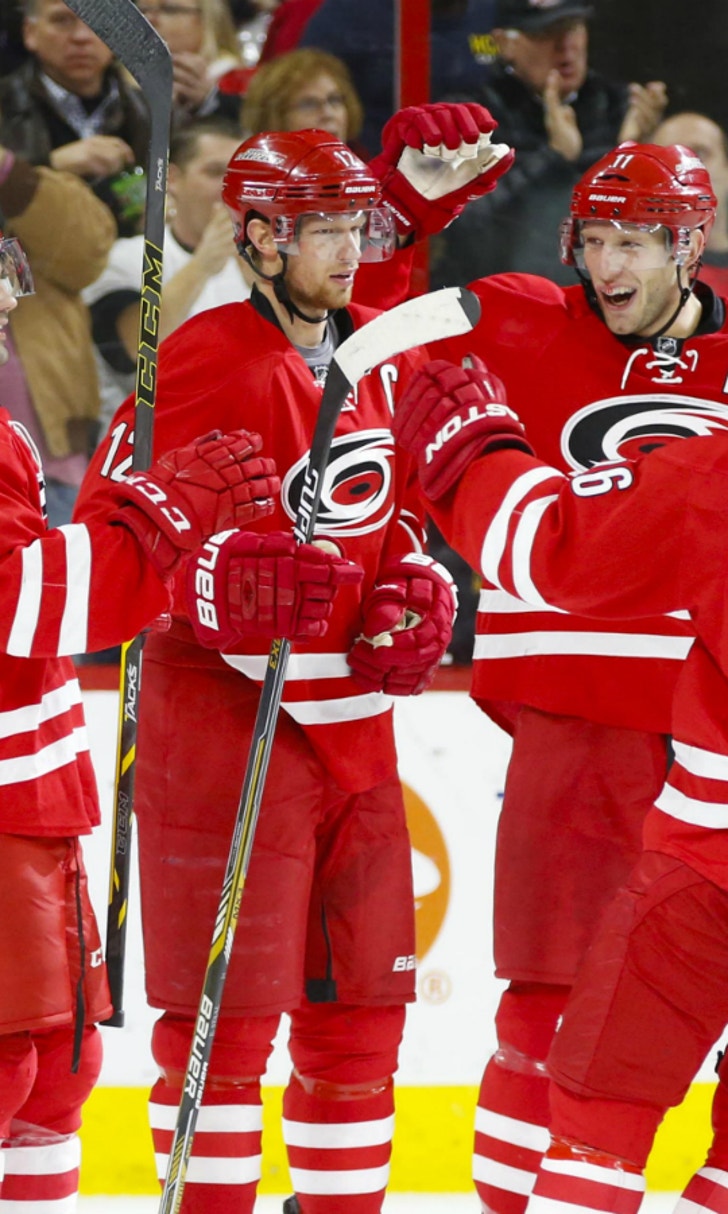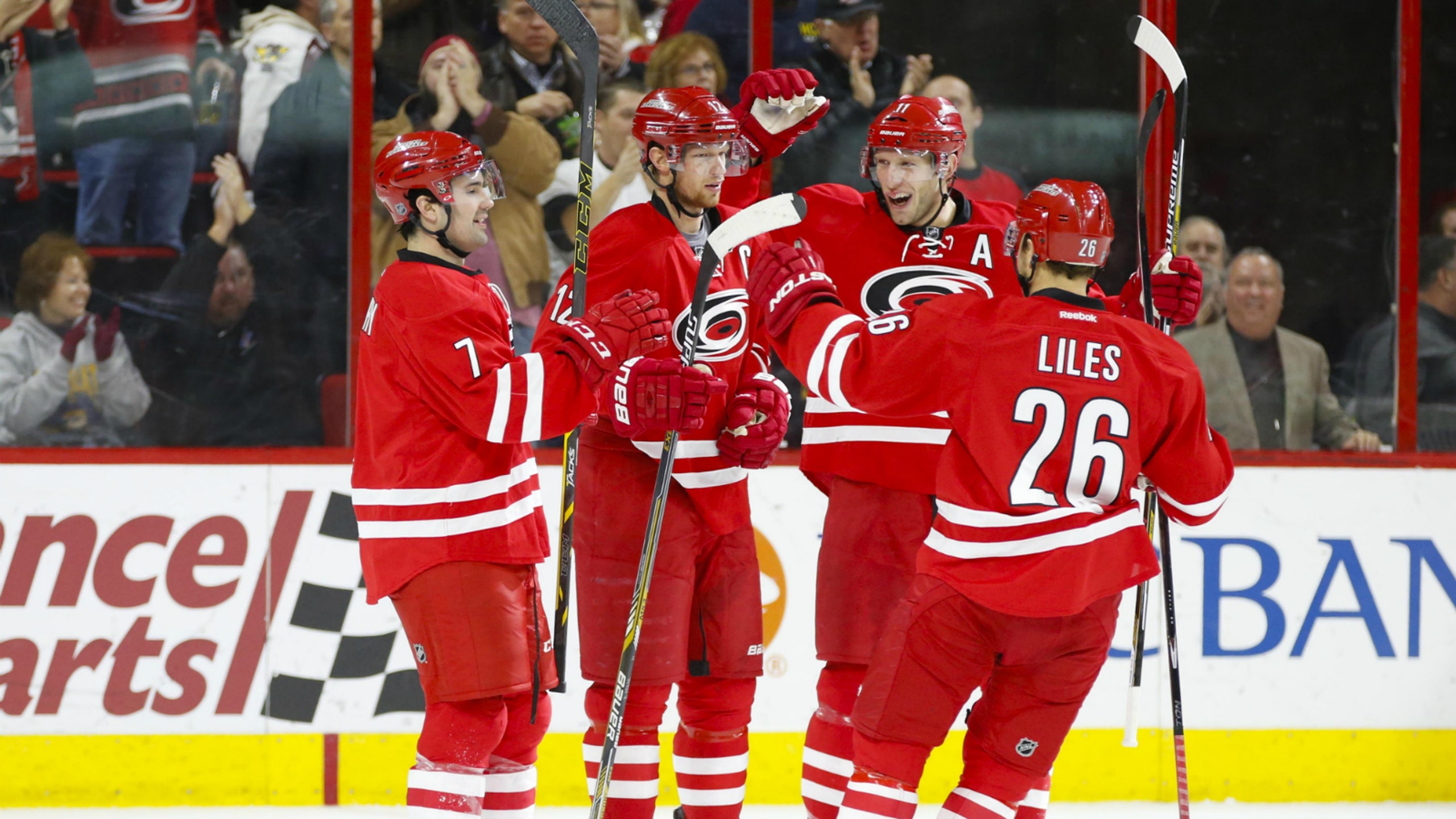 Power Play: Hurricanes find offense in 5-2 win over Buffalo
BY foxsports • January 8, 2015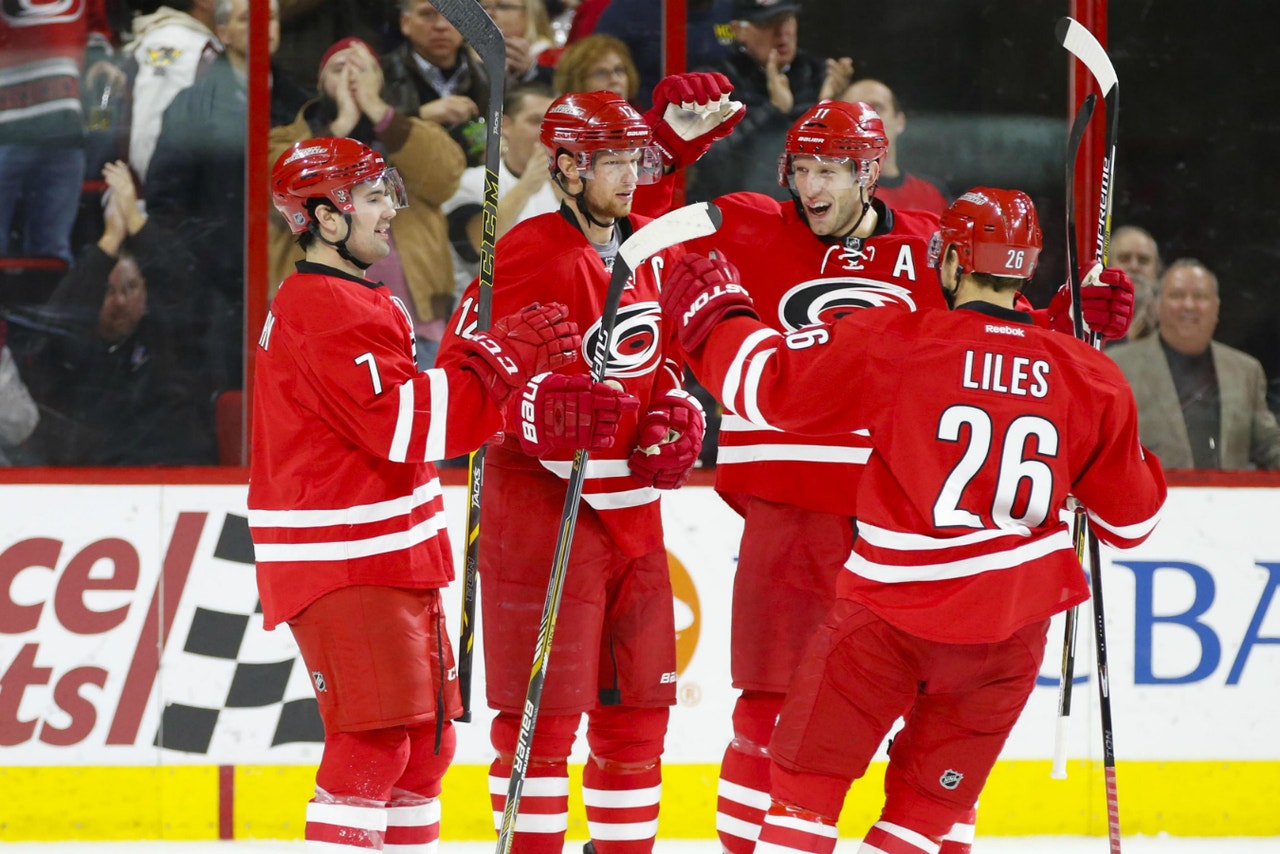 RALEIGH, N.C. -- The Carolina Hurricanes (13-24-4) beat the Buffalo Sabres (14-25-3) by a score of 5-2 in a game that didn't feel that close, particularly after the Hurricanes broke things open in the second. The Hurricanes have now won three of their last four games, a nice bounceback for a team that had a bad December.
1. Offense! Goals! (More than two!)
The Hurricanes haven't exactly made things easy on themselves with their lack of offense, but that was rectified in this game -- and in the blink of an eye, too.
The five goals were the most the Hurricanes have had since November 18. In the 22 games leading up to this one, the Hurricanes scored more goals than they did in that fateful one minutes and 19 seconds of game action (three goals) just twice. They scored the same number of goals in an entire game (or more) just three times.
When it rains, it pours, though, and the Hurricanes were more than grateful -- even if head coach Bill Peters thinks they got a little lucky.
"I think we've played better in other games than we did tonight. I think we've had more chances in other games than we did tonight. For some reason, they went in," Peters said. "I just hope that this is foreshadowing moving forward as far as the offense goes that we can get beyond two and score some goals."
Both Carolina goalies -- starter Cam Ward and backup Anton Khudobin -- have had nice seasons, particularly since their teammates haven't given them much offensive help.
Ward had a relatively relaxed evening, then, stopping 18 of the 20 shots he saw.
"It's a big relief," Ward said of getting goal support. "It's been a grind all season long, where it's been tight one-goal games almost every night. To be able to have a little bit of a cushion, your'e able to relax a little bit but any time you relax, teams can pounce on you. So at the same time, we were able to keep it sharp."
And as Peters pointed out, the right players were scoring or getting points for the Hurricanes, too -- the captain Eric Staal, the talented Alexander Semin, Jiri Tlusty and Jeff Skinner, who snapped a seven-game goalless streak.
"Sometimes that's the way it goes. You start squeezing the stick and then you get a little bit of an ugly goal or a lucky bounce, it goes in for you and you get a chance to sort of relax and get that confidence back in your game. I think it helped tonight," Skinner said.
Peters, while acknowledging his team got some bounces, was happy at the way that they hung on to the lead and even built on it in the third.
"That's what you need to do. You need to be assertive. You need to, when you score, be assertive, step on the gas and stay with it, and I thought we did that," Peters said. "I thought our response to their second goal was important also. I thought it kind of put a nail in the coffin and put the game away."
2. Carolina's special teams -- particularly its penalty kill -- continue to be very good.
The power play has been a bit of a struggle for the Hurricanes -- they were 1-of-3 on the night technically and are now 23-of-126 (18.3 percent) this season -- but the penalty kill hasn't been. The Hurricanes killed off all four power plays they faced and are now 97-of-112 (86.6 percent) this season on the PK.
The Hurricanes haven't allowed a power play goal in the last 26 power plays faced (a nine-game stretch), and that certainly has made things a lot easier.
"PK's been solid for us I think all year. Obviously (Ward) is a huge part of that, but the PK's been solid," Skinner said. "It's nice to get the power play clicking a little bit here. It's been a little bit of a struggle over the last little while, but it's nice to get on the board."
As Skinner acknowledged, Ward has been a big part of it. But Ward has seen a change in the team in front of him, too.
"Guys are sacrificing their bodies and doing what it takes and to be honest, keeping it simple, not trying to be cute. Get the puck and get the 200-foot clear," Ward said. "It's obviously been clicking and for it to be clicking, you need all guys to be on the same page and we're all on the same page on the PK."
3. With the return of Alexander Semin to the lineup -- not to mention a now-healthy Jordan Staal -- this is as close to a full complement of players as the Hurricanes have had since Bill Peters took over as head coach.
Semin has been a healthy scratch and injured seemingly more often than he's actually played this season, but when he's been healthy and engaged, he's shown he can be an asset to this team. Or any team, quite frankly.
The goal Skinner scored in the second -- which came before the three goals in 1:19 -- was the result of a beautiful pass from Semin.
The younger Staal frees up the older to be more of a goal-scorer, and now Eric Staal has his fifth goal in the last six games, so that seems to bear that out.
"It's nice, obviously, getting (Jordan Staal) back down the middle is huge. He's a huge part of the team," Skinner said. "(Semin), when he's making plays out there like that, it's fun to play with him. He makes it tough on the other team to sort of match up guys. It's nice to get those guys back."
Jiri Tlusty -- He hadn't scored since November 28 and had just two points in the in the last 11 games, but he finally broke through with a second-period goal on the power play that began the 1:19 three-goal onslaught. He finished with two points (he assisted Riley Nash's third-period goal).
Justin Faulk -- The young defenseman has at least one point in three of the last four games, but he had his first multi-point game (two points) since Dec. 18. he had two assists and was a +2 on the game, his best +/- since November 2.
Riley Nash -- The Hurricanes' center had just one goal between November 8 and this game, and he had gone five scoreless games since seemingly breaking the drought against Tampa Bay, but he finally got back on track with a third-period goal that impressed his head coach. He finished as a +2 and had a team-high three takeaways. "Riley Nash scored I thought a real good goal there, a real big goal. It started in the d-zone, he won a battle, and then he's in the blue paint and he scores on a rebound. I thought that was a huge play by him," Peters said.
---