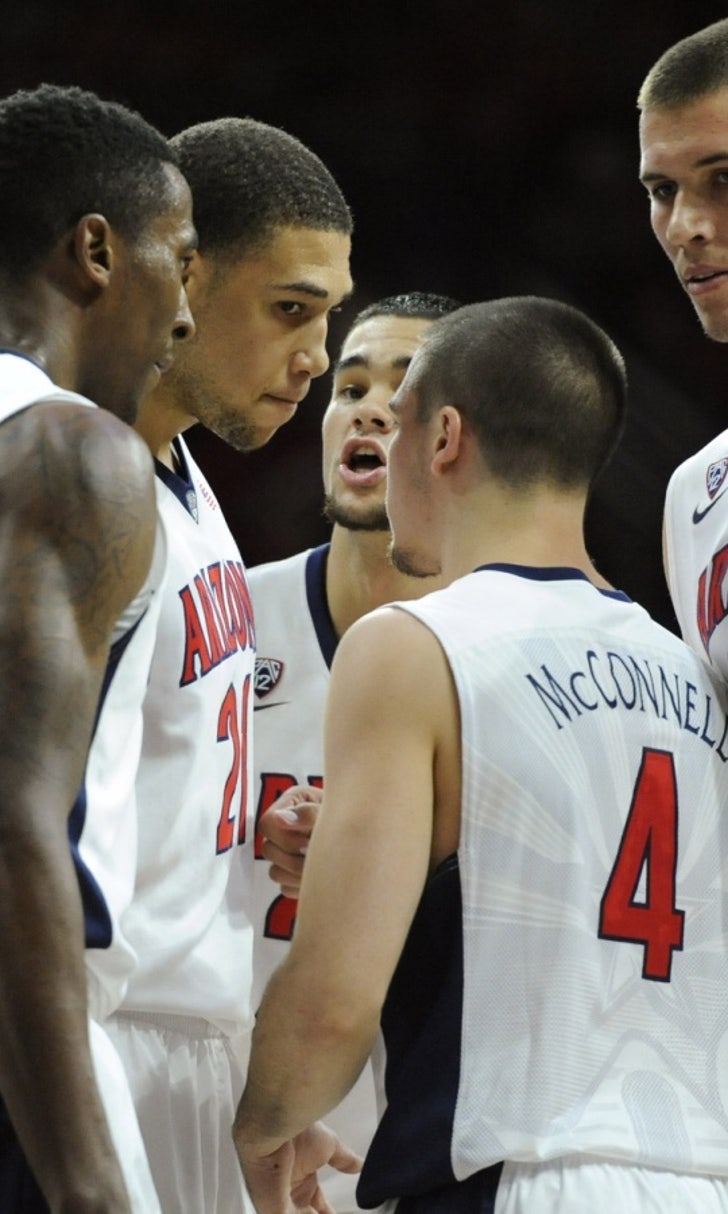 Potential is great for No. 2 Arizona but a lot of work lies ahead
BY foxsports • November 17, 2014
TUCSON, Ariz. -- Reggie Theus has seen some of Arizona's best teams -- either as a college basketball analyst or a coach -- and he could tell the latest version is a work in progress, even after the second-ranked Wildcats defeated Theus' Cal-State Northridge team, 86-68, in McKale Center on Sunday night.
"Last year's team had a little more tenacity to it," Theus said of the Arizona team that ended up one shot short of the Final Four. "There was a little bit more leadership on the floor. Talent-wise this is as good as any team that they've had, on paper."
Future NBA talent to be sure, but Theus said some of Sean Miller's teams of the past had better "cohesion." But that doesn't mean Arizona won't find it in the coming months.
"They know their roles," Theus said. "Guys really understand (and) there are elements there that won't be there at the end of the season. They will eliminate those mistakes and the cohesion will be better."
Arizona committed 18 turnovers and went 22 for 35 from the free throw line -- each glaring blemishes.
But Arizona has great size, great depth, quickness and shooters, Theus said.
The Wildcats were 8 for 18 from beyond the 3-point line and outrebounded CSUN 35-26. Four players scored in double figures with freshman Stanley Johnson leading the way with 17 points. Miller said Johnson needs to work on getting rebounds. He finished with just one.
"There are no guys on that floor who aren't willing to run through a wall for (Miller) if he tells them to run through it," Theus said. "They will get it, eventually."
Clearly, Arizona won't be the same as it will be in four or five months. Miller said the Wildcats will keep evolving and the leadership is a big reason why. Miller -- although he continues to say senior guard T.J. McConnell, junior forward Brandon Ashley and junior center Kaleb Tarczewski are the clear-cut leaders -- still seeks it to play out.
"When you don't play well yourself, you're still in charge," Miller said of being a leader. "It's not as if you get a free pass. Everybody is a great leader when you're winning or you are playing really well. It's about being locked in and focused "and we're still learning that," Miller said.
Through two games -- both double-digit victories -- Miller learned plenty: His team needs to take care of the ball better and more consistent play is essential.
He called it a "tale of two halves" in as much as Arizona outscored CSUN 37-23 in the first half and just 49-45 in the second. It had a 29-point lead -- 66-37 -- with 9:36 left and again (84-55) with 2:49 left before he started to clear the bench.
Miller said he was concerned after Arizona allowed 17 points in the final 3-1/2 minutes, even if his deep bench was the reason.
"We weren't responsible with turnovers and defense," Miller said. "We will take from it, learn from it and grow."
Isn't that how it should be, especially in November?  What Miller may have learned the most is he has one of the best sixth men in college basketball -- again. Rondae Hollis-Jefferson came off the bench for the second consecutive game and provided a spark for Arizona, entering four minutes into the game. He finished with 14 points and a game-high eight rebounds in 22 minutes.
"He was the best player on our team," Miller said. "When he's in the game so many good things are happening. He's playing with an incredible energy level. He does it on defense and offense."
Miller said Hollis-Jefferson "spear-headed a lot of good stuff" for Arizona. Whether he comes off the bench or starts isn't clear, but Miller said "we are going to talk that out" as they continue to see what combinations work well together. Miller talked about sacrifice being "a big deal."
"We're very much in search of some of those answers," Miller said. "We have to keep watching what's best for us. Whether Rondae starts or not, the story line is that he's playing really, really well."
Miller said Hollis-Jefferson is a team player who is not selfish and "not starting doesn't necessarily take away how well he's playing or how good a player he is."
Hollis-Jefferson said he has "no problem with it" and added "there's nothing wrong in coming off the bench."
He'll still be playing starter's minutes. Right now that's about 22 to 28 or so. Again, Miller went to the bench liberally, playing 10 players early and often before going to the bench completely in the final minutes.
Hollis-Jefferson said he has no idea what will happen in the future in terms of starting, but did admit his style in being a player who provides that spark off the bench helps the team.
"I think I might have the most energy in the country when it comes to (being) out there and giving my all," he said. "It's a big part, teams need that spark when they come in the game. I feel I've been that spark every time."
Follow Steve Rivera on Twitter
---