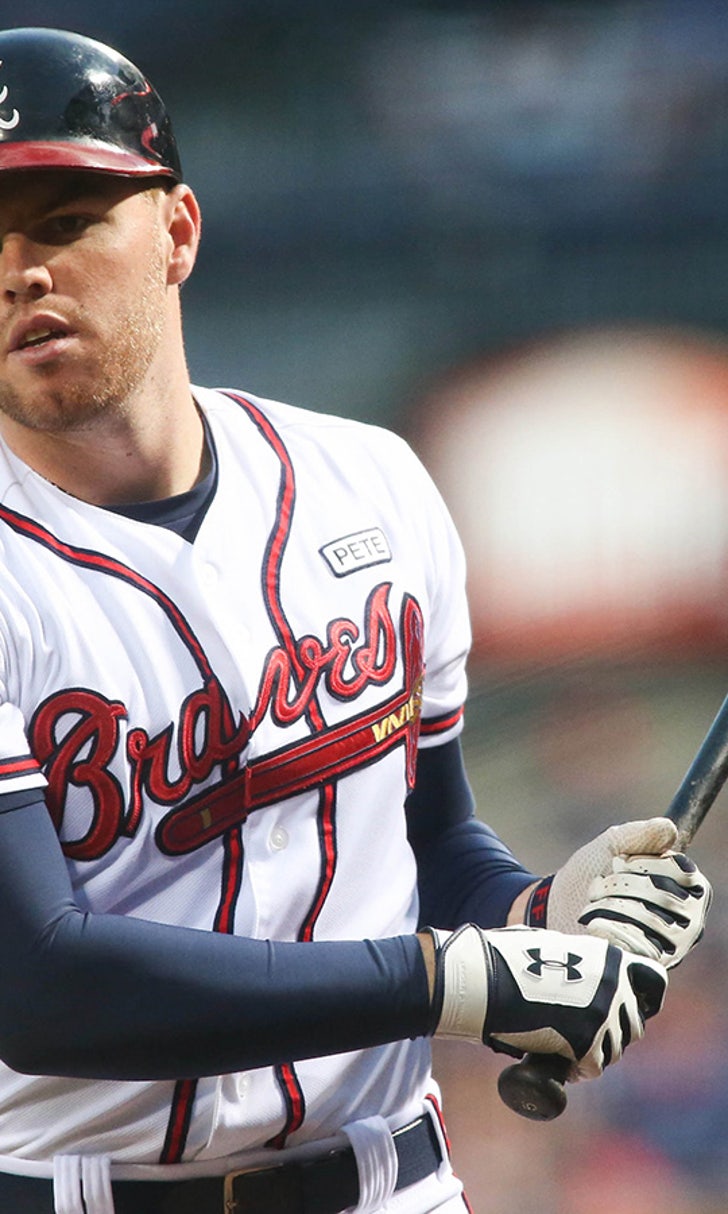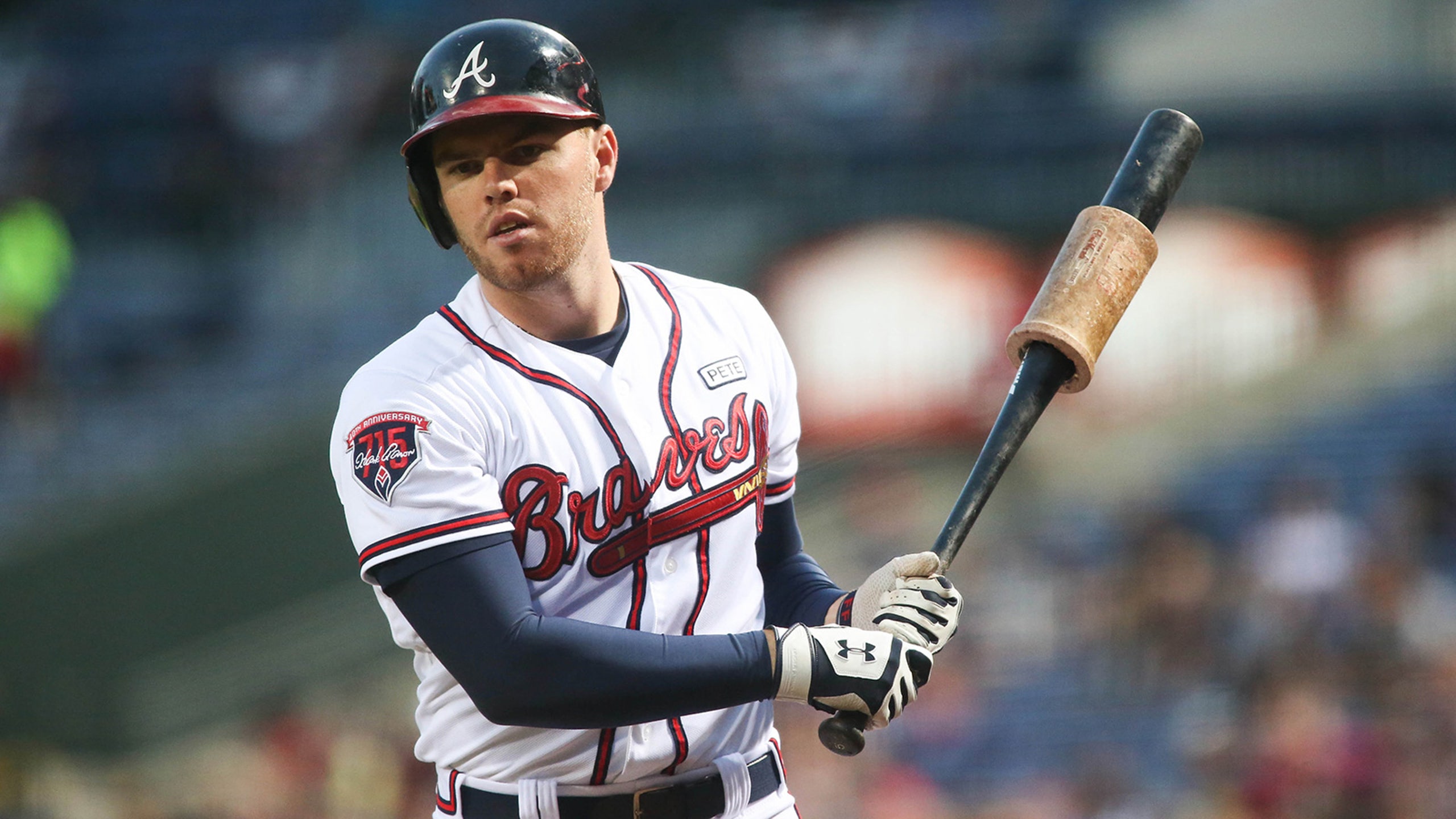 Pitch to Freeman? Teams may avoid Braves' biggest weapon
BY Cory McCartney • February 4, 2015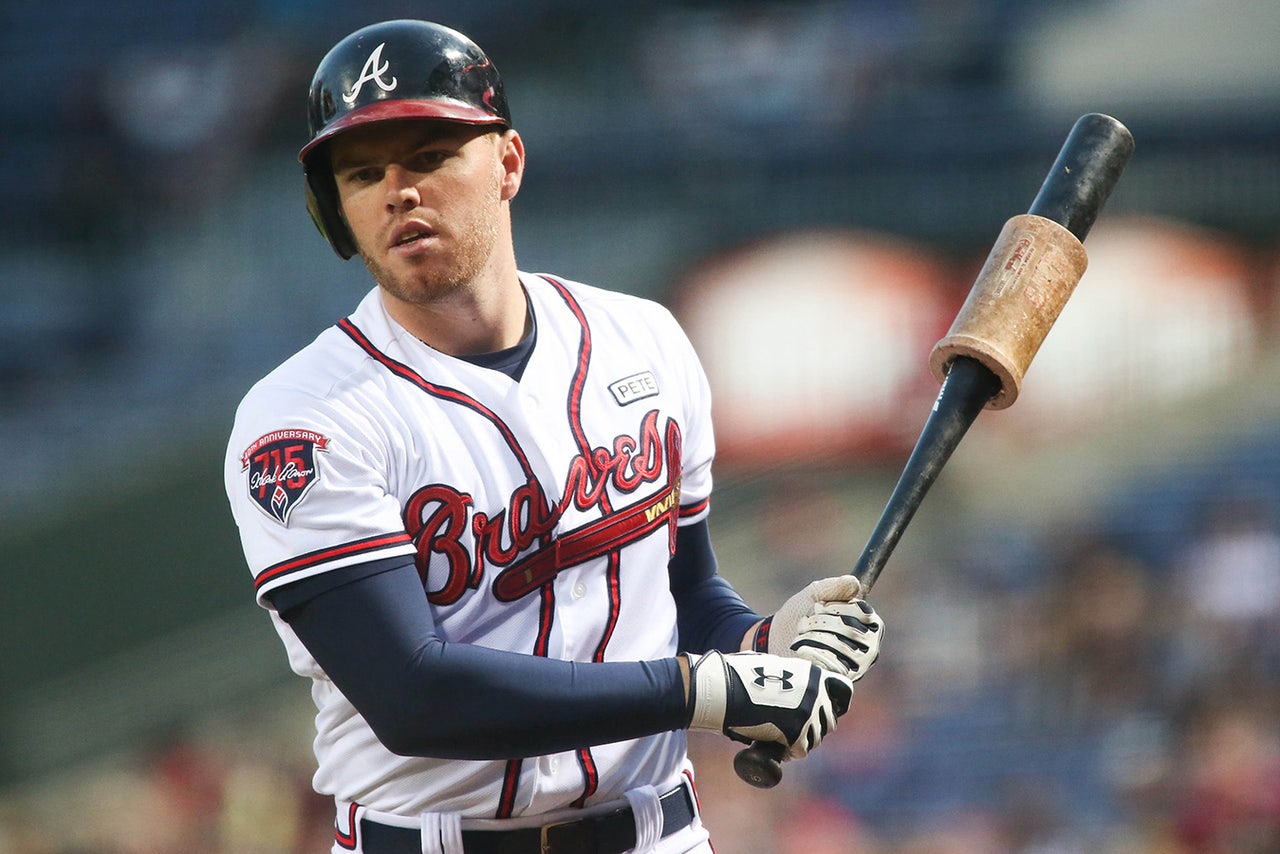 The most compelling question surrounding the Braves' lineup isn't who's going to hit fourth behind Freddie Freeman with Evan Gattis and Justin Upton gone, though it is a direct result of those trades.
It's who's actually going to pitch to the two-time All-Star first baseman now?
As presently constituted, the Braves have one player Steamer is projecting to have more than 57 RBI this season, and that's Freeman. He's also the only player expected to have more than 15 home runs and WRC+ greater than 101.
President of baseball operations John Hart has succeeded in bringing in hitters with high contact rates -- especially Nick Markakis (88.7) and A.J. Pierzynski (83.2), who were both well above the MLB average of 79.4 in 2014 -- but in losing 51 homers between Gattis and Upton, there is little protection for Freeman at third in the order.
But it is a group and a situation that gives manager Fredi Gonzalez flexibility. As he said recently, "Who's gonna hit fourth now that Gattis is gone and Justin's gone? It could be anybody any day, depends on that matchup that day."
Chris Johnson has the most at-bats hitting fourth last season of any Brave with 17, going 14 of 67 (.209) with one home run and four RBI. Beyond that, B.J. Upton did it once, and of the offseason acquisitions, Jonny Gomes had 45 plate appearances in fourth in '14, A.J. Pierzynski had eight, John Buck seven, Alberto Callaspo five and Nick Markakis last hit fourth in 2009.
But the new right fielder hasn't hit 20 or more home runs since '08, Gomes is six years removed from that many HRs, Buck last did it '10 and it's been three years for Pierzynski and Upton. Meanwhile, Callaspo and Johnson have never hit more than 11 and 15, respectively.
Cuban import Dian Toscano, who is expected to open the season at Triple-A Gwinnett, isn't likely to add much in the power department either. He hit .356/.440/.452 for Villa Clara in his country's top league, Serie Nacional in 2012-13, but in four years hit just 13 HRs in 614 plate appearances.
"It's going to be a lot different than what we're used to, I can tell you that," Freeman told MLB.com during Saturday's Braves Caravan stop in Athens. "Usually, we get a guy up and hope for the homer. But this year, it's going to be hopefully get some guys on and do some hit-and-run and bunt them over. Our problem last year was [when we had] a guy on third with less than two outs. We seemed to never be able to [drive them in]. This year, maybe we can do that."
That's all either going to mean more walks for Freeman or it's going to force him to alter his approach at the plate.
During his four seasons in the majors, the first baseman hasn't been one to chase after pitches, hence a 12.7 walk rate in 2014. That BB% has gone up ever year, from 8.3 in his first full season in '11 to 10.3, 10.5 and last year when he drew a career-high 90 walks.
At the root of that ever-increasing rate is, of course, his selectivity.
Last season, Freeman swung at pitches outside of the strike zone just 31.1 percent of the time, which is 0.2 below the MLB average. He also swung at pitches in the zone at a 79.6 rate, much higher than the standard of 65.7, but more importantly, he did that while seeing just 39.4 percent of pitches in the zone, which was lower than the average (44.9).
That all came with the threat of Justin Upton behind him and without that kind of power hitter in the lineup, it's well within reason to imagine Freeman is going to see even fewer pitches in the strike zone.
That's where things could get interesting, because when he did chase pitches last year, he had a lower contact rate (63.6) than the MLB average (65.8) and had a lower contact rate overall (75.8) than the standard 79.4.
Freeman was intentionally walked just four times last year, though he drew 10 in '13. It's well within reason to expect him to set a new high this time around.
Will he challenge the Braves' record of 29 set by Dale Murphy in 1987 or approach Chipper Jones, who had 23 in '02?
Steamer projections have Freeman walking 13 less times in '15 (77) than a year ago with only five intentional walks. They also include a rebound in home runs as he jumps from 24 after hitting 18 in '14, but a dip in average from .319 to .288.
But those were made in October, long before Upton was shipped to San Diego or the Gattis trade to the Astros.
Baseball Prospectus also sees an increase in homers, but is a little more cautious in its optimism, projecting Freeman to hit 20 with an even further fall in BA to .278. The publication's online predictions do not list walks, but it does include OBP, which sees Freeman slipping to .354 (he was at 386 in '14).
A need to drive in runs could push Freeman to become more free-swinging, but if the Braves, as expected, become more small ball behind hitting coach Kevin Seitzer, is that likely?
The impact on Freeman is simply one of the repercussions of Atlanta's roster moves.
Without another consistent weapon behind him, it's hard to imagine a scenario where Freeman's walk -- intentional or not -- don't climb.
Follow Cory McCartney on Twitter @coryjmccartney
---