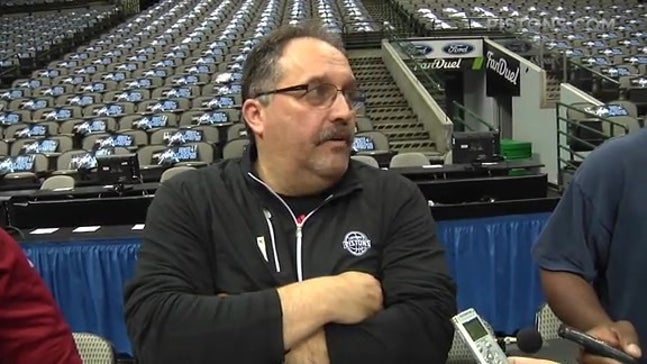 Pistons try to end road trip at 3-1
Updated
Mar. 4, 2020 1:27 p.m. ET

Stan Van Gundy was displeased with the Detroit Pistons' latest defensive effort, but his team padded its slim edge for an Eastern Conference playoff spot by excelling at the other end of the floor.
The Pistons have been stifled in recent matchups with Washington but could change that trend Monday night (7:30 pregame, 8 tipoff on FOX Sports Detroit) with the Wizards struggling to slow down opponents during a season-high skid.
Detroit (34-32) bounced back from a 118-103 loss at Charlotte on Friday with a 125-111 victory over Philadelphia the next day. The Pistons, averaging 113.3 points in a 3-1 stretch, matched a season high with 73 points in the second half against the 76ers while moving one game ahead of Chicago for eighth place in the East.
That wasn't enough to satisfy Van Gundy.
"We didn't play very well," said the Detroit coach, whose team has won seven of 10. "We didn't guard very well again. That's what's going to get us. It's going to be tough to beat good teams. We couldn't keep the ball in front of us. Our closeouts were terrible."
Detroit has averaged 92.0 points in three consecutive losses to Washington (30-35), including two this season. The Pistons fell 98-86 in the nation's capital Feb. 19 and 97-95 at home Nov. 21.
However, they'll face a Wizards team that's allowed an average of 110.8 points in a five-game losing streak. Washington gave up 41 in the fourth quarter of a 116-100 loss at Denver on Saturday, its second-highest total allowed in any period this season.
"We got a little complacent and let our foot off the gas. We got a little comfortable. Those guys hit a couple 3s and got a couple of stops. The rest is history," forward J.J. Hickson said. "We've got to do a better job as a team being locked in and knowing what we're playing for, the playoffs."
The Wizards dropped 3 1/2 games behind Detroit.
"This leaves us in a really bad position," point guard John Wall said. "We just keep digging ourselves a bigger hole with 17 games left. We have to go a remarkable 15-2, basically. We have got to find a way just to keep competing and keep fighting. I'm not going to quit, and I know my teammates aren't going to quit."
Washington played its third straight game without second-leading scorer Bradley Beal, whose status is unclear because of an ailing hip.
Beal has averaged 9.8 points and 33.3 percent shooting in his last four games against Detroit but scored 17 while making seven of 10 shots Feb. 19.
Wall has averaged 26.3 points in his last four home matchups.
Pistons forward Tobias Harris had 21 points on 9-of-12 shooting Feb. 19, three days after being acquired from Orlando. Harris, averaging 17.7 points in 12 games for Detroit, scored 21 on Saturday.
Kentavious Caldwell-Pope had 23 points against the Sixers, giving him 47 in the past two games. Reggie Jackson scored 24 while making eight of 11 on Saturday.
---