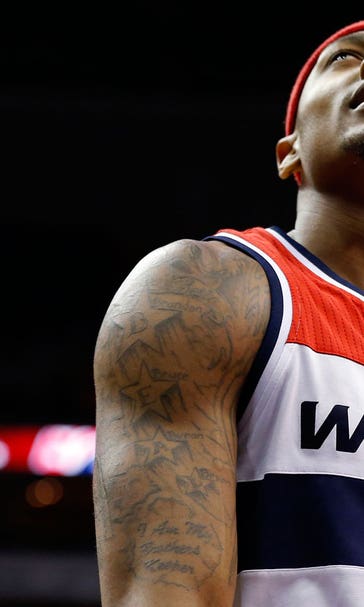 Pistons playoff bound with victory over Wizards on Friday
BY foxsports • April 7, 2016
Stan Van Gundy refuses to project any optimism despite the Detroit Pistons' magic number to clinch their first playoff berth in seven years being down to one. And it's no wonder considering Friday night's opponent has had its way with the Pistons.
Visiting Washington has won the season's first three meetings and ran Detroit out of the gym last month with a dominating effort. Another victory would keep the Wizards' slim postseason hopes alive for another day, and they're hoping John Wall will be around to help. Pregame starts at 7 p.m. and tipoff at 7:30 on FOX Sports Detroit.


The scenario isn't complicated. If the Pistons (42-37) beat Washington (38-40), they'll head to the playoffs for the first time since 2008-09. They're coming off a 108-104 win at Orlando on Wednesday behind 24 points from Reggie Jackson, but they've gone 3-3 following a five-game winning streak and are still fending off playoff suitors.
Detroit lost by 18 at Miami the night before, a performance Van Gundy had trouble stomaching. The Pistons have a rematch with the Heat and visit Cleveland in their season finale in a potential first-round preview. There's a chance they'll be forced to win at least one of those if they can't get past the Wizards.
"You know what, after (beating Chicago on Saturday), I heaped a lot of praise on our guys, and then we exhaled and didn't even show up to play," Van Gundy said Wednesday. "I'm not going to go through a lot of praising people today."
It's not as if his players are any more relaxed, though, and remain hungry to secure that playoff spot.
"We just continue to fight. We have a never-say-die attitude," Jackson said. "We never want to lose. We just find a way to look in within ourselves."
Van Gundy certainly questioned those statements when reviewing film of the last matchup with Washington on March 14. The Wizards shot a season-high 56.7 percent and scored 28 points off 21 Detroit turnovers in a resounding 124-81 victory that marked the Pistons' worst defeat of the season.
Washington's margin of victory was its highest since a 45-point win over Boston in 2002-03 and helped begin a winning streak that reach five. It has gone 3-5 since, though, and needs to win out, hope Detroit loses its last three while moving past ninth-place Chicago to return to the postseason.
And all of that needs to happen with Wall hurting. The star point guard has a swollen right knee and sat out Wednesday against Brooklyn, missing his first game since last year's playoffs.
Ramon Sessions stepped up, finishing with 18 points and a season-high 13 assists in a 121-103 victory. Bradley Beal scored 25 points as the Wizards had 36 assists on 48 buckets.
It's unclear if Sessions will have to step in again. Wall, averaging career highs of 19.9 points and 10.2 assists, is scheduled to undergo tests to determine his status.
"He had some swelling in (the knee) unlike it had this year," coach Randy Wittman said. "I didn't think he wasn't going to play, because he's played 77 games.
"Ramon played great. I thought he kept a good pace to the game. It doesn't get much better than that."
Wall had 12 assists in the last meeting with Detroit, but Washington's defense was the story. Jackson finished with eight points on only seven field-goal attempts while committing five turnovers.
Jackson hopes the Pistons have learned from that dud as they try to snap a four-game skid in the series.
"All 15 (players) just buy in and continue to play harder and harder, and we figure if we continue to do that we give ourselves a chance at the end of the game," Jackson said. "Hopefully we can do it from the jump."
---