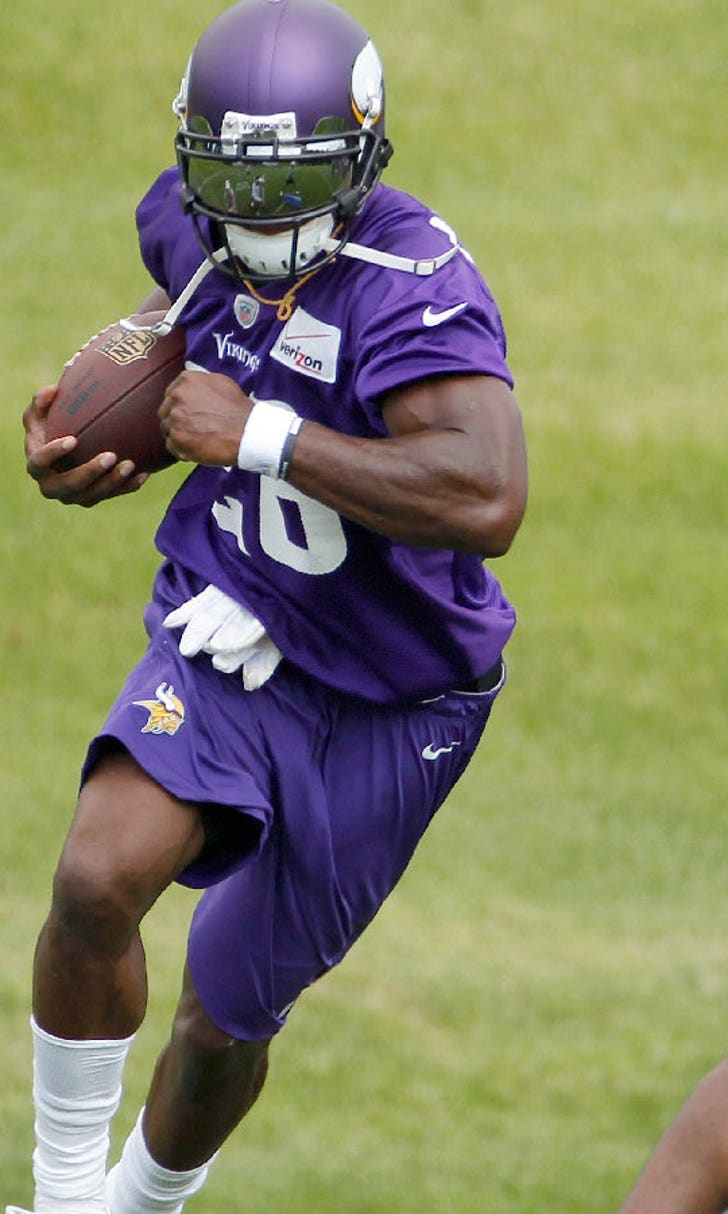 Peterson back with Vikings but normalcy still awaits
BY foxsports • June 18, 2015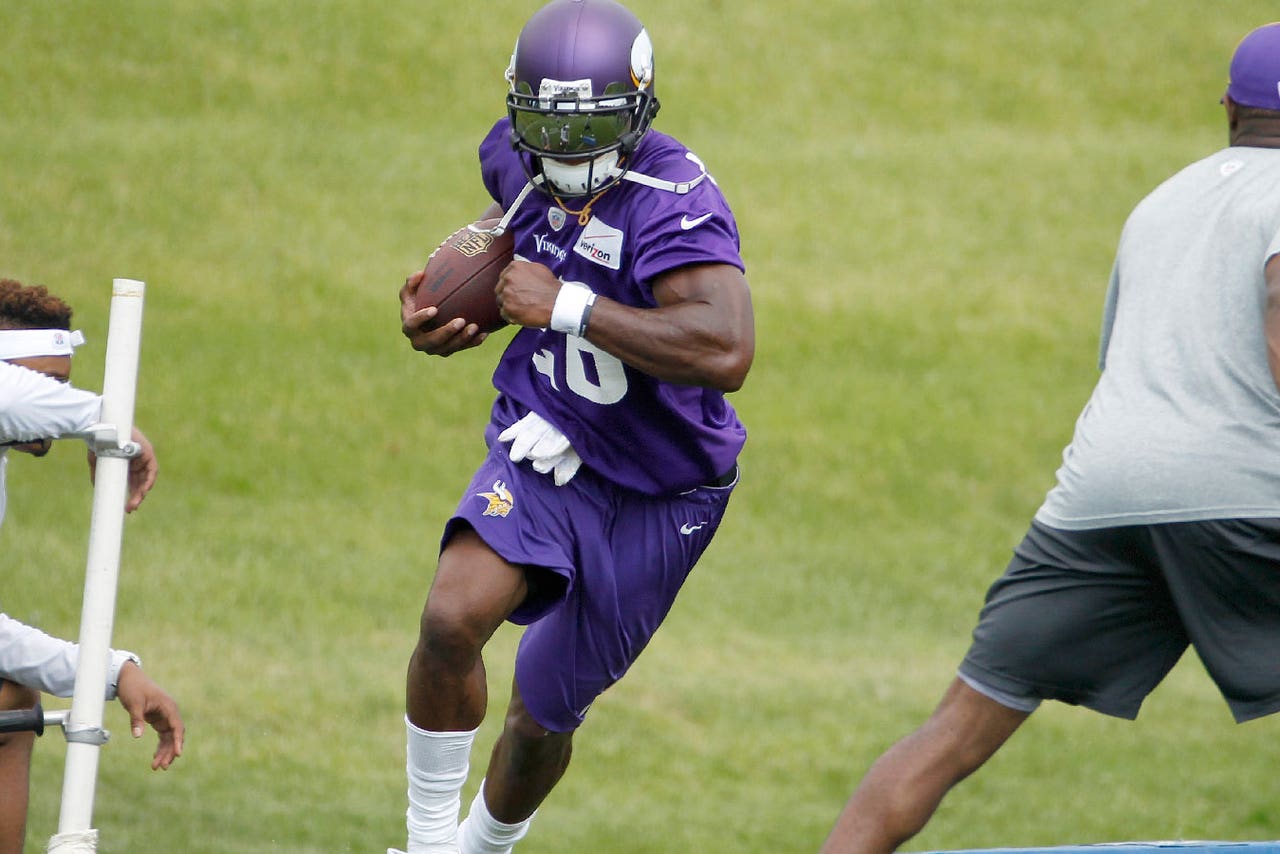 EDEN PRAIRIE, Minn. -- Three weeks of practice and being a regular at the Minnesota Vikings' facilities has minimized some of the attention drawn by Adrian Peterson; the running back reassuming his place on the team and an organization welcoming back its all-time leading rusher after a near nine-month absence.
Peterson met with the media upon his arrival, has interacted in community events and taken an expected dose of practice carries as Minnesota went through the offseason program with organized team activities and this week's mandatory minicamp. Around his teammates and coaches, Peterson is back to being "one of the guys."
But as Peterson continues to integrate back into the team, the NFL and the community, not everything is as it once was.
"No," Peterson responded Thursday when asked if life feels back to normal for him. "It is what it is. It's normal but of course it's different. But I'm making it as normal as I can, surrounding myself around people who love me, I'm moving forward."
Likely Peterson and the Vikings will never fully return to the circumstances last summer when Peterson was the team's superstar, a former league MVP, heading into head coach Mike Zimmer's first season.
Peterson's legal situation when he was charged with injuring his 4-year-old son can now be put in the past. Peterson has resolved the charges in a Texas court and undergone the required counseling. Even his return to the team, after some uncertain offseason moments, has been nearly seamless as Peterson practices in preparation for the 2015 season.
Normal might not be the word for Peterson and the Vikings, but all sides are moving forward trying to make the transition as ordinary as possible.
"With one of the greatest running backs in the history of the game, it probably should change a lot," Zimmer said of Peterson's impact. "I think that people will play us a little bit differently and I think that will help us in a lot of ways. We're going to continue to do a lot of the things we do offensively, but we're obviously going to use Adrian in ways that are productive for him, as well."
As Peterson has tackled plenty of questions about his ordeal, slowly the story will turn to football. Thursday, Peterson was questioned about his workload and the possibility of catching more passes. The two topics have been almost yearly staples, long before he missed time, and Peterson noted as much.
"Yeah, it's funny because I get asked that question every year," Peterson said of catching more passes. "But yeah, I was looking forward to it last year, with this offense, the running back is going to be in position to be able to definitely rack up his receptions and I'm looking forward to doing that. This offense, like I said, presents it, and we will see a lot more of it in training camp and when the season starts."
Peterson also returned as a 30-year-old running back who has played one NFL game in the past 18 months and has no more guaranteed money on his contract. Minnesota had Jerick McKinnon break out in limited time as a rookie last year and still has Matt Asiata.
Heading into the season, Peterson is back in one normal spot.
"Adrian, he is the guy," Zimmer said of his backfield split. "So, he's going to get the ball and those other two guys are going to have to fight for their reps."
Zimmer has already stated Peterson won't play in the preseason unless the veteran running back decides he needs in-game repetitions. Zimmer won't hold back Peterson, either.
"Adrian will get most of it and Jerick will get some reps and Asiata will get some reps," Zimmer said. "Every week is different. We're going continue to play with the best players."
Peterson can prove, after playing just one game last season, he's still one of the best players. While away from the team, he worked out constantly. He was ready to participate when he arrived three weeks ago as if he hadn't missed any time, though football-specific movements offered a change.
"Just to be honest, I felt good from day one," Peterson said. "I've had a long time to work out, there's nothing like coming out here and playing football. Maybe like a day or so, after that first day the legs were just a little sore, the calves really. But after that, I could tell that I've really been working because I really didn't feel too much soreness after that."
Peterson said he hasn't talked to the coaches about his workload. He said he quickly picked up the playbook again, though there were a "couple of curveballs" which were incorporated from what he had learned last year.
He's also back to speaking about longevity and extending a strong career past where many NFL running backs have managed.
"I feel like I'm blessed," Peterson said. "I feel like just my mindset that I have, my work ethic, as well. That's a big part of it, having a good work ethic. I don't know which guys you're talking about but I'm sure some of those guys just got tired of working out.
"I know a couple of backs now, that if they had the mindset to go out and train and get their bodies right even after 30, they could have played another year or two, as well. I think it's all about how you approach things. Of course being healthy is something that helps that as well, having that luck to have longevity, but ultimately, just having faith that I can do whatever I put my mind to."
Peterson said he feels "pretty good" and the return to practices has been "pleasant."
It might not be normal but it's a start.
Follow Brian Hall on Twitter
---