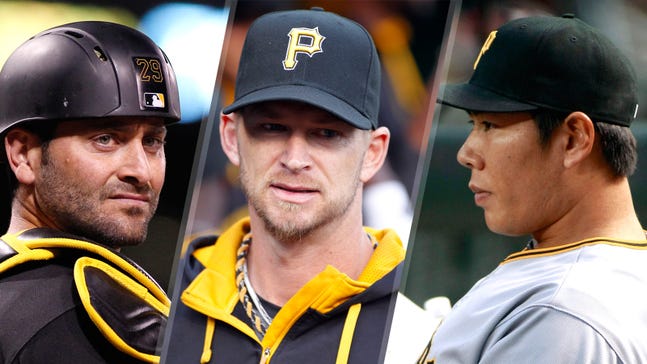 Perfect offseason paying off for Pittsburgh Pirates
Updated
Mar. 4, 2020 2:16 p.m. ET

With Thursday'€™s 11-5 drubbing of the Padres, the Pirates have won seven straight games. It's a well-timed winning streak, on the heels of what were previously mounting concerns. And the Pirates are very much in the thick of it, if you can say there's even a thick of anything when it still reads "May" on the calendar.
The Pirates are 25-22. Not bad. Also potentially a bit misleading. Based on their runs scored and allowed, their record should be better than that. Based on their expected runs scored and allowed, their record should be better than that. I know that's a weird thing to think about, since runs are runs and wins are wins, but trust me that wins and losses aren't the only indicators of team performance and ability. We can also say this: at FanGraphs, the rest of the way, we have the Pirates projected as a top-five team.
Which is all to say, hey! The Pirates are pretty good. Not only have they been pretty good, it looks like they ought to remain pretty good, especially now that Andrew McCutchen has rediscovered his swing. Now, these days, times are different. Suddenly, it's not strange to think of the Pirates as being a good team. But there was some concern here because between 2014 and 2015, the Pirates lost Russell Martin to free agency. They didn't want to; he just got too expensive. Martin was one of the team's best players. To say nothing of other guys they also lost, including Edinson Volquez, Ike Davis and Travis Snider. Martin was certain to be difficult to replace, and the Pirates understood that from the start.
So how did the organization conduct itself over the winter, with a key piece leaving for $82 million in the other league? The Pirates are anything but a big-budget franchise, so they focused, as always, on efficiency. And while it's been only two months -- so no chapters are closed -- it looks like the Pirates had themselves an excellent offseason. An offseason that cost them less than what the Blue Jays invested in a catcher.
Let's run some of this down. I'll highlight some individual acquisitions.
Acquisition: A.J. Burnett
Cost: $8.5 million, 1 year
Playing like: Sonny Gray

For this one, the Pirates receive partial credit. They needed to have room for Burnett. They needed to have interest in Burnett. But Burnett was in complete control of his market, and he badly wanted to return to Pittsburgh, so he accepted a pay cut. Everything is working out. Burnett spent last year pitching through injury for a worse team. He returned to where he had so much success before, and it seems that success didn't just come from pitching to Martin. Burnett's sitting on a sub-2 ERA, and a sub-3 FIP. He once again has three times as many strikeouts as walks, and he's back to keeping the ball on the ground. Elsewhere, Burnett has, at best, a passable reputation. In Pittsburgh, he's one of a few front-of-the-rotation starters.
Acquisition: Francisco Cervelli
Cost: $987,500, 1 year (and Justin Wilson in the trade)
Playing like: Miguel Montero

The direct replacement for Martin was acquired from the Yankees for a half-decent relief pitcher. He's 29 and barely costs anything, and while he has an injury history, he's also been at least an average hitter, with a particular defensive strength. The Pirates never dreamed that Cervelli would be as good as Martin. And Cervelli isn't as good as Martin. But the Pirates are happier with Cervelli costing about $1 million than with Martin costing 82 times that much. Cervelli hits for a good average, even though he has limited power. He's a capable pitch-blocker and seemingly a capable pitch-caller, and though he's easier to run on than Martin, a lot of that has to do with the pitching staff.
And there's the kicker: According to the best numbers we have, Cervelli has been baseball's best pitch-framer this year. He's been good for a few years, but this year he's been outstanding, and even more so than Martin. Those extra strikes add up. The Pirates believed in Cervelli as a starter, and he's justifying their faith.
Acquisition: Jung-Ho Kang
Cost: $11 million, 4 years
Playing like: Brandon Crawford
Crawford isn't a perfect performance comp because Kang has played both shortstop and third base. But he's played them both more than well enough, and the numbers are there. Thursday in San Diego, Kang swung at this baseball:
He hit it to this place: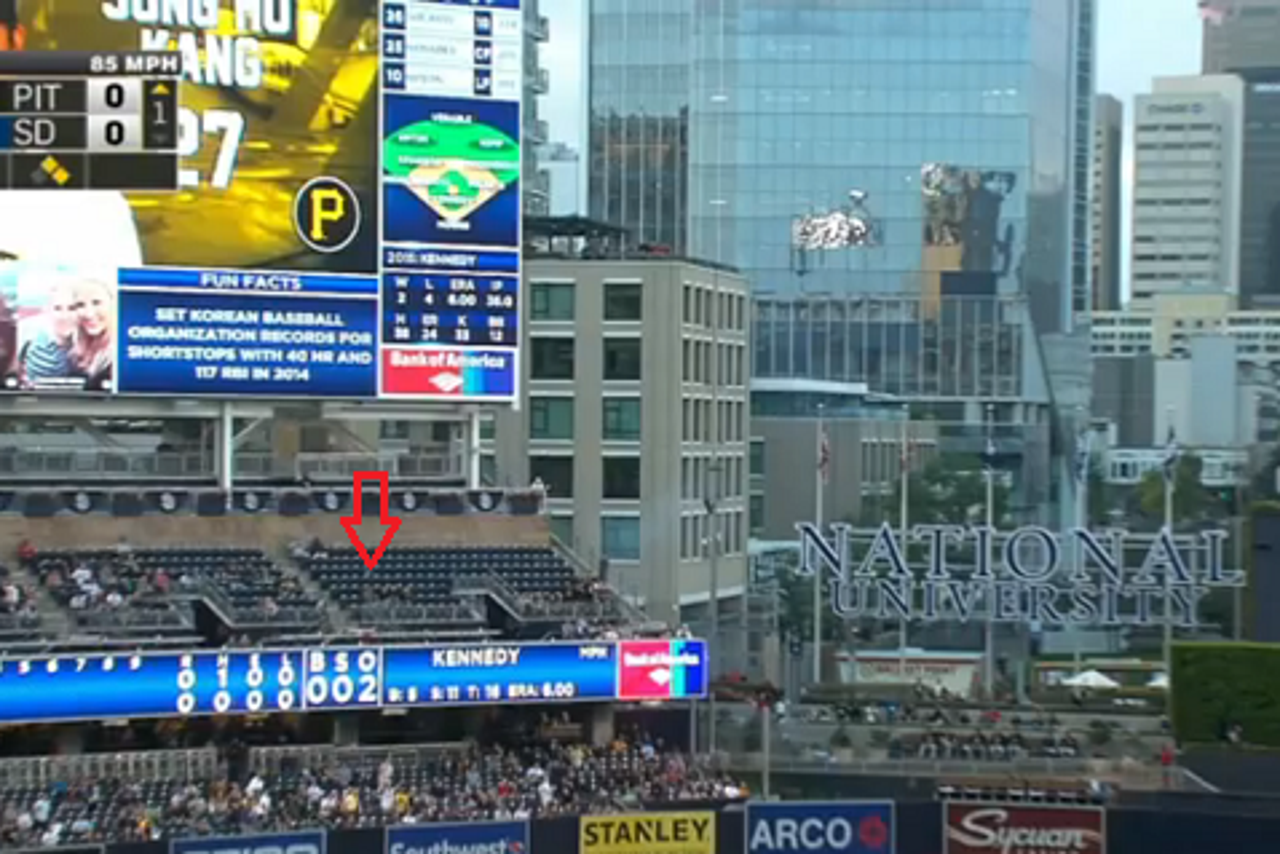 According to Statcast, the ball left the bat at 109 miles per hour, and it traveled damn near 450 feet. Let there be no doubting Kang's power. Not anymore. You can't fluke that kind of home run.
In signing Kang, the Pirates took advantage of a cautious market, where no other team wanted to take much of a chance on the first-ever hitter brought over from the KBO. Without question, there was risk, and if Kang bombed, the Pirates would be out an eight-figure sum of money. But they did their scouting, and what they saw was that Kang was arguably the best hitter in his league with power that could translate. So the Pirates acquired Kang without him having a clear path to playing time. He looked like insurance, but sure enough, he's been needed more and more, with Jordy Mercer struggling. The Pirates saw a role player and a possible starting shortstop. How many teams out there would want a power-hitting shortstop? The Pirates signed Kang for about half the Royals' two-year commitment to Volquez. To this point he's easily adjusted. In hindsight, it's difficult to understand how Kang could be had for so cheap.
Acquisition: Arquimedes Caminero
Cost: $515,500, 1 year
Playing like: Trevor Rosenthal
Caminero hasn't been an acquisition on the level of Kang, Cervelli or Burnett. He's just been an effective reliever, taken by the Pirates after he was designated for assignment by the Marlins. Right now, Caminero is throwing the second-fastest average fastball in baseball, sandwiched by Aroldis Chapman and Kelvin Herrera. Caminero was always able to miss bats. With the Pirates, he's figured out how to throw more consistent strikes, and for good measure he's also gained almost three ticks of velocity. The upside is enormous, as relievers go. And he was had for basically free.
Acquisition: Rob Scahill
Cost: $517,500, 1 year (and Shane Carle in the trade)
Playing like: Blake Treinen
Scahill, like Caminero, is just a non-closing reliever for now, so he doesn't make the difference of a starter or a regular. But the Pirates added Scahill for nothing, and they got him to throw a lot more of his sinker. Suddenly, Scahill is one of the most effective groundball pitchers in the league. He's also averaged almost a strikeout an inning, with two-thirds of his pitches going for strikes, so it's easy to see him sticking as an important part of a functional bullpen.
That doesn't describe the Pirates' entire offseason. But with the budget moves they made, they were able to preserve space to re-sign Francisco Liriano for three years and $39 million. This year, Liriano and the five players above will combine to make less than $25 million. The Pirates also gave a contract extension to Josh Harrison, and they moved Pedro Alvarez to first base. Alvarez effectively takes over for Davis and Gaby Sanchez.
It's not that everything has gone perfectly. The Pirates took a chance on Radhames Liz. Corey Hart hasn't really done anything. Hell, Harrison hasn't looked like he did a season ago, and that's something to monitor. But the Pirates lost one of baseball's best catchers -- one of their most important players -- and a few efficient moves later, they're as strong as almost anyone else. Cervelli and Kang, in particular, look like inspired moves, but that's not where the story ends.
Of course, there's always that other side of any celebration of budget behavior -- owners can generally afford to spend more than they do. Celebrating efficiency only enables lesser spending. But the Pirates have actually increased payroll, and the reality is that ownership won't suddenly start putting everything they've got into the on-field product. The Pirates need to be efficient, given what they have. So the offseason they conducted was tremendous.
In some ways, the Pirates miss Martin. In other ways, they very much don't. Hard to think too much about an ex-player when you're trying to win the World Series.
---