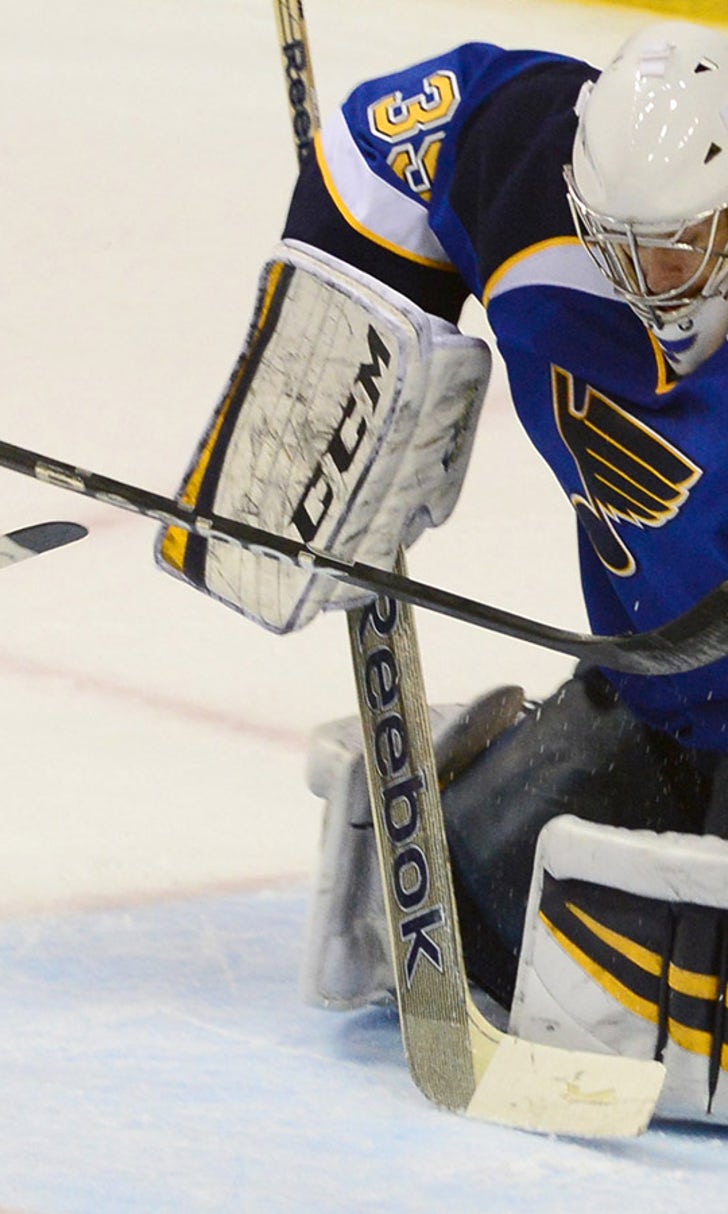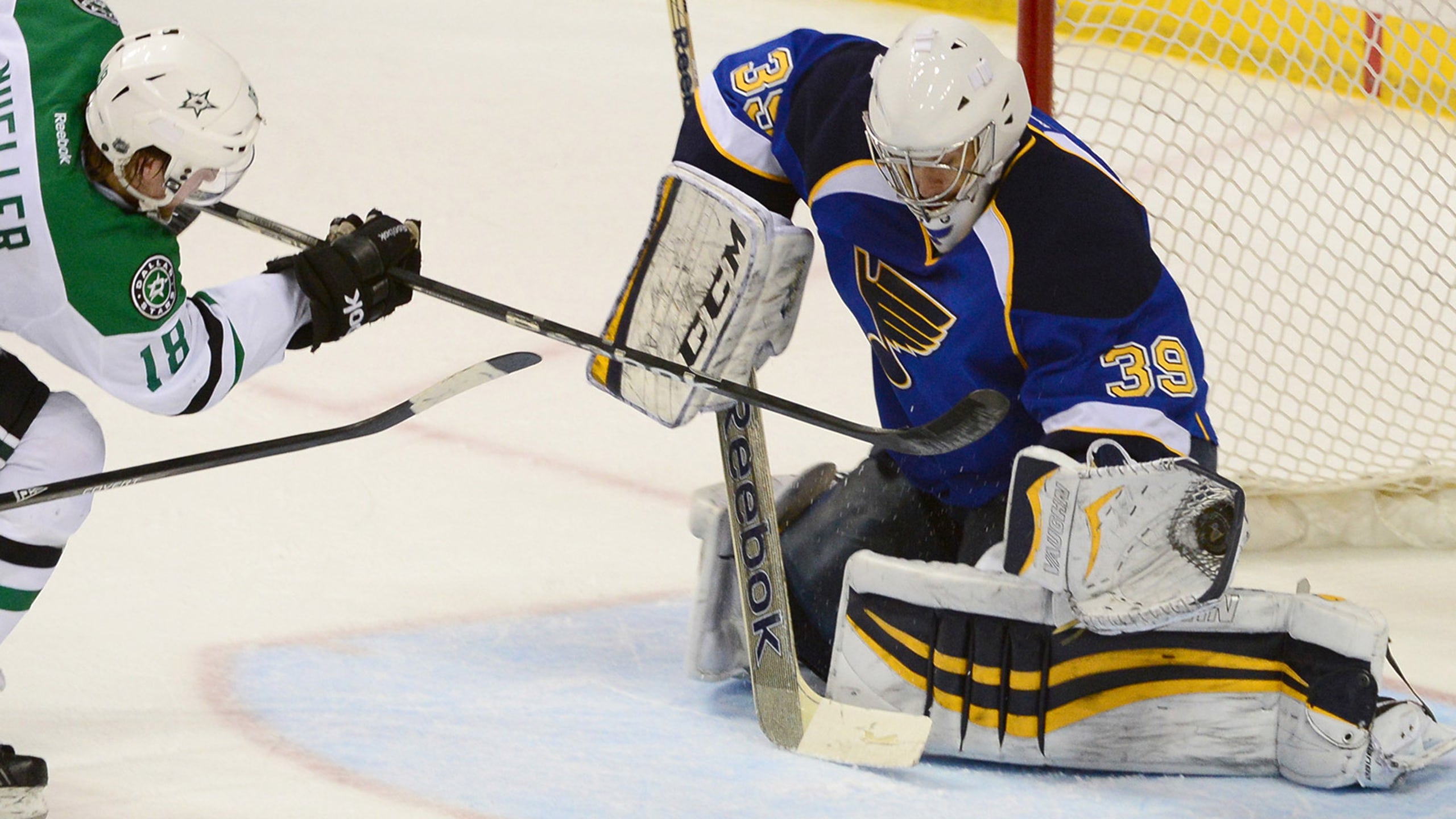 Penalty Minutes: Blues on a mission; should Peverley play again?
BY foxsports • March 12, 2014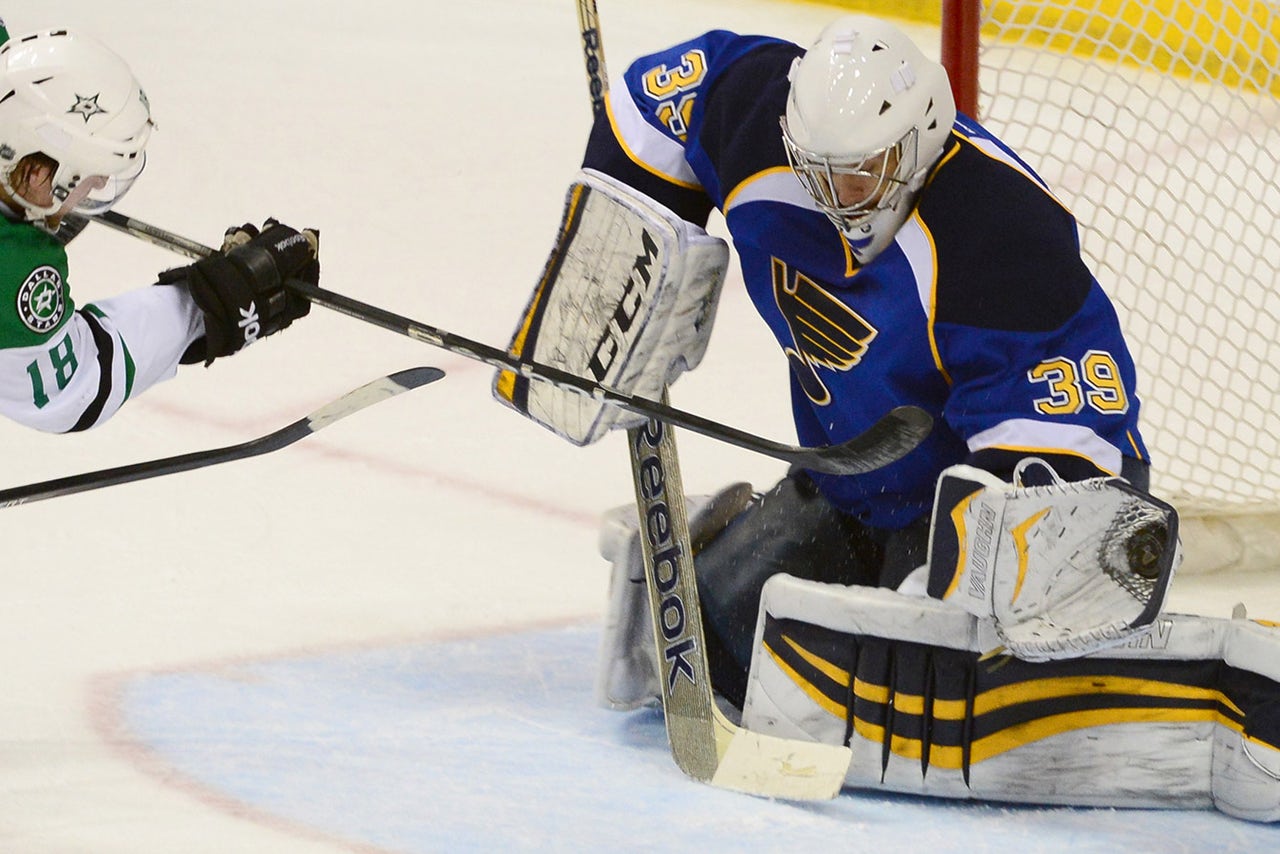 St. Louis Blues coach Ken Hitchcock is on a mission.
With the Central Division being as ridiculously good as it is this season -- St. Louis, Chicago and Colorado own three of the NHL's top seven overall records -- Hitchcock doesn't want to take anything to chance in terms of a brutal first-round opponent. (Under the league's new playoff format, Chicago and Colorado are on a collision course for an opening matchup.)
Hitchcock said the Blues have their sights set on the Presidents' Trophy. Ryan Miller could help them to get there.
Since arriving from the Buffalo Sabres on Feb. 28, Miller has not lost in regulation (4-0-1), as the Blues are 5-0-1 overall. He has posted a .925 save percentage and 1.78 goals-against average. The same percentage is basically what he has done all season (.002 difference).
The big change for Miller has been in not facing as many shots. St. Louis allows the second-fewest shots in the league on a nightly basis (26.3) while Buffalo faces the most (34.4). In some ways, it's easier for a goalie to pad his save percentage when he's seeing more shots.
"It's still the NHL and there are going to be opportunities -- no one wants to hear a goalie complain about few shots so I'm happy to be a part of this club and they play a good brand of hockey," Miller said. "It's my job to do a job. Stop the puck. Keep myself alert and keep myself energetic and engaged because there's going to be moments in the game when I'm going to have to play my game and it might not be after a couple shots of warm-ups."
After arriving from the Sabres with forward Steve Ott in exchange for forward Chris Stewart, goalie Jaroslav Halak, the Blues have become perhaps the favorite to win the Stanley Cup. They will not ease into the playoffs. Hitchcock appears as if he will put the pedal to the metal in terms of using Miller.
"Our goal is to win the Presidents' (Trophy)," Hitchcock said. "Our goal is to do something with playing this well. We want to get a reward for it and just getting a high seed -- our goal was to lead the division at the Olympic break and we did that and now the goal is to try to win the Presidents' Trophy and, what the heck, that's important for us. It puts value in what's left of these 19 games now and we want to take advantage of this. It's important for our guys."
And it looks realistic, too.
The Tampa Bay Lightning were not good just before the Olympic break and they have not been much better coming out of it. Perhaps the turmoil surrounding captain Martin St. Louis and his trade request -- ultimately acted upon by general manager Steve Yzerman -- had too profound and lasting an effect.
In their past 13 games, the Lightning have won just three games (3-8-2), as they keep a tenuous hold on one of the Eastern Conference's last two wild-card spots. The Lightning were 2-4 in their final six games before the break and have come out a meek 1-4-2 since.
Entering Wednesday's games, the Lightning, seventh in the East, are four points ahead of Detroit and New Jersey, who are ninth and 10th in the conference, respectively.
Give Yzerman credit for how he dealt with a bad situation. St. Louis wanted out after Yzerman, also the general manager of Canada's Olympic team, did not initially select him for the Olympic team. As the team's play was effected, it became evident that St. Louis, the captain, had to go.
Nonetheless, the player Yzerman received in exchange from the New York Rangers for St. Louis, Ryan Callahan, has not scored in three games (he does have two assists).
Another player from whom the Lightning count on for scoring, newly minted captain Steven Stamkos, also has not scored in three games since returning. Stamkos, who led the league with 60 goals in 2011-12, missed nearly four months with a broken leg.
The Lightning's biggest issue has proved an inability to hold leads. They blown them five times in their past six games. When they blew a 2-0 lead to Nashville on Feb. 27 and lost 3-2, first-year coach Jon Cooper called it "disgracefully embarrassing."
The problem has lingered.
On Monday, the Lightning held leads of 1-0 and 2-1 but had to rally for a goal in the final minute of regulation to force overtime at home against Phoenix. They lost 4-3 in a shootout and have not won since March 1. After that game Cooper lamented mental mistakes, particularly a blown defensive coverage that allowed Phoenix to take a 3-2 lead.
"Those don't go in in midget hockey, let alone the NHL, or at least they shouldn't," he told reporters after the game. "That's what is frustrating because guys battled their (tails) off, they played hard and we come down and make some mental errors down the stretch. It's magnified at this time of the year when they shouldn't be happening.''
The Lightning know they are under the gun to get things turned around. The question is whether they can and, if they do, how costly it becomes before they do.
1. St. Louis
Forward Vladimir Sobotka is potentially returning soon from a concussion, the Blues could have some difficult lineup decisions to make.
2. Anaheim
With 93 points, Ducks still have the Presidents' Trophy within sight.
3. Pittsburgh
Goalie Tomas Vokoun, who has yet to play this season, could return soon.
4. San Jose
The Sharks have won three straight.
5. Boston
The Bruins are 7-1-2 in their past 10.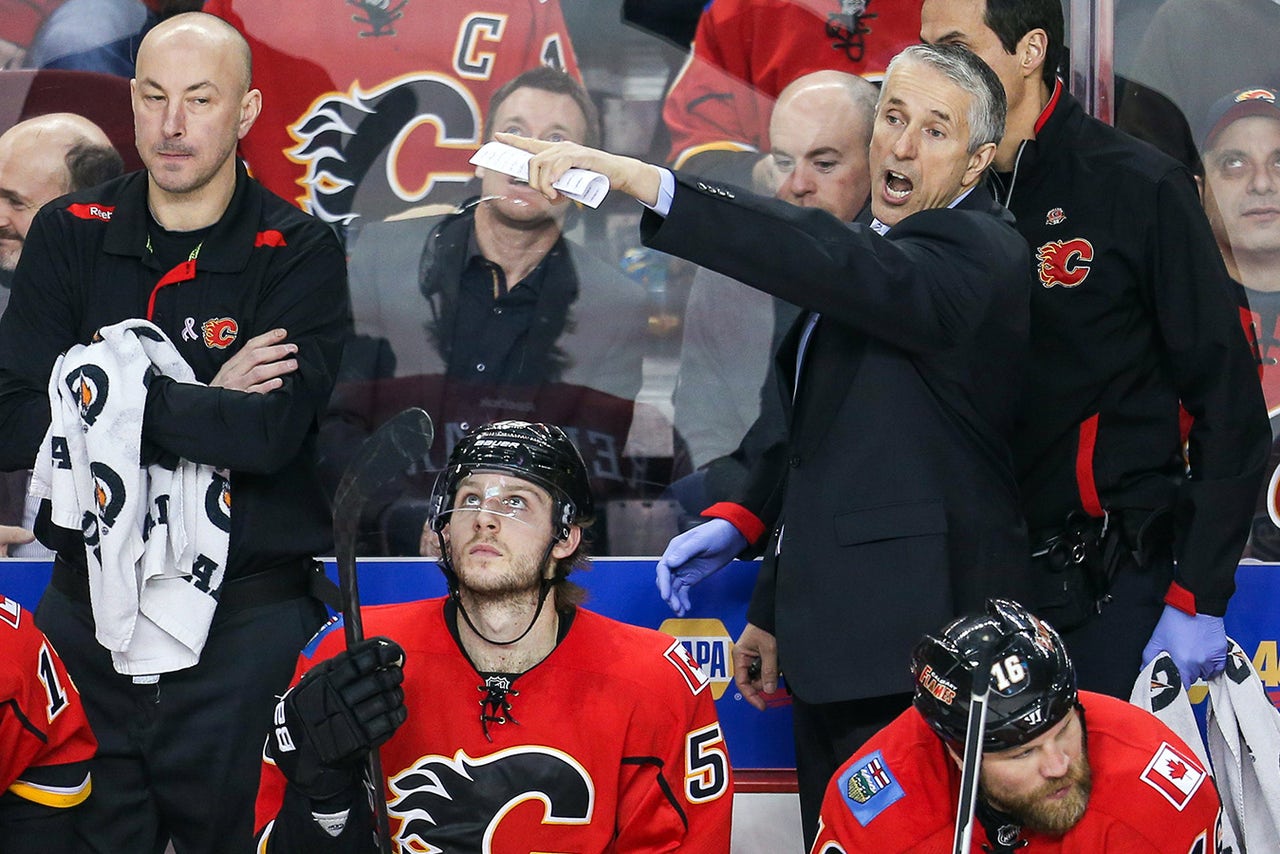 Bob Hartley's (right) Flames have the second-fewest home wins in the Western Confernece with 14.

26. Calgary
The Flames are only two games under .500 at home (14-16-3).
27. New York Islanders
The Isles had seven different goal-scorers in their 7-4 comeback win over Vancouver in which they scored all of their goals in the third period.
28. Florida
Goalie Roberto Luongo won his first game back in a Panthers uniform by shutting out Buffalo last week.
29. Edmonton
The Oilers rallied nicely on Tuesday from a 3-0 deficit to defeat Minnesota 4-3 in a shootout.
30. Buffalo
The Sabres have a league-worst minus-63 goal differential.
This game is the first of two in two days. The second game is on Sunday in Pittsburgh. With 92 points and the best record in the East, the Penguins are cruising. Not so much for the Flyers, who are eighth in the conference, only two points ahead of the teams tied for ninth- and 10th-place. No doubt the Penguins would revel in helping to knock the Flyers from playoff position. Two regulation defeats in two days for Philadelphia would certainly hurt. If the standings stay the same, this game could be a preview of the first round of the playoffs, which could represent an epic series -- the kind these two have been known for in the past.
In a 4-3 loss to Nashville on Monday, the right wing recorded three assists and finished plus-1 in 17:54 of time on ice. That performance followed up on a 5-3 win on Saturday against Winnipeg in which he also had three assists, making him, according to the 'Ottawa Citizen,' only the second player all season to post back-to-back three-assist games. Having come over from Edmonton at the trade deadline, Hemsky has six of his 23 assists on the season (and six of his 32 points) in those two games.
The defenseman had one assist and went plus-4 in 19:45 of time on ice on Tuesday in a 6-2 win over Toronto. On the high-scoring Sharks, the big-name forwards get most of the attention but the team does have one of the more underrated defense corps in the league. With 91 points (fourth-best total in the league), San Jose has snuck within two points of Pacific Division-leading Anaheim. Demers also had one shot, one hit, one blocked shot and one giveaway against the Leafs.
In a 7-4 defeat on Monday against the New York Islanders that might have spelled the end to the Canucks' playoff chances, Lack allowed six goals in the third period on 14 shots. That allowed the Islanders to rally from a 3-0 deficit. With former No. 1 Roberto Luongo traded to Florida, Lack has assumed the No. 1 mantle -- for now.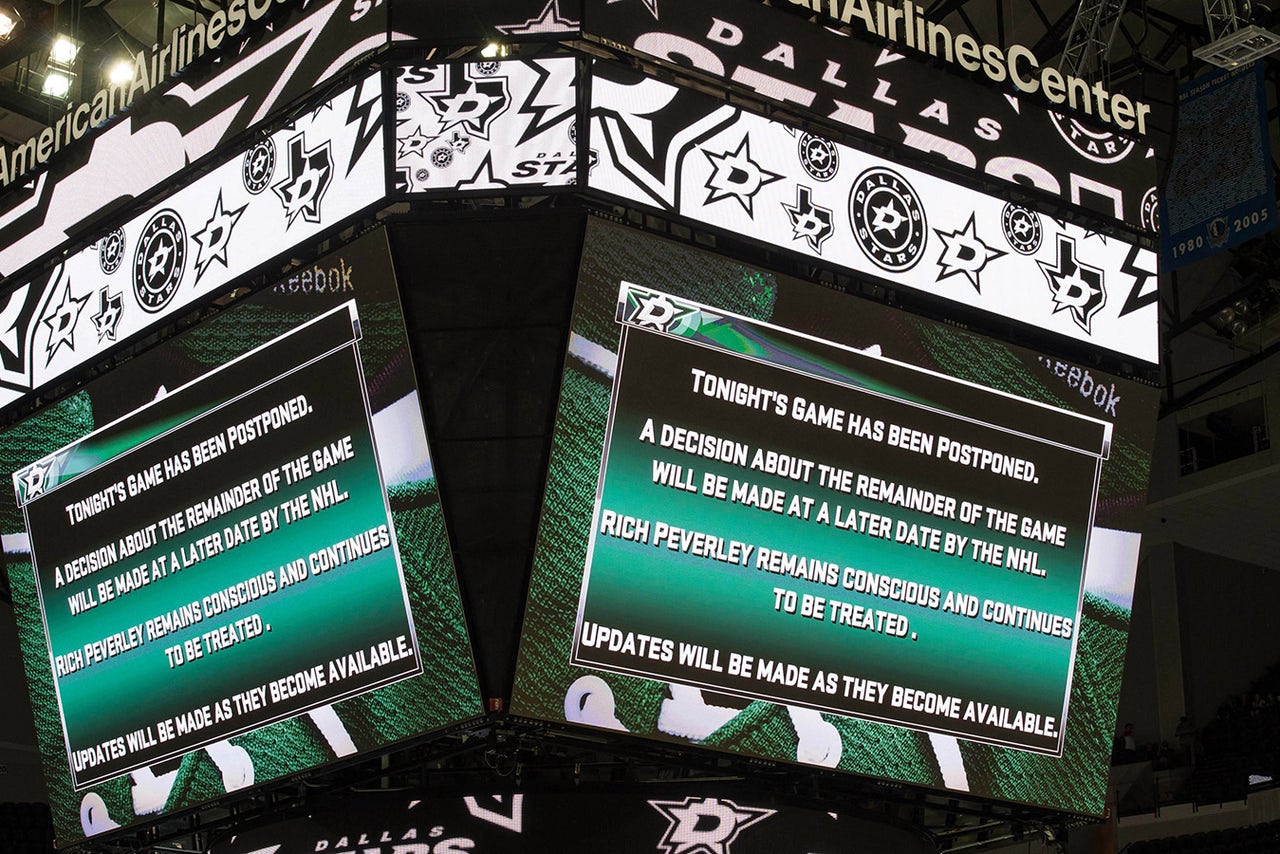 Rich Peverley collapsed on the Stars' bench Monday night and needed immediate medical attention for a cardiac event.
Rich Peverley's season is over. In a press conference on Wednesday, the Dallas Stars forward read a statement in which he thanked medical professionals for helping to save his life.
Yet, perhaps surprisingly, it's possible that even after undergoing what doctors described as a "cardiac event" that the 31-year-old might be able to continue his playing career.
Now, for the medical background. Much of the outline of Peverley's medical history was provided during a press conference on Wednesday by team doctor Robert Dimeff, M.D.
When Peverley was traded from Boston to Dallas in the offseason along with Tyler Seguin, Stars doctors discovered during his annual preseason physical that he had a condition known as atrial fibrillation. (Stars doctors speculated that Peverley may have experienced this condition during the Stanley Cup Final last June.)
According to the Web site of the Mayo Clinic, atrial fibrillation is defined as, "an irregular and often rapid heart rate that commonly causes poor blood flow to the body. During atrial fibrillation, the heart's two upper chambers (the atria) beat chaotically and irregularly -- out of coordination with the two lower chambers (the ventricles) of the heart." Symptoms include palpitations, shortness of breath and weakness.
Peverley's triggered the "cardiac event" on Monday that led the medical professionals to take him into the tunnel by the team's bench, begin CPR and then to use a defibrillator on him to shock his heart back to normal.
When the condition was discovered during the preseason physical, Peverley, in conjunction with his agent, team executives, team medical personnel and outside consultants, came up with a short-term and a long-term plan.
Peverley needed to have a procedure called an ablation.
"You can be born with either abnormal electrical issue or you can have normal tissue that begins to behave abnormally," said Richard Campbell, M.D., chief of cardiac services and director, Sibley Heart Center Cardiology at Children's Healthcare of Atlanta.
Campbell said doctors can map out where in the heart muscle the electrical issue is coming from and use either heat or cold to ablate or "rid" that tissue in order to return the heart to a normal rhythm.
Peverley put off the ablation, as it would have kept him out for several months. Instead, according to Dimeff, he underwent a procedure at the Cleveland Clinic in which an attempt was made to shock the heart back to its normal rhythm and he was put on medication. Such a procedure is known as cardioversion.
From there, Peverley was constantly monitored. He wore a heart monitor during practice. Occasionally, Dimeff would take his pulse. He wore another device that showed either a green light or a red light to indicate whether he was in atrial fibrillation.
Exactly one week before his episode this past Monday, he went into atrial fibrillation. The team gave him a day off and from there, doctors changed his medicine in attempt to keep ahead of the situation.
But none of that could forestall what happened on Monday when Peverley collapsed on the bench during a game with the Columbus Blue Jackets, causing the game to be postponed.
Incredibly, Dimeff said it took only 14 seconds for Stars medical personnel to go into a plan they made in just that event. It appears to have saved Peverley's life.
Now, he will "soon," according to Dimeff, go to the Cleveland Clinic and have the ablation.
John Mandrola, M.D., a cardiac electrophysiologist practicing in Louisville, who wrote a blog post on Peverley's situation, believes Peverley can return to play next season.
"The good news for him is that both AF or Aflutter (atrial flutter) can be ablated successfully and he could return to sport without limitations after a few months," Mandrola wrote in an email to FoxSportsTennessee.com. Mondrola said he has seen it plenty of times.
That is the medical side. There also is the business side. Peverley, 31, has one more year left on his contract at $3.375 million.
"The question is: Is the NHL going to feel comfortable out there paying him millions with this potential risk?" Campbell asked.
That, in time, will play out. For now, Stars coach Lindy Ruff and general manager Jim Nill expressed thankfulness for what a great day it was that Peverley could walk in and out of a press conference and that he is still alive.
As a coda, the doctors at that press conference, as well as the ones interviewed for this story, all stressed the importance for everyone to learn CPR and how to learn how to use defibrillators. With that, they said, many more lives like Peverley's could be saved.
---