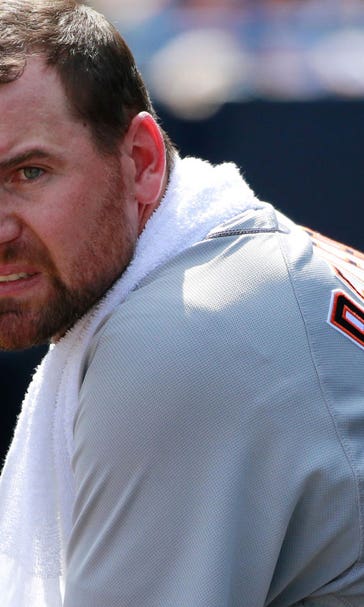 Pelfrey still searching for first win as Tigers face Orioles
May 12, 2016

The Baltimore Orioles have used the long ball to pace their current winning stretch.
That might not bode well for a Detroit Tigers' staff that's had some trouble keeping the ball in the park of late.
The Orioles look to continue their power surge while trying for a fifth straight victory Thursday (6 p.m. pregame, 7:05 first pitch on FOX Sports Detroit) against the visiting Tigers.
Leading the AL with 49 home runs, Baltimore (20-12) belted 12 in the last three games. Mark Trumbo homered twice and Chris Davis hit his ninth as the Orioles went deep four times in Wednesday's 9-2 victory at Minnesota.
Baltimore, which owns a 30-10 run advantage in the last four games, has a chance to join the 1964 Twins as the only teams to hit back-to-back home runs in four consecutive contests.
"We obviously have a lot of power in our lineup," said Davis, who went 7 for 10 the past two games. "I think guys have really had good at-bats these last couple of days, not just going up there hacking, but looking for a pitch to drive and haven't been missing them."
Trumbo is 7 for 18 in four games and has homered three times over the last three.
"I think the last couple games have been really strong and kind of what we're hoping for," said Trumbo, who leads the team with 11 homers.
The Orioles hope that continues against Detroit (15-18), which has given up 15 home runs in the last seven games.
Struggling right-hander Mike Pelfrey (0-4, 6.23 ERA) gave up three homers that were responsible for all but one of the five runs he allowed in five-plus innings of a 10-5 loss to Texas on Saturday, though he didn't receive a decision. Fighting to remain in the rotation, Pelfrey has yielded five runs in each of his last three outings.
He has surrendered six home runs after serving up 11 over 30 starts for Minnesota last season.
"It's not what I wanted," Pelfrey told MLB's official website. "I feel terrible. I know that I'm better than this.
"It's kind of a (bad) stretch to go through. It's not what I want to do, and it's not what I want to do for these guys, or how I envisioned starting off. I know that I'm better than this, and I just gotta find it."
Trumbo is 5 for 10 and the only Oriole to homer off Pelfrey, who is 2-0 with a 4.43 ERA in four starts against Baltimore. Adam Jones is 6 for 12 against him.
Baltimore's Ubaldo Jimenez (2-3, 4.54) looks to build on a solid outing from Saturday when he gave up two runs in eight innings of a 5-2 win over Oakland. Perhaps most importantly, the right-hander walked one after issuing 15 over the previous four starts.
"I always try to stay away from the walks," he said. "The walks hurt. Every time I walk a guy, it seems like they find a way to score."
Jimenez walked only one in 9 1/3 innings in two starts against Detroit last season, but he allowed 13 runs and 13 hits to lose both.
J.D. Martinez, Victor Martinez and Jose Iglesias all homered off Jimenez in 2015. Miguel Cabrera did not face him last season, but is a lifetime .349 hitter against Jimenez.
Iglesias and J.D. Martinez homered Wednesday, but Washington's Max Scherzer matched a major league record by striking out 20 as the Tigers fell for the eighth time in nine games, 3-2.
---