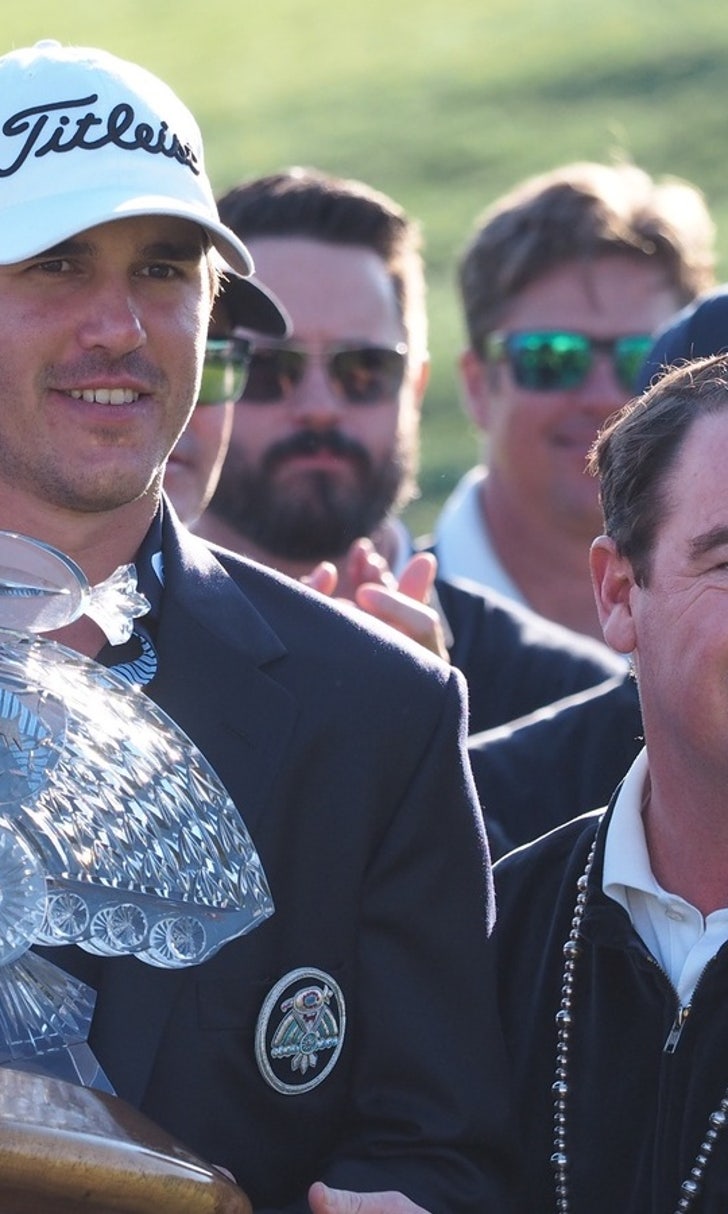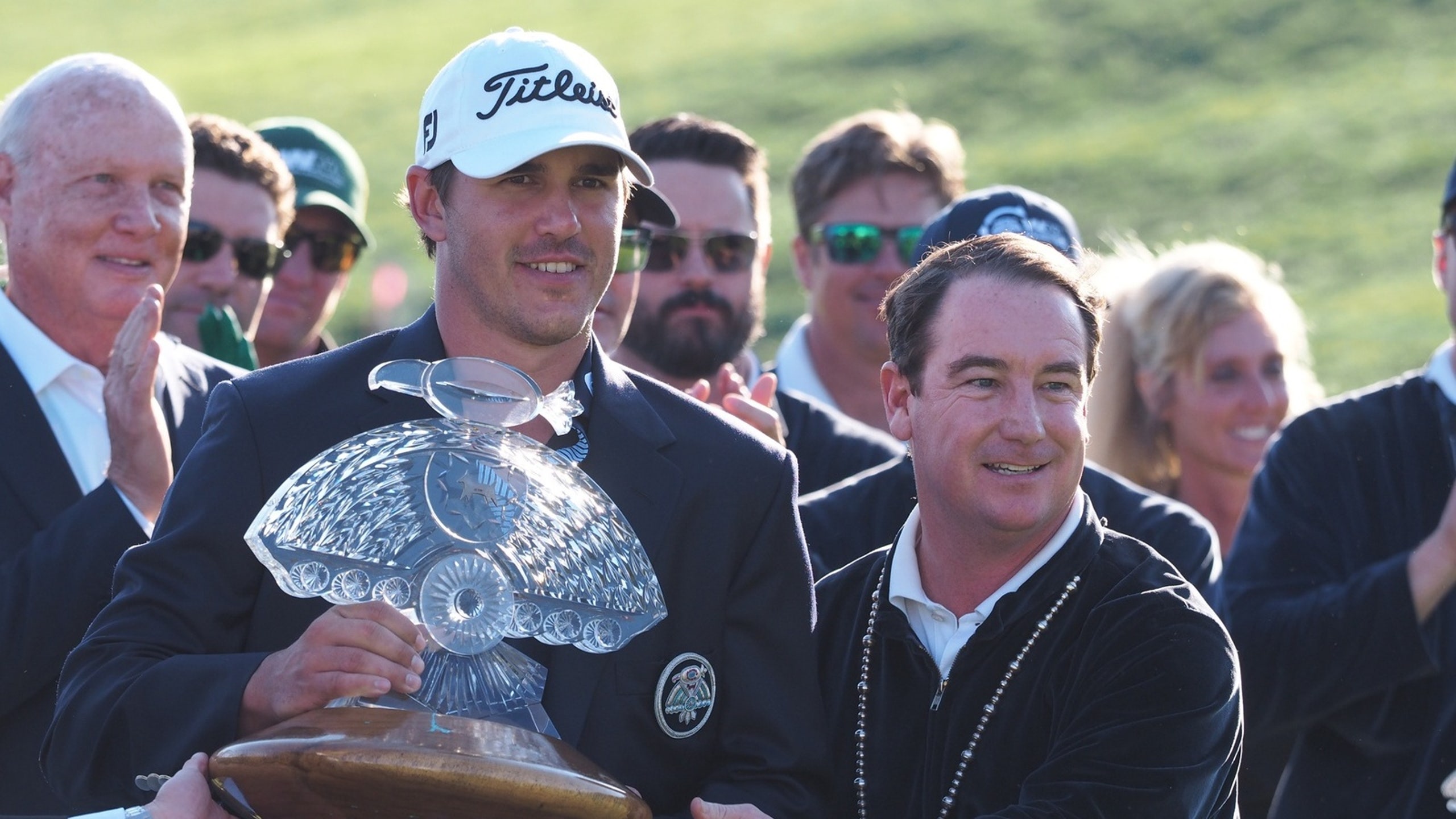 Patient, calm Brooks Koepka wins first PGA Tour event
BY foxsports • February 1, 2015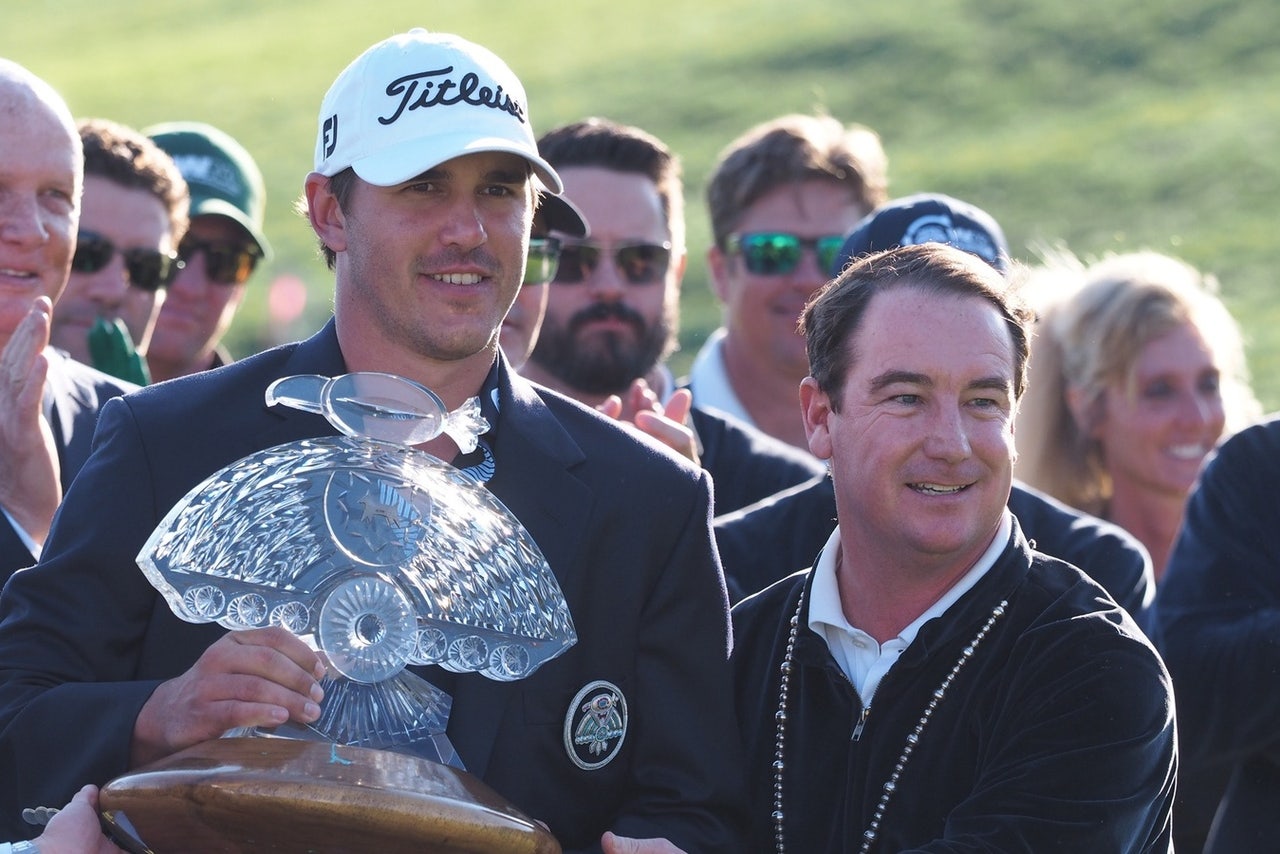 SCOTTSDALE, Ariz. -- Relaxed and patient, Brooks Koepka waited for his opportunity. The reward for doing so at the Waste Management Phoenix Open: His first PGA Tour victory.
The 24-year-old entered the final round Sunday at TPC Scottsdale three shots behind leader Martin Laird, and for a while it appeared Bubba Watson's surge or Hideki Matsuyama's hole out to start the day might've come into play. Neither did.
It came down to Koepka continuing to believe in himself, never pressing panic.
"I had to stay very patient," Koepka said. "It was -- I don't want to say frustrating or hard -- but I just had to hang in there and play the back nine. I played the back nine well all week and just trying to stick it out for those couple par 5s, and especially 17."
Koepka, who was grouped with Laird and Matsuyama, eagled a 51-yard putt from the edge of the green on the par-5, 15th to leapfrog past four players tied at 14-under at the time.
"I left everything short all day," Koepka said of the putt. "I was struggling with speed. As we were reading the putt, I told my caddie, 'I like the read.' I just said, 'I am finally going to get this one there.' I just gave it a whack and it went in."
Koepka shot a 5-under 66 on Sunday for a 15-under 269 to win, and also survived with a little luck. He played through a drive on the 17th that nearly went into the water and watched the others in his group miss opportunities. 
Laird missed an eight-foot putt to bogey the 17th, while Koepka's drive -- he admitted after he didn't know which club to use with the tee moved up Sunday -- went beyond the green just short of the water by a foot or so. Koepka salvaged the hole to reach par. Then, Laird followed Koepka's clean drive off the 18th tee with a hit into the water left of the fairway.
That about sealed it.
Meanwhile, Watson and Ryan Palmer, who with Matsuyama finished tied for second with a 14-under 270 for the tournament, played from too far behind.
"I can look at different shots here and there, but I gave myself a chance," Palmer said. "That's all I can really ask for."
Matsuyama rolled through the third round Saturday with an 8-under to climb three shots behind Laird, and his hot hitting continued from the get-go. From 128 yards out, he holed out the first and added two more birdies in the front nine to keep pace.
Laird, the Scottsdale resident and Scottish native, birdied the first hole to keep a little buffer ahead of Matsuyama but played it safe from then on by tallying pars for 13 straight holes. But when the pressure was on, he couldn't do enough, finishing tied for fifth with ASU junior and amateur Jon Rahm at 12-under 272.
Watson began the third round five shots back of the lead, and by his 13th hole had made up the difference. Even with a 6-under in the final round, it wasn't enough to play catch-up against a field playing cleanly after two days of cloudy, wet weather.
"Beautiful day out there. Guys are playing great," Watson said afterward. "Two guys (ahead of him on the leaderboard) making bogeys -- I don't see it."
So the Phoenix Open went to Koepka, the man not many were talking about until the final stretch on Sunday.
It fit the narrative over the course of his brief professional career.
He admitted to being a late bloomer considering all the young guns challenging this week.
The journey to his first tour win might've had a bit to do with his calm demeanor and his betting on his own mental makeup that he confidently said is incomparable to anyone he knows.
After college, Koepka played in the Challenge Tour in Europe, learning a few lessons along the way. Now on the PGA Tour, he feels he belongs, even if his stoic and non-excitable nature doesn't express the confidence within -- or his excitement after winning the Phoenix Open.
Koepka promised that his goals go beyond winning one tournament.
"I wanted to come out this year, get a win, make Presidents Cup and further down the road for Ryder Cup," he said. "I feel like my game is ready for that, ready to compete for majors and win them."
Follow Kevin Zimmerman on Twitter
---