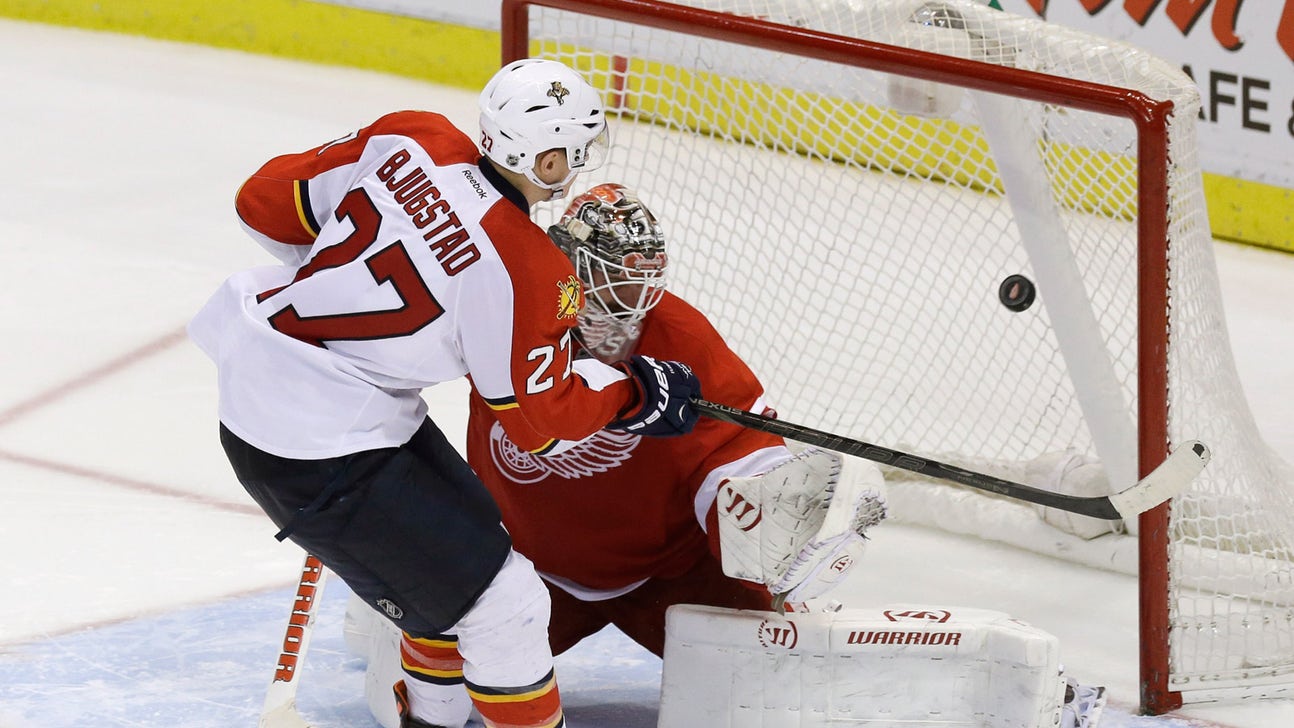 Panthers come back in third, top Red Wings in shootout
Published
Jan. 26, 2014 8:01 p.m. ET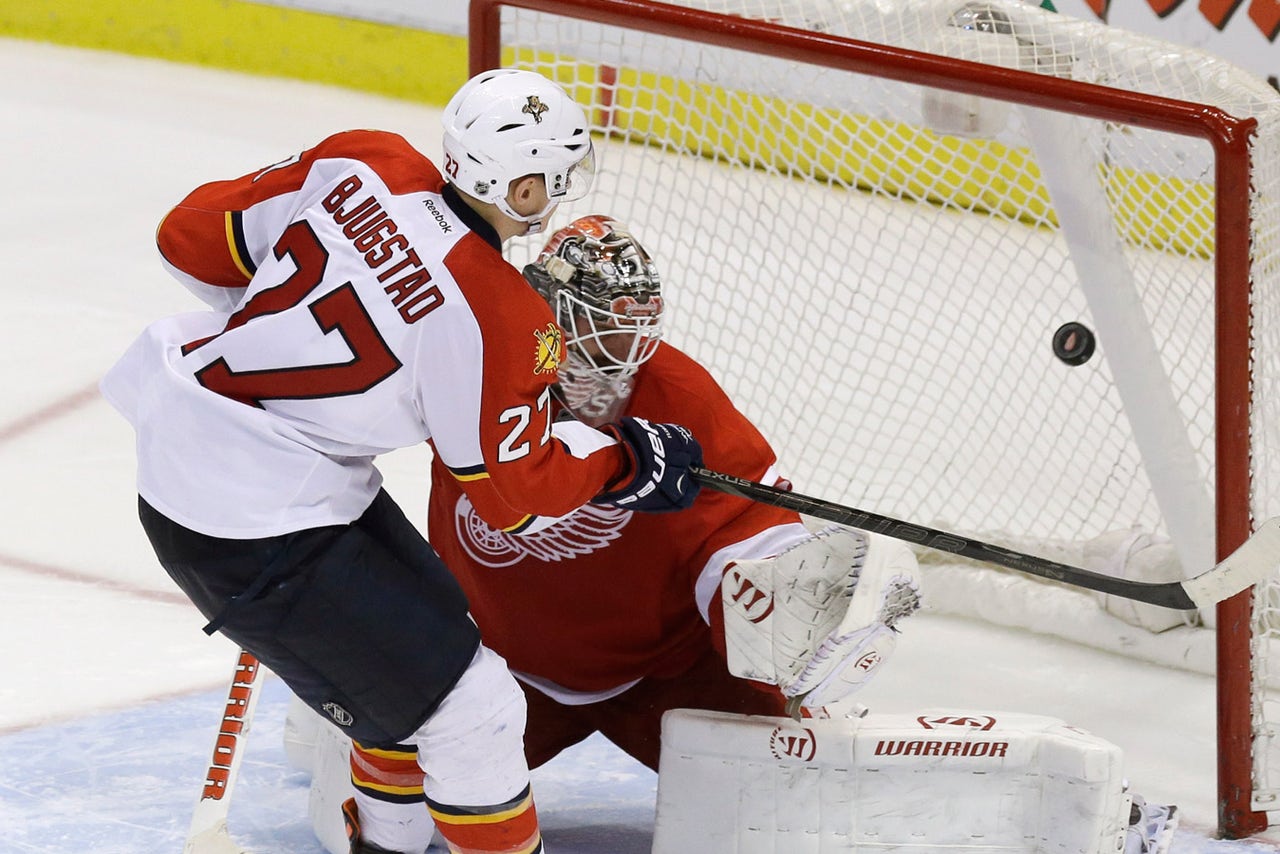 DETROIT -- The Detroit Red Wings set themselves up to win a season-high third straight game at home without their two best players.
They blew it.
Nick Bjugstad scored in a shootout and Tim Thomas denied Detroit three times in one-on-one duels, lifting the Florida Panthers to a 5-4 win over the Red Wings on Sunday night after trailing by two goals twice in regulation.
"There were many things we didn't do right, but we got two points in a character game," Florida coach Peter Horachek said.
The Red Wings, who were without injured stars Henrik Zetterberg and Pavel Datsyuk, allowed Brad Boyes to score a game-tying, short-handed goal with 3:46 left in the third period -- a couple minutes after teammate Drew Shore scored.
"We deserved to win this game and we did lots of good things," said Detroit's Tomas Tatar, whose third-period goal put Detroit up 4-2. "We ended up short. Hockey is 60 minutes and you can't stop after 55 and let them win the game."
Detroit's Gustav Nyquist and Daniel Alfredsson scored 1:19 apart midway through the second and Riley Sheahan had a goal late in the second period to give the Red Wings a 3-1 lead.
"When you're up 3-1, should you win? Yup," Red Wings coach Mike Babcock said. "When you're up 4-2 should you win? Absolutely. We didn't."
Jonas Gustavsson, filling in for the injured Jimmy Howard, had 33 saves in his third straight start for the Red Wings.
Thomas stopped 26 shots, and was fortunate defenseman Tom Gilbert kicked away a shot in overtime.
"It looked like a goal to me, they had pretty much an empty net, and he stuck his foot out there and made a big save," Horachek said. "That's character. That's the way you find ways to win."
After the win, Thomas was able to joke about the assist he got from Gilbert.
"I was going to make the save but I saw him laying there," he said. "Everybody is pitching in any way they can."
The Panthers started and finished strong.
Sean Bergenheim put the Panthers ahead just 1:48 into the game. In between, they bounced back well enough to stay in the game and ultimately to force overtime and the shootout.
After the Red Wings surged ahead 3-1 in the second, Jesse Winchester pulled the Panthers within a goal midway through the third.
Tatar restored the two-goal lead a few minutes later by shooting high when Thomas went low. Shore scored to make it 4-3 with 5:32 left in the game.
"We stopped shooting the puck a little bit in the third and tried to get cute," Babcock said.
Zetterberg was a late scratch with a back injury after being hurt in Friday night's game against Montreal.
"He's been having back issues, we knew that," Babcock said. "You come to the rink hopeful he's going to play."
Zetterberg missed 11 games with a back injury in December.
Datsyuk missed a 10th straight game with a lower-body injury. Both stars are day to day.
The Red Wings did get forward Johan Franzen back in the lineup after he missed 16 games with a concussion.
Howard has been out with an injured left knee and he might play Tuesday night at Philadelphia. Forward Joakim Andersson missed his sixth straight game with a lower-body injury, and is expected to return against the Flyers or Friday night against Washington.
NOTES: To make room for Franzen on the roster, Detroit sent RW Mikael Samuelsson to play for Grand Rapids Griffins in the AHL. Samuelsson has only one goal and just two assists in 26 games. ... Florida rookie Aleksander Barkov didn't play because of a lower-body injury from Tuesday's game at Buffalo. ... Nyquist has scored in a career-high four straight games.
---