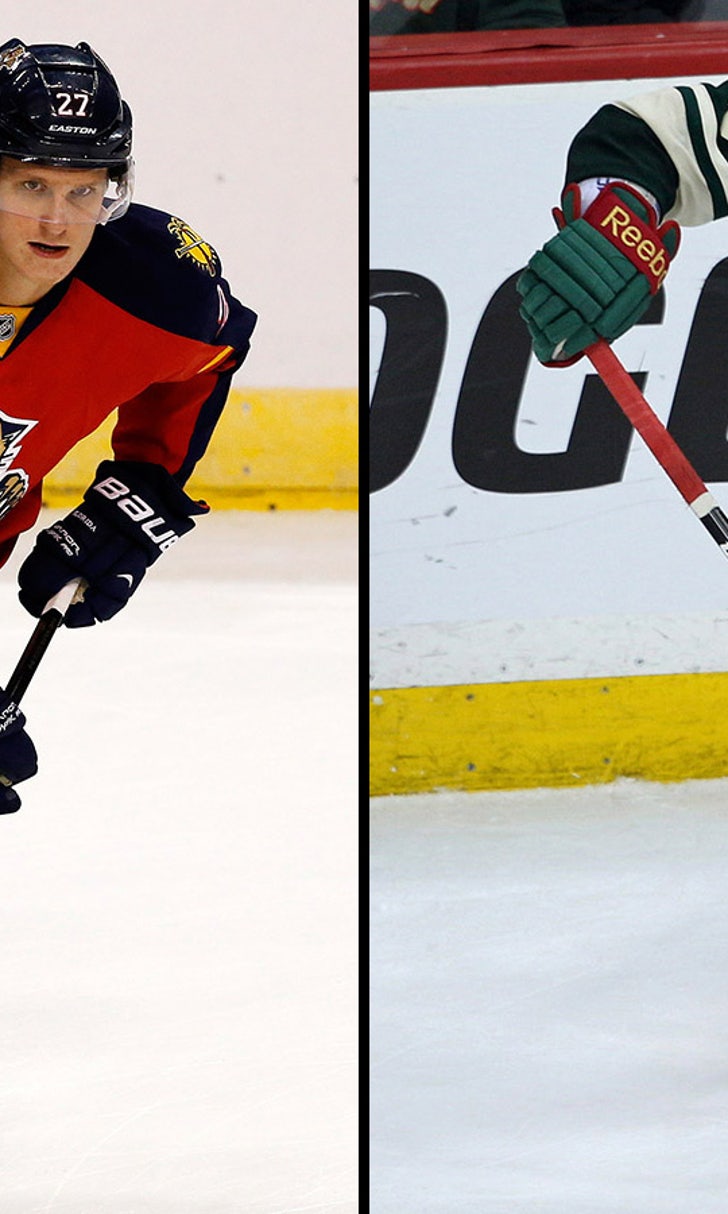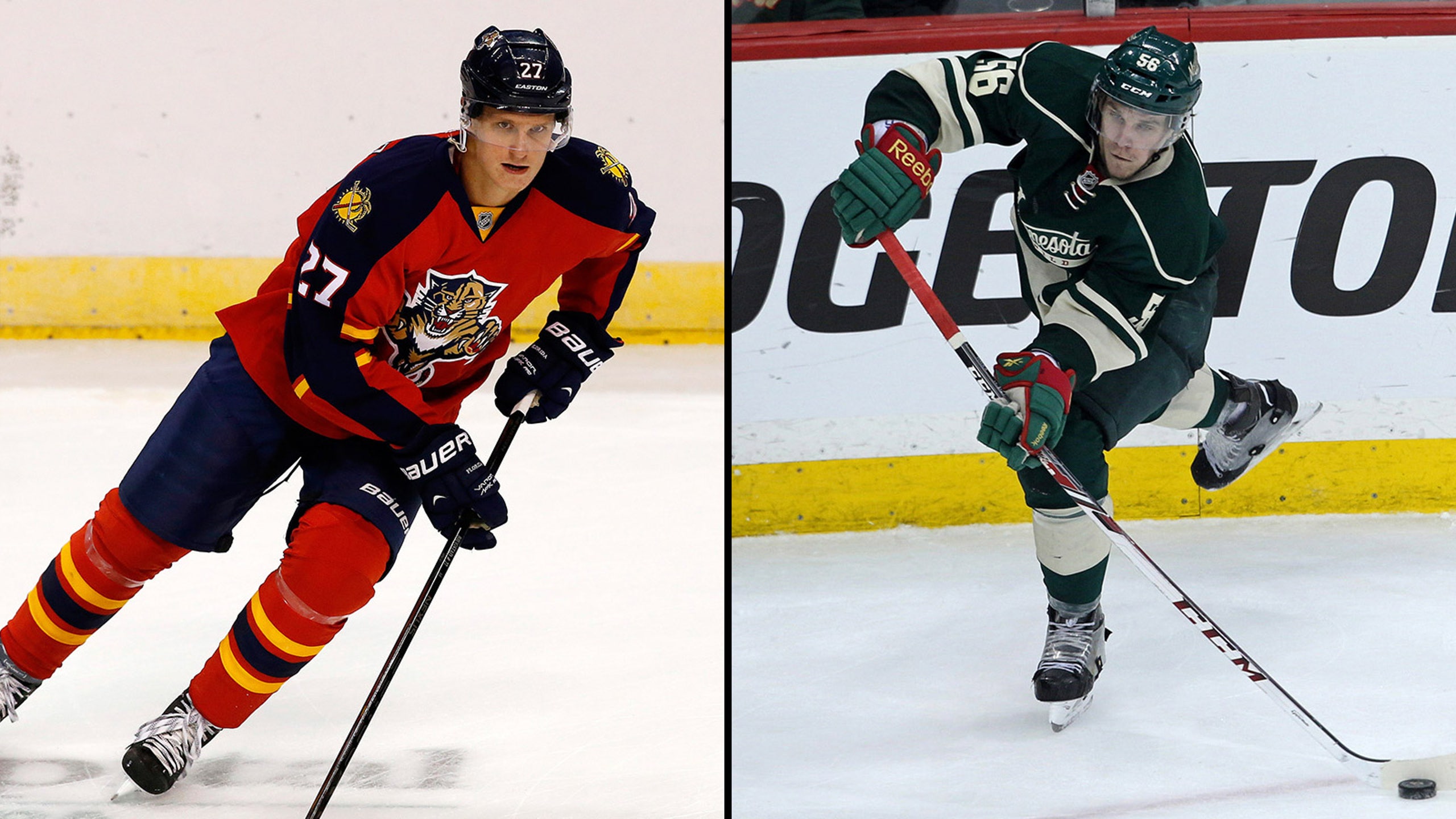 Panthers' Bjugstad, Wild's Haula pen latest chapter of their friendly rivalry
BY foxsports • November 25, 2014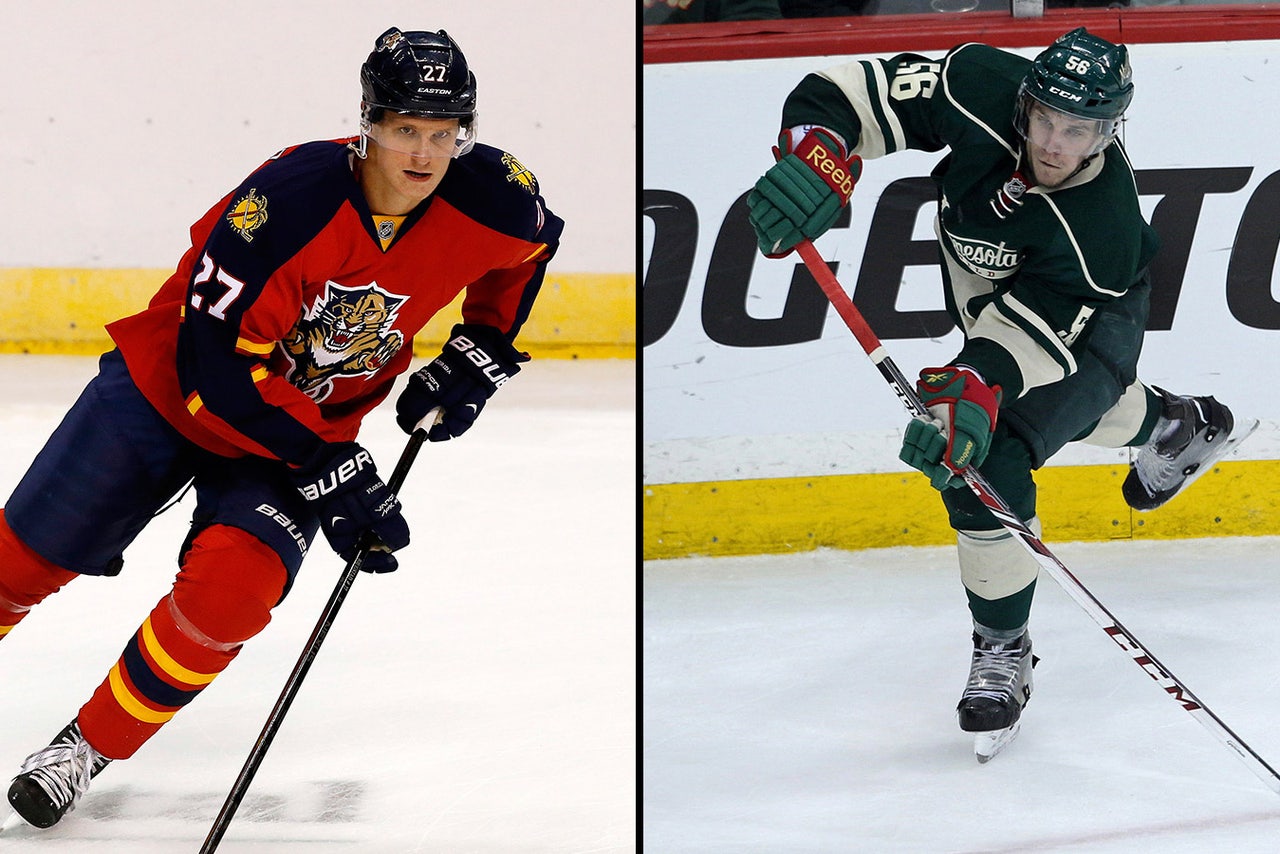 SUNRISE, Fla. -- Nick Bjugstad and Erik Haula had often talked of this day during their time together at the University of Minnesota.
Members of the Golden Gophers' prestigious hockey club from 2010-13, Haula and Bjugstad shared similar NHL aspirations and hoped that once the book had closed on their collegiate careers that they would meet again on hockey's biggest stage.
On Monday, what had begun as a playful what if, discussed between friends in dorm rooms and on the rink of Minnesota's Mariucci Arena, had suddenly become a reality as the Florida Panthers hosted the Minnesota Wild.
"It's something we always used to talk about, how cool it'd be to play against each other in the NHL," said Haula, who was a seventh-round pick of the Wild in 2009. "Now it's become reality. I'm sure we'll both have fun with it."
In their first of two scheduled meetings this season, Haula's Wild walked away with a 4-1 victory over Bjugstad's Panthers at the BB&T Center. And while the game may have been just one of 82 on the schedule, it also marked the latest chapter in a longstanding competition between the former teammates.
"We've had competitions ever since we stepped on campus," Haula said. "We were on the same power play, but other than that we were on different lines and would always compete against each other in practice."
In their final two seasons together at Minnesota, Bjugstad was the Gophers' top goal scorer while Haula, who left his native Finland to play hockey in North America, led the team in points.
Yet, while the two remain in a constant battle to one-up each other, friendship has always come first in this friendly rivalry.
Spending nearly as much time together off the ice as they did competing on it, the two lived in the same apartment building during their sophomore year at Minnesota before rooming with fellow Gopher teammates Nate Schmidt, Zach Budish and Kyle Rau their junior year.
Of all the roommates, Haula insists that Bjugstad was renowned for his slovenly lifestyle and could even be caught snatching teammate's groceries if they weren't careful.
"He was probably the messiest kid on camps," Haula said. "His room was a disaster."
Bjugstad, meanwhile, was quick to point out that Haula's nighttime habits might have kept him awake on several occasions.
"He talks in his sleep in Finnish," said Bjugstad, who was a first-round pick of the Panthers in 2010. "I have no idea [what he's saying], but he's probably swearing."
Now, nearly two years removed from the days of dorm room politics, both Bjugstad and Haula are turning heads around the NHL as they play through their respective sophomore seasons.
Bjugstad, 22, currently ranks second on the Panthers in scoring with 11 points through 19 games this season after notching five goals and three assists on the team's recent four-game road trip.
Haula, meanwhile, has recorded just two goals in 18 games this season, but showed signs of promise during last year's postseason when he scored seven points in 13 playoff games for the Wild.
With their second and final meeting of the regular season set to take place in Minnesota on Feb. 12, Bjugstad and Haula say that they will do their best to keep in touch throughout the arduous grind of the NHL season.
Whether it's sharing tricks of the trade or simply rehashing stories of the days at their alma mater, the budding stars have remained close even as opponents.
"It's funny we're playing against each other," said Bjugstad. "That's how the game works. We'll have fun. I'm sure we'll be enemies on the ice but we're friends off the ice.''
You can follow Jameson Olive on Twitter @JamesonCoop or email him at JamesonOlive@gmail.com.
---
---