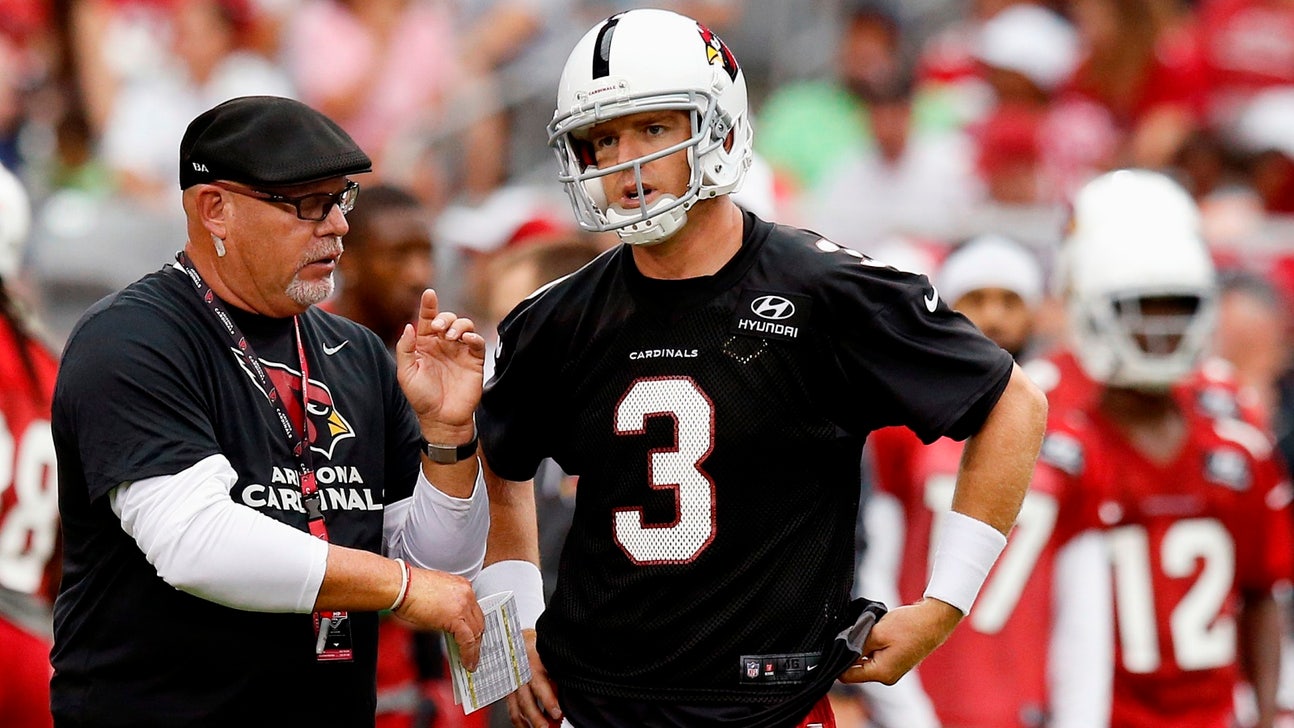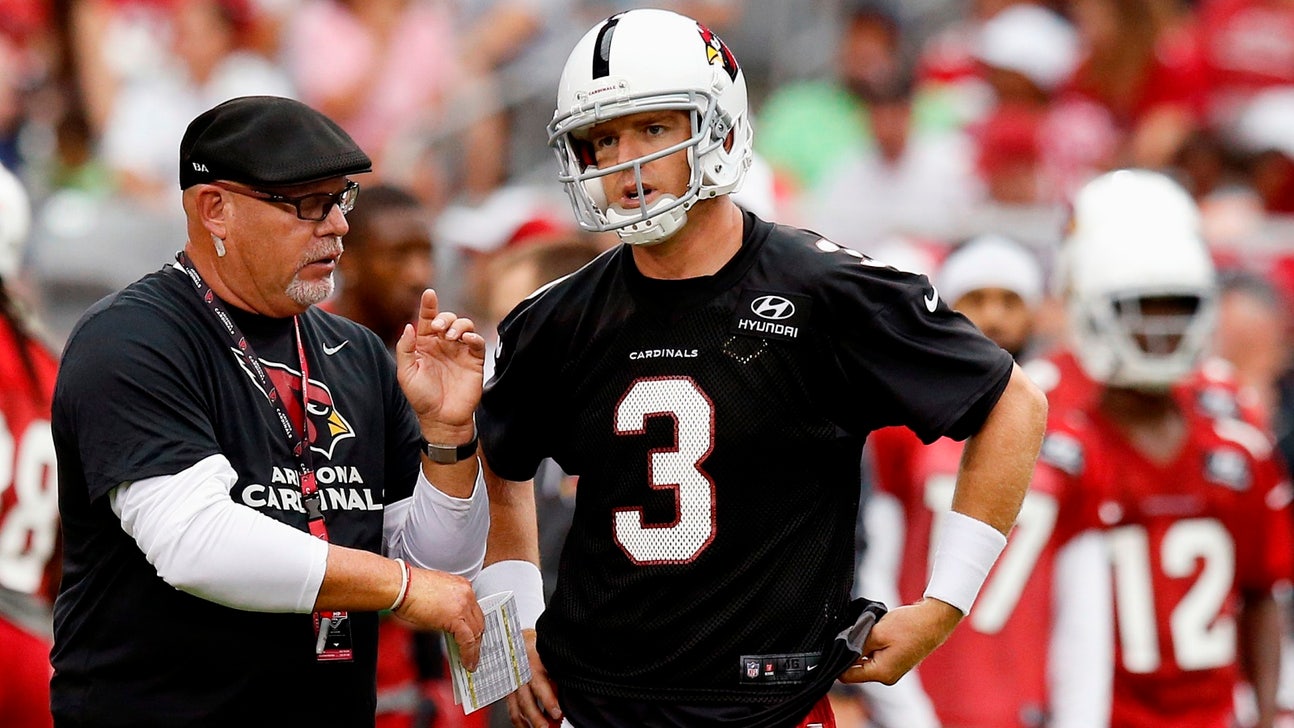 Palmer has passion for preseason pain
Published
Aug. 6, 2014 4:58 p.m. ET

GLENDALE, Ariz. -- Carson Palmer has deadpan delivery down to a science, so it's often hard to tell candor from comedy.
When the Cardinals quarterback was asked Wednesday what he was most looking forward to in Saturday's preseason opener against the Houston Texans at University of Phoenix Stadium, he gave a most unexpected response.
"I actually always hope to get knocked down a bunch of times during the preseason," Palmer said. "If your body's not used to being that kind of sore -- because it's so rare; it only happens five months a year -- that soreness kind of lingers on through the week for a little bit longer so I like to get that soreness out of the way before the regular season starts." 
Palmer smiled when asked if he had told his offensive line about his desire.
"No, I don't want those guys knowing that," he said. "But if we miss a block here or there, that's OK.
"You can't replicate standing up and just getting slammed into and knocked a couple feet in the air and then rolling. Your body's not used to it. You can lift weights -- there's a million things you can do, but unless you do that, your body's not used to it."
There are limits to Palmer's passion for pain, however.
"I think back to big Shaun Rogers who used to play in Cleveland (when Palmer was with the Bengals), who was a big boy, probably 400 pounds," Palmer recalled. "He landed right on my sternum one time ... When a 400-pounder lands right on your sternum it just crushes you, separates ribs and those kinds of things."
Palmer was asked how much he lobbied former Raiders teammate Jared Veldheer to sign with the Cardinals and fill their void at left tackle.
"I definitely had told him about how nice it is to practice on grass and play on grass -- good grass," Palmer said, taking a shot at the Raiders' home field, Oakland-Alameda County Coliseum, and their practice facility. "That little thing makes a huge difference, believe it or not, when you're an older guy. Not practicing on turf or not practicing on dirt, spray-painted green, makes a huge difference."
A Cardinals official said that when Palmer arrived in Arizona last season and walked onto the team's practice field, he coaxed others to walk on the grass with him, noting, "Look, you can have a picnic on this."
Safety Tyrann Mathieu told coach Bruce Arians he'd like to start practicing in two or three weeks. The problem?
"I don't think he takes me too seriously," Mathieu said, laughing. "Hopefully, I'll get a few of the guys to back me up.
Mathieu is still on the PUP list as he rehabs from reconstructive knee surgery for a torn ACL and LCL suffered Dec. 8 against the Rams. Arians said during the offseason that he is targeting an Oct. 1 return date for Mathieu to play in games.
"I'm doing pretty much everything; I'm increasing the amount of things I do," Mathieu said. "I'm basically having my own practice (outside the stadium) while those guys are practicing.
"Some days I feel great, other days I feel sore, other days I feel like I didn't give it my all. It's a mixture of feelings and emotions, so I'm just trying to find that consistency and then that's when I'll know I'm ready."
Arians gave defensive tackle Darnell Dockett a veteran's day off on Wednesday, but guard Jonathan Cooper (knee) and tackle Nate Potter (knee) returned to practice.
Arians said WR John Brown left practice Tuesday because of fatigue in his hamstring, not because he had re-aggravated the injury that kept him out on Monday. 
-- Arians said he will choose a kicker based almost exclusively on how they perform in preseason games. Veteran Jay Feely and rookie Chandler Catanzaro will alternate games. Catanzaro will kick Saturday against Houston. "The games are everything," Arians said. "We'll put all the eggs in those baskets."
-- Arians said rookie tight end Troy Niklas began wearing a smaller soft cast on his right hand Wednesday. "He's about 99 percent healed," Arians said. "He'll have some use of some fingers." Niklas broke the hand in offseason workouts.
Follow Craig Morgan on Twitter
---