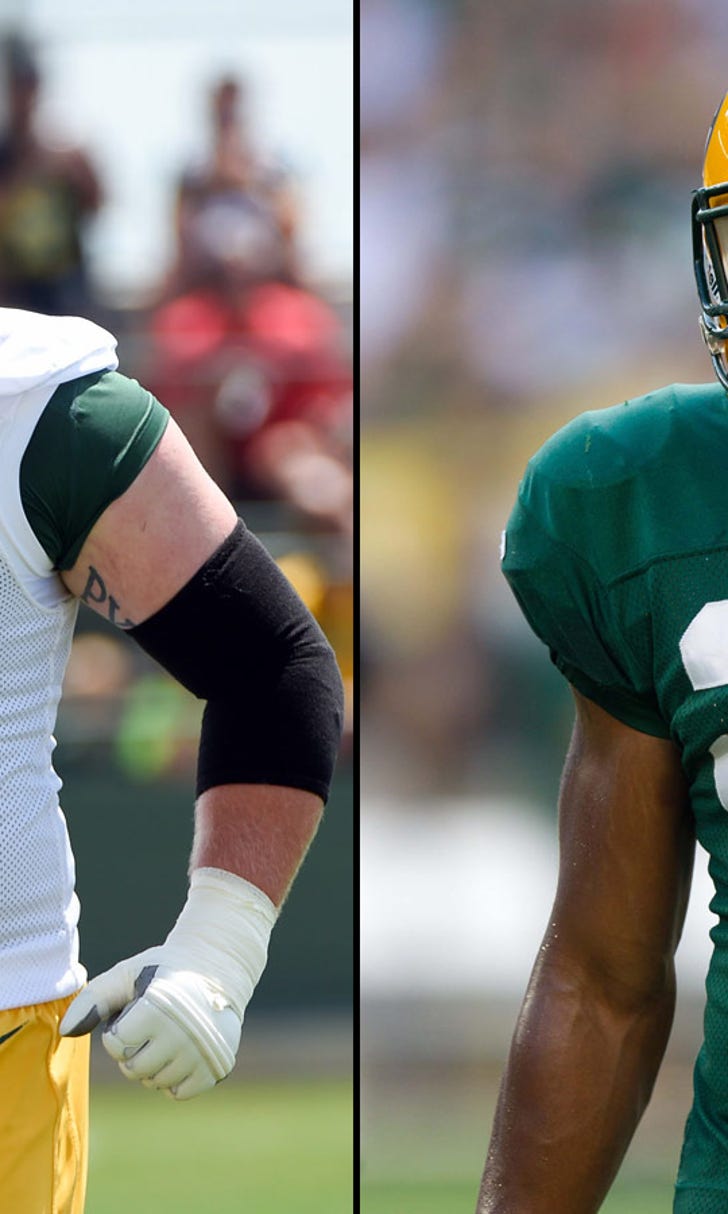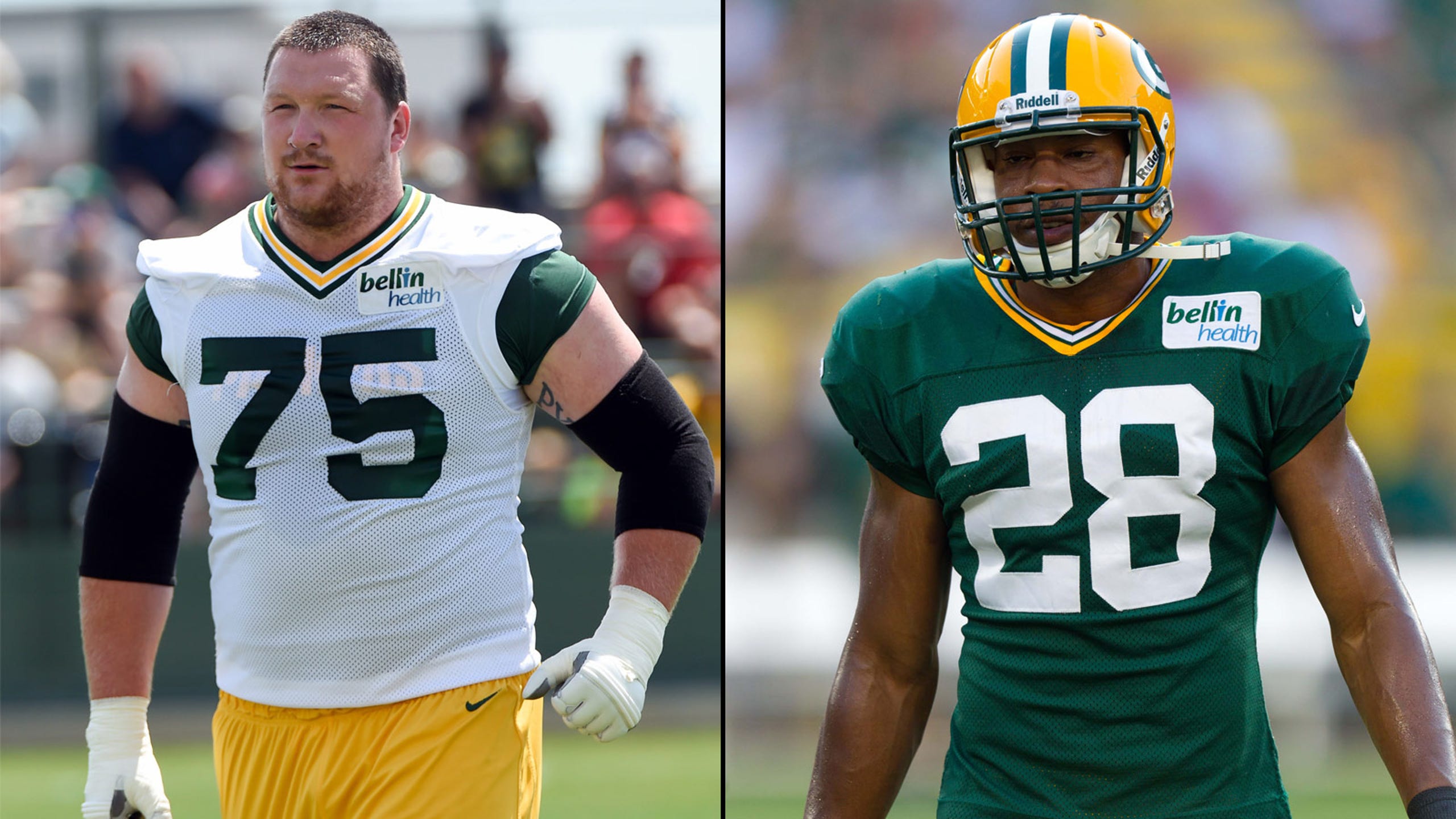 Packers training camp report: July 28
BY foxsports • July 28, 2014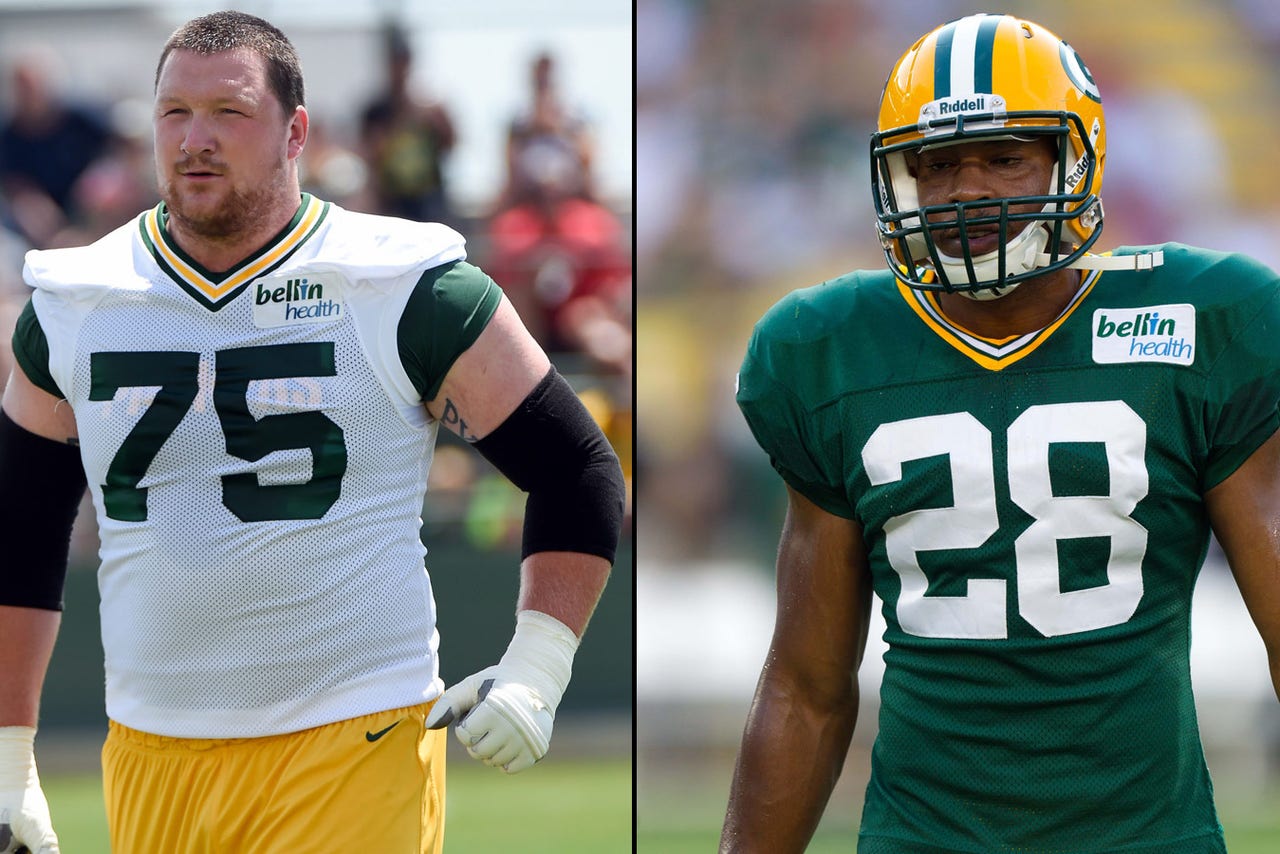 Date:
Monday, July 28, 2014
Practice Time:
8:20 a.m. (Total: 2 hours, 26 minutes)
Movin' On Up:
Right tackle Bryan Bulaga / Safety Sean Richardson
In the Packers' first padded practice of training camp, there were several nominees who could have been recognized. However, the two top players were Bryan Bulaga and Sean Richardson, who share the honor.
It was Bulaga's first time in pads since tearing the ACL in his left knee nearly a year ago, but he showed no signs of rust whatsoever. During the one-on-one pass rush/blocking drills, Bulaga won all three of his matchups. The opponents he went up against certainly weren't easy, either, as he beat Julius Peppers twice and Clay Matthews once. Having a healthy Bulaga at right tackle this season should significantly help Green Bay's offensive line.
Richardson made a play that no Packers safety did throughout the entirety of the regular season in 2013: He had an interception. It was especially impressive for Richardson, too, because it was on a pass from Aaron Rodgers to Jordy Nelson. That's as difficult of a quarterback / wide receiver combination as any NFL safety could face, but Richardson made a spectacular play. Just as the pass arrived into Nelson's arms across the middle, Richardson basically ripped it away and started running the other way.
So You Had A Bad Day:
Center JC Tretter
The starting center position is JC Tretter's to lose, but he'll need to show improvement over what he did in Monday's practice. During the one-on-one pass rush/blocking drills, Tretter's only two snaps had him losing badly twice to B.J. Raji. While those two wins for Raji put him in contention for the "Movin' On Up" category, Tretter is going to be facing a lot of pressure from similar nose tackles all season. If Tretter can't handle it in a practice setting with Raji, it'll be very difficult for him to succeed in big-game situations.
It's still very early in training camp and Tretter is adjusting to a new position, so there's little reason to think he can't eventually get the job done. But Tretter will have to learn from this and get better quickly.
Noted:
- The No. 1 kickoff return unit had DuJuan Harris on returns with Ryan Taylor, Mike Daniels, John Kuhn, Don Barclay, Nate Palmer, Brandon Bostick, Jarrett Bush, Kevin Dorsey, Chris Banjo and Ha Ha Clinton-Dix blocking in front of him.
-- Dorsey, as well as Micah Hyde and undrafted rookie running backs Ladarius Perkins and Rajion Neal, all took kickoff returns after Harris.
- Datone Jones is currently in position to be a starting defensive end in the Packers' 3-4 defense, but he's facing a challenger in fellow second-year player Josh Boyd. It was Boyd, not Jones, who was on the field first during an early team period.
-- Late in practice, Jones was forced to leave the field when head coach Mike McCarthy was upset with him for trying to get into a scuffle with Barclay during no-huddle drills.
- Garth Gerhart and Matt Flynn had an ugly center-to-quarterback exchange that resulted in a fumble.
- With T.J. Lang still a limited participant, Barclay remains in as the starting right guard. But when Josh Sitton took a couple plays off, Barclay slid to left guard and Lane Taylor came in at right guard.
- The main safety trio of Morgan Burnett, Clinton-Dix and Hyde all played some snaps together on the field at the same time. Hyde still has the lead over Clinton-Dix to be the starting safety next to Burnett, though.
- Undrafted rookie safety Tanner Miller made an impressive play, one that he'll hope will stick in the minds of the coaching staff for a while. Miller closed in on Ryan Taylor in coverage across the middle and made good, clean contact and jarred the ball out for an incompletion.
- Brandon Bostick continues to get a lot of opportunities in the receiving game and had a couple flashy moments. During the team blitz period, he made a very tough catch on a deep pass. Later, he almost came down with what would've been a highlight-reel grab as he tried to catch a pass while falling backwards. It's easy to get excited about what Bostick could do this season.
- Bostick wasn't the only tight end with an amazing catch. Jake Stoneburner was running across the middle when a pass was thrown behind him. He reached back with just his right hand and brought it in to his body without slowing down or looking back.
- Davon House wasn't supposed to make contact with the quarterback, but he forced a fumble by knocking the ball out of Flynn's hand. Because the play was clean (it was just hand on football) and Flynn told him as much, House is given credit here for the instincts to get close enough to make a big play.
- The regeneration / TV timeout songs that played loudly over the speakers were: Red Hot Chili Peppers' "Give It Away," Bleachers' "I Wanna Get Better," Paramore's "Misery Business" and Dave Matthews Band's "What Would You Say."
Sidelined:
What's Next:
Follow Paul Imig on Twitter
---