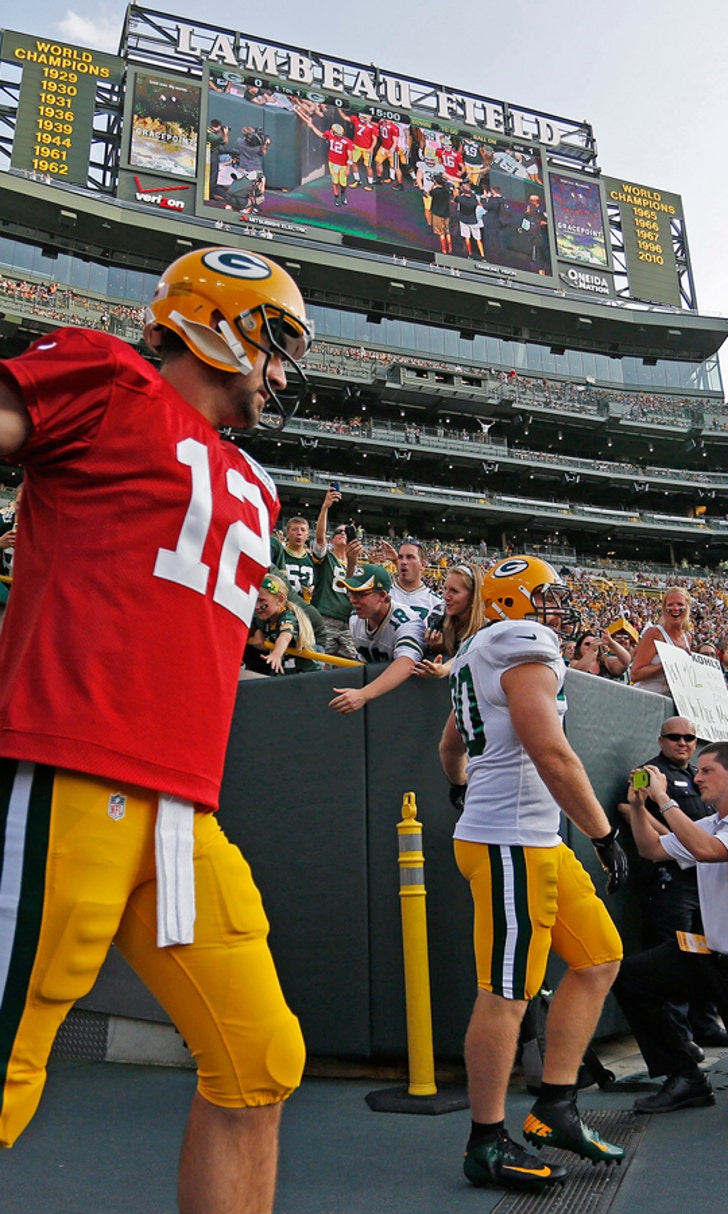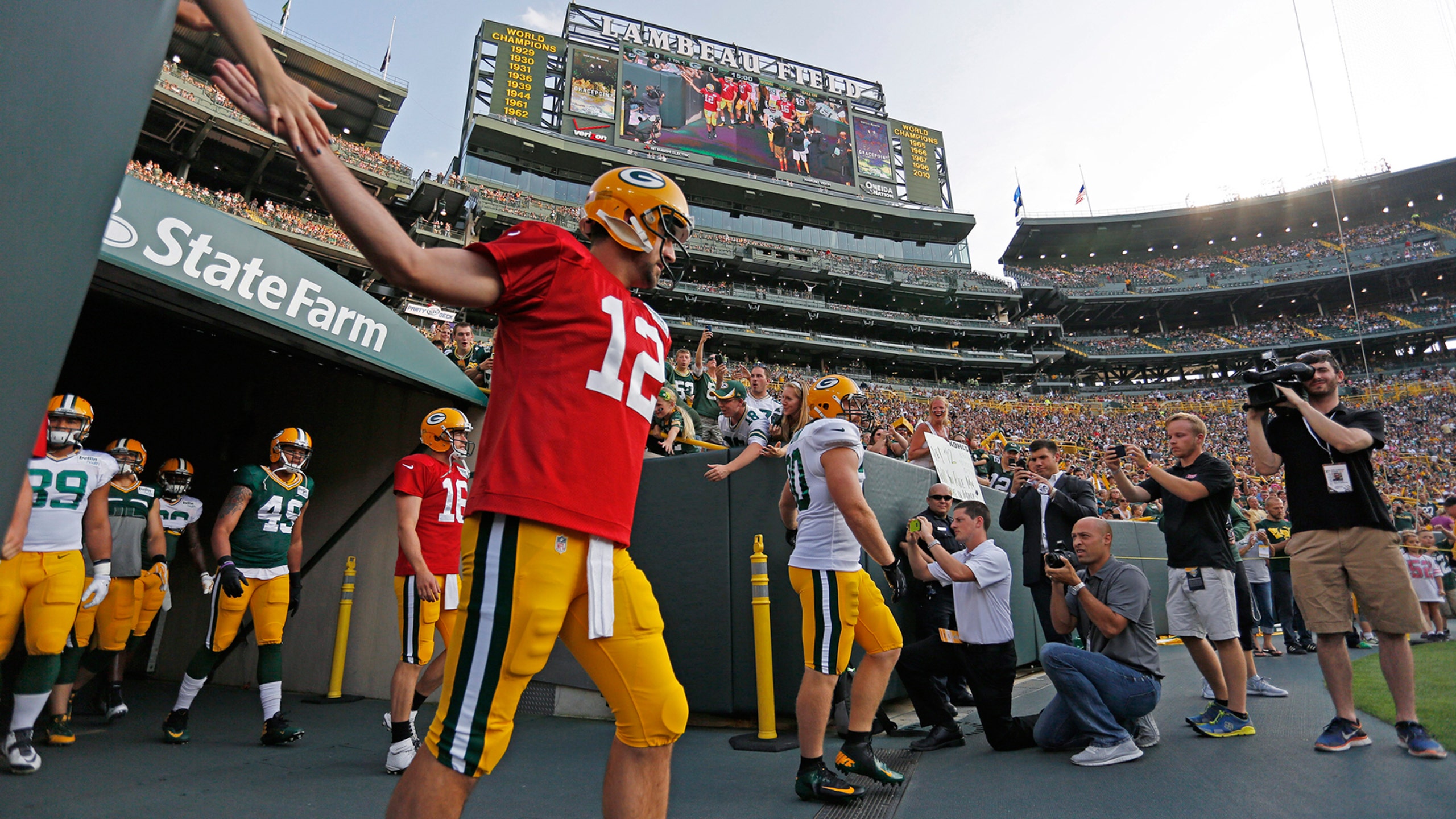 Packers training camp report: Aug. 2
BY foxsports • August 3, 2014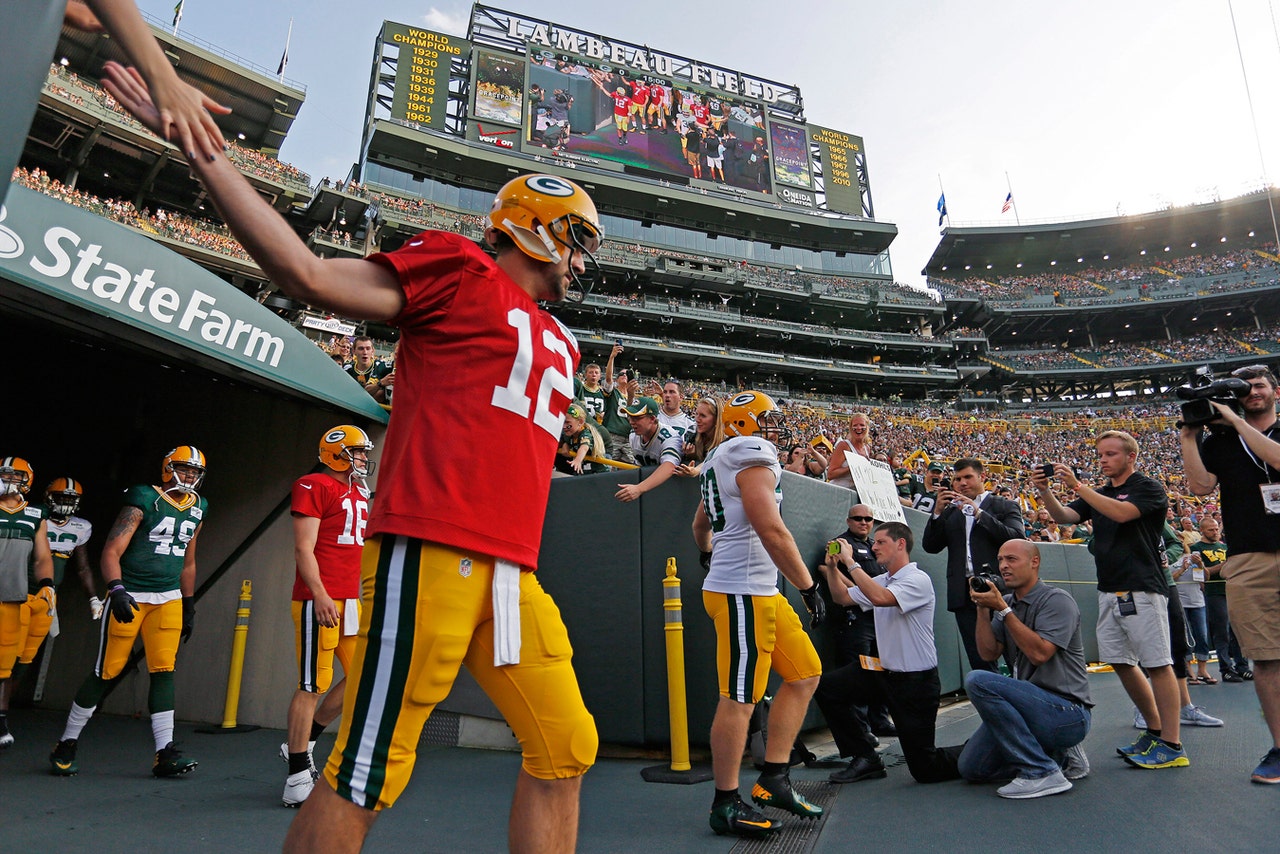 Date:
Saturday, August 2, 2014
Practice Time:
7:40 p.m. (Total: 1 hour, 30 minutes)
Movin' On Up:
Kicker Mason Crosby
During last year's Family Night, Mason Crosby had one of the worst performances of his career. Facing direct competition in training camp for the first time since his rookie season, Crosby made only three of his eight field-goal attempts and was booed by the Lambeau Field crowd.
This year was a much different story. Crosby is coming off the best season of his career, no longer has any competition against him in training camp and was perfect in his Family-Night kicks. Crosby made all six field-goal attempts, connecting from distances of 28, 33, 38, 43, 48 and 50 yards.
"Was anybody holding their breath out there on that field-goal set? I know I wasn't," Crosby said in the locker room afterward. "I felt good about it. I've had two misses in the sessions that we've had in practice and I've moved on from those really well. They kind of came in the middle and then I kind of re-grouped and made my last three or four kicks every day."
So You Had A Bad Day:
Tight end Colt Lyerla
Colt Lyerla just wanted to show off his athleticism. That was what he had in mind when the undrafted rookie caught a pass from Matt Flynn and hurdled over cornerback Jumal Rolle. It looked impressive, but the end result wasn't good at all for Lyerla as he was carted to the locker room.
After practice, Lyerla limped around the locker room but did not touch the crutches that were sitting at his locker. All he would say was that he suffered "a leg injury" and didn't know anything further about it.
"I don't regret trying to make a play," Lyerla said.
Lyerla was just starting to make a good impression after getting off to a slow start in training camp. He had been away from football for several months while sorting out off-the-field issues after deciding to leave the University of Oregon early last season, so any missed time could really hurt Lyerla's progress.
"The year off that I had definitely didn't work in my favor at all," he said.
Noted:
- The Packers set a new Family Night attendance record with 67,336 fans in the crowd, each of whom paid $10 per ticket. For the first time this year, the event was just a practice and not an intrasquad scrimmage. A fireworks display lit up the sky following practice.
- Nose tackle B.J. Raji had his right ankle rolled up on, forcing him to get attention from the training staff. However, Raji said he's "fine," adding "I don't anticipate it being a problem, unless something happens in the next 48 hours that makes it worse."
- During the one-on-one drill of cornerbacks versus receivers, a flag was thrown on 10 of approximately 20 plays. There was a penalty called on each of the final five plays.
- Several wide receivers made notable catches. First, Davante Adams hauled in a high pass from Flynn. Later, Kevin Dorsey made an outstretched grab in the end zone for a touchdown as his momentum rolled him forward. Myles White also showed good hands on two occasions.
- On the flip side, two wide receivers who can't afford mistakes, Chris Harper and Alex Gillett, both had bad drops. Harper's drop came on a deep pass from Scott Tolzien. While the ball was underthrown, Harper had plenty of time to come back and get his hands on it, but he let it slip away. Gillett's was costly as it came on a fourth-down play while running the two-minute offense.
- Sean Richardson continues to make plays. In this practice, the third-year safety showed tremendous range as he flew over to the sideline in time to make a diving pass deflection on a pass from Flynn to Gillett that otherwise would have been completed.
- Undrafted rookie linebacker Jake Doughty forced a fumble near the goal line when he dropped a shoulder on running back Michael Hill.
- The first-team punt coverage unit was: Brandon Bostick, Ha Ha Clinton-Dix, Brad Jones, Nate Palmer, Jamari Lattimore and Morgan Burnett, with Davon House and Jarrett Bush as gunners, Brett Goode snapping and Tim Masthay punting.
Sidelined:
* WR Jared Abbrederis (Torn ACL -- Will miss 2014 season)
* S Tanner Miller (Ankle -- Consecutive Missed Practices: 3)
* DL Jerel Worthy (Lower back -- Consecutive Missed Practices: 7)
* DL Letroy Guion (Hamstring -- Consecutive Missed Practices: 7)
* WR Jeff Janis (Illness -- Consecutive Missed Practices: 7)
He's Back:
* C Corey Linsley (Shoulder -- Returned after missing one practice)
What's Next:
* Monday, August 4 - 5:30 p.m. (Training Camp practice No. 8)
* Tuesday, August 5 - Noon (Family Night - practice No. 9)
Follow Paul Imig on Twitter
---