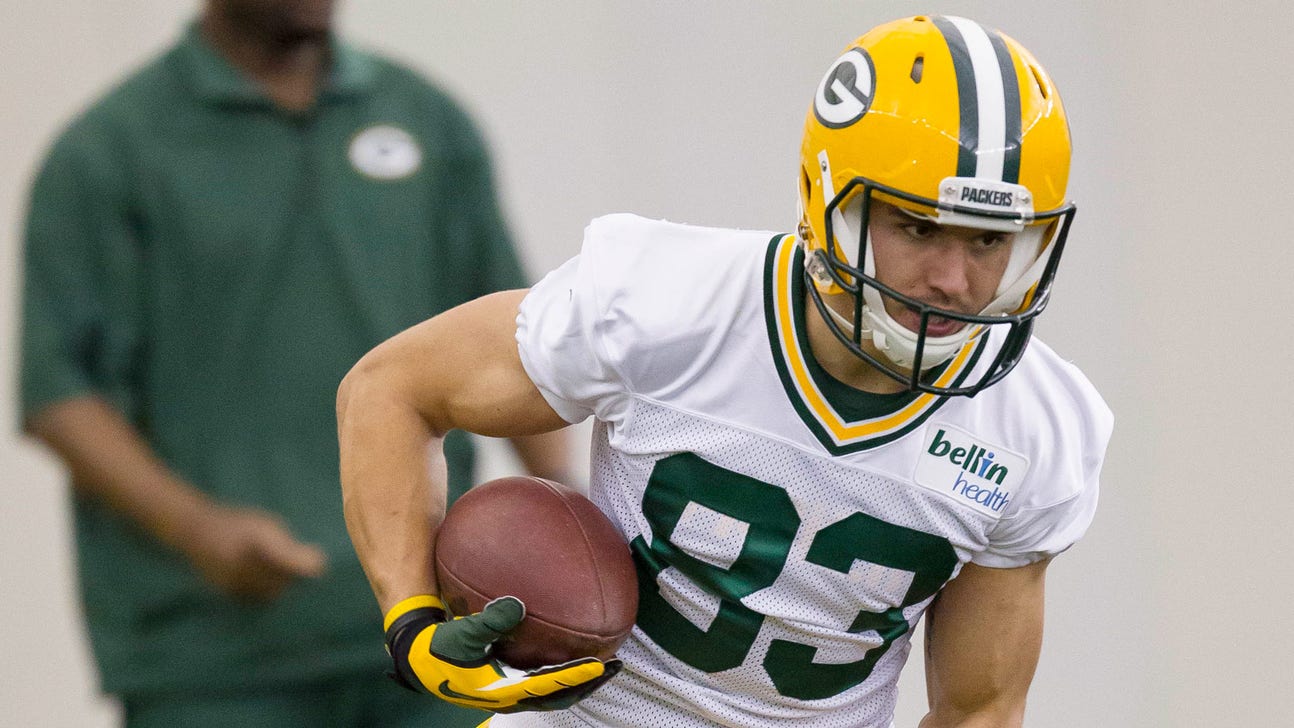 Packers training camp report: Aug. 11
Published
Aug. 11, 2014 7:03 p.m. ET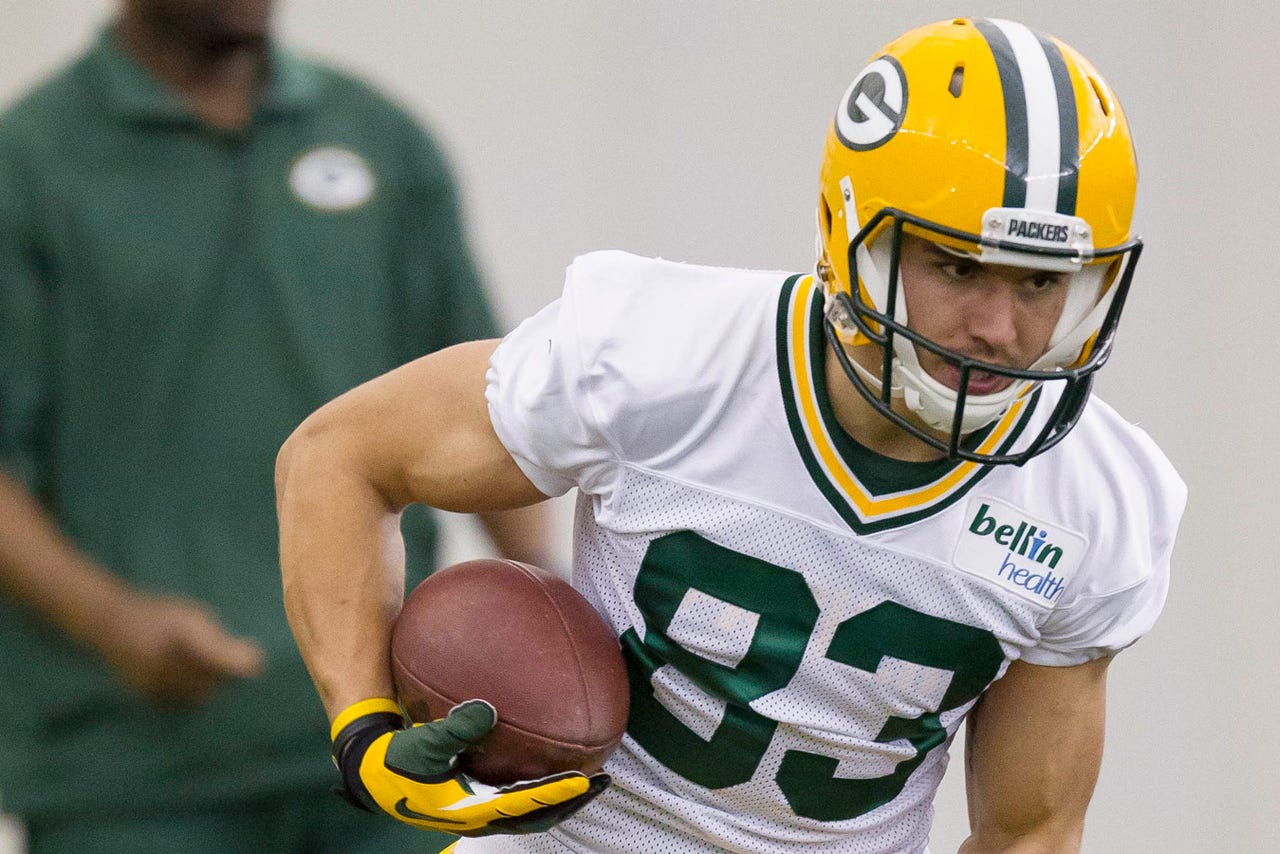 Date:
Monday, August 11, 2014
Practice Time:
Noon (Total: 1 hour, 55 minutes)
Movin' On Up:
WR Jeff Janis
Missing the first seven training camp practices with shingles was not the way Jeff Janis wanted to begin his NFL career. In two practices since then, however, Janis has showed why many draft analysts believed that Green Bay got great value when selecting him in the seventh round.
In Monday's practice, Janis had Casey Hayward closely guarding him in single coverage down the left sideline when Scott Tolzien threw it up. Janis went up over Hayward, caught the ball and tapped both feet inbounds for a completed catch. This came after the team's final practice last week when Janis made another spectacular catch against top-notch competition, hauling in a touchdown pass in the corner of the end zone with Sam Shields in perfect position.
Word of Janis' big-play ability in practice began to spread to the rookie wide receiver's friends and family.
"I didn't think it was that big of deal because we are on scout team and I was just going off the cards, but I guess everybody made a big deal about it," Janis said. "I have people texting me and was like, 'Jesus.'"
So You Had A Bad Day:
WRs Myles White & Kevin Dorsey
With Jordy Nelson and Davante Adams not practicing due to injuries, there was a lot of time for receivers like Janis, Myles White and Kevin Dorsey. However, while Janis stepped up, White and Dorsey let some passes fall to the ground.
Dorsey had two drops. The second one came during the two-minute offense drill as the No. 2 offense attempted to get in the end zone before time expired. He got open across the middle, Matt Flynn found him with an accurate pass, but it hit Dorsey in the hands and fell incomplete.
White had just one drop, but his came on a very important play. With two seconds on the clock during the two-minute offense, the defense jumped offsides to create a free play. White got himself open in the end zone where Flynn spotted him and made a nice throw. Though coverage was in the area, White couldn't catch what should've been a touchdown. Instead, the offense had to run another play and was unable to score a touchdown.
Noted:
- This was the Packers' first full practice this year in which fans were not allowed to be present. Only reporters could be in attendance.
- There were four scuffles between teammates, the highest number of any single practice so far. Nothing got too out of hand, but the last of the four had White and Tramon Williams locked up with each other for several seconds before other players separated them.
- Jumal Rolle, coming off a big forced-fumble play in the preseason opener, intercepted a pass from Chase Rettig intended for White. This was another play that contributed to White's bad day, as Rolle outworked him for the ball. Rolle is making a push to get noticed and try to make the 53-man roster this season.
- Ha Ha Clinton-Dix had fairly heavy contact on receiver Chris Harper just as a pass arrived. Harper hung on to the ball, which is a credit to him. Clinton-Dix later had a similar contact play with Randall Cobb, this time with it resulting in an incomplete pass.
- Scott Tolzien carried over his good play from Saturday's preseason game. While the former Wisconsin Badger had more than one nice moment in Monday's practice, one in particular that stood out came during a team period when Tolzien showed good poise and patience before making a sharp, accurate throw across the middle that was caught by Ryan Taylor.
- Richard Rodgers continues showing good hands, hauling in a high pass near the sideline.
- Aaron Rodgers successfully led a touchdown drive in the two-minute offense. The situation had 57 seconds on the clock and one timeout, and it concluded with Rodgers finding Cobb in the end zone on a 20-yard pass just as the time dropped to zero.
- In Flynn's two-minute drive, he got the defense to jump offsides three times with a hard count. Andy Mulumba was the first victim, followed by Jayrone Elliott and Luther Robinson.
- During a brief one-on-one pass-rush/block period, Mike Pennel continued making noise by beating JC Tretter. Josh Sitton also took a rare snap and stuffed Carlos Gray. Julius Peppers hasn't participated much in this drill either, but he took one snap and beat David Bakhtiari.
Sidelined:
* WR Jordy Nelson (Hamstring -- First missed practice; also missed first preseason game)
* WR Davante Adams (Wrist -- First missed practice; injured in first preseason game)
* DL Josh Boyd (Ribs -- First missed practice; injured in first preseason game)
* RB Rajion Neal (Knee -- First missed practice; injured in first preseason game)
* LB Joe Thomas (Knee -- First missed practice; injured in first preseason game)
* TE Colt Lyerla (Knee -- Consecutive Missed Practices: 4)
* S Tanner Miller (Ankle -- Consecutive Missed Practices: 7)
* DL Jerel Worthy (Lower back -- Consecutive Missed Practices: 11)
* DL Letroy Guion (Hamstring -- Consecutive Missed Practices: 11)
* WR Jared Abbrederis (Torn ACL -- Will miss 2014 season)
* OL Don Barclay (Torn ACL -- Will miss 2014 season)
He's Back:
* S Morgan Burnett (Oblique Strain -- Returned after missing one game and two practices)
* RB Michael Hill (Concussion -- Played in first preseason game after missing three practices)
What's Next:
* Tuesday, August 12 - Training Camp Practice No. 12 (Noon)
* Wednesday, August 13 - Training Camp Practice No. 13 (11:45 a.m.)
Follow Paul Imig on Twitter
---