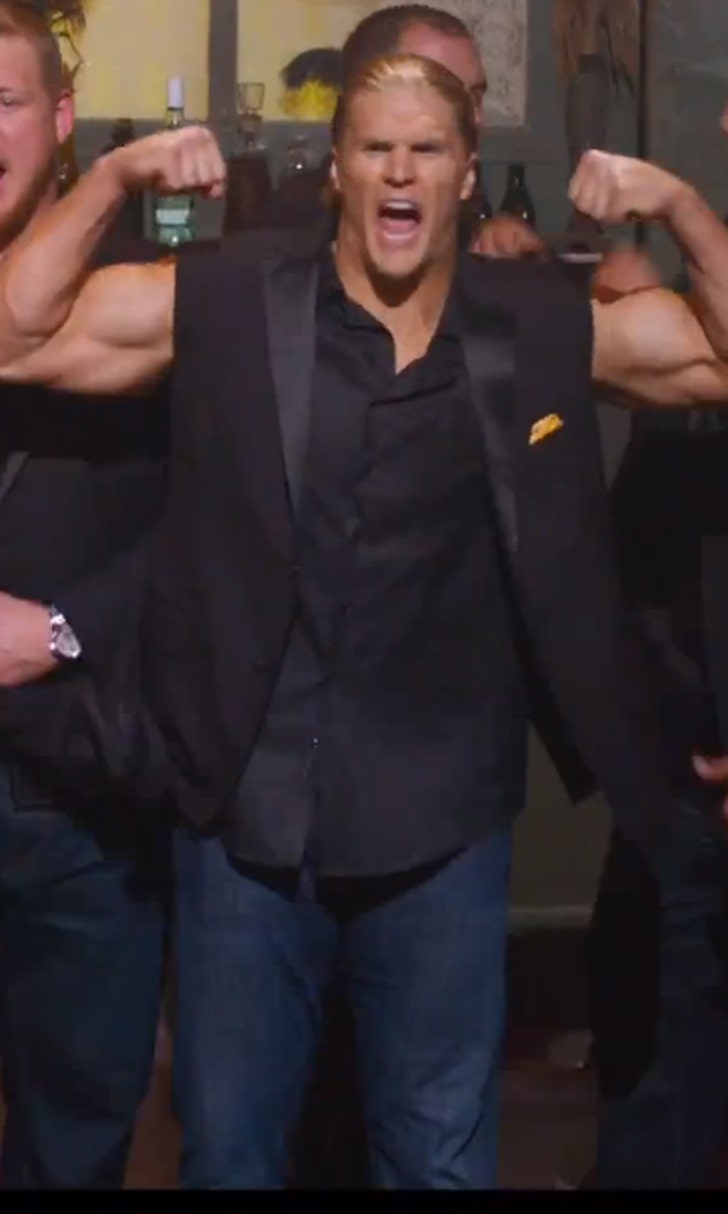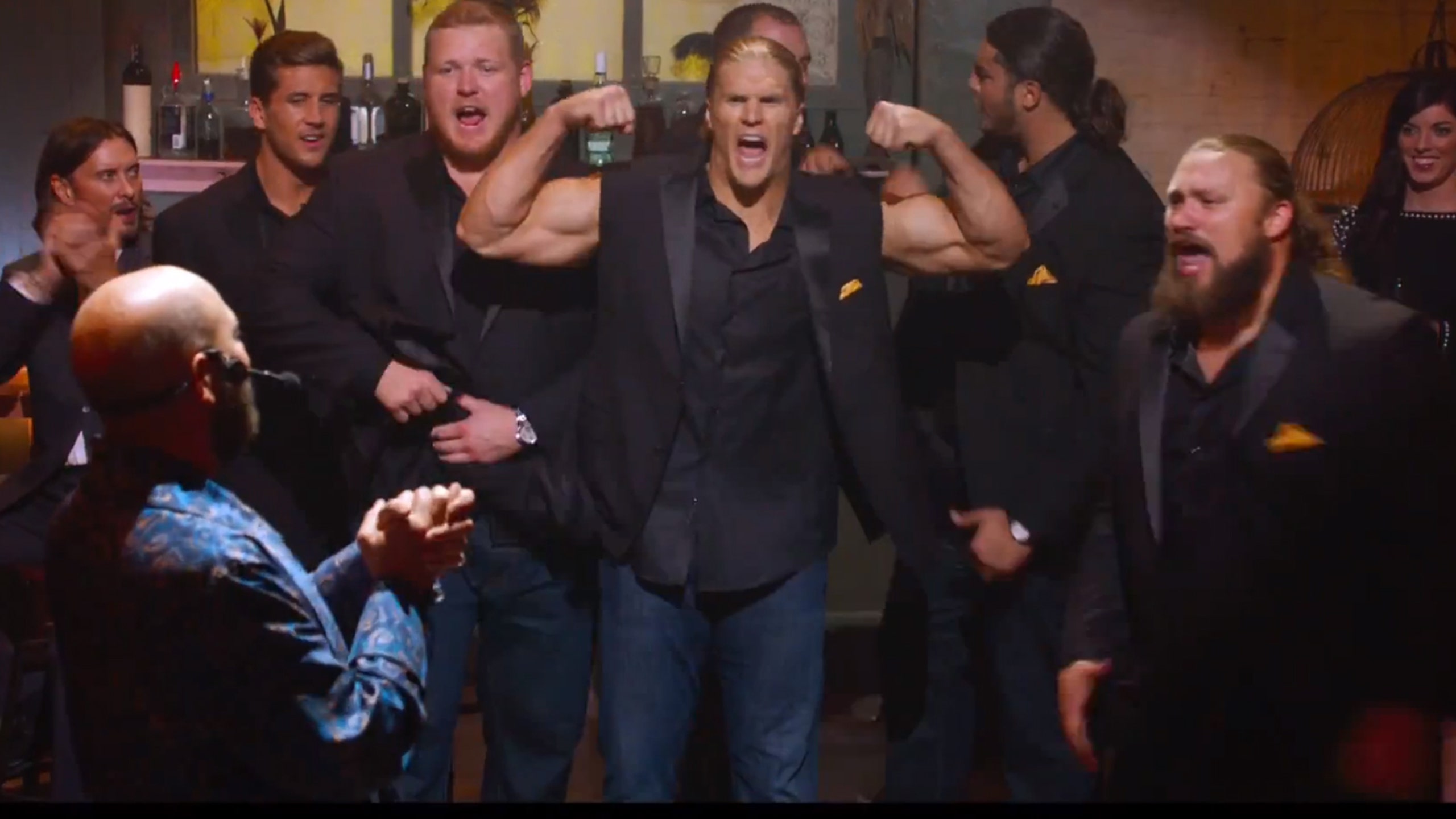 Packers players dance, 'sing about butts' in upcoming 'Pitch Perfect 2'
BY foxsports • November 20, 2014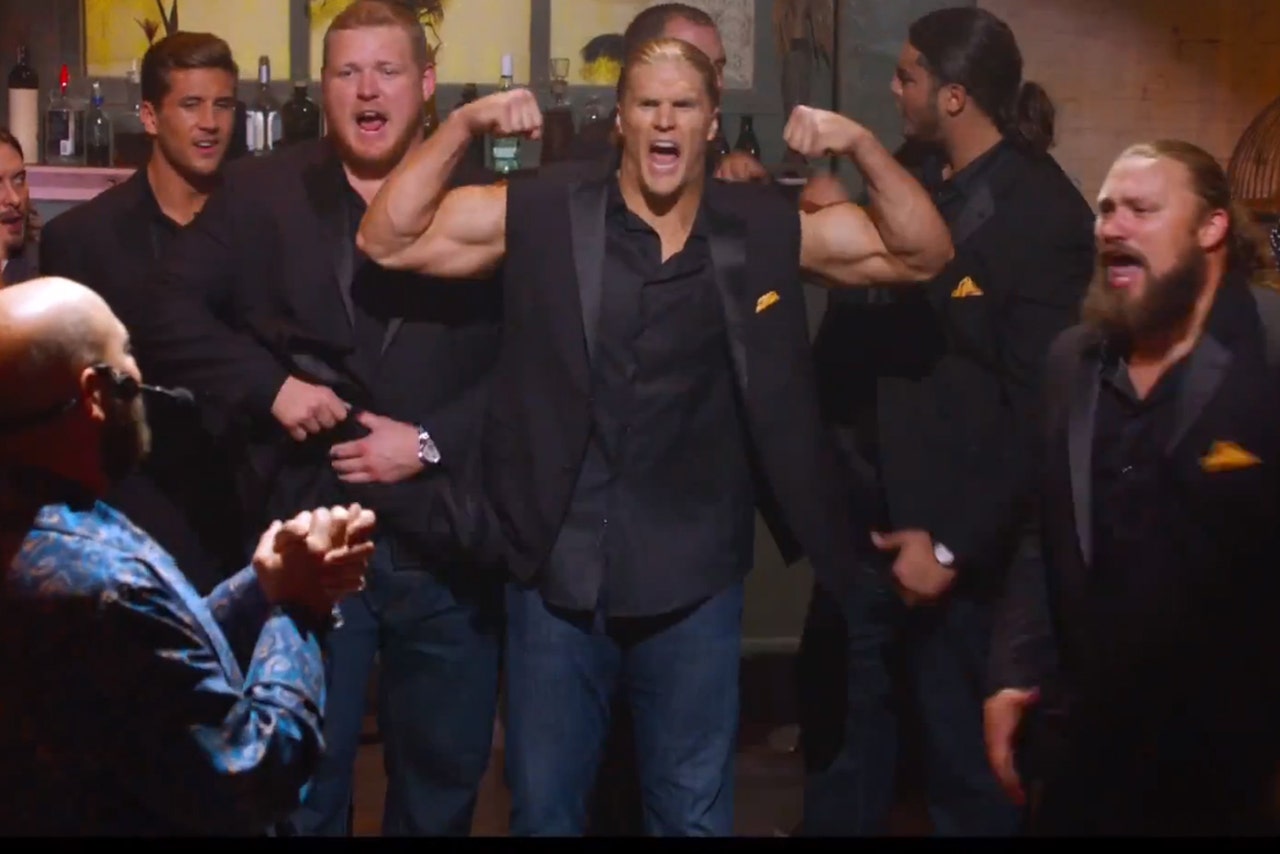 GREEN BAY, Wis. -- It all started with a tweet. Green Bay Packers left tackle David Bakhtiari professed his love for the 2012 hit-movie musical "Pitch Perfect." The Twitter account of the 6-foot-4, 310-pound offensive lineman was soon filled with postings about it, mentioning the stars of the film in an effort to get their attention.
It worked.
Husband-and-wife producers Max Handelman and Elizabeth Banks had a sequel in the works, and they decided it was worth it to begin following Bakhtiari on Twitter. Handelman then reached out to Bakhtiari, and the writers found a way for "Pitch Perfect 2" to include Bakhtiari and several other Packers players in it.
When the trailer was released Thursday, there were offensive linemen Josh Sitton and T.J. Lang front and center, ripping the sleeves off of linebacker Clay Matthews, while Bakhtiari shouted an emphatic, "Let's go!" behind them.
"We were able to orchestrate the whole thing; it was pretty awesome," Bakhtiari said in the locker room. "Really proud of how it was able to come to fruition."
The original "Pitch Perfect" was a piece of pop culture that brought Green Bay's offensive line together, even though Lang was skeptical about the movie at first.
"To me that always looked like a chick flick," Lang said.
Now, Lang has seen it at least 20-30 times and knows every word.
"It's just a good movie, man," Lang said. "I've turned into a big fan."
As Handelman coordinated with Bakhtiari about their potential role in the sequel, there was one missing piece to the puzzle: getting Matthews on board. Matthews was the player whose biceps the producers wanted to be flexed on-screen to lead to co-star Rebel Wilson saying, "I could be the ham in that man sandwich."
"Yeah, I had to do a little convincing with (Matthews)," Bakhtiari said. "I had to tell him the benefits of it, and he was on board with it. He had seen the movie, he just needed to re-watch it again. We were training together, and after he watched it again, he was like, 'OK. Definitely. I'm definitely in.'"
Matthews is glad Bakhtiari convinced him.
"David Bakhtiari and his affinity for social media and reaching out to other people, in weird direct messages and replies, was somehow able to get in the right touch with other people and to me like that," Matthews said. "So I thank him for his creepiness."
As the Packers concluded their offseason training activities in mid-June, Bakhtiari, Matthews, Lang, Sitton and fellow offensive lineman Don Barclay boarded a plane for Baton Rouge, La. They were joined there by quarterback Aaron Rodgers' younger brother Jordan, who is friends with Bakhtiari.
It was on set in Louisiana where they would spend the next four days, working 15 hours each day from 10 a.m. until 1 a.m.
First up were costumes. Later that day, they'd go into a recording studio to sing the song that would later be what they lip-synced in the film.
"When they gave us the song which they wanted us to sing, obviously we were shocked and we got a good laugh out of it," Matthews said. "So we had to rehearse that. And that's funny, obviously, to see 300-pound-plus men singing the song of choice."
That "song of choice" is being kept a secret, but Lang revealed the category of it.
"A song about butts," he said. "There's quite a bit, so you can wander your mind on that one.
"We're part of a scene where we do a little singing, a little bit of dancing. I'm not going to say how we did in the competition, but we had a lot of fun."
Bakhtiari & Co. aren't playing characters. They're playing themselves. The credits will read: "David Bakhtiari as himself, Clay Matthews as himself," and so on.
After a series of licensing conversations between the NFL and the "Pitch Perfect" producers, Bakhtiari is "90 percent sure" they'll be acknowledged as "Green Bay Packers."
The players got paid. They filled out paperwork for the Screen Actors Guild (SAG). They plan to attend the premiere a month before the movie's scheduled release in May, 2015.
"I'm excited about seeing it, knowing that we're all A-list celebrities now," Matthews said with a smile.
The film is getting great publicity thanks to the appearances of these players, so it worked out well for both sides.
"We would've done the whole thing for free," Lang said. "We would've paid to be in the movie, to be honest with you. We didn't make a lot of money, but that's not what we wanted to do. We wanted to have some fun and be a part of a movie like that. We hope to have big success. It's something that might be a once-in-a-lifetime experience."
Bakhtiari looked around at his friends and teammates on set and could tell how excited they all were. It was a moment they'll always remember.
"These are all very manly men, I guess, so they're not going to come up and gush like little girls, like, 'Thank you so much,'" Bakhtiari said. "To see them smile and say how awesome it was, that's the gratification I get."
Follow Paul Imig on Twitter
---