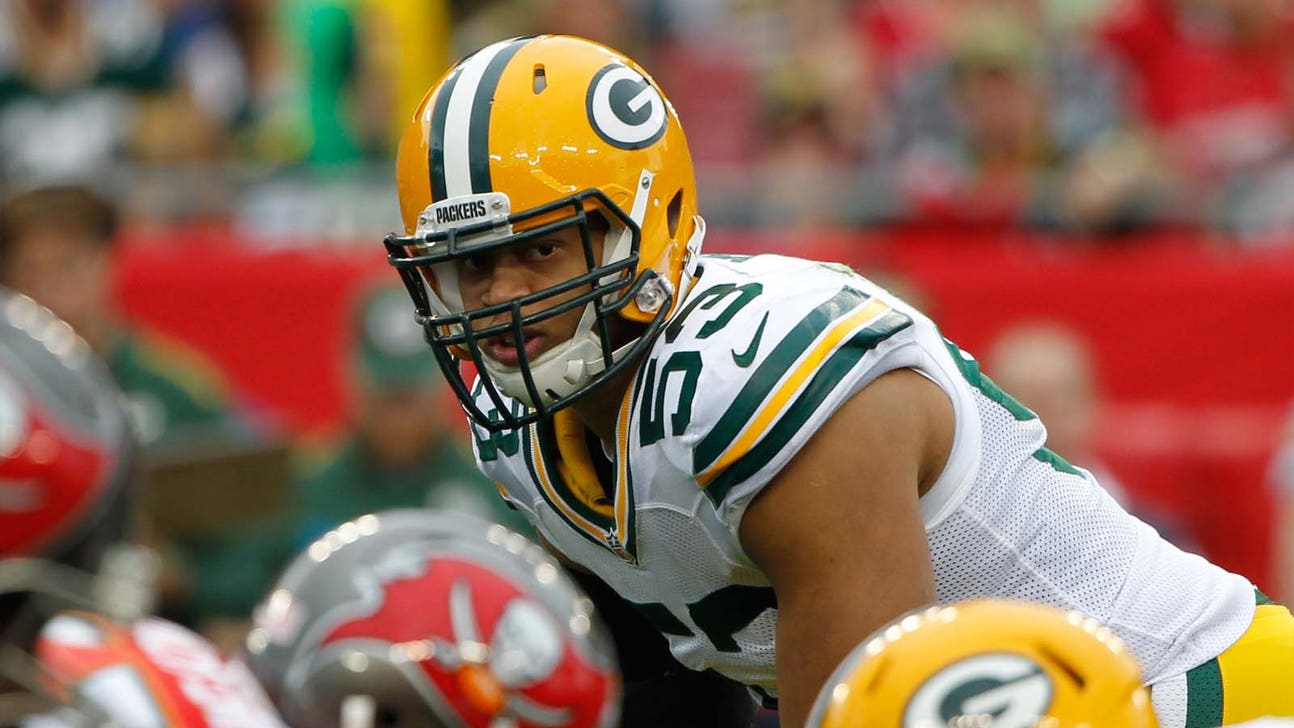 Packers Annual Checkup: Nick Perry
Published
Mar. 27, 2015 1:05 p.m. ET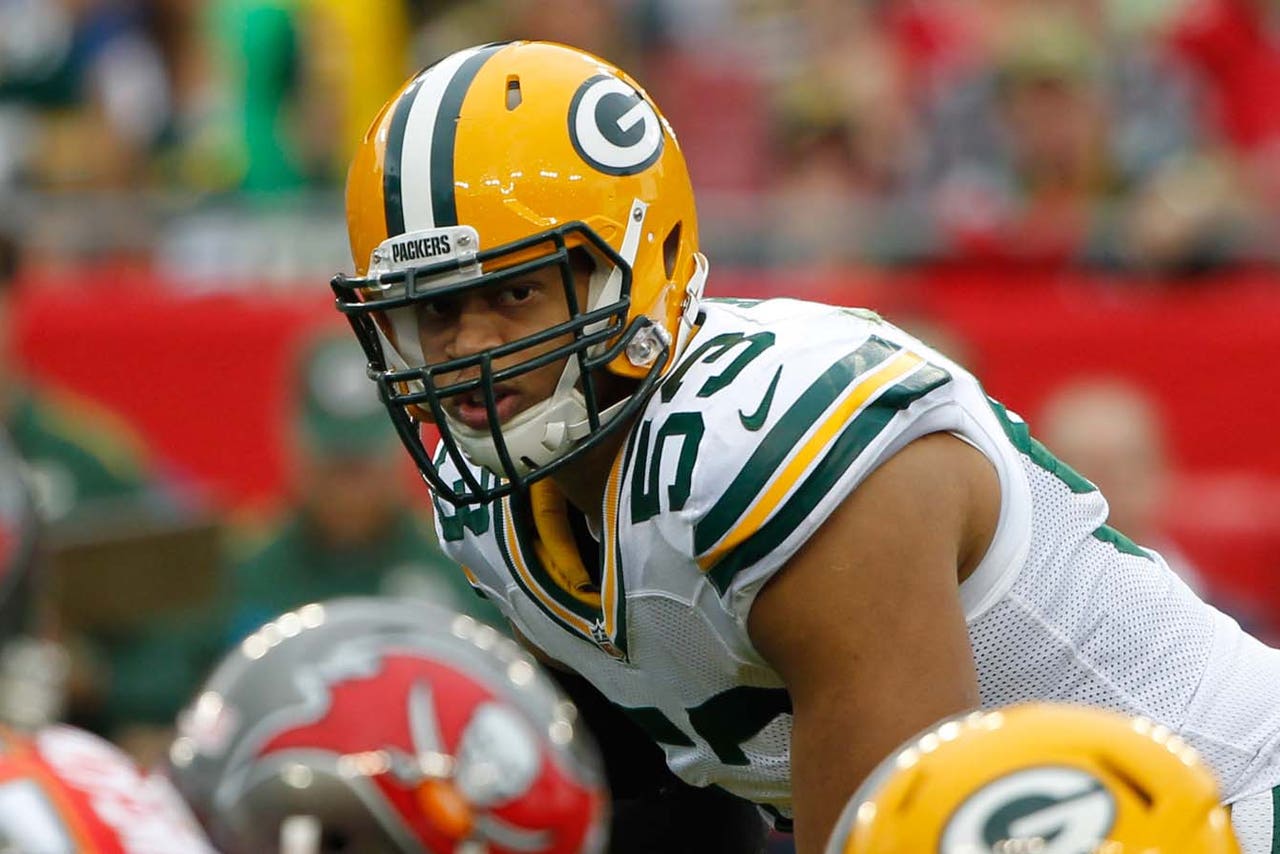 Nick Perry, outside linebacker
FOX Sports Wisconsin's Paul Imig gives an in-depth statistical analysis and film study of every Packers player in his annual offseason checkup. You can find every report here.
Season stats (playoffs included): 17 games, five starts (429 snaps; 34.7 percent of total defensive snaps), 30 tackles, six missed tackles, 4.5 sacks, 13 quarterback hurries, zero interceptions, one forced fumble, one pass defensed, one penalty committed, 22 stops (tackles that resulted in offensive failure); dropped back in coverage 20 times, targeted three times, allowing two receptions for 23 yards and zero touchdowns
ProFootballFocus.com season rating: Minus-1.7 (ranked No. 12 out of 24 Packers defensive players; ranked No. 36 out of 46 among NFL outside linebackers in a 3-4 defense)
Best game: Week 7 win over Carolina (played 25 of 71 snaps); one sack, three quarterback hurries, one tackle, zero missed tackles; 3.3 PFF rating
Worst game: NFC Championship Game loss at Seattle (played 41 of 73 snaps); three missed tackles, four tackles, zero sacks, zero QB hurries; minus-2.0 PFF rating
Expectations at the start of training camp: Medium
Expectations were ... Met
Looking live: Nick Perry will forever carry the burden of being a first-round pick. Like A.J. Hawk, B.J. Raji and countless others throughout the NFL, having a decent career is often not good enough in the eyes of many. Fair or not, there's always greater expectations on players picked on Day 1 of the draft.
Flash back to May 2013, four months removed from the end of Perry's rookie season. Due to injuries, he was only able to play in six games that year, and the pressure to follow-up with a better Year 2 was already noticeable for Perry. "I have a lot to prove," he said May 24, 2013 during the Packers' first week of offseason training activities. "I want to be out there and help any way I can and be a force out there on the field."
Though Perry had an average second NFL season, it didn't live up to that difficult-to-achieve top-pick billing. As he entered training camp to begin Year 3, it's comments like this one that show how differently first-round picks even view themselves sometimes. "I still think I have a bright future," Perry said July 31, 2014. "I haven't been consistent, and I think that's the niche right now I'm dealing with."
A month earlier, linebackers coach Winston Moss said, "Nick Perry, in my book, has done absolutely zero." That's the type of criticism usually only given for players who have high expectations placed upon them.
One sign of how things quickly began to change for Perry is that he was No. 5 in FOXSportsWisconsin.com's pre-training camp "Most Important Packers" series in 2013. But in 2014, Perry wasn't even among the list of 25. By that time, Mike Neal had added outside linebacker to his responsibilities and Julius Peppers had been signed, leaving Perry to fight for whatever snaps he can get.
Perry began training camp in 2014 on the Physically Unable to Perform list with foot and knee injuries, missing the first four practices. On his first day back, Perry lost all three of his one-on-one matchups during the pass-rush/-block drill. However, Perry played in all four preseason games and was effective.
Upon further review: The third year of Perry's career was much like his second year in the NFL. He had several very productive games, but he also had several performances that he'd rather forget about. That inconsistency "niche" that Perry mentioned in training camp remained part of his overall game.
If there was one discovery made about Perry in 2014 it's that he was better when playing fewer snaps. Look at his stretch of games from Weeks 5-7. He played fewer than 34 percent of the snaps in those three games combined, rushing the passer a total of 53 times. But in that span, Perry had three sacks and five quarterback hurries. That means he altered or took down the quarterback in more than 15 percent of those opportunities. For comparison purposes, Clay Matthews had a sack or quarterback hurry this past season on 10 percent of his pass-rushes.
The only three games in 2014 in which Perry played more than 50 percent of the snaps were arguably his three worst performances of the season. Those were Weeks 10, 11 and the NFC championship game. Perry totaled three quarterback hurries and zero sacks in those games, while pass-rushing 77 times. That's just 3.9 percent of the time in which he disrupted the quarterback.
The best news for Perry in 2014 is that it was the healthiest season of his career. He missed Week 12 at Minnesota with a shoulder injury, but that was it. That's a major improvement for a player who missed a combined 16 games in his first two NFL seasons.
Overall 2014 grade: C
Status for 2015: One-hundred percent chance of being on the active roster to begin next season. Perry turns 25 years old this offseason, so he still has time to improve. The potential is obviously there, it's just a matter of him putting it all together consistently. But the 2015 season is the last year on Perry's rookie deal, so it's his final chance to show the Packers what he's worth. Of course the expectation is that Ted Thompson re-signs Perry a year from now, but for how much money and with what type of role in mind. Meanwhile, Perry's fellow 2012 draft class mates, Mike Daniels and Casey Hayward, who were selected 104 and 34 picks after him, respectively, will be priority free agents for Green Bay. With Matthews likely to return to outside linebacker on a more full-time basis, plus Peppers being a Packer for another year, Perry will have to pick his spots to shine.
Next: Tight end Andrew Quarless
Follow Paul Imig on Twitter
---