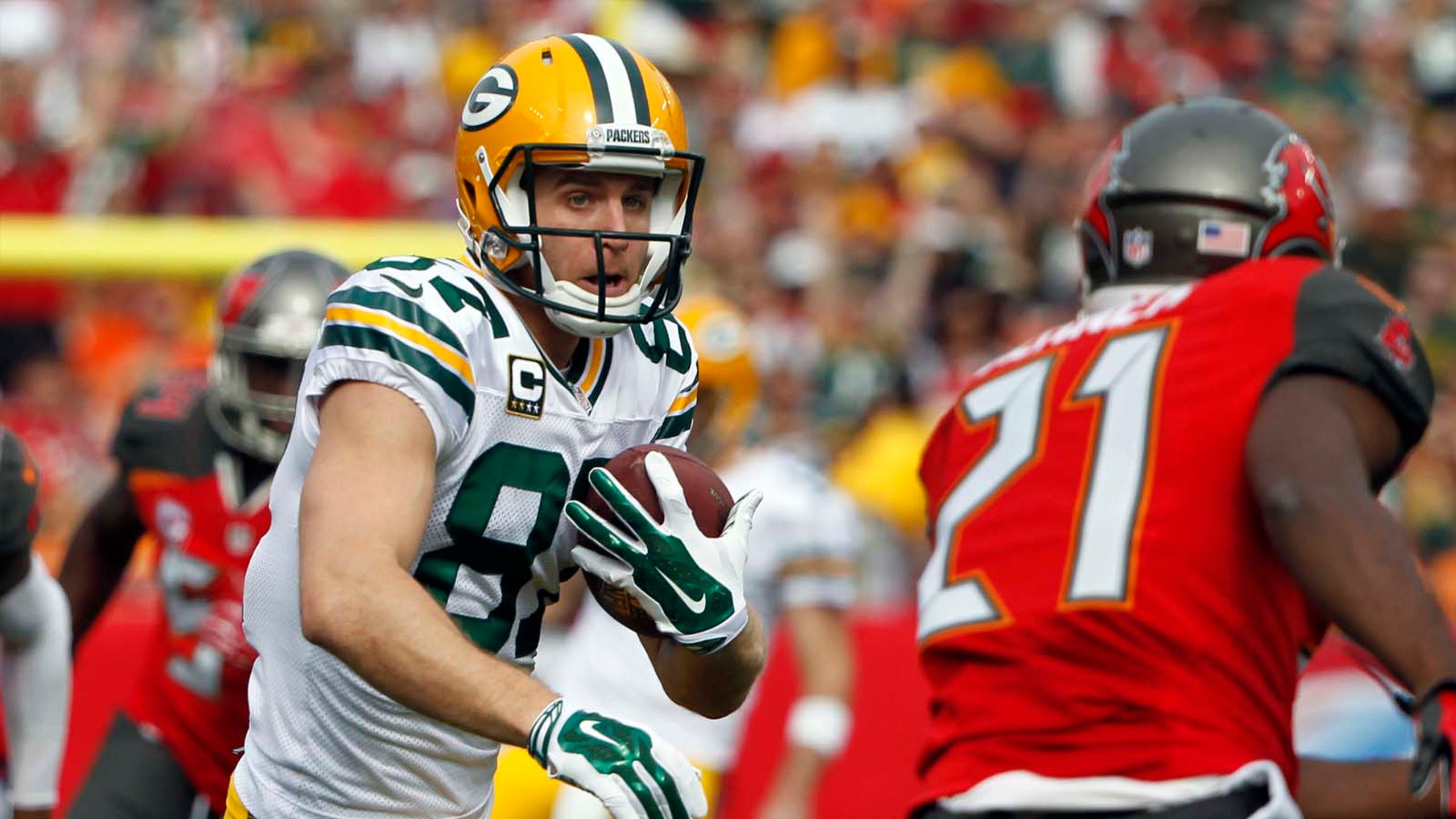 Packers Annual Checkup: Jordy Nelson
BY foxsports • March 24, 2015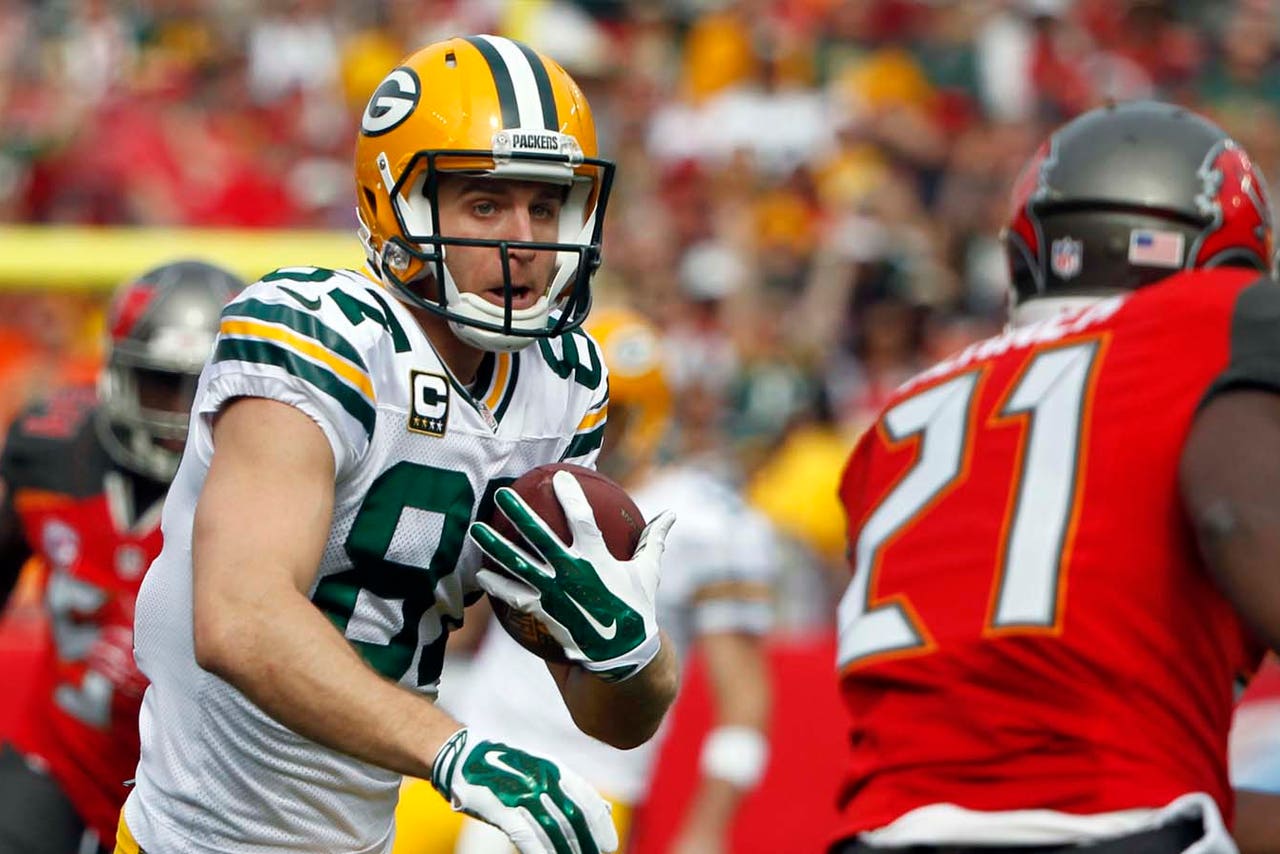 Jordy Nelson, wide receiver
FOX Sports Wisconsin's Paul Imig gives an in-depth statistical analysis and film study of every Packers player in his annual offseason checkup. You can find every report here.
Season stats (playoffs included): 18 games, 18 starts (1,121 snaps; 92.2 percent of total offensive snaps); 105 catches, 159 targets, 1,612 yards, 13 touchdowns, 10 dropped passes, forced 14 missed tackles, zero fumbles
ProFootballFocus.com season rating: 18.8 (ranked No. 5 out of 21 Packers offensive players; ranked No. 4 among all NFL wide receivers)
Best game: Week 2 win over New York Jets (played 70 of 72 snaps); nine catches (16 targets), 209 yards, one touchdown, zero dropped passes, three forced missed tackles; 4.5 PFF rating
Worst game: Week 15 loss at Buffalo (played 74 of 75 snaps); five catches (11 targets), 55 yards, zero touchdowns, one dropped pass, forced three missed tackles; minus-1.3 PFF rating
Expectations at the start of training camp: High
Expectations were ... Exceeded
Looking live: Jordy Nelson had become a very reliable target for Aaron Rodgers between 2011 and 2013. The only time Nelson wasn't productive in that time period was when he missed four full games (and parts of a couple others) due to a hamstring injury in 2012. Still, with no trips to the Pro Bowl yet in his career and never making the first- or second-team All-Pro list, Nelson had yet to break through into the upper tier of NFL wide receivers.
He came in at No. 5 on FOXSportsWisconsin.com's "Most Important Packers of 2014" pre-training camp series. I wrote at the time that Nelson ranked at that spot "because him being a consistent target for Rodgers is now more important than ever. There's no Greg Jennings, no James Jones and likely no Jermichael Finley. That makes Nelson option 1A, which is obviously a very important role on a team whose quarterback is a former league MVP."
Nelson was set to enter training camp in late July 2014 on the last year of his contract. However, Nelson was late to the first day of practice because he was across the street at Lambeau Field headquarters signing a four-year, $39 million ($14.2 million guaranteed) extension. That made him the eighth-highest-paid wide receiver in the league, but Nelson didn't think he was "worth" that much money. He preferred the term "value" when discussing that type of financial compensation.
"You want to be respected in this league," Nelson said on July 26, 2014. "A lot of things get done the wrong way because people think we're greedy (and think) we should be playing this game for $100,000 or whatever. But it's your value that it's based off of; it's like any other business. You're going to be paid what your value is to this team and in your business."
Nelson missed the first preseason game due to a hamstring injury. That kept him out of the following practice and also had him limited in his reps the rest of that week. However, Nelson returned to action for the second preseason game and the hamstring injury didn't linger.
Upon further review: The accolades that had escaped Nelson through the 2013 season are now officially part of his resume. Nelson set career highs in receptions and yards, finishing in the top seven in the NFL rankings in both categories. He was second in the league with 13 touchdowns, as well, though it fell short of the 15 he scored in 2011. All of that contributed to Nelson being named a second-team All-Pro and earning a trip to his first Pro Bowl.
Nelson became the Packers' all-time single-season leader with 1,519 receiving yards, topping the franchise's previous record of 1,497 set by Robert Brooks in 1995. Rodgers said Nelson "probably had one of the quieter 1,500-yard seasons that the league has seen."
That record pace began in Week 2 when Nelson surpassed his previous single-game career high by recording 209 receiving yards. That included catching an 80-yard touchdown that was the winning score in a surprisingly close game. In typical Nelson fashion, though, he expected even more of himself. "I left some plays out there, honestly," Nelson said after the win over the Jets. "I had some opportunities to make more plays and didn't do it."
Through two games, Nelson already had 30 targets. Yeah, I think that would qualify for being "option 1A" in a post-Jennings, post-Jones, post-Finley Packers world. Mike McCarthy said there was "no issue from our end of it," with Nelson adding, "I don't think we're going to worry about the targets, to be honest with you."
Late in the season, Nelson struggled when facing physicality from opposing defenses. The Week 15 loss in Buffalo that cost Green Bay the No. 1 seed in the NFC playoffs would have almost certainly been a Packers win had Nelson come down with a catch that he makes 99 times out of 100. Instead of a 94-yard touchdown, Nelson let a perfect pass from Rodgers go between his hands and fall to the ground. All drops are not created equal, and that was a big one.
However, that one play doesn't take away from what was otherwise one of the best season-long performances by any NFL wide receiver. Nelson's leadership was incredibly valuable for Green Bay, too, with players naming him one of the postseason captains on offense (along with Rodgers).
Overall 2014 grade: A
Status for 2015: One-hundred percent chance of being on the Packers' active roster to begin the 2015 season. The contract extension Nelson signed in July 2014 officially begins when the 2015 season gets underway. Nelson will turn 30 years old on the last day of May, and that can be a somewhat dangerous age for a skill-position player. But there have been no signs of Nelson slowing down yet. In fact, he's only been getting better with age so far. That will change at some point, but there's no reason to think it happens in 2015. With the return of newly re-signed Randall Cobb to take some pressure off of him, Nelson will have every chance to once again put up a 1,500-yard season.
Next: Defensive lineman Mike Pennel
Follow Paul Imig on Twitter
---