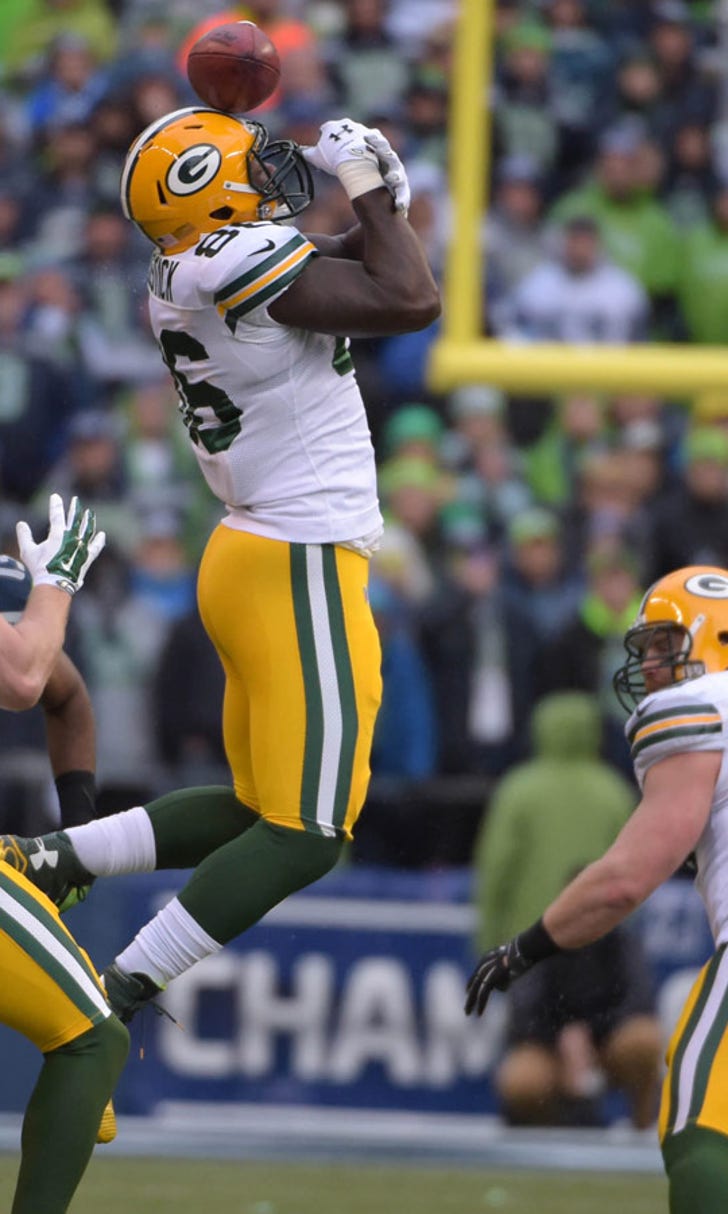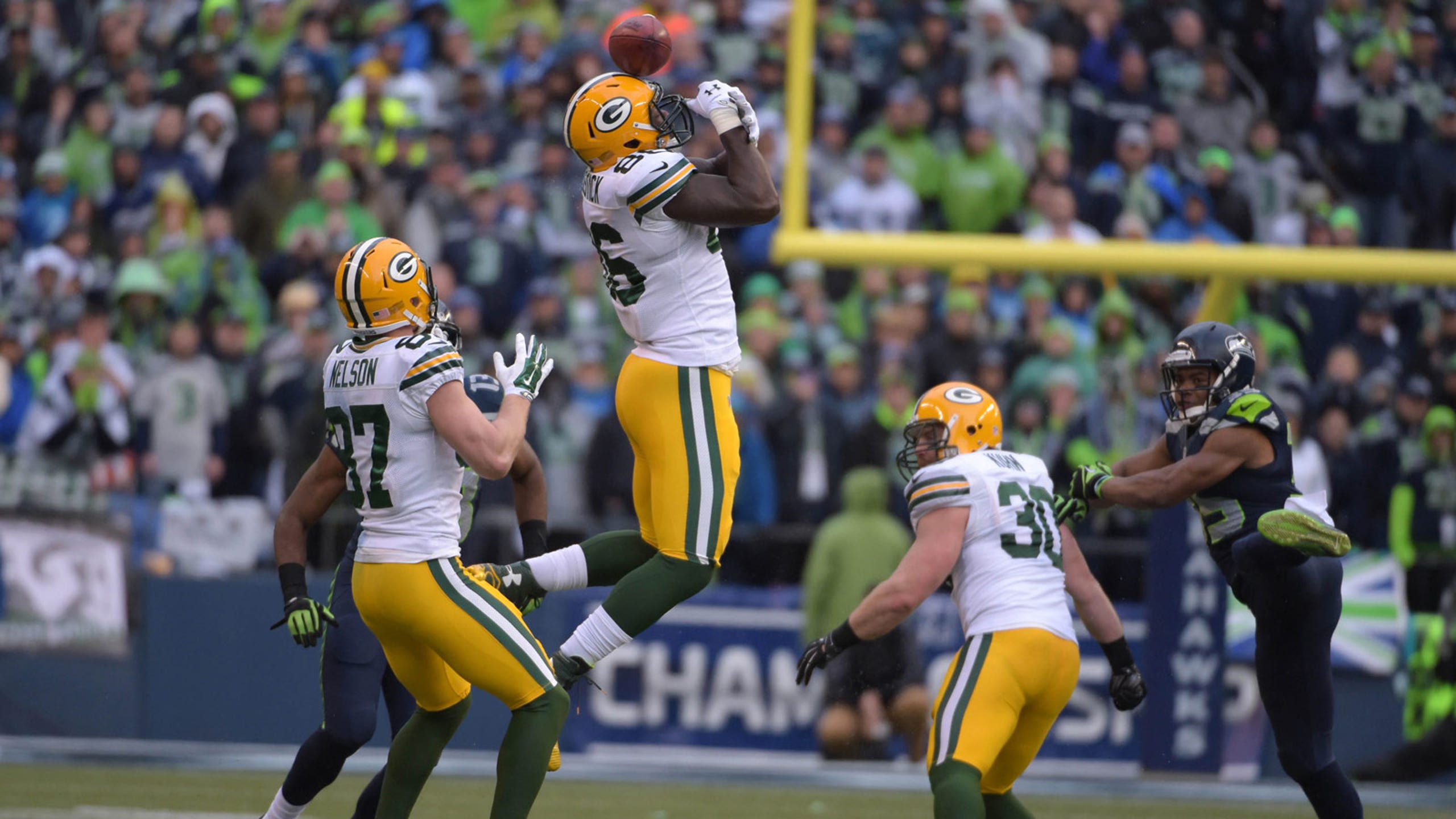 Packers Annual Checkup: Brandon Bostick
BY foxsports • February 11, 2015
Brandon Bostick, tight end
FOX Sports Wisconsin's Paul Imig gives an in-depth statistical analysis and film study of every Packers player in his annual offseason checkup. You can find every report here.
Season stats (playoffs included): 15 games (35 total offensive snaps); two catches, four targets, three yards, one touchdown, one dropped pass, zero forced missed tackles
ProFootballFocus.com season rating: minus-0.6 (ranked No. 14 out of 21 Packers offensive players)
Best game: Week 10 win over Chicago (played 7 of 67 offensive snaps); one catch (two targets), one yard, one touchdown; 0.4 PFF rating
Worst game: NFC championship game loss at Seattle (played 1 of 73 offensive snaps); zero targets; botched recovery of onside kick; minus-0.5 PFF rating
Expectations at the start of training camp: Medium
Expectations were . . .  Not met
Looking live: Brandon Bostick was ranked No. 19 in FOXSportsWisconsin.com's Most Important Packers In 2014 series that was released before training camp. I wrote at the time that Bostick "is an X factor" for Green Bay, adding, "it's also possible that Bostick doesn't do much this season. His range of statistical projection is as wide as any player on the roster." Bostick was very vocal with his desire to have a prominent role in the offense, stating, "I want to be the starter" on a couple occasions before training camp.
Bostick showed his talent as a receiving tight end early in training camp. In the third practice, he was getting a lot of opportunities as a pass-catcher and had a couple flashy moments. That included making a difficult catch on a deep pass and nearly hauling in what would've been a highlight-reel grab as he fell backwards.
In the Packers' fourth day of training camp, Bostick got every snap with the starting offense and mostly performed well. He had a mental error that Aaron Rodgers was vocal with his displeasure, but the QB went to Bostick on the next play for a touchdown in tight coverage.
In the sixth practice, Bostick was recognized in FOXSportsWisconsin.com's Training Camp Report in the "Movin' On Up" category. On that day, Bostick made two spectacular catches (including one from Rodgers, who had been going to the tight end frequently). But, true to form for Bostick's up-and-down performances, he also had a negative play when Jarrett Bush stripped the ball out of his hands for a forced fumble.
The momentum Bostick had working in his favor was disrupted when he suffered a right leg injury in the preseason game at St. Louis. That forced him to miss the final six training camp practices and the last two preseason games.
Upon further review: Bostick's preseason lower-leg injury turned out to be the beginning of the end of Bostick's 2014 season. He missed the Week 1 game but was healthy enough a week later to be on the field. However, it was only on special teams that Bostick was used until finally playing one offensive snap in Week 4 at Chicago.
Bostick made his first catch of the year in Week 7, a gain of two yards. His second reception of the season ended up being his final reception of the season. That was a one-yard touchdown grab in Week 10, and it had Rodgers feeling good about the prospects for Bostick in the second half of the season.
"It was nice to get Bostick out there; he's been coming along," Rodgers said Nov. 9. "He had a rough injury after a real good preseason. Brandon did a good job holding onto that football (for the touchdown), and we'll look for more ways to get him involved."
But that touchdown catch did nothing to help get Bostick more involved, as he did not step on the field for an offensive play in the following three games. It obviously didn't help that Bostick had suffered a hip injury on special teams just before his touchdown. That injury contributed to Bostick going unused for the next few weeks.
Of course, what Bostick will most be remembered for in 2014 is his fateful decision to dismiss his blocking assignment and go for the ball on the onside kick play in the NFC championship game. If Bostick does what he'd been coached to do and let Jordy Nelson make a play on the ball, the Packers would have likely been headed to the Super Bowl. Bostick very much owned up to his mistake while talking with reporters, but it was the final moment in a season that he'll always want to forget.
Overall 2014 grade: D-minus
Status for 2015: Thirty percent chance of being on the Packers' active roster to begin the 2015 season. Bostick is under contract for the 2015 season, but it wouldn't cost Green Bay anything if the team released him. Doing so would save the Packers nearly $600,000 in salary-cap space. Bostick never re-earned the trust of the coaching staff on offense after his training camp leg injury. He certainly didn't earn any trust throughout the organization by going against his assignment during the onside kick play in Seattle. Bostick is still a raw talent and Green Bay will have to decide whether the three years it has invested in developing the undrafted player has yielded enough of a return to continue in the process. For Bostick, this might be the best example of a player needing a fresh start. Other NFL teams would likely be interested in taking a look at him, as Bostick will turn 26 years old in May and could still become a serviceable player if everything clicks for him. But there might be too many negative feelings floating around Lambeau Field headquarters for Bostick's career to continue with the Packers.
Next: Defensive lineman Josh Boyd
Follow Paul Imig on Twitter
---