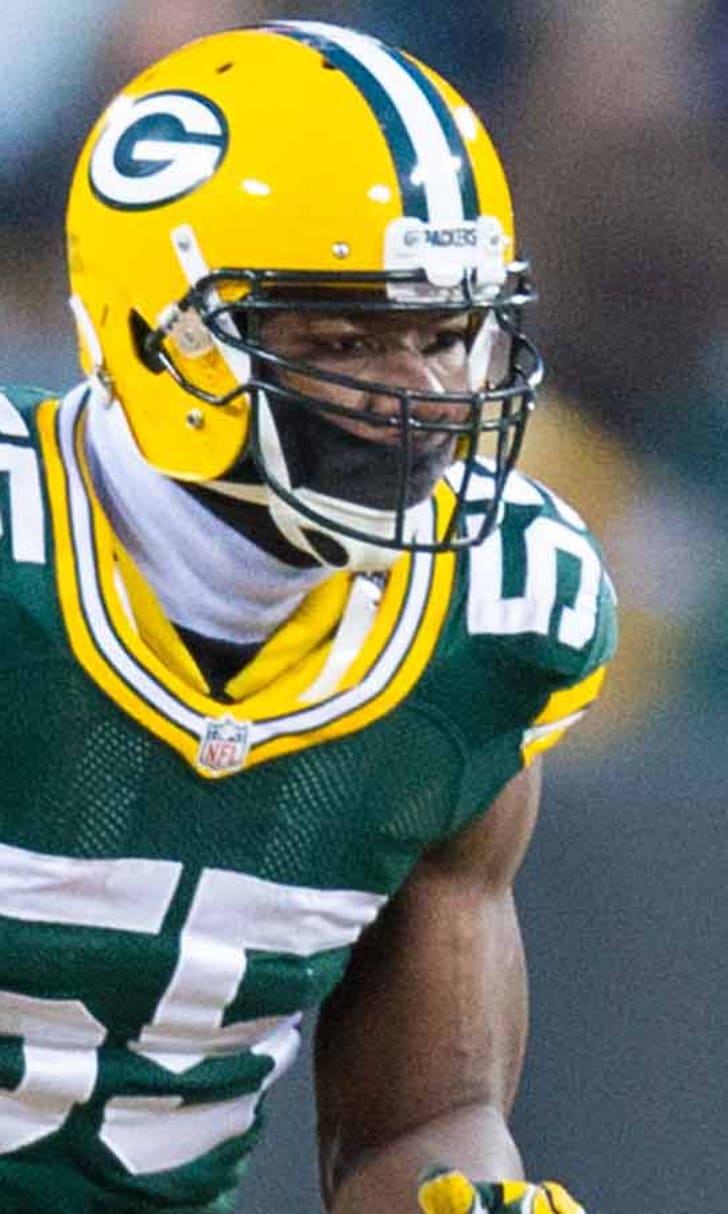 Packers Annual Checkup: Andy Mulumba
BY foxsports • March 14, 2014
FOX Sports Wisconsin's Paul Imig gives an in-depth statistical analysis and film study of every Packers player in his annual offseason checkup. Check every weekday through mid-April for his latest report.
Andy Mulumba, outside linebacker
Season stats: 15 games (361 snaps; 34 percent of total defensive snaps); 32 tackles, one sack, nine quarterback hurries, one tackle for loss, zero forced fumbles, one missed tackle, zero interceptions, zero passes defensed, 13 stops (solo tackles that resulted in offensive failure); dropped back in coverage 38 times, being targeted six times, allowing five receptions for 60 yards, one touchdown
ProFootballFocus.com season rating: minus-9.4 (ranked No. 22 out of 26 on Packers defense)
Best game: Week 16 loss vs. Pittsburgh (played 25 of 60 defensive snaps; six tackles, zero sacks, zero QB hurries, zero missed tackles, three stops; 0.3 PFF rating)
Worst game: Week 9 loss vs. Chicago (played 21 of 77 defensive snaps; zero tackles, one QB hurry, zero stops; minus-1.1 PFF rating)
Expectations at the start of the season: Low
Expectations were ... Exceeded
Looking live: Andy Mulumba was one of the original nine undrafted free agents signed by the Packers on May 10, 2013 -- and was one of only two to make the active roster immediately out of training camp (along with offensive lineman Lane Taylor). Entering training camp, it seemed unlikely that Mulumba would be among the final 53 players for the regular season. Dezman Moses was still on the roster at the time, and Green Bay had also used a sixth-round draft pick on Nate Palmer. Mulumba made some noise in the early days of training camp, and by Aug. 8, he had done enough that coach Mike McCarthy said he had "showed great progress." Mulumba missed the third preseason game with a knee injury, but it didn't keep him out any longer than that. Before the Packers unveiled their final roster, it seemed quite obvious that Mulumba deserved a spot over Moses. FOX Sports Wisconsin predicted that Mulumba would make it, writing that he "was just too effective in training camp to keep off the 53-man roster," and adding, "it was Mulumba who had the best training camp and preseason among the three of them (including Palmer)."
Upon further review: Sure enough, Mulumba (and Palmer) made it, and Moses was released. Mulumba didn't play much early in the season, but when Clay Matthews suffered his initial Bennett's fracture, that changed. Mulumba played 58 percent of snaps in Week 6 at Baltimore, and he did enough -- especially against the run -- to earn a start the following week against Cleveland. That game didn't go quite as well, so the vast majority of Mulumba's snaps soon went to Mike Neal, who played all but 10 snaps in the next two games. Mulumba's playing time increased again late in the season when Matthews re-injured his thumb, but it was apparent that the undrafted rookie wasn't yet ready for such an important role on a team competing in high-pressure games. Overall, Mulumba proved to be a strong, athletic player who was still getting used to playing outside linebacker (after playing defensive end in college at Eastern Michigan). He had a better rookie year than Moses did in 2012. Mulumba is 24 years old, but he's still raw and has a lot to learn. But as far as the type of player that a coach can work with, Mulumba has the skills to improve quickly.
Overall 2013 grade: C
Status for 2014: Eighty percent chance of being on the Packers' active roster to begin the 2014 season. A good rookie season from an undrafted player is far from a guarantee to be part of the team a year later. Moses found that out the hard way, despite seeming like a lock to stick around prior to the 2013 training camp. That's why it's critical for Mulumba to show growth in his game and in his understanding of Green Bay's defense. The Packers lacked quality depth at outside linebacker this past season, which is a big reason why Mulumba and Palmer both had opportunities. Perhaps Green Bay adds to its outside linebacker group this offseason to have more competition at that spot, but if the roster looks in July like it does now, Mulumba should be relatively safe to get a second year with the Packers.
Next: Outside linebacker Mike Neal
Follow Paul Imig on Twitter
---