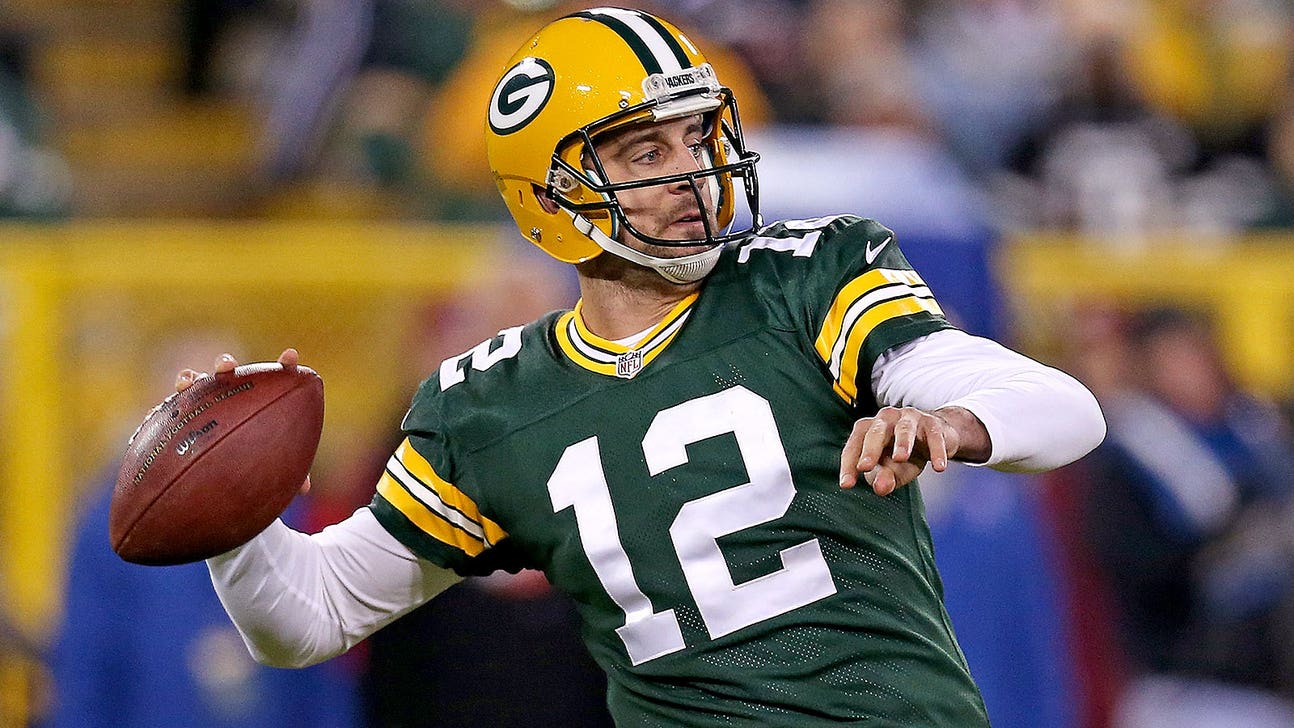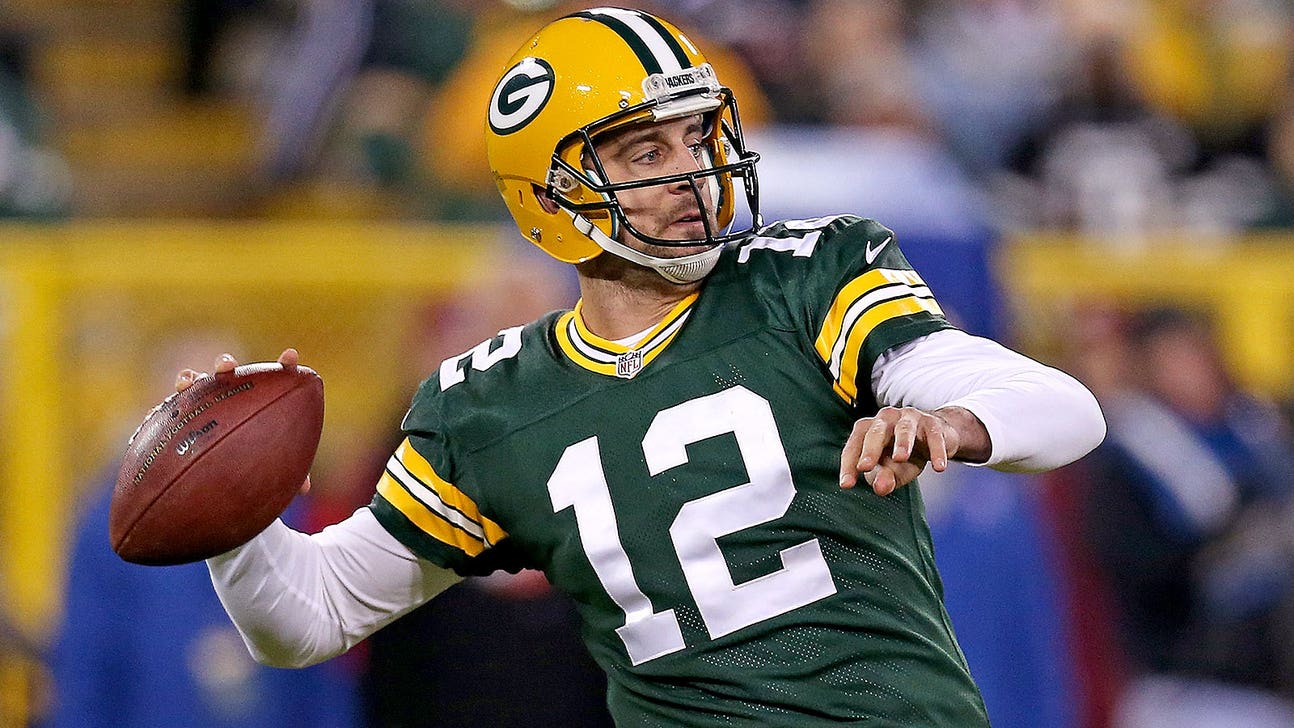 Packers' 5 biggest strengths heading into 2015 offseason
Published
Feb. 2, 2015 4:30 p.m. ET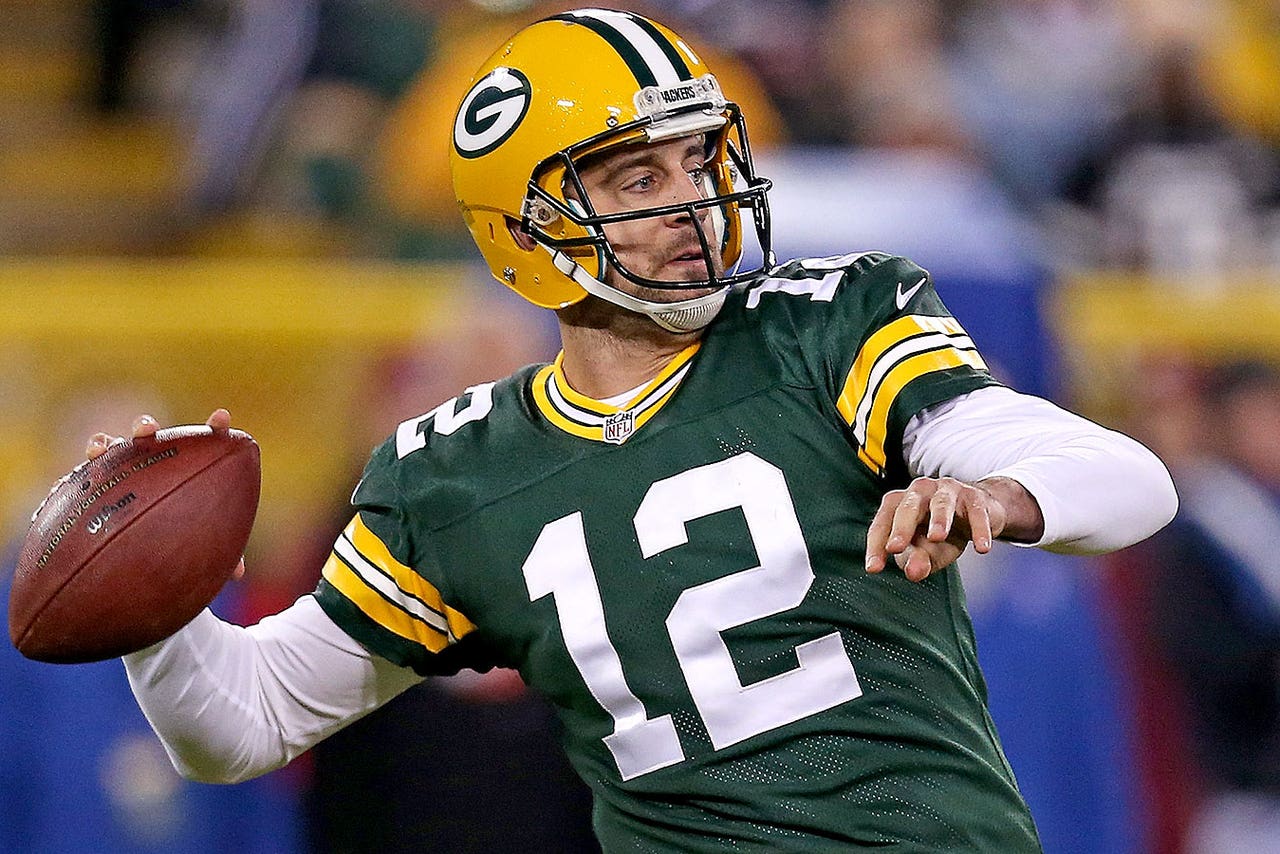 With the Super Bowl now over, it's officially NFL offseason mode.
As the Green Bay Packers turn their attention towards the draft and free agency, general manager Ted Thompson and head coach Mike McCarthy go into it knowing they're set in several areas.
Here are the five biggest strengths the Packers have working in their favor heading into 2015:
1. A two-time NFL Most Valuable Player at quarterback
For Green Bay, it all starts with Aaron Rodgers. The good news for the Packers as they look ahead to 2015 is that Rodgers is still in his prime (31 years old) and is coming off his second MVP season. He should also be fully recovered from his left calf injuries before training camp opens in late July.
The presence of Rodgers instantly makes Green Bay a Super Bowl contender. Nearly half of the teams in the NFL will go into 2015 with no better than a five percent chance of going all the way, simply because their quarterbacks aren't good enough to get them there. It's a team sport, but it's a team sport that requires having at least a league-average quarterback at the most important position in order to excel. Rodgers is obviously well above the league average and is showing no signs of slowing down.
Rodgers rarely gives the ball away and became increasingly turnover-averse in 2014 by throwing a career-low five interceptions. Considering he threw 520 passes during the season, having less than one interception per 100 passing attempts is an incredible statistic. Rodgers still hasn't thrown an interception at Lambeau Field since Dec. 2, 2012.
With the way in which the Packers were eliminated from the playoffs and the bittersweet moment for Rodgers of winning the NFL's MVP award the night before the Super Bowl, there should be more chips on his shoulder as he enters his eighth season as a starter.
2. A very good offensive line with great chemistry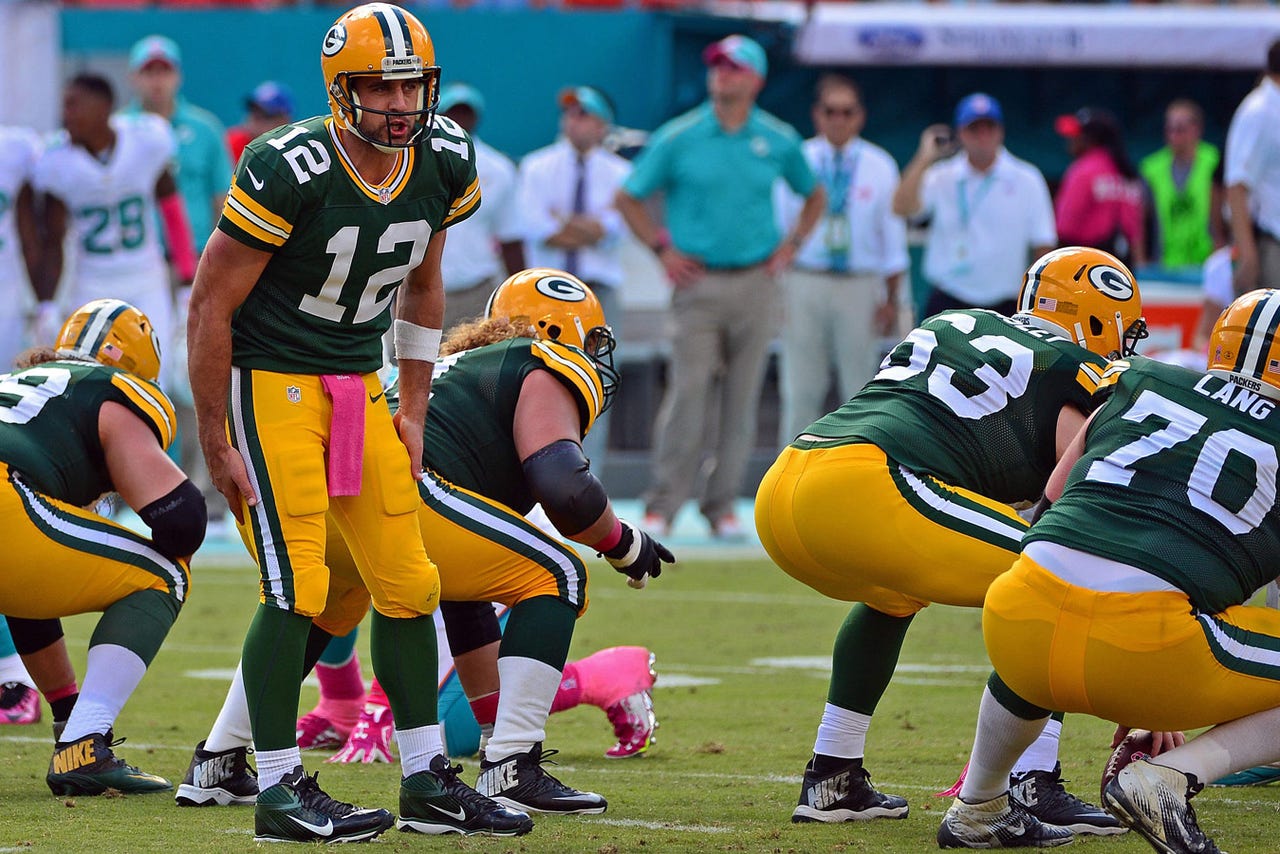 Green Bay's offensive line allowed only 14 sacks in the regular season.
Rodgers' durability and protection in the pocket is helped tremendously by an offensive line that was widely considered the best group of the past decade in Green Bay. Re-signing Bryan Bulaga at right tackle will be key, but the other four will all definitely be back for another year together.
The starting five allowed only 14 sacks in the regular season, according to data from ProFootballFocus. Josh Sitton didn't allow a single sack all year. Long gone is the 2012 season in which Rodgers was sacked 51 times.
David Bakhtiari will be entering Year 3 at left tackle and Corey Linsley will be entering his second season at center, which means they're both more likely to improve than regress. Sitton is as good as it gets at the guard position, and T.J. Lang just had arguably his best season. The run-blocking, especially from Sitton, Lang and Linsley in the middle, is very strong.
If Bulaga re-signs and stays healthy, there's recent evidence to suggest the Packers would enter the 2015 season with one of the league's best offensive lines.
3. A top-5 NFL running back who keeps improving
Running back Eddie Lacy rushed for 4.6 yards per carry this year.

Two years ago, running back was a weakness heading into the 2013 offseason. Then Eddie Lacy was drafted in the second round and added new, important dimensions to Green Bay's offense that had been missing.
Lacy's first season was good enough to give him the NFL's Rookie of the Year award. He rushed for 4.1 yards per carry and was rated by ProFootballFocus as the league's fifth-best running back. Lacy improved his per-carry average to 4.6 yards in 2014 and climbed up to a third-place ranking in the PFF system.
By midseason, Lacy had become a strong receiving threat for Rodgers. He had eight catches for 123 yards in Week 8 and then had multiple-reception games in all but one of the games in the second half of the season.
Already good at breaking tackles as a rookie, Lacy ran over and around even more defenders in 2014 (84 compared to 67 a year earlier). Lacy's ability has opposing defenses unable to just game plan for stopping Rodgers.
4. Good young players in key roles who should only get better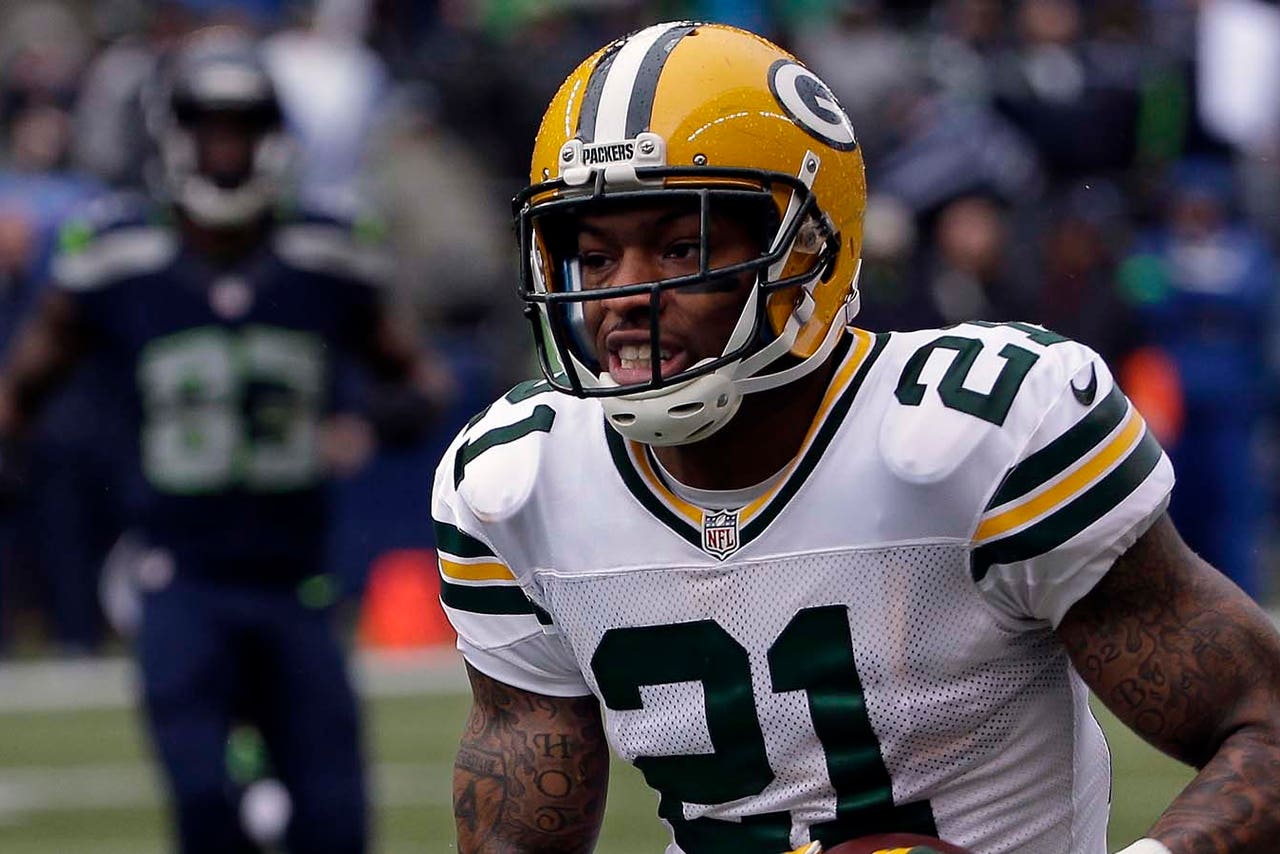 Safety Ha Ha Clinton-Dix had two interceptions in the NFC championship game against Seattle.

Four rookies contributed in significant roles during the 2014 season, as did many other second- and three-year players.
Ha Ha Clinton-Dix was the key factor in the Packers' improvement at the safety position. Not only did the first-round pick play well, but his presence benefitted Morgan Burnett as well. Knowing the talent Clinton-Dix has, it's fair to assume he'll improve upon his team-high in missed tackles.
Davante Adams quickly took over the No. 3 receiver spot from Jarrett Boykin and had a good rookie season. As Adams gains experience and trust with Rodgers, he should be able to more consistently put together good games and avoid the month-long gaps of just one catch per game.
Richard Rodgers became one of the more dependable pass-catchers late in the season and adapted to the NFL's tight end position quicker than expected after playing a unique role during his final year of college.
Linsley was already mentioned in regard to the offensive line, but his ability to step in after getting no preseason practice snaps with the starters and have the season he did was one of the most important developments all year. Everyone knew Linsley was strong enough for the job, but him learning from Sitton and Lang so quickly changed everything.
The previously mentioned Lacy and Bakhtiari will just be starting their third NFL seasons, as will key defensive players like Micah Hyde and Sam Barrington. Datone Jones still has a chance to become worthy of the top pick in 2013, and even 2012 first-round pick Nick Perry should still be growing as a player.
Green Bay's quantity and quality of young players means it should be a team that performs better in 2015.
5. A versatile defense on the rise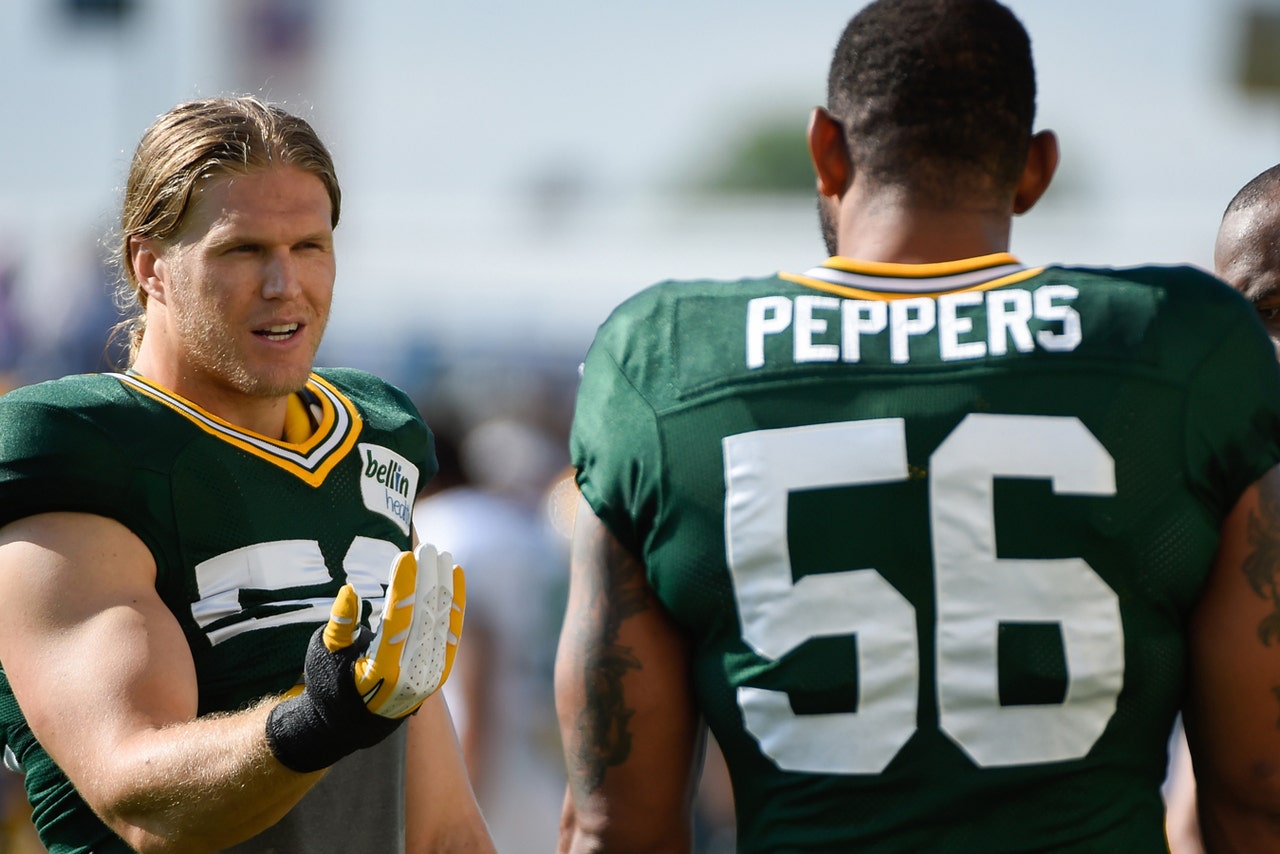 Packers linebackers Clay Matthews (left) and Julius Peppers played in different positions in 2014 than in past years.

Clay Matthews proved why he's considered a top-notch defensive playmaker when he made the surprise switch to inside linebacker midseason and pulled it off almost flawlessly. While Matthews likely returns to outside linebacker in 2015, knowing that he can move around helps the Packers defense be more unpredictable for opposing offenses to strategize against.
Julius Peppers will likely return to Green Bay for another season, and his ability to transition to outside linebacker was seamless. Peppers made several game-changing plays with interceptions, sacks and forced fumbles. He also still has the ability to put his hand in the ground and play along the defensive line.
The other elephant-position players add to the versatility, too. Mike Neal converted from defensive lineman to outside linebacker a couple years ago and can play both roles, and Perry is capable, as well.
Hyde showed his versatility switching from nickel back to safety before the 2014 season only to retake his original role once Clinton-Dix settled in.
All of that helped defensive coordinator Dom Capers to mix it up and improve their defensive performances as the season went on. Having those pieces back in 2015 has the Packers with more varied looks defensively than they've had in awhile.
Follow Paul Imig on Twitter
---