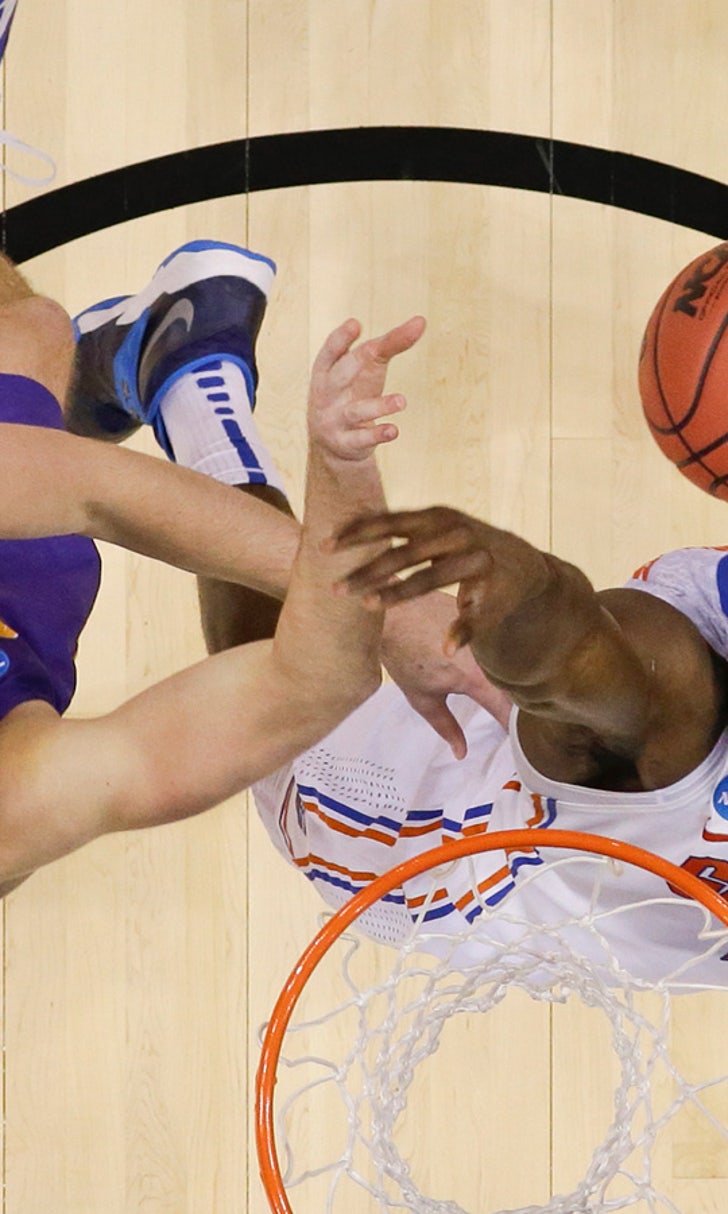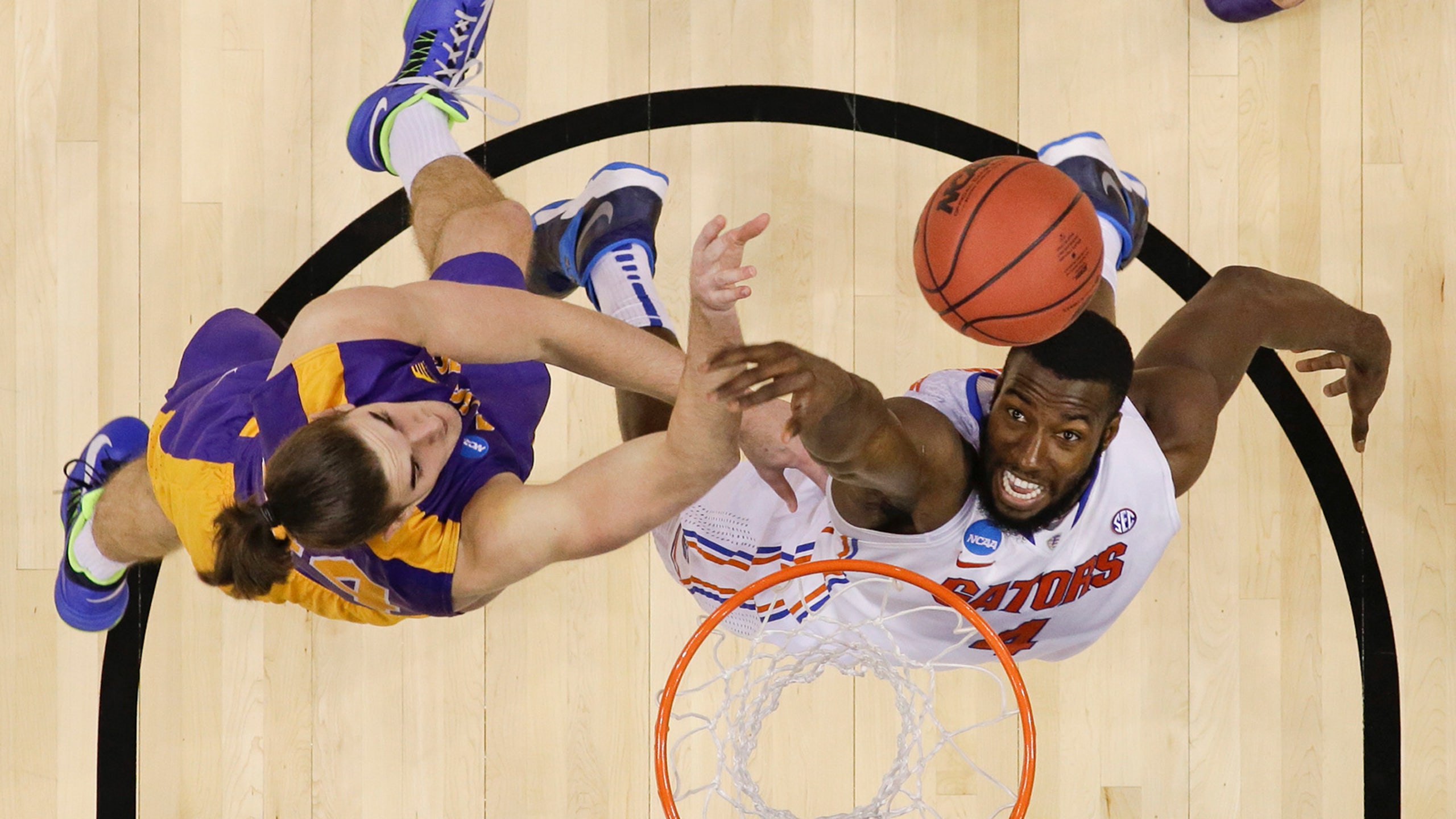 Out of sync, Gators gather themselves to survive and advance
BY foxsports • March 20, 2014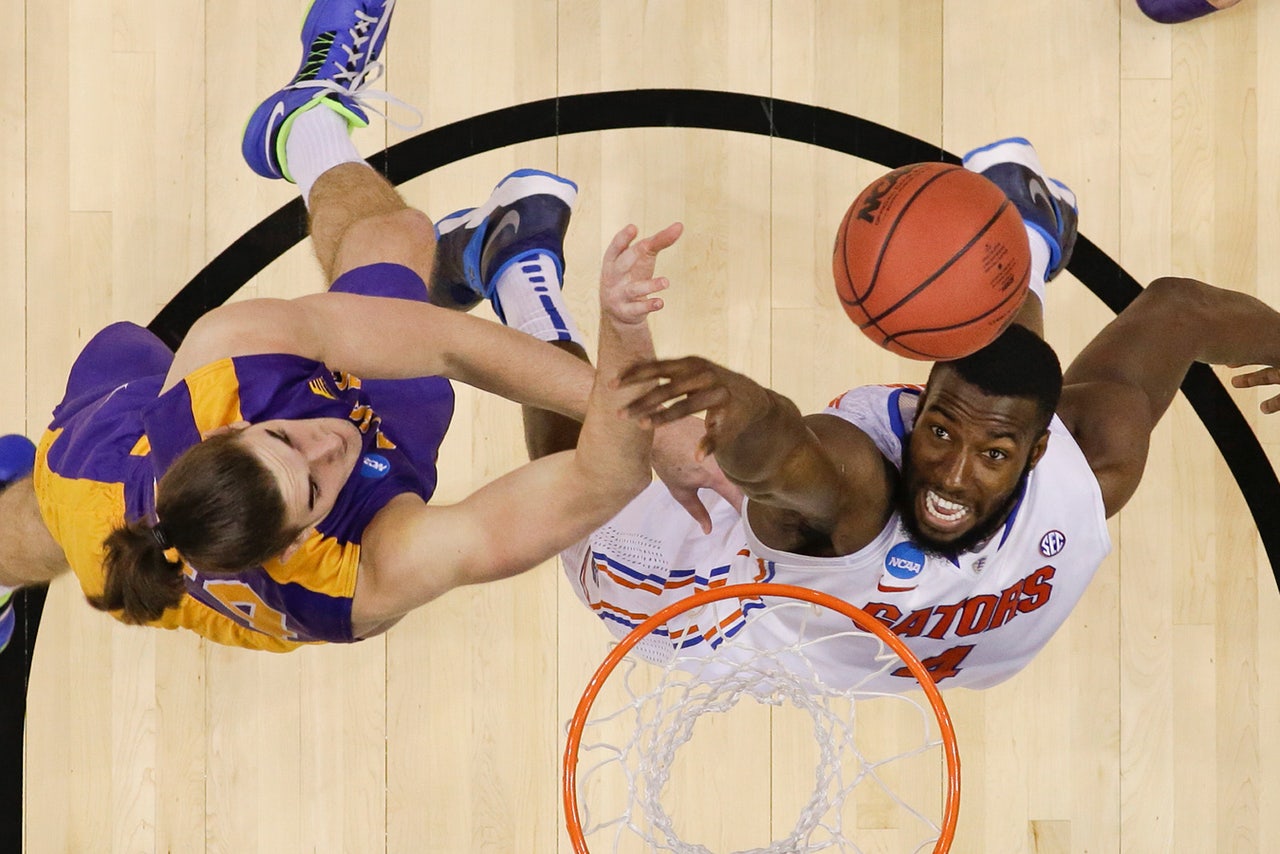 ORLANDO, Fla. -- The Florida Gators have made history all year, but the milestone they flirted with Thursday was something unfathomably disastrous.
0-116.
That was the record of No. 16 seeds in the NCAA Tournament, dating to the expansion of the field to 64 teams nearly three decades ago. And there was UF, the nation's No. 1-ranked and top-seeded club in the South Region bracket, deadlocked with undermanned, undersized and mega-underdog Albany more than 25 minutes into the game.
Inside the sold-out Amway Center, anxious Florida fans couldn't help but wonder if the biggest upset in college sports history was playing out before their eyes; at their expense, no less. As for the UF bench?
"We never panicked, but we were definitely out of sync -- and I can't tell you why," senior point guard Scottie Wilbekin said. "We just have to flush this one."
Luckily for Wilbekin and his teammates, a magical season wasn't flushed with it. The Gators, behind a run of nine straight points at a very critical time, opened something of a lead -- one that never approached the disproportion so many expected -- and survived the Great Danes 67-55 before a pro-UF crowd of 16,074 that saw a different team than the high-intensity version that won 26 in a row before that.
"I'm dealing with human beings," Florida coach Billy Donovan said afterward a 27th straight victory that must have felt like a root canal. "They've done a really good job of focusing like they need to on the challenges in front of them."
He paused.
"This wasn't one of our better moments in terms of that."
But it was enough to advance the Gators (33-2) on to Saturday's Round of 32, where they'll face ninth-seeded Pittsburgh (26-9), which disemboweled Colorado 77-48 in a regional matinee that basically was over from the outset. Tipoff time will be determined.  
Senior forward Casey Prather and backup forward Dorian Finney-Smith each scored 16 points. Senior center Patric Young had his first double-double of the season, scoring 10 points and grabbing 10 rebounds. Backup point guard Kasey Hill came off the bench to score 10 points and card two steals. UF needed every bit of these contributions, what with their two leading scorers, Wilbekin and sophomore guard Michael Frazier II, combining for just 13 points and two 3-point field goals.
"It was good enough to win," Donovan said. "Is it good enough to play against a team like Pittsburgh? Probably not."
From the opening the tip, the Gators had the look of a team that was a step slow and even a little disinterested in playing Great Danes (19-14), who qualified for the NCAA field by winning the America East Conference Tournament and made it to Orlando by defeating Mount St. Mary's in first-round action Tuesday night at Dayton, Ohio.
A team that did not get a chance to practice in the 44 hours since its previous game -- not to mention traveling this in three days -- had a bouncy, more confident look than the team coming off a perfect run of 21 games through the Southeastern Conference and its postseason tournament.
"A 16 [seed] is going to beat a 1 at some point," Albany coach Will Brown said afterward. "We wanted to be that team."
As such, the Danes jumped to a 7-3 lead early in the game and everybody in Amway was just waiting for a Florida run that never came. Albany just would not let it happen, thanks to hitting 11 of its first 17 field-goal tries (64.7 percent) against one of the best defenses in the country.
"We had a lack of energy," Prather said. "That hurt us."
"They made some tough shots," Finney-Smith said.
Some open ones, for sure. The lead changed hands 11 times in the first half, with the Gators going to the locker room up just 34-28 -- the six-point edge being UF's largest lead of the period -- despite shooting 56 percent from the floor. Albany used a bevy of defenses to "junk up the game," as Donovan put it, including a triangle-and-two that frustrated Wilbekin and Frazier, plus a few 1-3-1 press possessions.
"We came here to win," Brown said. "I know a lot of people smile and think, 'This coach is crazy, these kids are crazy.' That was our mentality."
It was a lot better than the Gators' mentality, several of whom said after the game they played "not to lose" as the things wore on. They had not done that all year.
But there was more to it.
At halftime, Donovan railed at his players for not playing hard. They'd not done that very often this season, either. And when the Gators retook the court, they seemed a tad recharged, but the Dames went on an 8-2 spurt that tied things at 39-all with 14:32 remaining.
"In the beginning of the game, I felt like we could do it," said 5-foot-8 Albany guard D.J. Evans, who scored a game-high 21 points. "We all felt like we could shock the world."
With the score knotted up, though, Young threw down a violent slam-dunk and drew a foul on the play. His free throw pushed the Gators ahead by three and started a mini-blitz of nine straight points -- four from Hill, another two on a dunk by Finney-Smith -- that took the lead to 48-39.
Albany center John Puk (10 points, 5 rebounds, 5-for-7 from the floor) hit a jumper to draw the margin back to seven, but Frazier found a timely moment to bury a 3-pointer in transition -- his only field goal of the game -- and give Florida its first double-digit lead of the afternoon.
After that, the closest the Danes was eight.
"I think we ran out of gas," Brown said. "The best team in the country may have had something to do with that."
The Gators may have the resume to warrant such praise, but as Donovan likes to say, a team's record is only a reflection of what it's done in the past. That was certainly the case Thursday.
Florida was not the best team in the country; maybe not the best team in the building.
Pittsburgh, UF's next opponent, was much better.
Wilbekin summed things up.
"If we play the next one like we played this one," he said, "it'll be our last one."
---