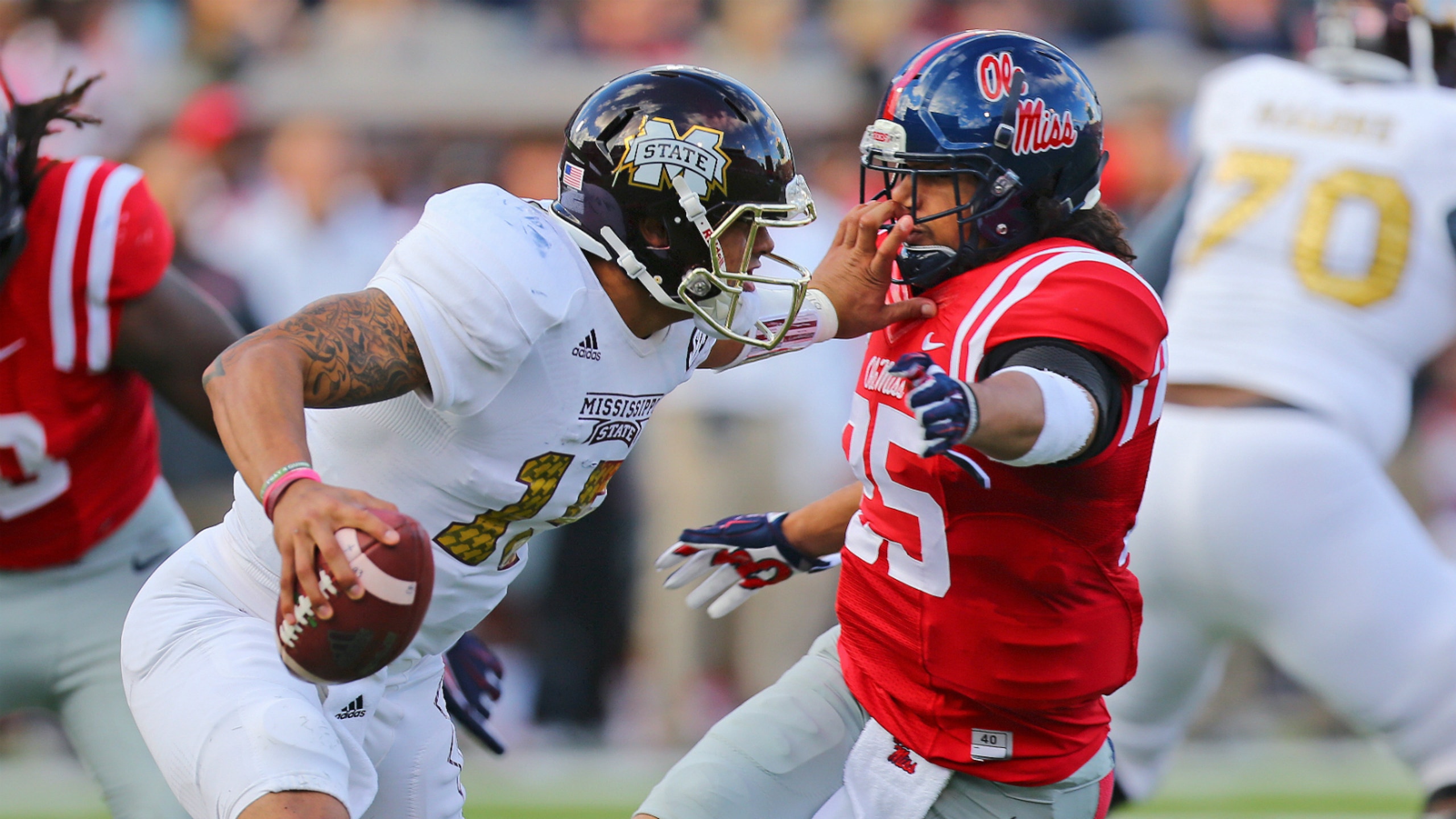 Orange Bowl Breakdown: No. 8 Mississippi State-No. 10 Georgia Tech
BY foxsports • December 18, 2014
Battle of up-and-down defenses. Really, both offenses have more than proven themselves throughout the course of the season against elite competition. But both defenses certainly haven't.
Mississippi State's has gotten by on bending but not breaking, leading the nation in red-zone defense (opponents score on 60 percent of all red-zone trips and just 37.5 percent of the time do they score a touchdown). Georgia Tech has survived a near-complete lack of a pass rush (particularly against good offensive lines) by showing a knack for forcing and capitalizing on turnovers and turning them into points. Both teams have generally relied on their offense to outscore the opponent, but whichever defense is able to get a key stop or two is going to come out on top in this one.
Dak Prescott (Mississippi State), Justin Thomas (Georgia Tech)
Georgia Tech has struggled some with mobile quarterbacks all year -- Wofford and Georgia Southern both piled up yards against the Yellow Jackets early in the year running the triple-option, and Duke and North Carolina -- the only two teams to beat Georgia Tech in the regular season -- have quarterbacks that can make plays with their legs (more so in North Carolina's case).
Jameis Winston didn't have to be mobile against the Yellow Jackets, because his offensive line gave him so much time he didn't really need to run away from the rush. Prescott will be able to do that if necessary, or even by design (he has 195 rushes for 939 yards and 13 touchdowns this year), but if they give him time, he'll pick apart the secondary (he's completed 61.2 percent of his passes for 2,996 yards, 24 touchdowns and 10 interceptions this year).
If Prescott plays mistake-free, it'll be a long night for Georgia Tech.
Justin Thomas, meanwhile, is pretty darned good at quarterback in his own right. In Georgia Tech's more run-heavy offense, Thomas has 176 rushes for 965 yards and runs the triple-option to perfection, including becoming an effective passer (50.9 percent of his throws for 9.1 per completion, 17 touchdowns and five picks).
That aspect of his game makes the offense that much more dangerous but Georgia Tech's passing attack struggled without receiver DeAndre Smelter, as everyone saw in the ACC title game. That means Thomas is going to have to be that much better and more accurate as a passer and just as dynamic as he was as a runner.
17: Georgia Tech outscored its last six opponents of the season by an average of 17 points, compared to +6.1 in its first seven games. Georgia Tech also went from allowing 28.3 points in the first seven games to 21.3 in the final six.
8: Mississippi State averaged eight tackles for loss in August-October in seven games, and that dropped to 4.4 in the month of November in five games.
49.3: In 10 wins, Mississippi State converted 49.3 percent of its third downs. In two losses, that dropped to 35.1 percent.
29: Georgia Tech has only punted the football 29 times this season, which is the fewest punts of any team in the nation in spite of playing one more game than a lot of teams.
18: This is Georgia Tech's 18th straight bowl game, tied for the second-longest active streak in the nation -- with archrival Georgia (also at 18 straight).
If Georgia Tech still had DeAndre Smelter at wide receiver, this would be an easier pick. But the lack of Smelter means that the Yellow Jackets are going to have to manufacture passing yards via unproven receivers, and as the end of the ACC title game showed, that's a bit of a challenge.
Mississippi State's defense is going to have its share of struggles in this one, but ultimately, with all the key pieces on its offense humming, they have to get the slight edge in what should be a defense-challenged affair.
---