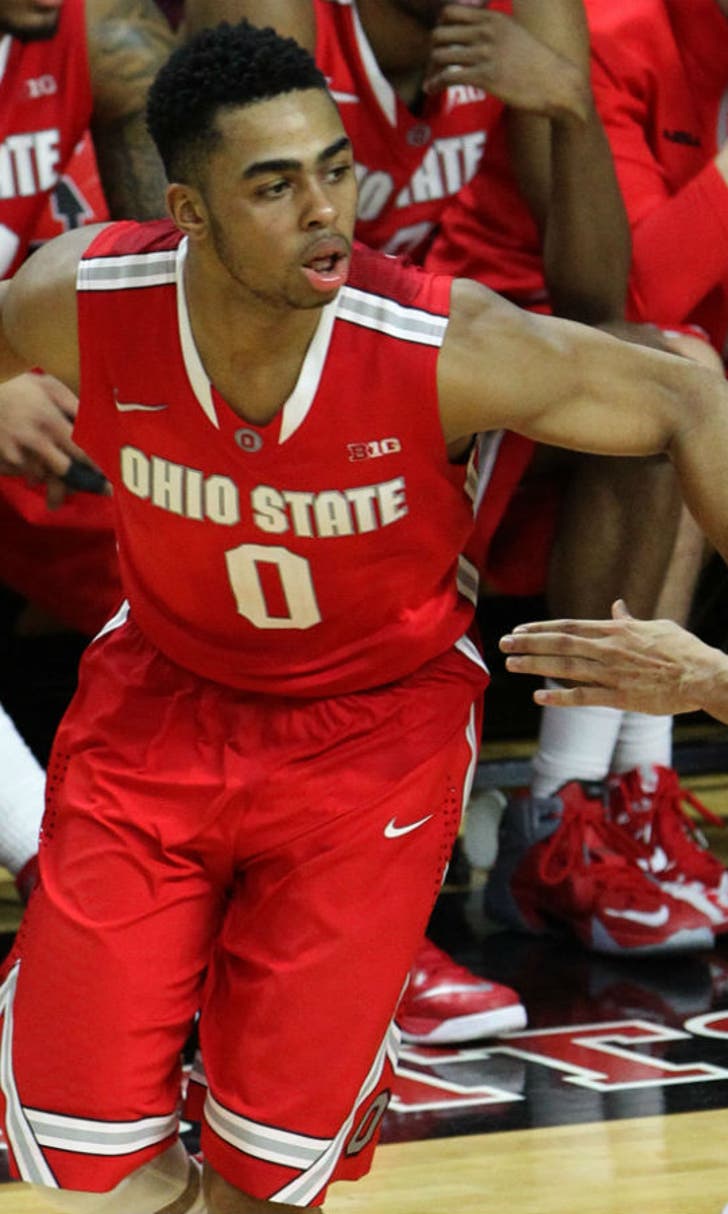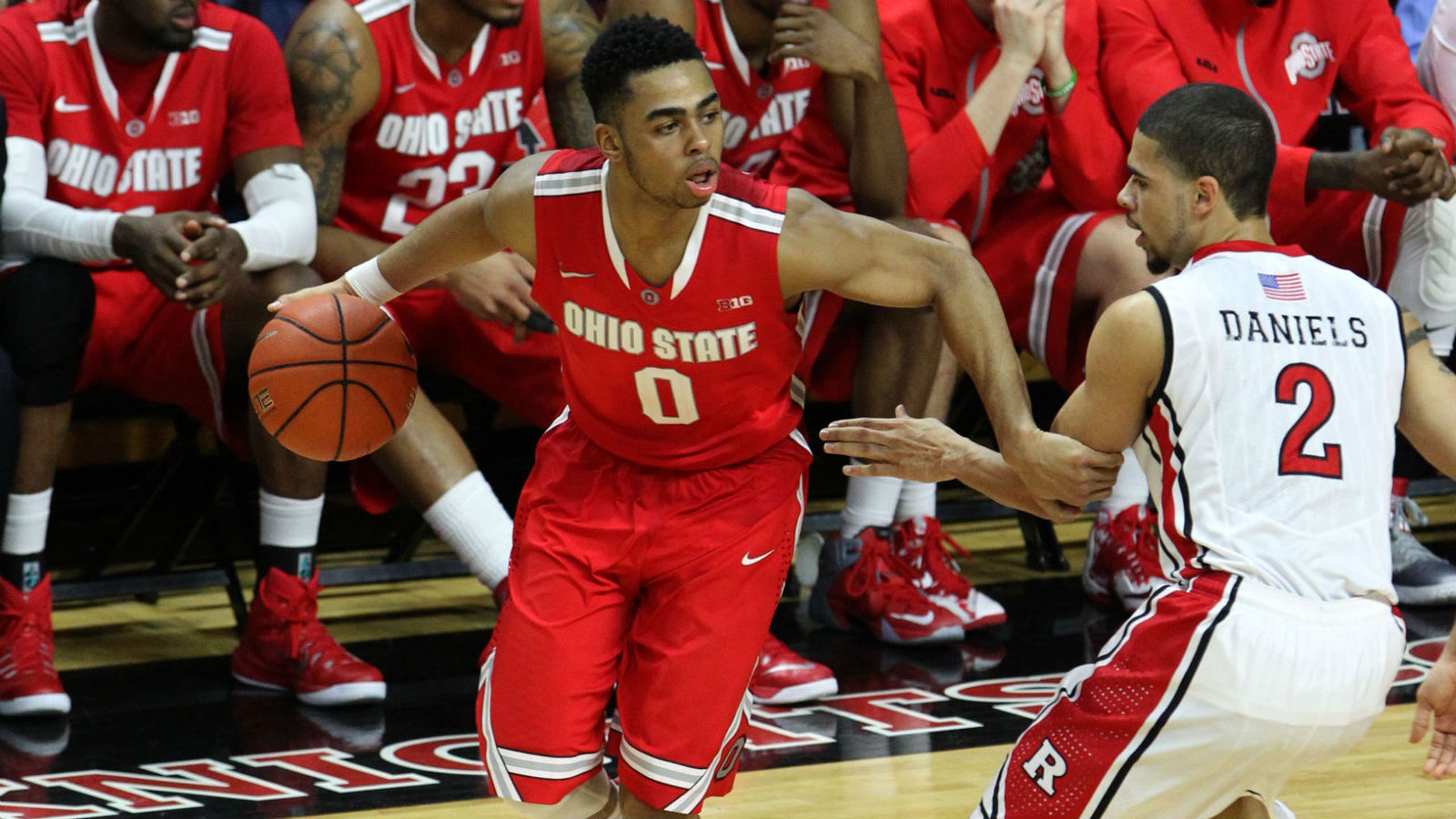 Ohio State routs Rutgers behind D'Angelo Russell
BY foxsports • February 8, 2015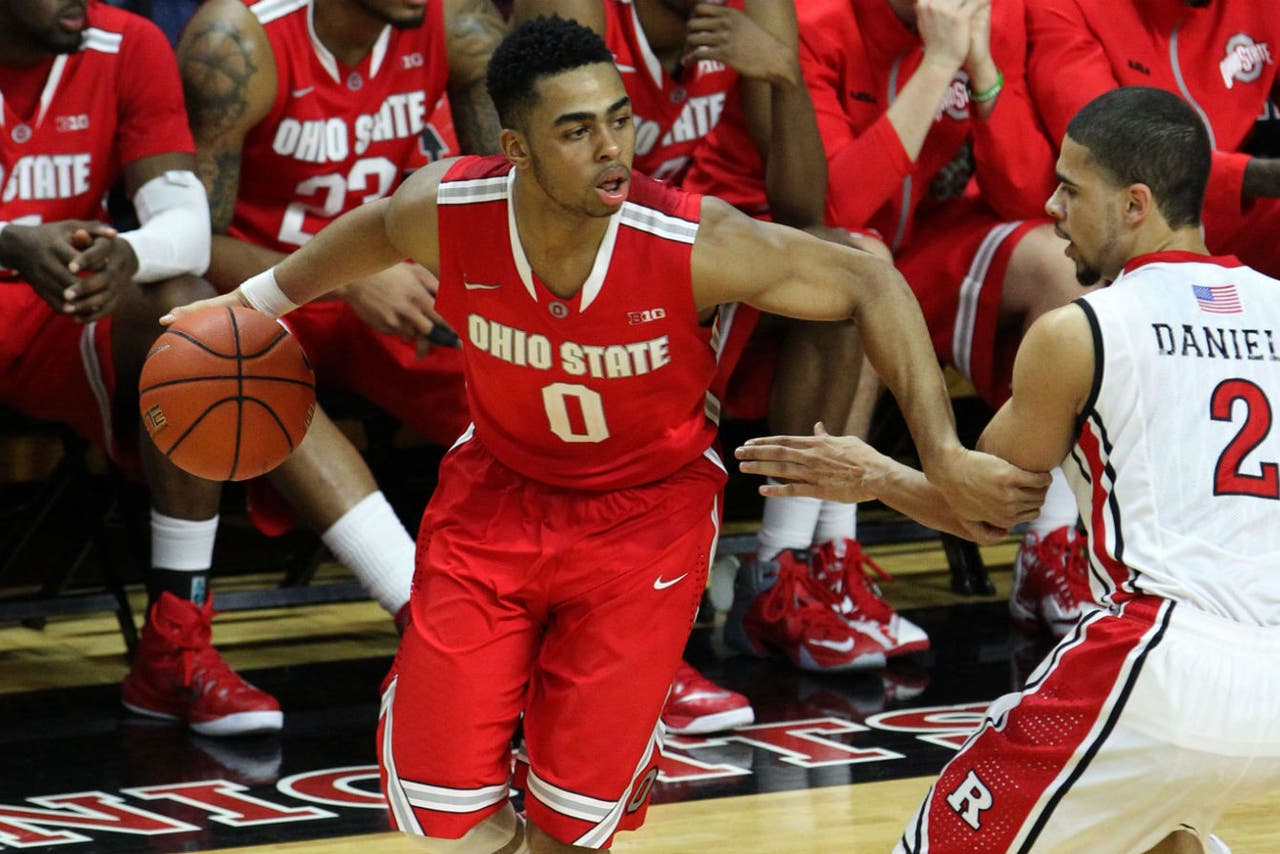 PISCATAWAY, N.J. (AP) -- After his first college triple-double, Ohio State freshman D'Angelo Russell covered his ears when the questions turned to being a one-and-done player, shooting up on draft boards and being under the ever-watchful eye of NBA personnel.
While he didn't want to hear or talk about it, Russell gave basketball fans something to drool about Sunday with 23 points, 11 assists and 11 rebounds in No. 20 Ohio State's 79-60 victory over Rutgers.
"It's a great feeling," Russell said about his triple-double. "More importantly, I'm just glad we won. Just to be in the same category as those guys is just a blessing. I feel like I've been flirting with it all year and I finally got the chance to do it and we got the win and that was more important to me."
Russell played 35 minutes, was 8 of 13 from the field, had one steal and two turnovers handling the ball most of the game.
"The two turnovers were unacceptable," Ohio State coach Thad Matta quipped. "I thought he was really, really good. Just great command with some of the passes in the second half and he can affect a game so many different ways just in terms of his scoring, his passing. It was honestly one of the better performances I've seen in all my time in coaching."
Jae'San Tate added 20 points and Keita Bates-Diop had 14 to help the Buckeyes (18-6, 7-4 Big Ten) bounce back from a loss at Purdue for their fourth time in five games.
Bishop Daniels had a season-high 17 points for the Scarlet Knights (10-15, 2-10), and Junior Etou added 12 points and 11 rebounds. They have lost eighth straight since upsetting then-No. 4 Wisconsin on Jan. 11.
Ohio State never trailed, built a 21-point lead in the first half and extended it to 25 early in the second with Russell, Tate and Bates-Diop doing most of the damage.
Even when Rutgers made a late run and got to 69-57, Russell fed Tate for a layup and hit a jumper to ice the game. He left with 2:47 to go to polite applause from the big crowd, which was bolstered by almost two dozen NBA scouts.
"I'm not sure he is the best player we've played this year," Daniels said. "He put on the best performance so far."
If there was any concern, it came in the second half when Russell, the nation's top freshman scorer with a 19.4 point average, seemed to have some discomfort with one of his legs.
Russell said it was cramping, adding it's not the first time that has happened this season.
"He always has purpose to what he's doing," Matta said. "He's specific with what he's doing, so when he does it in a game it's like, yeah, I just saw him do that yesterday for five minutes, and that's what great players do."
Russell hit a jumper and a 3-point field goal in an 8-2 spurt to open the game and, after Rutgers pulled to 11-10, he added seven more points in a 13-2 spurt that pushed the lead to 24-12.
Ohio State shot better than 48 percent from the field in the first half, including 6 of 13 from long range with Bates-Diop hitting 3 of 4. Tate took over in the second half, scoring 12 points.
"Nobody wants to lose," Rutgers guard Myles Mack said. "We thought we could win this game and it just didn't happen, and it hasn't happened in a while. It's frustrating."
TIP-INS
Ohio State: Matta (293-89) is four wins shy of tying Fred Jones (297-158) for the most wins by an Ohio State coach.
Rutgers: Freshman G Mike Williams returned to action after missing three games with a sprained ankle and scored three points. His return was offset when reserve swingman Malick Kone missed the game with an illness.
SHOOTING WOES:
Rutgers shot 29 percent from the field (20 of 69), including 4 of 23 from long range (17 percent). The Scarlet Knights are last in the conference in field goal percentage at just under 40 percent.
UP NEXT
Ohio State: Host Penn State on Wednesday night.
Rutgers: Host Purdue on Thursday night.
---