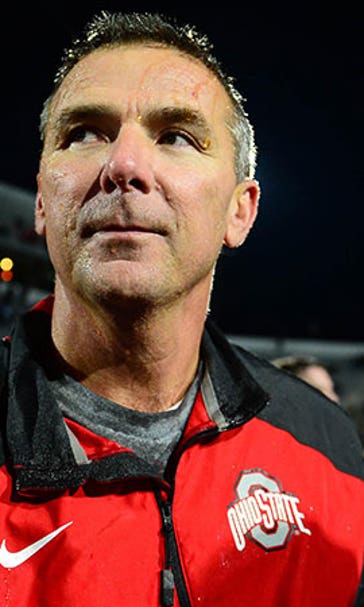 Ohio State looking for another recruiting flip?
BY Marcus Hartman • December 11, 2014
Ohio State's recruiting is nothing if not opportunistic (and successful) under Urban Meyer.
After Meyer helped stock his first Ohio State recruiting class in 2012 with players who originally committed to or were leaning toward Penn State before that program became embroiled in turmoil, he flipped Dontre Wilson from Oregon in 2013 shortly after the Ducks lost head coach Chip Kelly to the NFL.
This week he pulled in a commitment from Detroit running back Mike Weber, who was committed to Michigan before Brady Hoke's fate as head coach of the Wolverines was sealed, and now he is reportedly looking to make Wisconsin's loss his gain.
Scout.com reported Wednesday night Kyle Penniston, a three-star tight end prospect from Santa Ana (Calif.) Mater Dei, got a call from Ohio State shortly after Wisconsin lost head coach Gary Andersen to Oregon State.
Penniston is a long-time Badger pledge, having given his commitment in February after visiting for a junior day.
"This is awesome," Penniston told BadgerNation.com at the time. "I've always been a big fan of Wisconsin, but I wanted to make sure it was the right fit for me as a student-athlete. It did, so I knew it was the perfect place to be athletically, academically and socially."
That is understandable given Wisconsin's propensity to use multiple tight ends and involve them in numerous ways even before Andersen became the Badgers' head coach two years ago.
Penniston has not done an interview since Andersen's exit, but he expressed a couple of reactions on Twitter, including a desire to see tight ends coach tight ends coach and special teams coordinator Jeff Genyk remain at Wisconsin. 
He figures to have plenty of options if he decides to reopen his recruitment. Early interest prior to his initial commitment was coming from local powers USC and UCLA along with Florida State, Miami (Fla.), Washington State, Northwestern and Ohio State.
Ohio State's 2015 recruiting class currently includes one tight end, Rashod Berry of Lorain High School in Northeast Ohio. Berry is ranked the No. 25 tight end in the country, three spots ahead of Penniston, but the Buckeyes could probably use multiple players at the position in this class after signing none last year.
With National Signing Day still roughly two months away, there is plenty of time for all of that to change, of course.
---