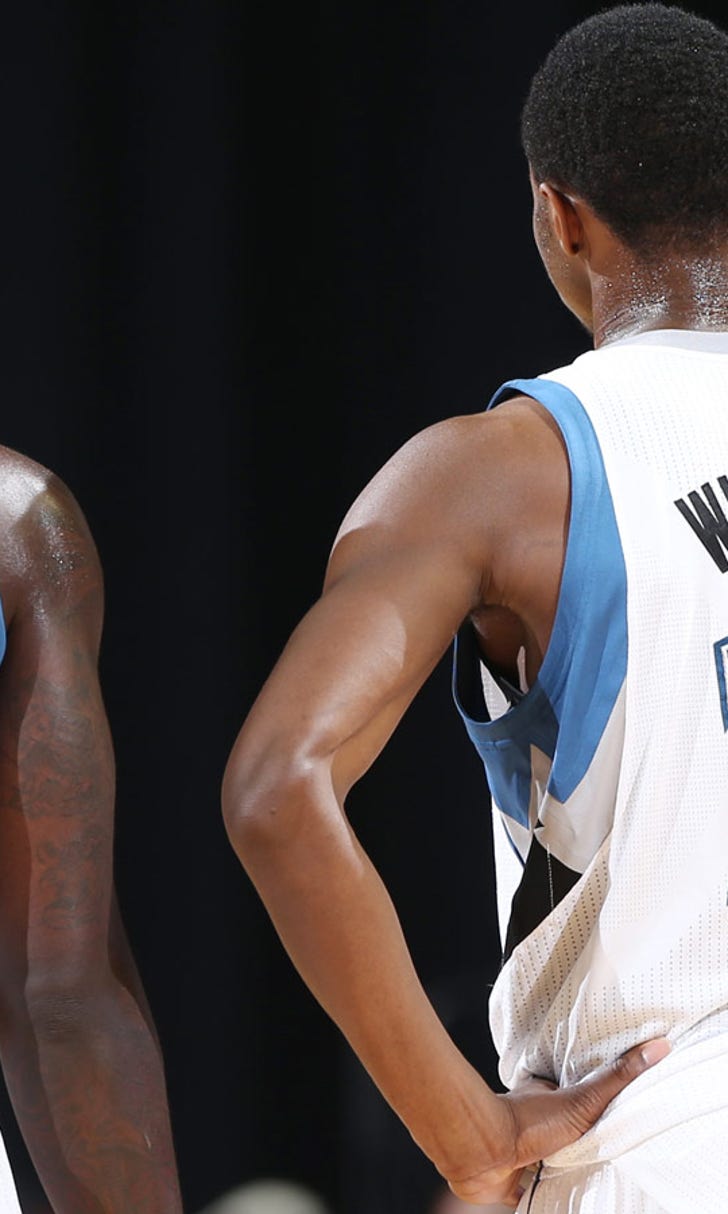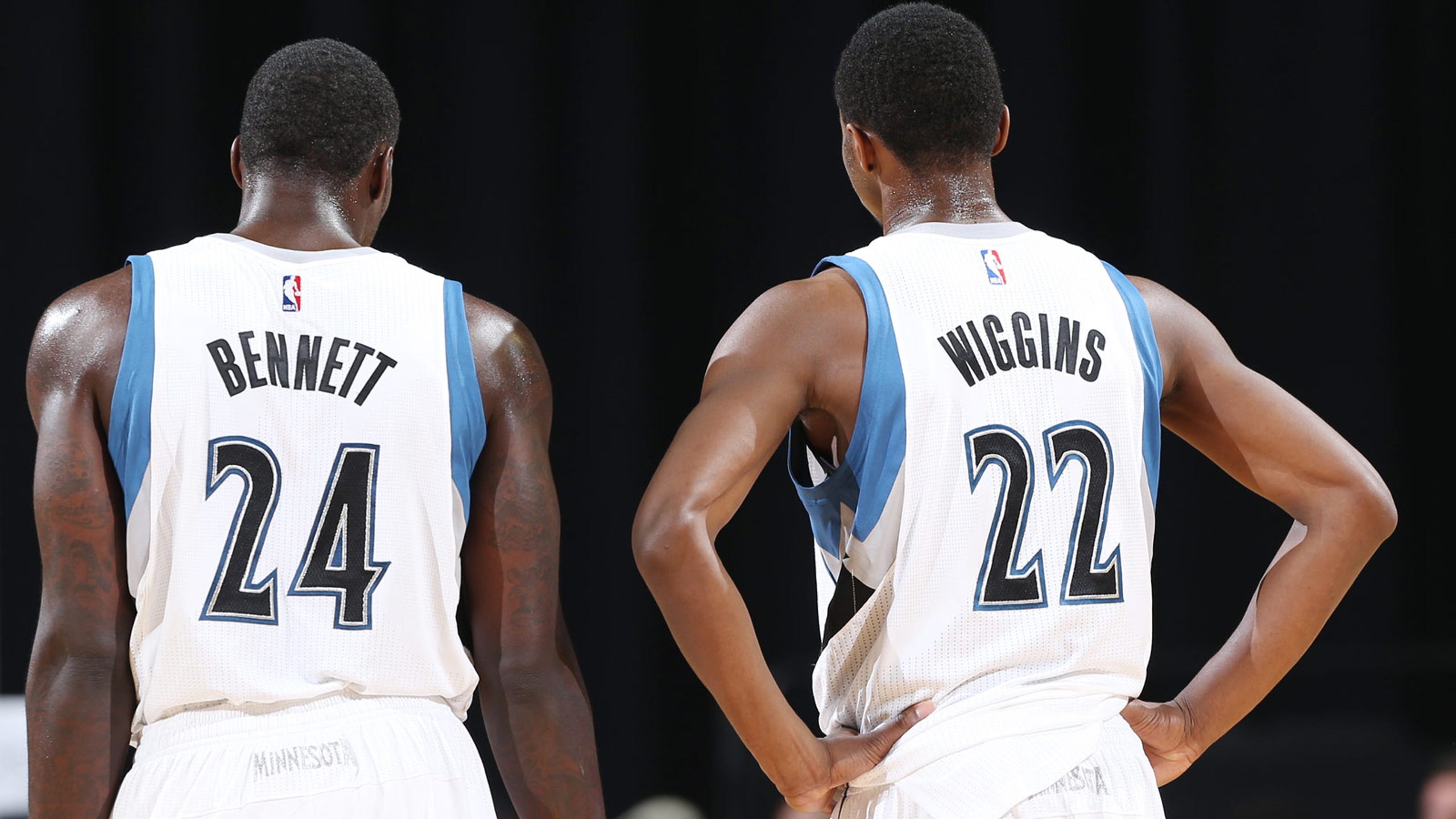 Oh, Canada: Burgeoning basketball scene to north benefits Wolves
BY foxsports • February 11, 2015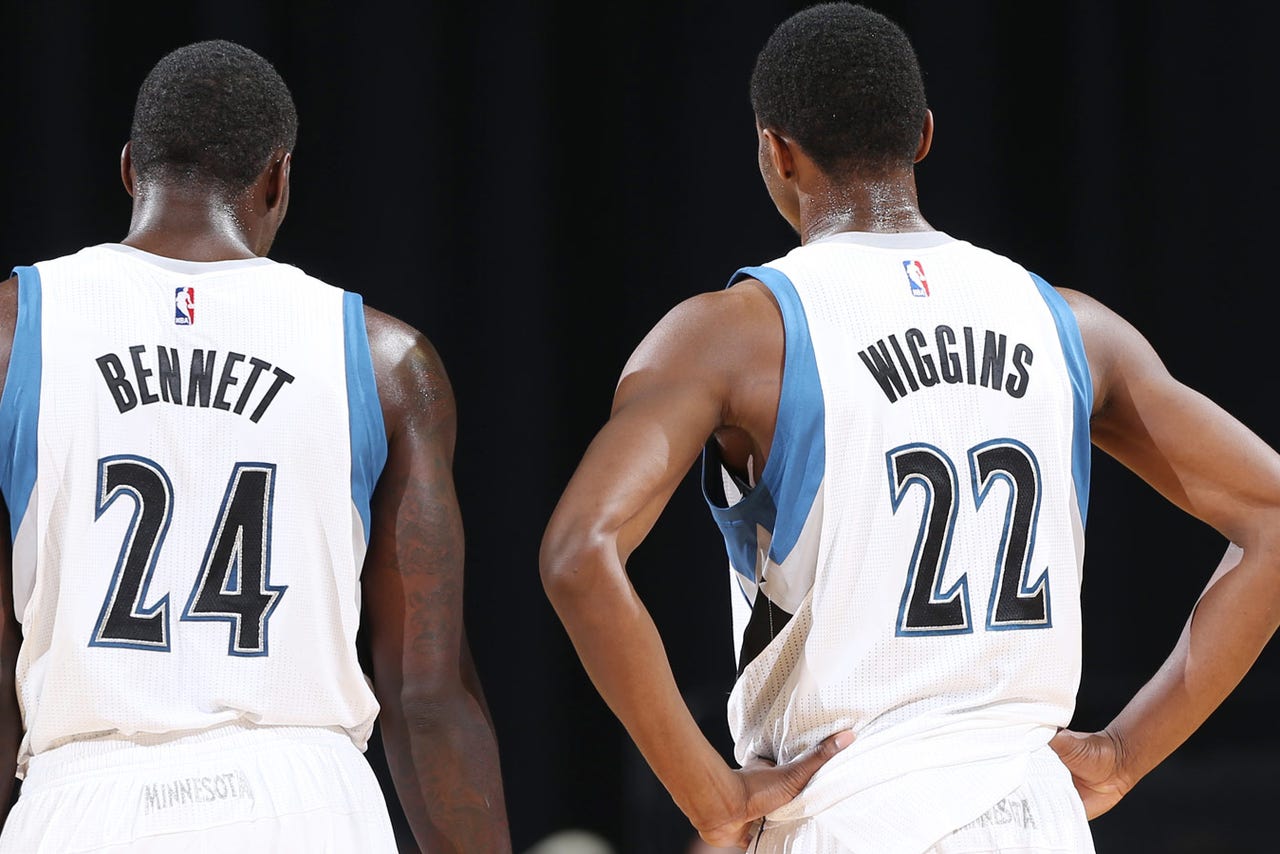 MINNEAPOLIS -- When he got to Canada in 2004, the culture shock chilled Sam Mitchell's bones as much as anything else. Driving around the Toronto-area suburbs toward the shores of Lake Ontario, the Raptors coach would pass makeshift hockey rink after makeshift hockey rink.
"Now, all of a sudden," said the current Timberwolves assistant, a Columbus, Ga., native who still has a hint of Southern twang in his voice, "there's hoops in people's driveways."
Mitchell served as Toronto's head man from 2004-09, five seasons of a phenomenon former Raptors virtuoso Vince Carter simply calls "the boom." The advancement of basketball in the United States' neighbor to the north, to the point where hoops rivals Canada's national pucks pastime, has produced a pair of No. 1 draft picks the past two seasons -- both of whom play for the Wolves -- and an increasingly deep and talented crop of young talent.
When the current NBA season began, a record 12 Canadians were on opening-day rosters. That's second only to the United States.
In 2013, Forbes claimed the growth rate of youth basketball participation in Canada exceeds that of hockey -- yes, hockey -- and soccer. It also called basketball the most popular team participation sport in the country among kids ages 12-17.
"It really has blown up to a huge proportion," said Minnesota power forward Anthony Bennett, the first-ever No. 1 overall pick from Canada. Wolves teammate, countryman and fellow Canadian AAU alum Andrew Wiggins followed up as the top pick last summer. "I feel like now, everybody's just more passionate about the game. Seeing how far people can go, they want to do the same thing."
Hockey isn't going anywhere in the Great White North. But a blizzard of factors has basketball continually claiming a primary spot in the Canadian sporting landscape, a development from which the Wolves hope to directly benefit.
Pioneers
Long before Wiggins and Bennett, even Nash and Carter, there were Leo Rautins, Jamaal Magloire, Rick Fox, Bill Wennington and Mike Smrek. The game itself was even invented by a Canadian named Dr. James Naismith, and the inaugural NBA game took place Nov. 1, 1946 at Toronto's Maple Leaf Gardens between the New York Knickerbockers and Toronto Huskies.
But until the 2000s, no Canada product became the country's NBA face.
"They didn't have that one guy that made it and made it really successful and people said 'if he made it, he's to this point, I can do it,'" said former NBA player Mitchell Wiggins, whose son Andrew and siblings grew up in Vaughan, Ontario. "You know, that blueprint guy."
That was Steve Nash, the 2005 and 2006 NBA MVP who grew up in British Columbia. Today, he serves as general manager of the Canadian National Team.
Nash made NBA dreams look attainable. Someone else made them look fun.
Air Canada
Wiggins and Bennett both grew up emulating eight-time All-Star Vince Carter at their local schoolyards. During the Raptors' ascent, nosebleed tickets cost just $9, and the current Wolves youngsters and countless other Toronto-area youth fell in love with the game from the Air Canada Centre's upper reaches, watching Carter transform the meaning of dunking acrobatics and lead the Raptors to their inaugural playoff appearances.
"That made basketball huge," Andrew Wiggins said. "Now, I feel like basketball is the biggest thing in Canada now -- or going to be, with all the players coming up."
It began when the NBA expanded northward in 1995, adding franchises in Vancouver and Toronto. The league also focused ample resources toward Canada in former commissioner David Stern's international-marketing master plan, including a handful of exhibition games north of the border.
But Carter made the "ACC" and the square outside it rock, introducing fans to a new sporting experience and a generation of youth like Wiggins and Bennett to a game they only needed a ball and a pair of sneakers to play.
"At that time," Carter said, "I think you feel the uproar rising, because it went from learning the game -- in my time, they're still learning the game and the fans are sort of understanding when to cheer, when not to cheer, so it was weird -- to sellouts to playoffs to everybody really taking notice to it.
"The boom just happened."
Now with the Memphis Grizzlies -- the club who defected from Vancouver in 2001 -- Carter jokes he feels old when a player like Wiggins, Tyler Ennis or Nic Stauskas tells him he remembers seeing him light up the Air Canada Centre. "It's terrible," Carter cracked.
Immigration reform
Starting in the 1970s, Canada began allowing non-European immigrants past its borders. That opened the door for folks like Marita Payne (now Wiggins), the mother of Andrew Wiggins, and Bennett's mother Edith to move from the Caribbean to Canada.
Between 1996 and 2006, more than 2 million immigrants entered the country, according to Forbes. Many of them came from Asia and Africa, where basketball's popularity also has seen a significant boost.
That made for a more diverse demographic than the one that made hockey Canada's No. 1 athletic activity. Wiggins, for example, braved all weather conditions to hoop with his brothers and sisters.
"They'd go to the park with their friends, they'd play basketball and they'd come home," said Marita, who was born in Barbados but went on to win two Olympic silver medals as a Canadian relay sprinter. "It was just normal. They'd play war, they'd go sledding, they would build snow forts.
"It's just that at a certain time, you start to like something, the ball looks like it sticks in your hand, it belongs in your hand, and then you start loving the game."
Accessibility
In an ever-fluid economic environment, basketball has become increasingly attractive for its sheer affordability in Canada, the United States and abroad.
"All you need is a hoop in the yard and a ball," said Mitchell, Wolves coach Flip Saunders' top aide.
But growth requires a dedication of resources, too. Canada's seen that in the form of more gyms being constructed and AAU programs competing with their United States counterparts, and sending players -- including Wiggins and Bennett -- to American prep schools, colleges and then the NBA.
Based in Brampton, Ontario, CIA Bounce alone has produced current NBAers Wiggins, Bennett, Ennis, Tristan Thompson and Gophers big man Mo Walker.
The last guy on that list is one of about 100 Division I college players that hails from Canadian hometowns. More are coming up the Canadian pipeline, fostering hope of a Maple Leaf dynasty that competes at the Olympic and international levels.
If that's to take place, Andrew Wiggins will likely be at the helm.
"It's been great seeing a lot of different people accomplish a lot of different things," said Andrew Wiggins, who will join fellow Canadian Kelly Olynyk on the World team in Friday's BBVA Compass Rising Stars Challenge, part of All-Star Weekend. "Everyone can see Canadian basketball is really evolving into something special."
And there's an acute sense of national pride that comes with it.
"Always," Wiggins said. "Just like Americans represent America, we represent Canada, no matter where we're at, we're always going to represent where we're from. We're proud to be from there."
Follow Phil Ervin on Twitter
---