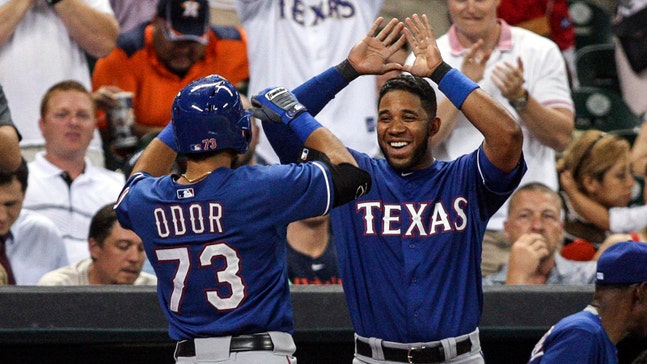 Odor's first homer, Lewis' solid start lead Rangers over Astros
Published
May. 13, 2014 12:50 a.m. ET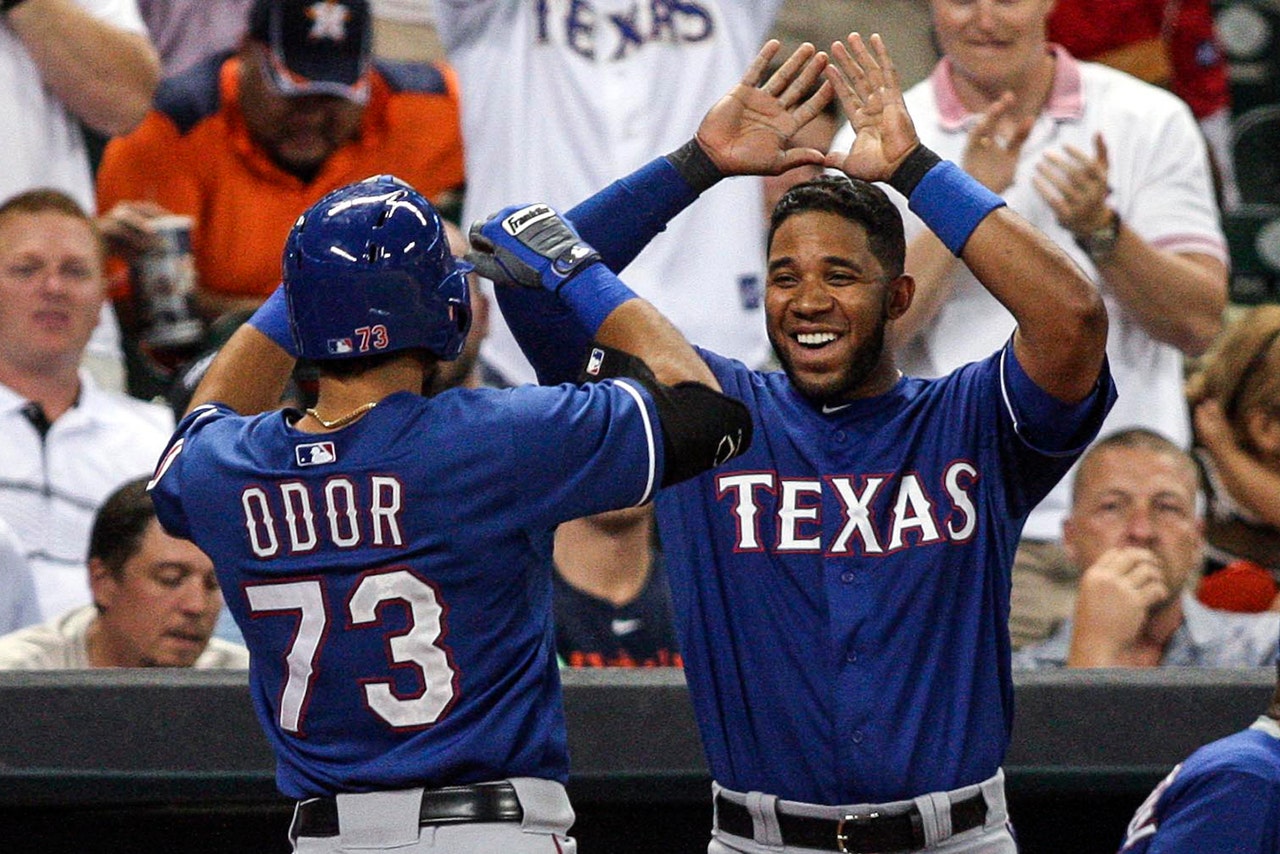 HOUSTON - For the first time in two games, the pitching didn't give the Rangers any problems as starter Colby Lewis threw 5 2/3 shutout innings and the bullpen held to give Texas a 4-0 win over the Houston Astros.
Lewis, who struck out eight batters, gave up two walks and seven hits in route to the win Monday night, made sure to keep the Astros at bay after being knocked around in his last start against Colorado.
"You gotta give credit to Colby," Rangers manager Ron Washington said. "He made pitches when he had to, he had a pretty good breaking ball and was able to spot his fastball, and he was able limit the damage."
While Lewis' solid start was one major storyline, rookie second baseman Rougned Odor did all he could to steal the show with his big night at the plate, collecting his first-career RBI in the fourth inning along with smashing his first-career home run late in the sixth off Astros starter Brad Peacock.
"He swung the bat well, especially that base hit he got up the middle. He [Peacock] threw him a fastball away and he stayed on the pitch, didn't try to do much with it but hit it were it was. Then he went up there and took a chance that he was going to throw first pitch fastball and got the homer on him," Washington said.
While getting his first-career homer was indeed a special moment, Odor was just happy he was able to contribute to his team's win.
"I got a chance to help my team out, winning the game. I'm very content with that," Odor said.
Adrian Beltre also hit a homer in the third inning to give the Rangers an early 2-0 lead, all the run support Lewis would need.
"It was overall a good night," Lewis said. "[Beltre] came up with a big homer early, Odor got his first RBI and first homer as a rookie, so that's pretty exciting for him. It just kind of worked out where they scored enough runs to make me more comfortable out there to kind of just attack the strike zone a little bit."
Lewis was also helped out by some stellar defense, notably from catcher Robinson Chirinos who threw out two runners at second base, including catching Astros leadoff hitter Dexter Fowler in the bottom of the third to end the inning.
"I kinda feel like they are kinda picking on me a little bit out there," Lewis said. "I'm a little bit older guy, being a little bit slower to the plate, they've been running on me quite a bit. Chirinos did his job. He's definitely getting really, really quick out there and making a name for himself throwing out guys."
With a solid outing from the Rangers, Washington is hoping the trend will continue in the future as the team tries to shake off some of its recent struggles.
"It's about consistency. They are capable of doing it," Washington said. "We had a bad spell pitching wise. Hopefully we can keep working and get consistent, that's what we plan on doing."
Follow Shawn Ramsey on Twitter: @ShawnPRamsey

---