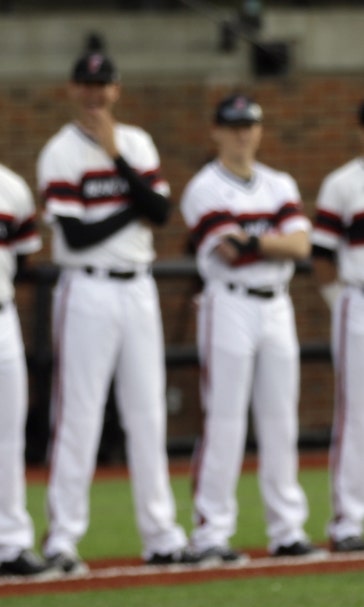 Nuxhall's legacy living on with college tournament
April 14, 2015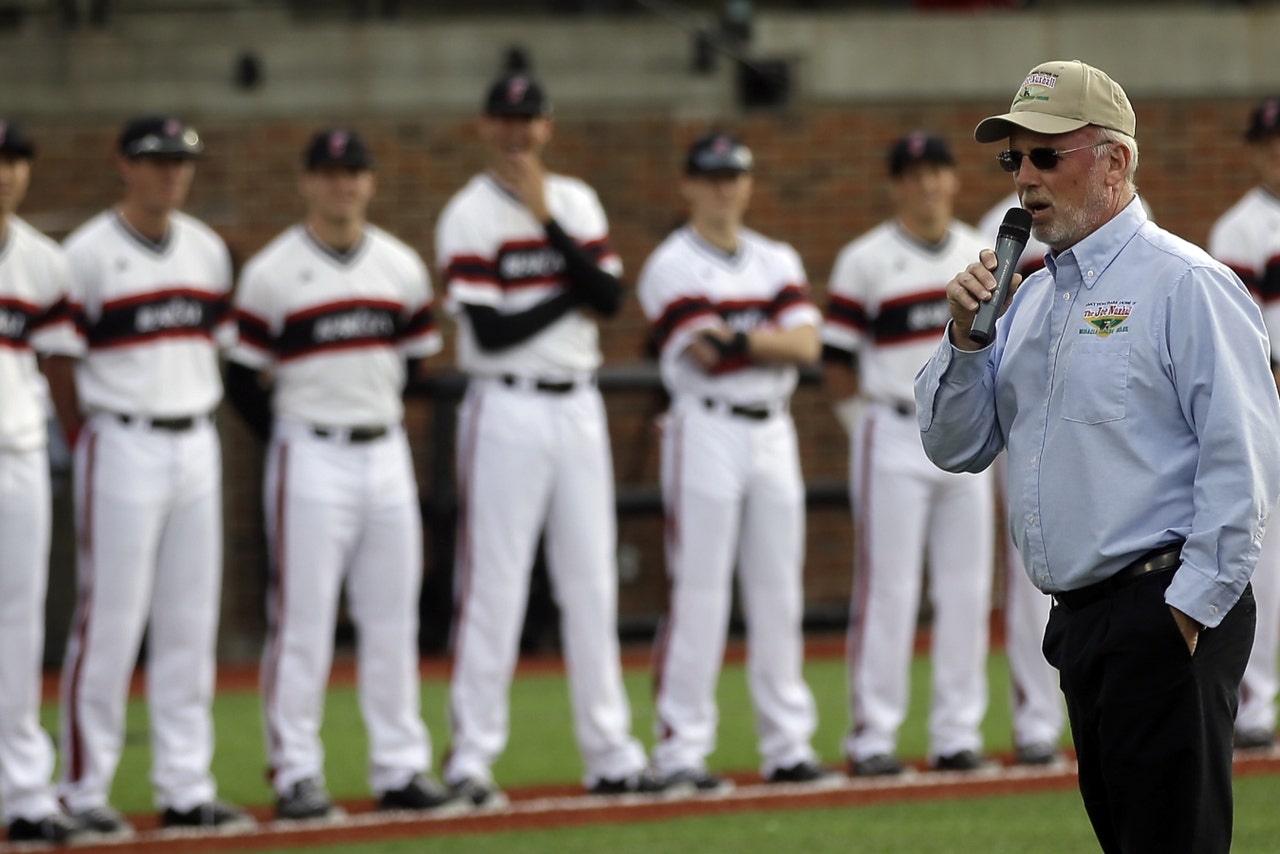 CINCINNATI -- Danny Hayden is like so many children of Cincinnati. He grew up listening to Joe Nuxhall call Reds games on radio. Hayden played in high school at McNicholas on Cincinnati's east side and then in college at both Miami and Xavier. He's now in his second season as the head coach at Miami.
"It's funny but I think it's a little bit of the legacy of Joe Nuxhall that we've got guys on our team that probably who have forgotten who Chris Sabo is or somebody like that who I grew up idolizing," said Hayden, "but say 'Joe Nuxhall', who hasn't played baseball in however long it's been, and people still know his name."
Nuxy is hard to forget, even seven years after his passing.
This is the seventh season the baseball programs at Miami, Xavier, Wright State and Cincinnati have honored Nuxhall's name and legacy by playing in the Joe Nuxhall Classic. This year's two-day tournament is being hosted by UC and got underway Tuesday at Marge Schott Stadium. Wright State beat Miami in Tuesday's first game, 7-3, while UC freshman pitcher Tristan Hammans threw a shutout in his first career start, retiring the final 11 Xavier batters and 16 of the final 17 he faced in a 4-0 win for the Bearcats in the nightcap.
Xavier and Miami will play at 3 p.m. Wednesday, while UC and Wright State play at 7 p.m. in this year's championship game.
This tournament goes beyond who wins its trophy.
"I want people to know that there is very good baseball being played in not just this city but between Cincinnati and Dayton, and this is amateur baseball at its highest level," said UC coach Ty Neal. "It's exciting. When you're talking about amateur baseball you're talking about a bunch of hungry 18-to-22 year olds who are chasing a dream."
Nuxhall knew about dreams. He is the youngest player ever in Major League Baseball history, signing his first contract in 1944 at the age of 15 and pitching in a game for the first time that June. His playing career ended after the 1966 season and he got into broadcasting a year later. His first broadcasting job was at Miami.
"It would have been something he would've been really touched by," said Kim Nuxhall, Joe's son and the director of the Joe Nuxhall Character Education Fund.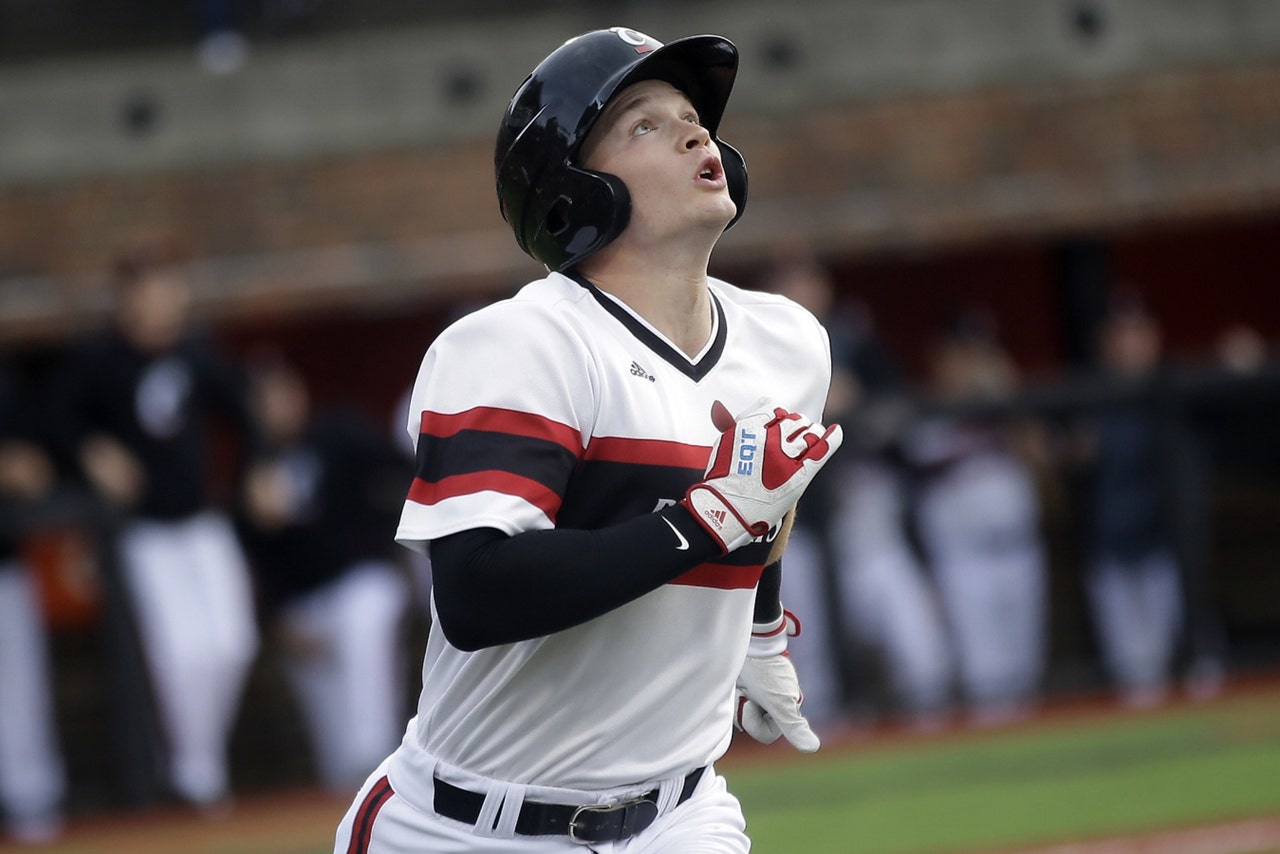 Cincinnati Bearcats outfielder Ian Happ.
Kim Nuxhall threw out a ceremonial first pitch prior to the UC-Xavier game after all four teams lined the base paths to honor his father's legacy, which was a combination of baseball and academics.
"I don't know if it's a regret he had but he was never able to go to college and I think his experience with Miami University, working with the university and being around the kids, sometimes I think he wishes he had been able to go to college," said Kim Nuxhall. "He would have very touched by this. He always preached to everyone to Plan B. Not everyone can play in the major leagues. What's Plan B? That's college to me."
Wright State is having the best season on the field of the four teams. The Raiders improved to 23-10 with their win against Miami, which is struggling at 6-25 after winning the MAC East last season. Xavier is coming off a season in which it reached the NCAA tournament but the Musketeers' loss Tuesday was their 11th in a row as they fell to 8-26. UC improved to 12-22 after winning for the sixth time in its last eight games.
All four coaches -- Hayden of Miami, Neal of UC, Greg Lovelady of Wright State and Scott Googins of Xavier -- said the potential for their programs to grow and excel is high because of the fertile baseball area they're located.
"When you get into areas like Cincinnati, I just think it's a huge metropolitan area for baseball," said Lovelady, who grew up in Miami, Florida, and played at the University of Miami, one of college baseball's premier programs. He was an assistant to Ron Cooper at Wright State for nine seasons before taking over last year.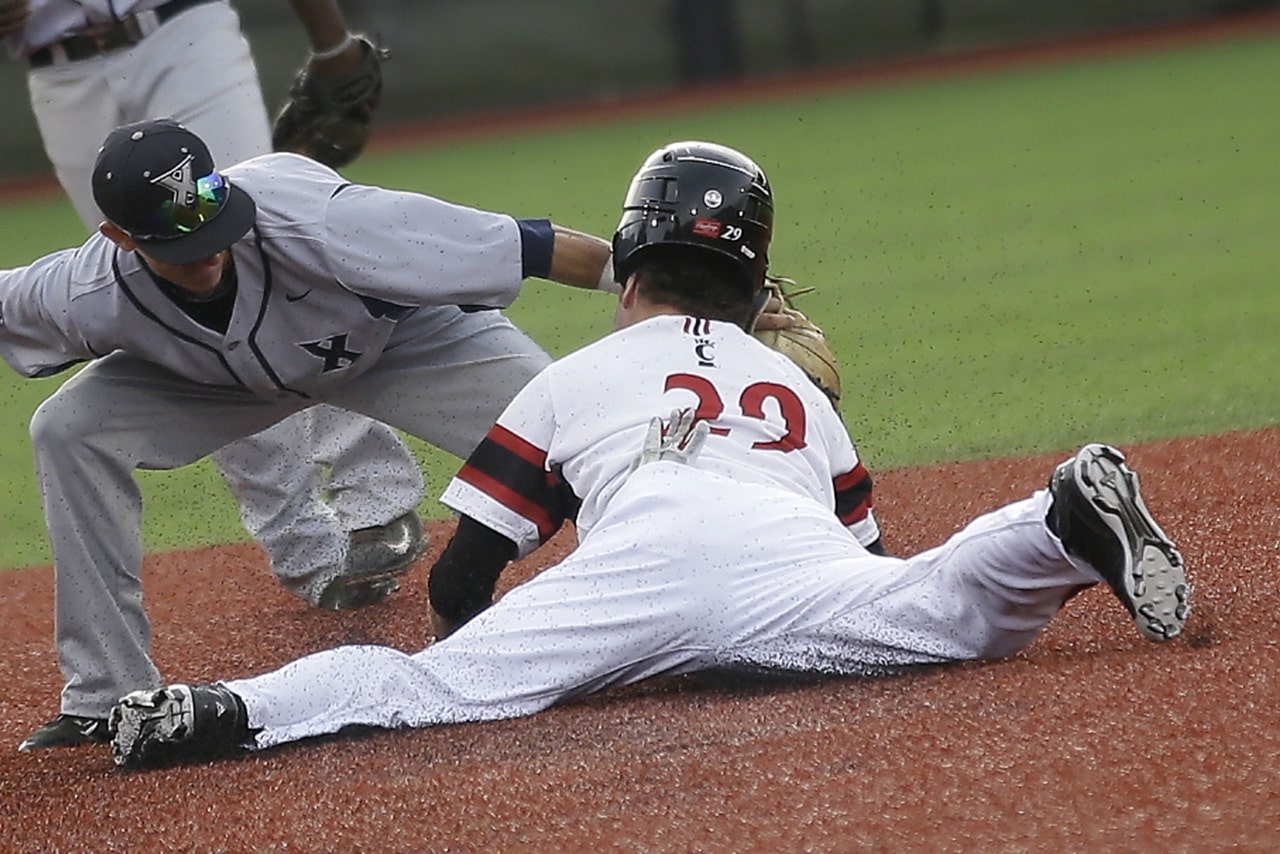 Xavier's Rylan Bannon tags Cincinnati's R.J. Thompson on a steal attempt at second base.
"I don't think you see that much except in some very big cities like Miami or Atlanta. When you talk about cities that produce some of the greatest high school baseball I think this is one of them," said Lovelady. "I think that's a huge advantage for us."
The Joe Nuxhall Classic is a way for these college programs to promote themselves and amateur baseball as a whole in the area. It's also a way to honor the memory of one of the most beloved men ever to call Southwest Ohio his home.
"I'm a little bit older and back when I grew up all you could do was listen to Marty and Joe, or had the Game of the Week on Saturdays so maybe you got to see the Reds once a week," said Googins. "This tournament is a great way to honor him. I met Joe several times. He was a great announcer, but an unbelievable human being. He was very generous with his time. It's an honor to play in this tournament."
---