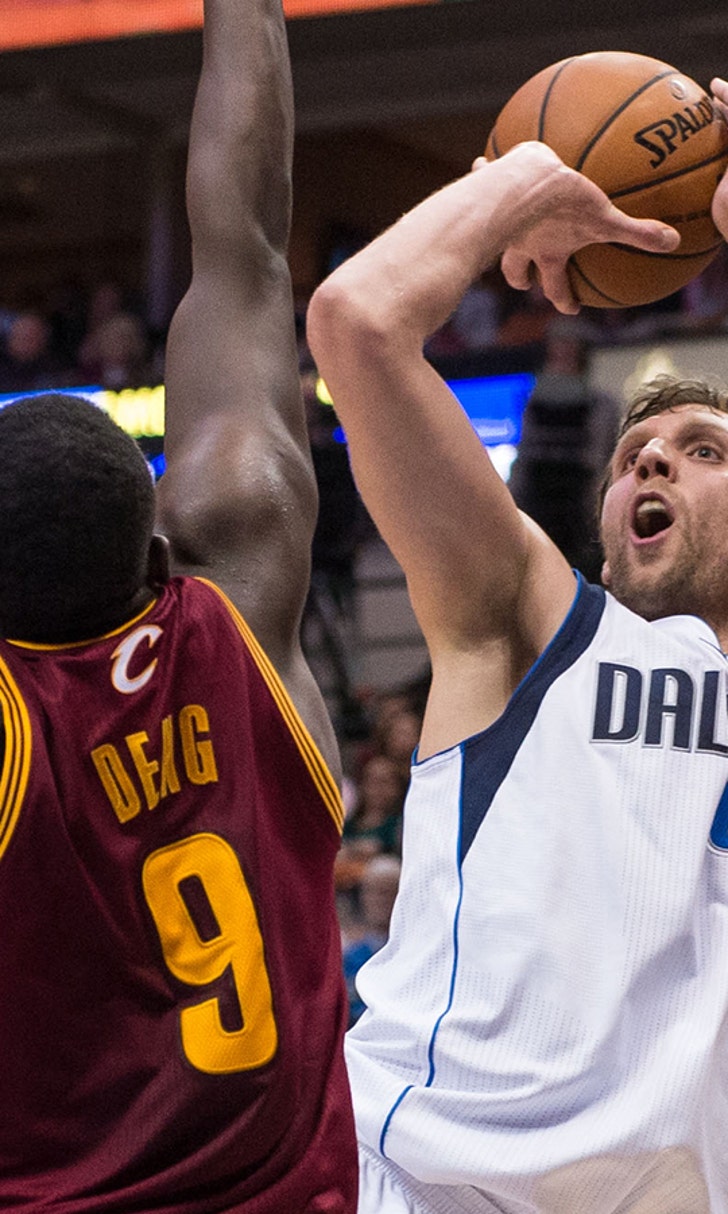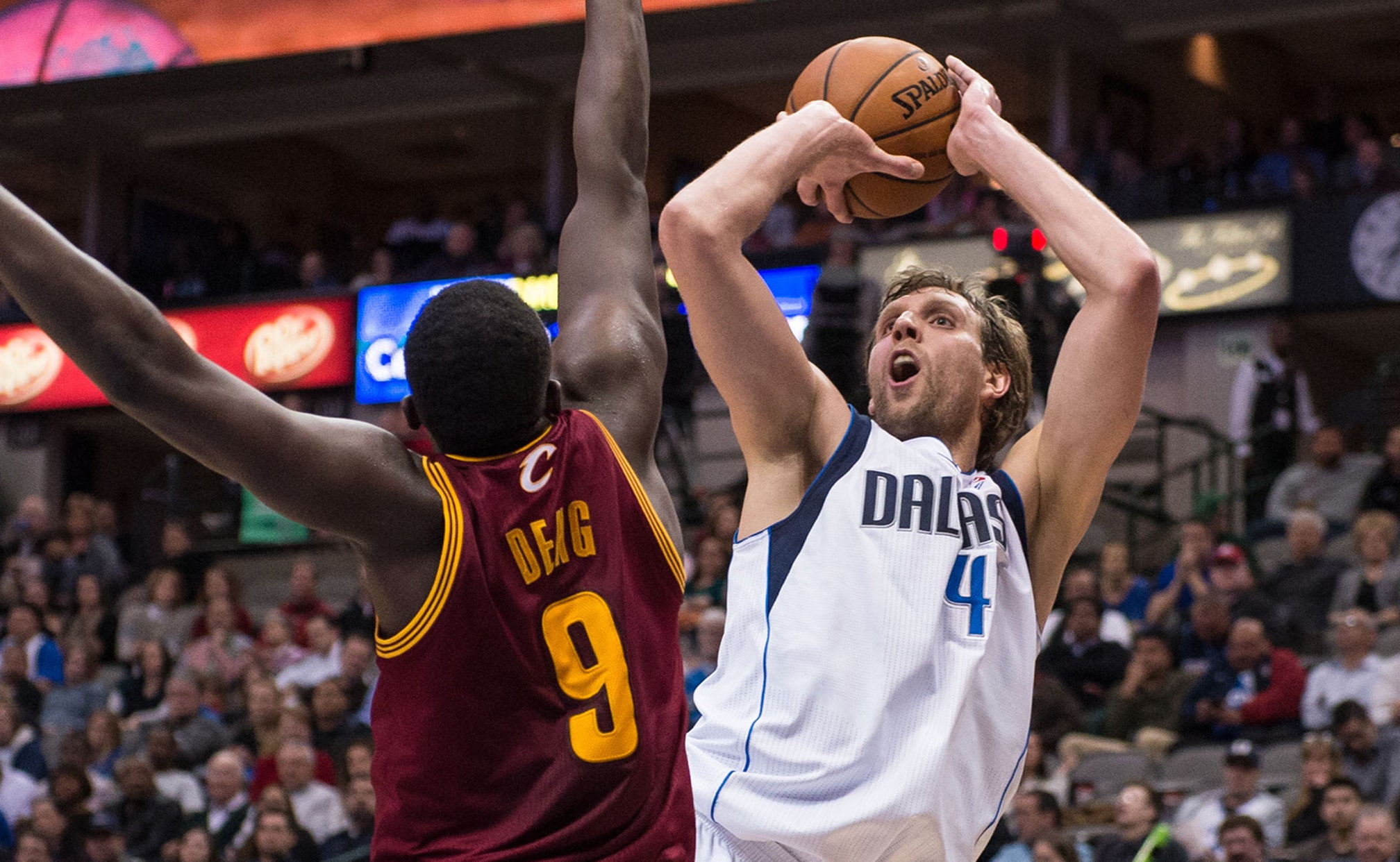 Nowitzki leads Mavericks past Cavs
BY foxsports • February 3, 2014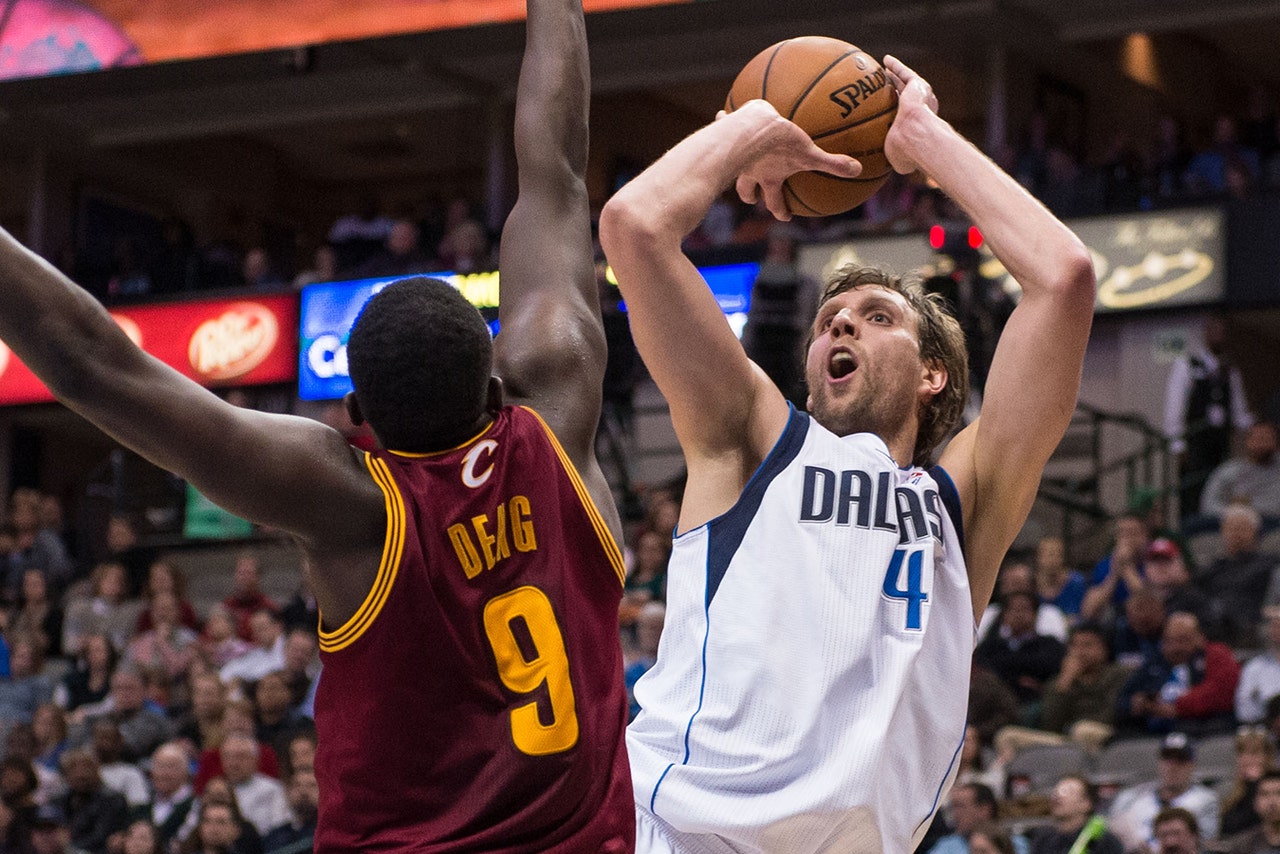 DALLAS (AP) -- Dirk Nowitzki was watching when the Dallas Mavericks took a double-digit lead for good against the Cleveland Cavaliers.
The steady progress of Devin Harris had a lot to do with the surge.
Nowitzki scored 23 points, Harris had a season-high 16 and the Mavericks pulled away from Cleveland 124-107 Monday night, handing the Cavaliers their fifth straight loss.
Nowitzki was on the bench for most of a key third-quarter stretch led by Jose Calderon, Brandan Wright and Harris, who was playing his eighth game after missing the first 41 following offseason toe surgery.
"Just trying to get comfortable out there," Harris said. "I am trying to make the most of my minutes."
Harris had seven points on a 9-2 run that gave the Mavericks their first 15-point lead, and Wright scored nine of his 14 points in the third. Jose Calderon had four of his game-high 10 assists in the quarter and hit a pair of 3-pointers.
"We're just passing the ball and trying to get a really nice pace," said Calderon, who scored 11 points. "I think it was good for us."
Kyrie Irving had 27 to lead the Cavaliers, who have dropped seven of their last eight.
Anthony Bennett, Cleveland's rookie No. 1 pick averaging just 2.8 points per game coming in, had eight in the second quarter and finished with 11.
"There were a few instances in this game where we gave ourselves a legit chance to get into the game, but we just couldn't get over the hump," said Irving, who scored at least 20 for the ninth time in 10 games.
Dallas' Monta Ellis started fast after going most of the first half without scoring Friday against Sacramento and finished with 22 points and seven assists.
Harris had his previous season high of 14 points in three straight games before getting seven in Friday's win over Sacramento. He finally broke the 14-point mark with two free throws, and then assisted on a dunk by Samuel Dalembert that gave Dallas its biggest lead at 106-87.
Dalembert had 18 points -- two off his season high -- and two blocks after not even attempting a shot and getting three rebounds when the Mavericks held on to beat the Cavaliers last month in Cleveland, despite a combined 37 points and 31 rebounds from Tristan Thompson and Anderson Varejao.
"I can't guarantee you the offense because some days the ball is coming to me and some days I only take one field goal," Dalembert said. "What I'm trying to do is make sure the guys are crashing the boards."
Five days after Cleveland general manager Chris Grant questioned his team's will, the Cavaliers didn't quit. They scored eight quick points and had a chance to make it nine when Jarrett Jack got fouled after making a 3-pointer.
Jack missed the free throw, and the Cavaliers couldn't get the deficit under 10 after that.
Luol Deng scored 18 points, Thompson had 17 and both had eight rebounds for the Cavaliers, who had seven players in double figures.
"I thought offensively we did some nice things out there," Cleveland coach Mike Brown said. "We've got to keep grinding until we get out of it. The only thing we can do is work, keep our head up and keep looking forward."
Nowitzki, who was averaging 33 points in his previous three games, had 16 in the first half and matched Dalembert with eight rebounds for the game.
Nowitzki scored the last eight points on a 13-2 run that put the Mavericks up 52-39, but he missed his last three shots of the first half as the Cavaliers got back within seven at halftime.
Ellis followed up an 11-point fourth quarter that boosted a rally to beat Sacramento with 13 points on 5-of-6 shooting in the first half against Cleveland.
NOTES: Mavericks F Shawn Marion missed his second straight game with lingering issues from shoulder and rib injuries. He's missed six games since getting hurt Jan. 7 against the Lakers. ... Varejao started after being questionable with a left knee injury. He recorded both the 4,000th point and 4,000th rebound of his career. ... Rookie G Shane Larkin was back with the Mavericks after a one-game stint with their D-League affiliate in suburban Dallas. His playing time has dipped significantly since Harris' return. ... Ellis had six of Dallas' 13 turnovers after ending a 114-game streak with at least one turnover by going without one against Sacramento. The Mavericks had a season-low four as a team against the Kings.
---