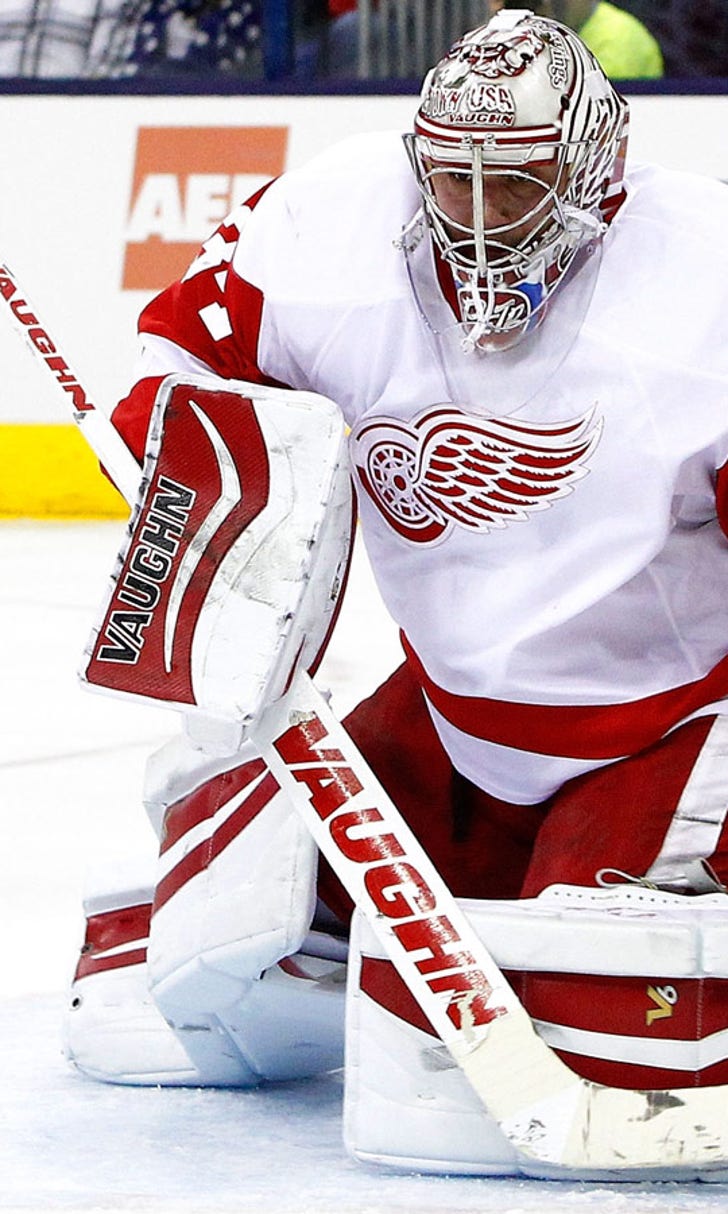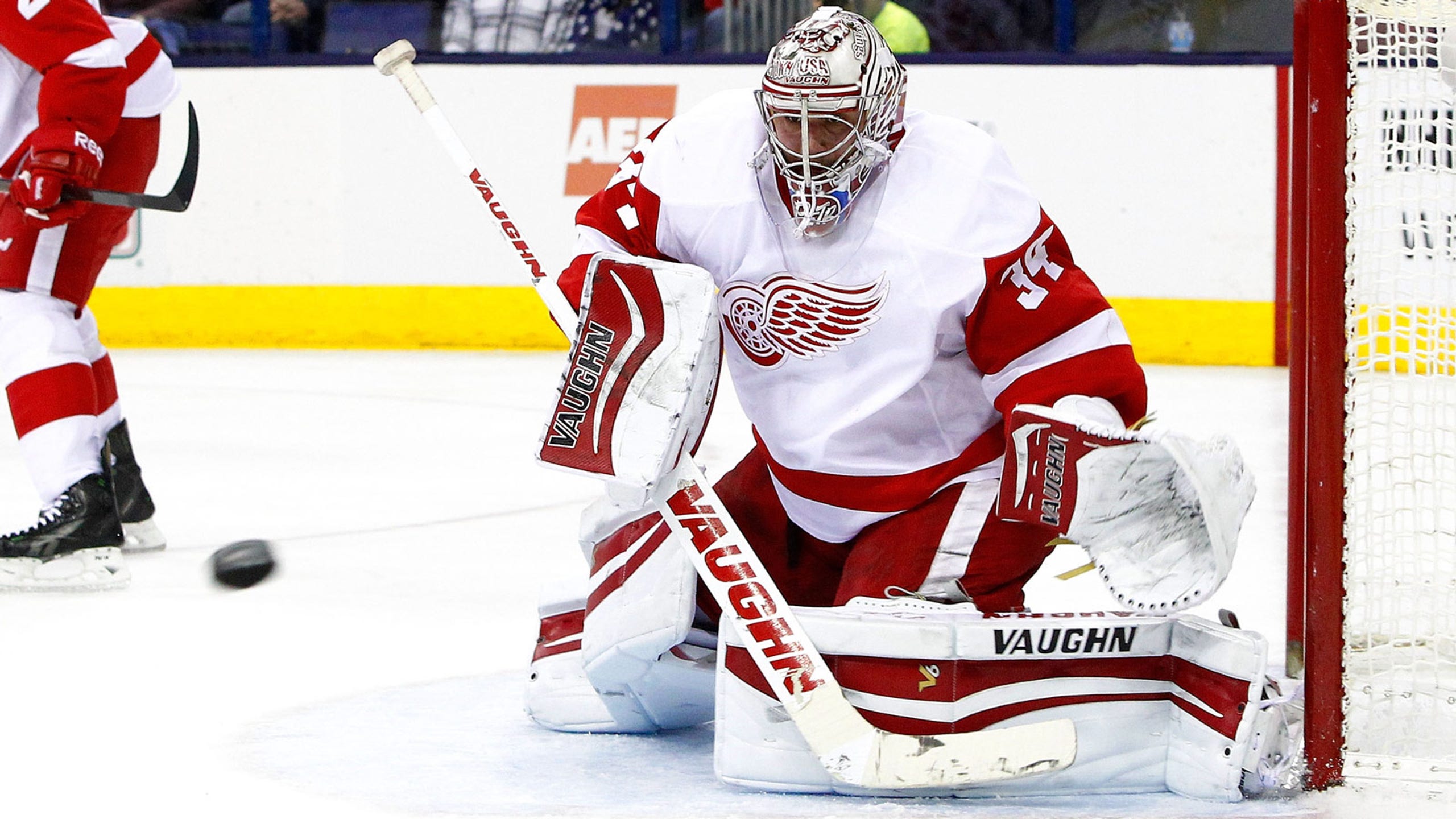 Notes: Mrazek to make season debut Thursday
BY foxsports • November 19, 2014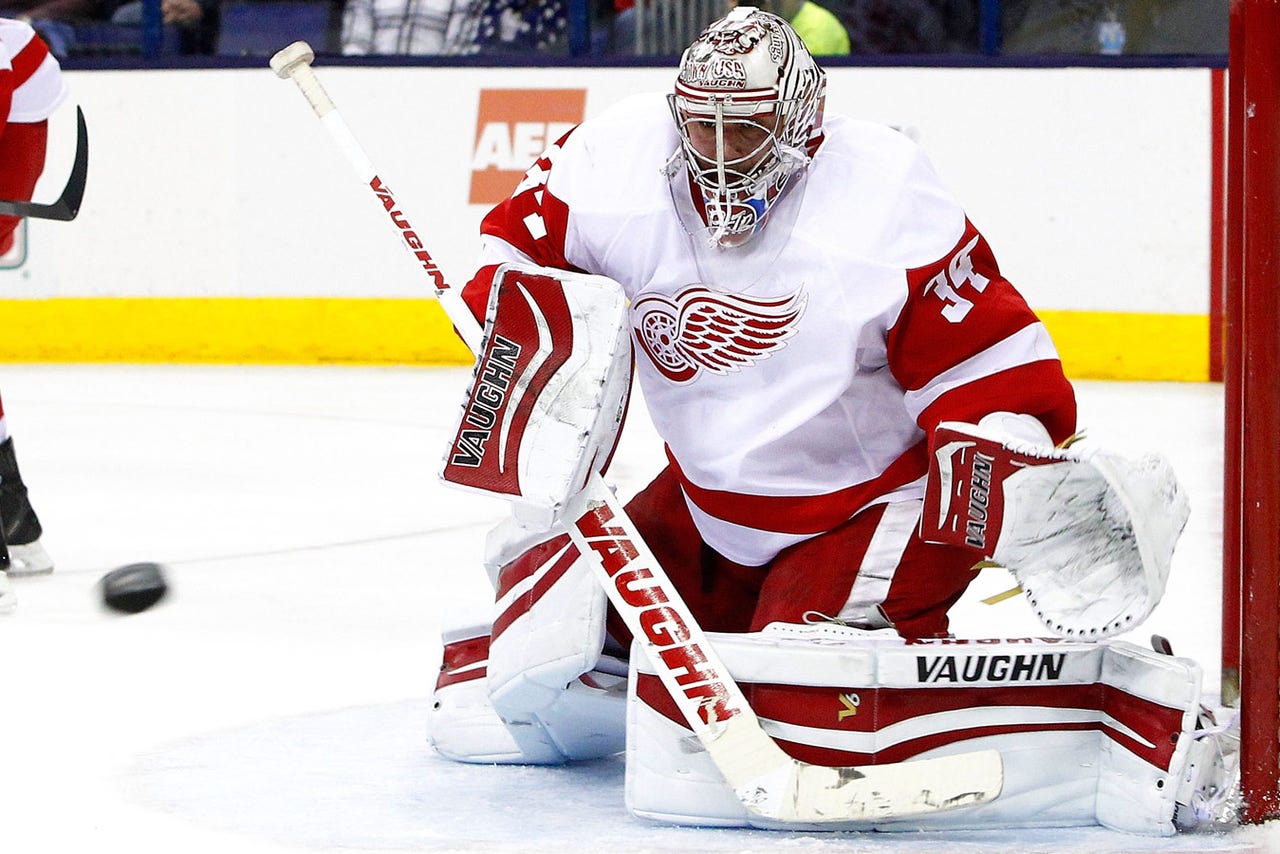 DETROIT -- Petr Mrazek will make his 2014-15 Red Wings debut in goal Thursday night in Winnipeg.
"I'm pretty excited," Mrazek said after Wednesday's practice at Joe Louis Arena. "I hope I will play good and we're going to win there."
Mrazek, 22, got the call-up when Jonas Gustavsson went down with a dislocated shoulder.
Mrazek will be playing in his first NHL game since last April 13 at St. Louis, a 3-0 shutout in which he had 23 saves.
Last season Mrazek played in nine games, finishing 2-4-0 with a 1.74 goals-against average and .927 save percentage.
Mrazek said the feeling is different now that he has a little NHL experience.
"The first time I came here, I didn't know what to do, I didn't know what to think about the NHL," Mrazek said. "I figured it was going to be faster. Now it's a year and a half since I played my first NHL game, so it's more comfortable now."
Last week the Wings had a light schedule so they sent Mrazek back to the Grand Rapids (AHL) Griffins so he could play in two games before returning to back up Jimmy Howard.
"I was happy that I went there and played two games, because the start we had in Grand Rapids wasn't good," Mrazek said. "We didn't play much. We'd play once a week and I just got cold. I was up here a couple of days and they asked me to go back there and play two games, so I was pretty happy for that."
Wings coach Mike Babcock said he expects a win from his young goaltender.
"He's been great," Babcock said. "It's a big game for him (Thursday) night. He's like lots of kids, he plays better than he practices, he's got to learn how to practice good so he can play good consistently. But he's a real gamer and he's been good."
The Wings know Mrazek a little bit from the last couple of seasons and then in practice the last couple of weeks.
"He's a hard-working guy, competes on every puck," Darren Helm said. "Really athletic guy. I expect him to have a good game and help this team win."
NO SMITH, MAYBE NO PAV
Pavel Datsyuk, who did not travel to Columbus because of a sore groin, did not practice Wednesday, but is expected to make the trip to Winnipeg.
Also missing from practice were defensemen Brendan Smith and Jonathan Ericsson.
"Smith, they're keeping him back, hand infection from the fight (Tuesday) night," Babcock said. "I don't know what happened but that's what's going on and then Ericsson is a maintenance day."
Babcock said Smith would not travel with the team but could meet up with them later.
PLAN FOR WEISS
Stephen Weiss will get his second chance at a conditioning stint with the Griffins this week.
Weiss, who has been practicing with the Wings regularly since suffering a setback the last time he went to Grand Rapids, said he would play a road game with the Griffins Friday and then would likely play a Saturday home game.
"Everything has been great," Weiss said. "I've had no issues, just really looking forward to playing a game."
Weiss missed most of last season after having core muscle surgery and then underwent a second surgery to clean up scar tissue.
"He's gotta get himself going," Babcock said. "This business is straightforward. The coach and the management, they play the guys they think can help them win. When you haven't been healthy, you gotta get yourself playing. We got an obligation to help him help himself so that's what we're trying to do but his part is to play well so he can get in the lineup and get playing."
If all goes well, Weiss will rejoin the team when they return home in time for Monday's home game against Ottawa.
"I'll be back. I don't know if I'll be playing, that's up to Babs," Weiss said. "The plan is to go and get my feet wet a little bit and play a couple games, play a lot of minutes and then come back and be available to play whenever."
HOME FOR HELM
Helm will be returning home to Winnipeg for Thursday's game, which means procuring a lot of tickets for family and friends.
"I haven't gotten the final numbers," Helm said. "It was looking around 20 a couple days ago so we'll see what the final total is in the next couple hours."
Helm played last season in Winnipeg but it was just his second game back in his return from injury.
"It didn't go too well," Helm said of the 4-2 loss last Nov. 4. "Hopefully, got the whole season played so far. Feeling a lot better than I did going into Winnipeg last year. Looking forward to it and hoping I can have a better showing."
Helm scored his second goal of the season in Tuesday night's 5-0 win at Columbus, part of an overall positive night for him.
"I thought the game last night in general I played a lot better, so that'll give me some energy," Helm said. "The goal itself, hopefully I can feed off of it a little bit. It's not what I look at when I'm playing good hockey."
Helm may not be the biggest player at 6-feet, 196 pounds, but that didn't stop him from going to the net in Columbus.
"I think he's pretty good in front of the net, around the net," Tomas Tatar said. "He's fast and kind of slimy so I think the goalies don't like him to be there. On (Tomas) Jurco's goal, he was standing there, unreal, (Sergei Bobrovsky) didn't see anything. It was a good shot from Jurcs but if Helm is not there I don't think the puck would go in because (Bob) would see it."
WINGS RECALL OUELLET
The Detroit Red Wings today recalled defenseman Xavier Ouellet from the AHL's Grand Rapids Griffins and placed defenseman Brendan Smith on seven-day injured reserve.
---