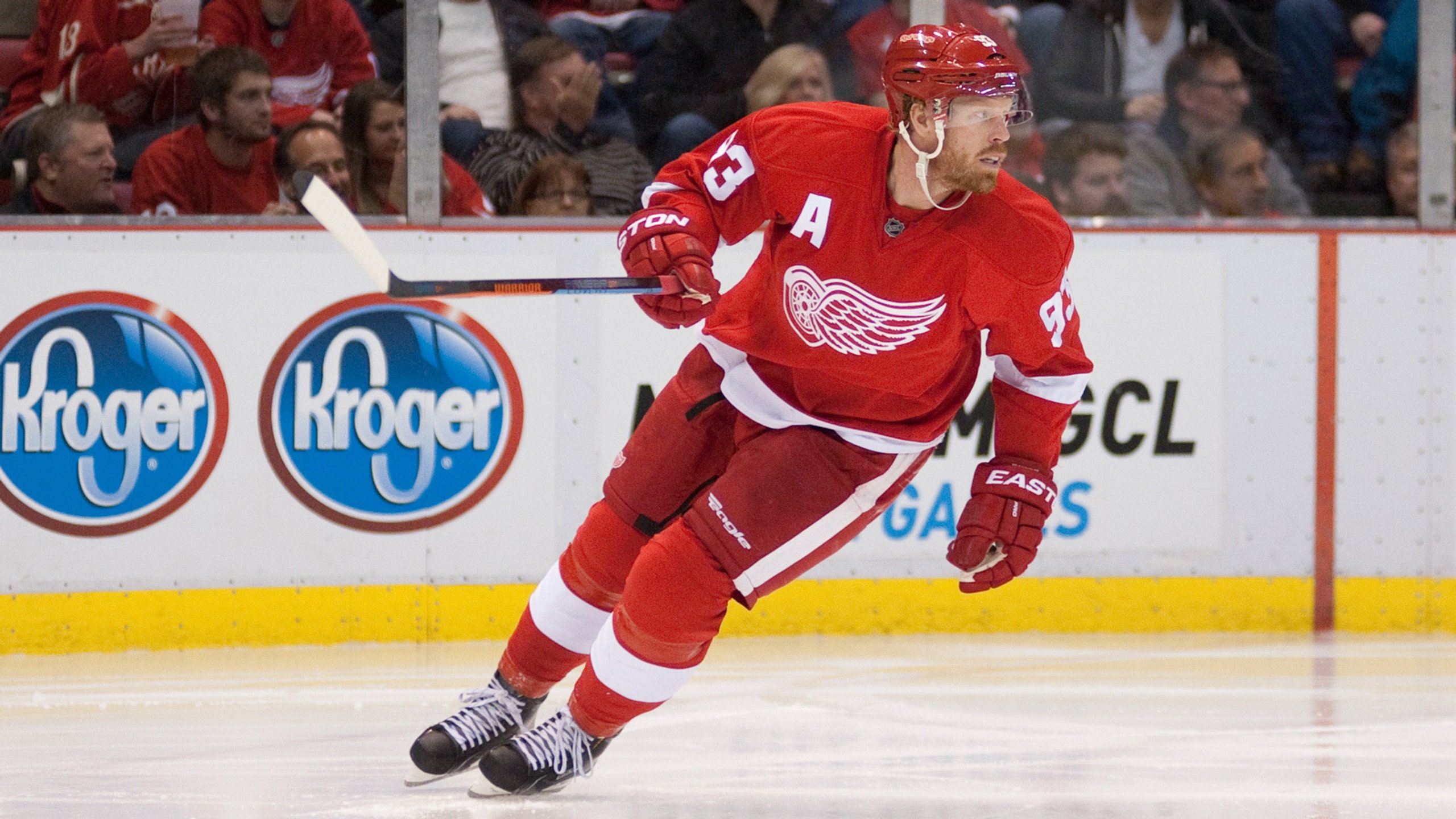 Notes: Franzen set to return Friday
BY foxsports • December 18, 2014
DETROIT -- The Red Wings will get one of their top offensive players back for Friday's game.
Johan Franzen, who missed Tuesday's shootout loss to the Columbus Blue Jackets because of illness, practiced with the team Thursday and said he should be good to go.
Franzen said he's not felt well for a while.
"I've been battling stuff the last few weeks," Franzen said. "Enough was enough. I just needed to get rid of it. Sunday I got really, really sick. Tuesday I tried to skate in the morning skate and I was really shaky. I just was running on empty."
Although there's been a lot of players around the NHL who have gotten mumps, Franzen said he wasn't concerned about that.
"No, I've just been battling flus, stomach flus, regular flus, for the last few weeks," Franzen said. "I just haven't been able to get healthy. Beginning of this week I just felt really, really awful, like no energy, nothing. I figured I needed a couple days just to get healthy."
Franzen said he underwent an array of tests which did not show mumps or anything out of the ordinary.
Franzen is tied for fourth on the team with 19 points (six goals) in 25 games.
The Wings could use some scoring help as they have managed just seven goals in the last five games.
"We didn't generate chances last game like we would," Wings coach Mike Babcock said. "Up until last game, I didn't think it was as big a deal. The game in Toronto we were awful but now it's starting to become a pattern. It's not like we started to react today. We've been reacting since the first one. It's like anything. We didn't score for a long time, we found ways to win defensively. 
"We got to score a little bit more and we got to keep it out. But I thought Howie (Jimmy Howard) had a great game the other night. I thought Howie was better than our team."
ABDELKADER NO WORSE FOR WEAR
Justin Abdelkader returned to the lineup Tuesday after missing seven games with a slightly separated shoulder.
"I felt pretty good," Abdelkader said. "Obviously condition-wise, I got tired fairly quickly. No worse. It's going to be one of those things where it's going to be sore for a bit but I'll be able to play through it. It's manageable."
Abdelkader played on a line with Henrik Zetterberg and Gustav Nyquist. 
He had 23 shifts for 16:28 ice time, recorded one shot and two hits against the Blue Jackets.
WEISS NOT READY YET
Stephen Weiss, who suffered a shoulder injury last Friday against the Florida Panthers, is eligible to come off injured reserve Saturday.
So there is a chance he could be ready for Sunday's game against the Colorado Avalanche.
Weiss practiced Thursday with the team.
"It's tough to say," Weiss said. "That's what I'm shooting for. I'm hoping it's ready by Sunday, but we'll know Saturday. It's tough to say right now. It really is like a day-to-day type thing."
Weiss said the play in which he went into the boards after a hit from Sean Bergenheim was an odd one.
"I was just kinda slightly turning and just lost my balance," Weiss said. "It wasn't a bad hit or anything, just I don't know, it really was a weird play. I just fell forward and lost my balance at a bad spot, a couple feet from the boards. I had to put my arm up to protect myself and sometimes you get away with it and sometimes you don't."
Weiss said he could tell right away that something was wrong.
"There was only a few seconds left in the second so I went into the room," Weiss said. "I tried to come back but I couldn't get my jersey on. So it was a good sign there that it probably wasn't smart to go out."
Weiss said the first few days afterward he was quite sore but things have improved.
"It started coming around here in the last few days, and now it's a matter of being able to take contact," Weiss said. "Everything else is good enough, but just not ready for contact yet."
The one positive thing about a shoulder injury is Weiss is still able to skate with it.
"Absolutely, especially for me," Weiss said. "Don't want to stay off too long and stiffen up. It was good to get out and practice and get the legs going, stay loose and when the shoulder catches up be ready to go."
ISLANDERS TIED IN POINTS
The Wings and their opponent Friday night, the New York Islanders, are tied with 42 points.
The Islanders, however, have played in 31 games to the Wings' 32.
"They're a good team," Babcock said. "They've really improved their back end. They've always had tons of skill, they've improved in net. They're a deep team, they're a good team."
John Tavares and Kyle Okposo lead the Islanders with 27 points each.
"They're a good team," Abdelkader said, echoing his coach. "They're gonna play hard, they got a lot of talent, lot of skill, so we're gonna have to be ready to play structured and good defense."
Babcock said Howard would start in goal against the Islanders.
***If multimedia does not appear right away, please click refresh***
---