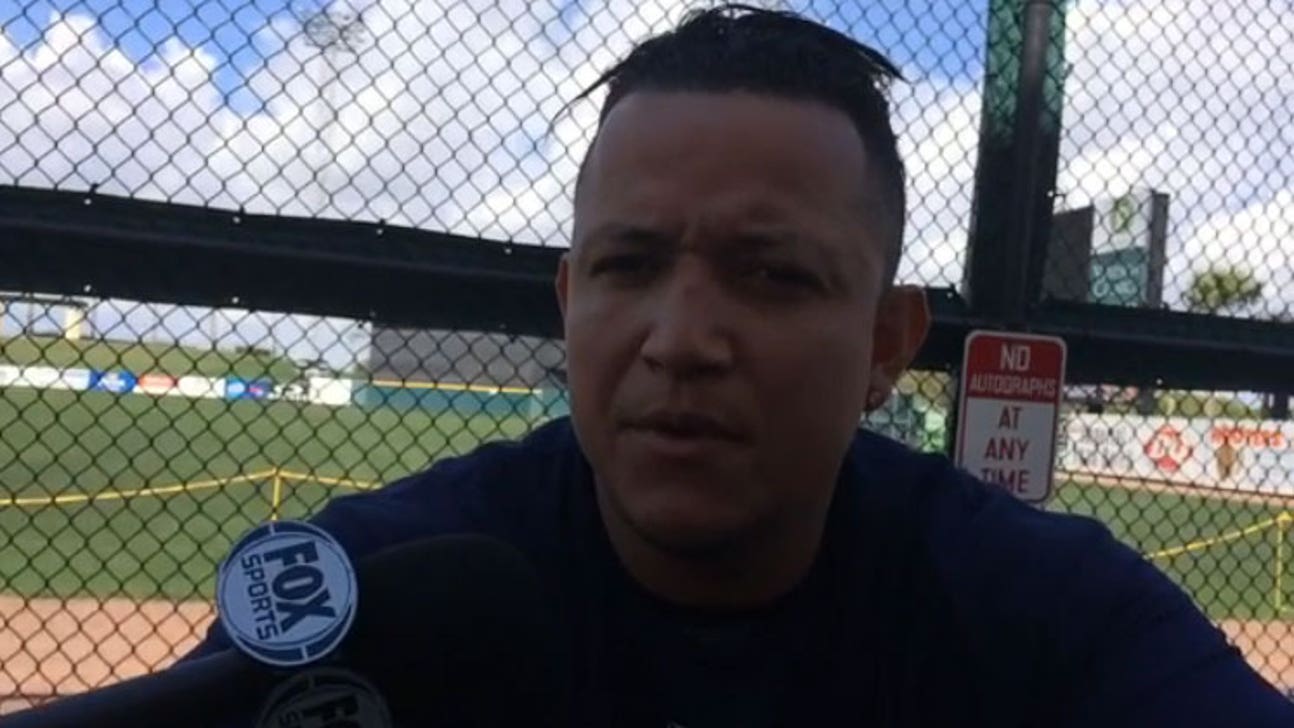 Notes: Cabrera takes break from treadmill; back keeps Avila out Friday
Updated
Mar. 4, 2020 5:11 p.m. ET

LAKELAND, Fla. -- No one will rush Miguel Cabrera this spring.
Tigers president and general manager Dave Dombrowski has said it and the Tigers proved that Friday morning.
Cabrera, who is still recovering from right ankle surgery to remove bone spurs and to repair a stress fracture in his navicular bone, did not run on the AlterG anti-gravity treadmill.
"Today was more of a rest day," Tigers manager Brad Ausmus said. "He was a little cranky today, nothing major. He felt it was a little cranky so Kevin (Rand, head athletic trainer) decided, let's just give him a day. He might have done it every day since he's been here. He and I talked about it. He's not concerned about it. If it's a little sore, why push it? You probably saw he was throwing so it's not like he can't do anything."
Ausmus said catcher Alex Avila did not participate in drills Friday.
"Alex had a sore back today," Ausmus said. "Alex did not partake in workouts today. His back tightened up a little bit. He is day-to-day."
Avila experienced something similar during last season.
"It happened last year in Chicago," Ausmus said. "It tightened up and he missed a couple games. I think that's when Bryan Holaday laid down the bunt to drive in the winning run."
TAKING IT EASY WITH IGLESIAS
It's going to be an interesting balance this spring for Jose Iglesias.
On one hand, Iglesias has to get ready for the regular season, especially after missing a year.
On the other hand, Iglesias doesn't want to re-injure himself.
After missing the entire 2014 season with bilateral tibial stress fractures, Iglesias is going to be cautious and the Tigers plan to be cautious with him.
Case in point: Friday.
"We ran bases today, then he took grounders, did the fundamental and he hit," Ausmus said. "When he got done hitting, I sent him inside. I didn't want him standing in the outfield shagging. I'm not saying that's going to be the straw that breaks the camel's back but any little bit of time we can get him off his feet early helps. I sent him maybe about 10 minutes early."
Ausmus said Iglesias ran the bases well.
Ausmus has also said he will use Iglesias as the designated hitter in some games this spring in order for him to get at-bats but not have him on the field.
Ausmus said there's no particular number of games Iglesias has to play in a row to prove he's ready.
"I think it'll probably stretch into the season where I'll either become more and more or less and less comfortable with it as an issue going forward," Ausmus said. "In spring training at some point closer to the end, we'll have to play him multiple games in a row, obviously have to play nine innings, probably nine innings, back-to-back games. Going into the season, a little bit's going to be as we go, adjusting if there's an issue."
PERRY BACK IN THE FOLD
Former Tigers' first-rounder Ryan Perry is back in the organization.
Matt Eddy of Baseball America tweeted that the Tigers had signed Perry, first baseman Bobby Borchering and right-hander Ross Seaton to minor-league deals.
Borchering was most recently in the Houston Astros organization. He was the Arizona Diamondbacks' first-round pick (16th overall) in 2009.
Seaton was the Astros' third-round pick in 2008, the same year the Tigers took Perry in the first round with the 21st pick.
The title of rag ball champion has been settled and Joel Hanrahan is the winner.
Unless, of course, you ask Joba Chamberlain.
Chamberlain won last year's title and missed this year's competition so he demanded to play Hanrahan for the ultimate championship.
That took place Friday morning.
"Your glove wasn't official," Chamberlain said to Hanrahan. "It was too big. You cheated. Joel used too big of a glove."
Hanrahan thought his glove was fine.
"That protest isn't going anywhere," Tigers manager Brad Ausmus said of Chamberlain.
COMPLETE TIGERS SPRING TRAINING 2015 COVERAGE
---