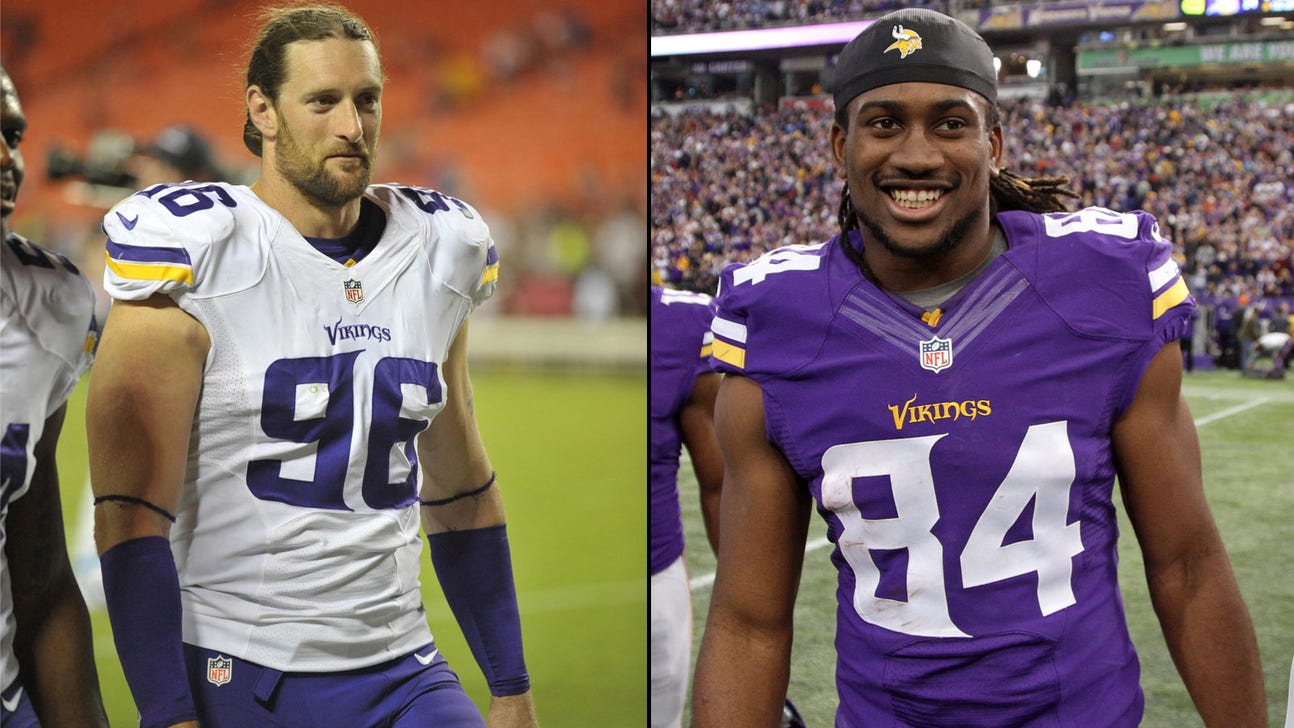 Notebook: Vikings' Robison, Patterson likely to play Sunday
Published
Oct. 31, 2014 5:00 p.m. ET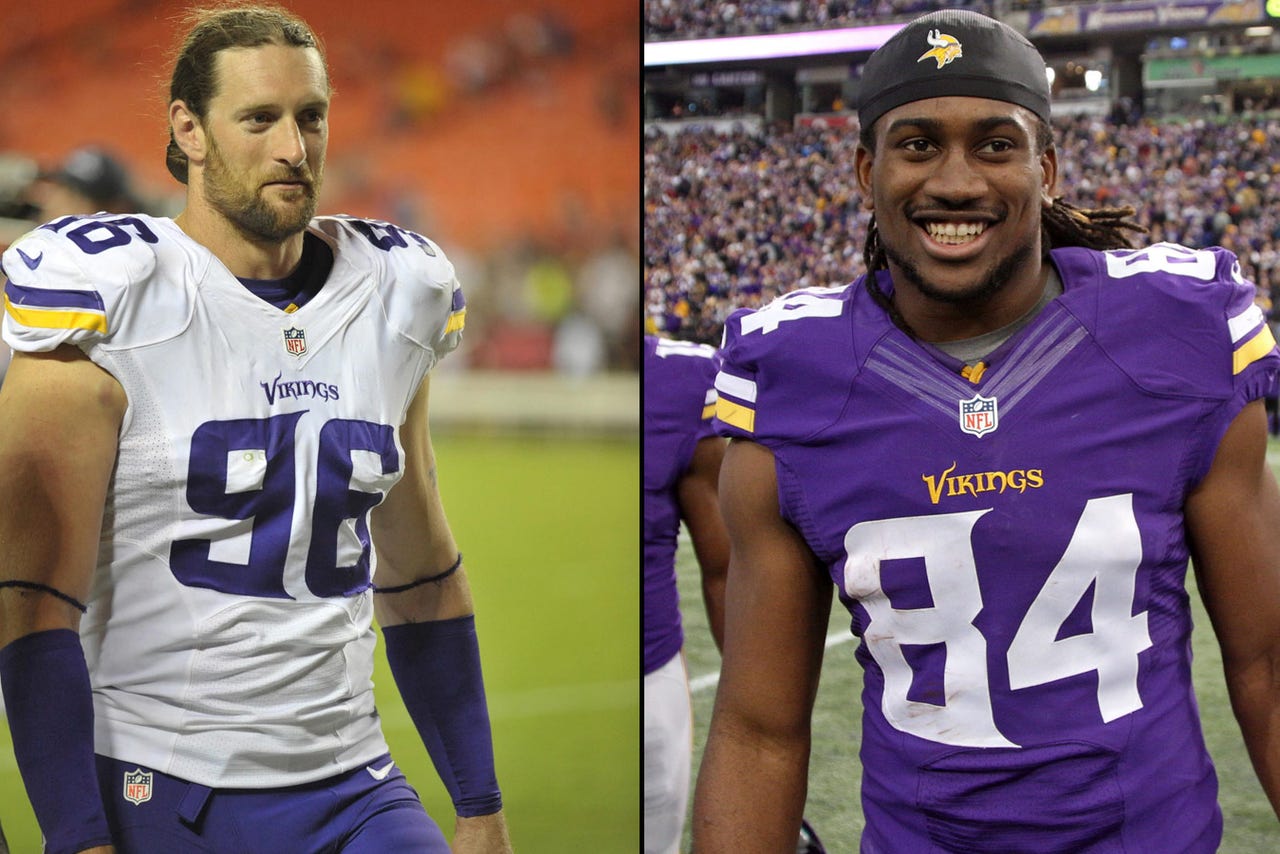 EDEN PRAIRIE, Minn. -- Brian Robison called a member of the Minnesota Vikings media relations staff over and joked he was about to make a spectacle with the media as he sat at his locker on Friday.
Robison wasn't about to throw a tantrum. The veteran defensive end only wanted to set the record straight on the bruise which caused him to miss Wednesday's practice and limited him on Thursday.
So, Robison stripped down. The glute muscle for which he's been listed on the injury report all week was black and blue, a large gruesome bruise on his buttocks.
"It hurts as bad as it looks," Robison said, adding that the bruise continues to grow. "It's slowly spreading so it's going to be fun to watch this thing grow."
Robison returned to full practice on Friday and is probable for Sunday's home game against Washington. Receiver Cordarrelle Patterson, who left the locker room after last week's game with a walking boot on his left foot, practiced all week and wasn't listed on the team's injury report.
Tight end Kyle Rudolph (sports hernia surgery) is still out. Cornerback Jabari Price (hamstring) is questionable for Sunday after practicing on a limited basis Thursday and Friday.
Cornerback Josh Robison (ankle), defensive tackle Sharrif Floyd (ankle/knee), linebacker Gerald Hodges (hamstring), safety Antone Exum (ankle/shoulder) and tight end Chase Ford (foot) fully participated in practice on Friday and are listed as probable.
"We're starting to get healthier," coach Mike Zimmer said. "We've obviously lost some guys for the year. Guys that were nicked are starting to get healthier."
Robison said he suffered his injury in last week's game when he was kneed in the glute and added that he's surprised the incident doesn't happen more often.
"I've practiced the last two days and everything so I don't think it's bothering me that much," Robison said. "We'll keep going and just keep trying to work it out and keep it loose."
In the meantime, he keeps showing off his prize wound.
"What's funny about it actually is everybody wants to see it again, so it's kind of awkward," Robison joked.
Griffin ready to go: Washington quarterback Robert Griffin III practiced in full all week and is in line to start for Washington on Sunday. Griffin had been held out since Week 2 with an ankle injury.
Griffin is listed as probable. Minnesota had been preparing for Griffin and Colt McCoy, who started for Washington in last week's win at Dallas. But the Vikings started to turn their attention to the former on Thursday after reports in Washington said coach Jay Gruden was ready to go with Griffin.
Washington left tackle Trent Williams (knee) and safety Ryan Clark (ankle/shoulder) were limited all week but are probable. Rookie starting cornerback Bashaud Breeland suffered a knee injury in Friday's practice and is listed as questionable.
Alex and his grandfather: Last week Zimmer read a note from Alex Loehlein, an 8-year-old with Duchenne Muscular Dystrophy who had attended practice. Loehlein thanked the Vikings for inviting him to watch practice and wrote, "My grandpa said to expect good luck for you because you have used up all of your bad luck already."
Minnesota did end up winning on Sunday when luck appeared on its side with Anthony Barr's strip, recover and touchdown in overtime. Zimmer told the locker room after the game that game balls were going to Alex and his grandfather.
Zimmer delivered on the promise Friday. Alex and his grandfather were at practice and were given the game balls
"Today we had Alex and his grandpa John here," Zimmer said. "Handed them a couple of game balls, so that was fun for them."
Yankey needs to get stronger: Asked Friday about rookie guard David Yankey, Zimmer said the fifth-round pick has "got to get stronger" if he wants to find himself active on game days. Yankey has been inactive for every game this season despite injuries at guard.
"He's doing okay with the technique and understanding," Zimmer said. "He's got to get stronger, he's got to be more stout in the areas where he needs to be."
Trying out QBs: With practice-squad quarterback Chandler Harnish suffering a Lisfranc foot injury on Thursday, Minnesota tried out three quarterbacks on Friday following practice.
Harnish is expected to be out a while, but Zimmer said the team hasn't made a decision on Harnish's status.
Follow Brian Hall on Twitter
---