Notebook: Loss in 2013 tourney motivates Badgers
March 19, 2014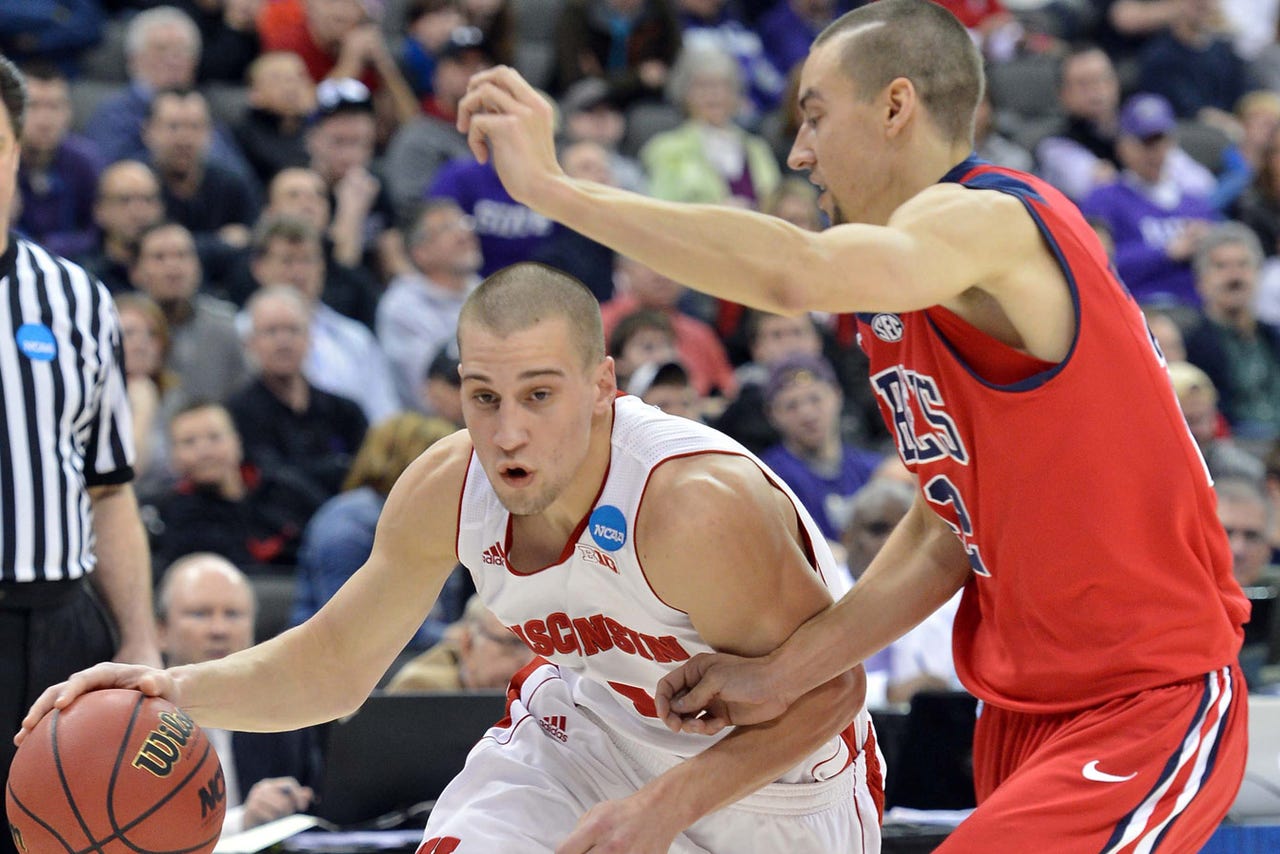 MILWAUKEE -- Nobody has to remind Wisconsin what happened last year. The sting of last year's upset loss at the hands of Mississippi was brought back to life on the eve of the NCAA tournament.
As much as Wisconsin doesn't want to talk about the past, the Badgers know the only way for the talk of NCAA disappointments to go away is by writing a different script this time around.
Participating in an open practice and media availability Wednesday at the BMO Harris Bradley Center, No. 2 seed Wisconsin is using last year's experience as motivation to make sure it doesn't happen again. That means putting 100 percent of its focus on No. 15 seed American.
"That's something we're not very proud of," Wisconsin forward Sam Dekker said. "Ole Miss took it to us. We have to put that behind us because it is a new year and new scenery. We can't put that pressure on ourselves."
Fair or not, the Badgers have the stigma of having great success in the regular season only to disappoint in the NCAA tournament. Despite two trips to the Sweet 16 in the last three years, Wisconsin is remembered for the upset losses.
It was a 57-46 defeat at the hands of No. 12 seed Ole Miss in the Round of 64, eliminating the Badgers in the first round of the tournament for just the third time in 13 years.
Wisconsin has been eliminated by teams seeded lower than it in five of the last seven years.
"We've always said, 'Why can't we do things that haven't been done here?' " Wisconsin guard Traevon Jackson said. "At the same time, we know it's not going to just happen overnight. We have to take it one game at a time and that starts tomorrow with American."
Despite all Wisconsin has accomplished this season, Dekker and the Badgers realized how quickly regular-season achievements are forgotten once the NCAA tournament rolls around.
"They only remember the past things you've done," Dekker said. "If we go out and lose a game in the tournament, they are going to remember that. As it should be -- as a fan that's what you are going to remember.
"You aren't going to remember the season we had. You can't put that pressure on outside sources on you. You just have to worry about what's going on in the locker room and with the team."
Not that slow? Turn on any kind of analysis of the NCAA tournament and talk of Wisconsin's matchup with American being slow and low scoring is hard to avoid.
While the Eagles certainly play slow -- they rank 347th in the country in possessions per game -- the Badgers aren't the same offensive team entering this year's postseason as they have been in past years. Wisconsin averages 73.5 points per game, good for fourth in the Big Ten.
But the usually elite Wisconsin defense slipped a bit this season. Usually sitting at the top of the Big Ten rankings, the Badgers were seventh in scoring defense at 66.8 points per game in conference play.
Dekker was asked if being called "not a typical Wisconsin" team has bothered them or been seen as a compliment because of the team's improved offense.
"There's a little bit of both in there," Dekker said. "People do knock us on our defense this year. I don't think we're a bad defensive team, I just think we've had some lapses in games. That stuff happens to every team. I think we've gotten better over the course of the season at that.
"If we can keep doing what we're doing on the offensive end and focus in and play our style of defense, I think we'll be OK."
American will present the Wisconsin offense with a challenge Thursday morning, as the Eagles are eighth in the nation in scoring defense, allowing just 58.6 points per game.
"I'd say some opponents have gotten a little frustrated not being able to find the openings that they are normally used to," American guard Jesse Reed said. "Wisconsin is a lot better of a team than what we've been playing in recent games. Hopefully we're able to cause that same frustration for them."
Wisconsin feels its roots as a slower-paced team will help it avoid the frustration American tries to force its opponents into.
The first-year coach of the Eagles was an assistant at Georgetown last season when Florida Gulf Coast made the No. 2 seed Hoyas its first victim on the way to a berth in the Sweet 16. While he wouldn't mind seeing a similar upset happen Thursday, Brennan sees no need to bring it up to his team.
"I'm not much into the bulletin-board type stuff or anything like that," Brennan said. "This is a different group and a different team. They had nothing to do with that game or experience.
"We're just going to rely on experiences that we've had, you know, this year in practice and in games, because that's what's the most vivid in their minds."
Returning home: Elgin Cook's phone went dead within minutes of learning his Oregon Ducks were headed to Milwaukee for the NCAA tournament.
The former Milwaukee Hamilton High School star and 2010 City Conference player of the year could hardly contain his excitement Wednesday in anticipation of Thursday's meeting with BYU.
"I got so many text messages that my phone blanked out," Cook said. "I think it's definitely going to be fun. I'm excited to be back to show all my teammates my hometown."
Cook's path from Milwaukee to Oregon was an interesting one. He left Hamilton High School in the middle of the 2010-11 season due to what was called "personal reasons" at the time. He ended up at a prep school in Houston before beginning his collegiate career at Northwest Florida State.
"Just competition," Cook said of his decision to leave Milwaukee. "Houston is a much bigger city and there's a lot more competition. It's prep school, so it's people from all over the states, not just Milwaukee.
"It was real tough (to leave). It was a real tough decision but I think it was best for me."
The son of former Bucks guard/forward Alvin Robertson, Cook is averaging 6.3 points and 3.6 rebounds in 16.3 minutes per game for the Ducks. He thinks his father will come to the game Thursday, but admitted he likes to keep a low profile.
Robertson was arrested for the alleged sexual assault of a child in 2010 after authorities claimed he was part of a group that kidnapped a 14-year-old girl and forced her to have sexual intercourse with different people.
"Some knew but it was never a big distraction," Cook said of his father. "They knew my dad but they knew me. We're two separate people, two different people but I definitely embraced it. I learned a lot of stuff from him. Everything. All the ins and outs and he's still teaching me to this day."
After not being recruited by Wisconsin or Marquette, Cook wouldn't touch the subject of playing against the Badgers in Milwaukee if both teams would win Thursday.
"Right now there is no Saturday for us," Cook said. "We're just focused on Thursday. It's going to be a tough game against BYU. We need to lock in and focus and get ready. It's going to be a good, tough match, a 40-minute game."
Hot ticket: According to research done by MLive.com, the two pods playing at the BMO Harris Bradley Center have distinctly different levels of interest.
Citing numbers from SeatGeek , a search engine that covers the secondary ticket market, MLive.com found tickets for the Michigan/Wofford and Texas/Arizona State session available for $29 with the average price of $68.
Badgers fans will find tickets a bit more pricey, as the cheapest ticket available for the Wisconsin/American and Oregon/BYU session is $89 with an average price of $156.
Follow Andrew Gruman on Twitter
---